This is the perfect whole foods plant based chocolate chip cookie recipe. They're soft and chewy and spread just like traditional chocolate chip cookies. This cookie recipe is vegan, gluten-free, oil-free, butter-free, date-free, and refined sugar-free!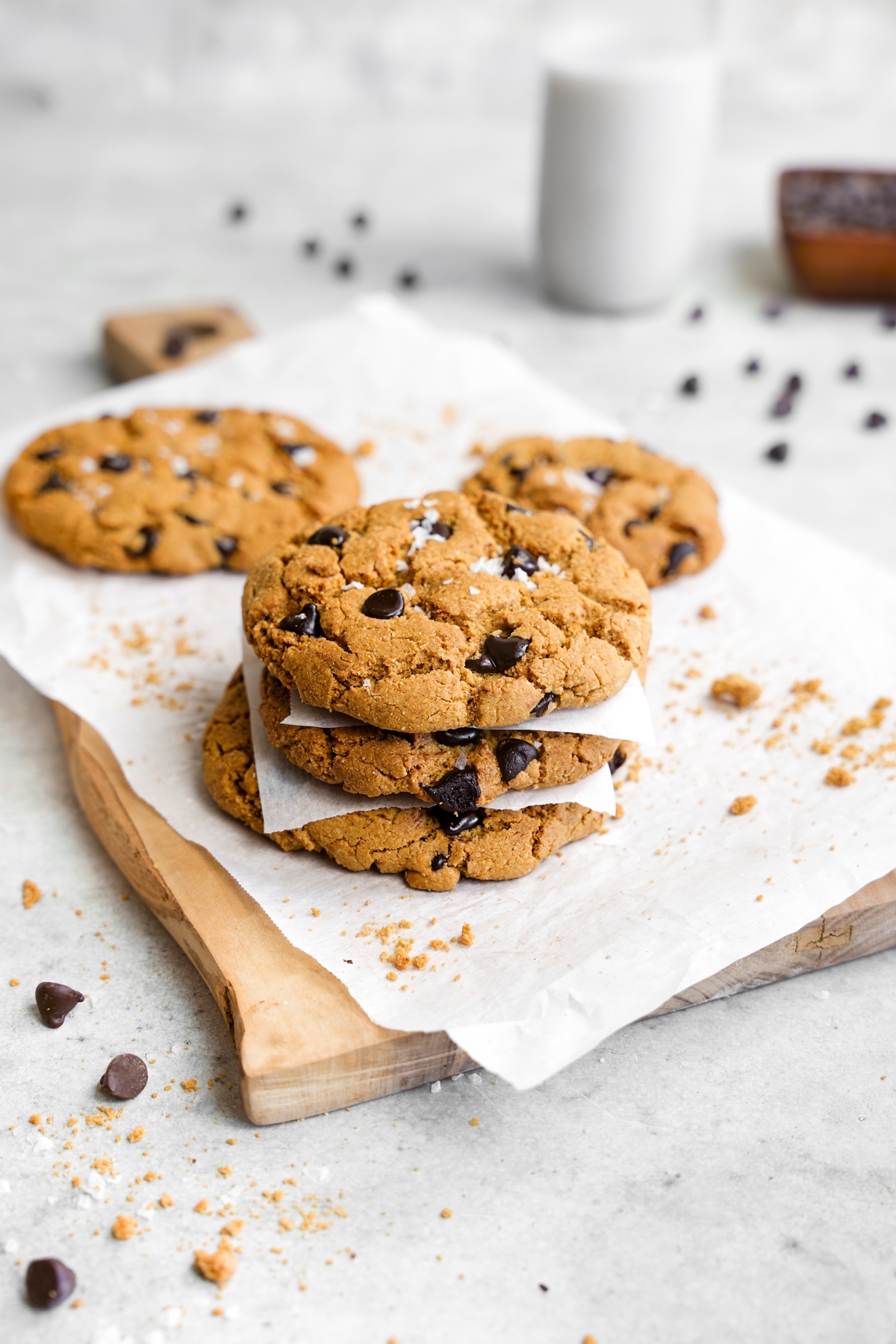 I am so excited to share today's Healthy Vegan Chocolate Chip Cookies with you guys! This recipe has been a long time coming (I'm talking 3+ years of development), and I am finally ready to share the best whole foods plant based chocolate chip cookie recipe ever with you all. It's chewy, soft, and made with real whole foods.
Why Is It important To avoid refined sugars?
One of the foundations of my blog is to create recipes free of refined sugars. Refined sugars include:
White/table sugar
Powdered sugar
Brown sugar
Corn syrup/high fructose corn syrup
Brown rice syrup
Coconut Sugar (yes, this "healthy" sugar is actually not much better for you than traditional sugar)
This is not a complete list, but it's the most common ones you will see. Refined sugars cause loads of health issues such as: tooth decay, fatty liver disease, diabetes, inflammation, acne, depression, macular degeneration, cancer, and more.
The good news is that here on The All Natural Vegan, you will never see a recipe that calls for one of these ingredients! I am on a mission to create an abundance of recipes like these Healthy Vegan Chocolate Chip Cookies that are completely refined sugar-free (as well as vegan, gluten-free, and oil-free!).
You will only ever see recipes that call for natural sweeteners such as:
Fruits and Vegetables (dates, apples, bananas, sweet potatoes etc.)
Date Syrup
Blackstrap Molasses
Maple Crystals
Date Sugar
Again, this is not a complete list, but these are my go-to natural sweeteners! I am always discovering new refined sugar-free sweeteners, so if you have a favorite that is not mentioned in this list, leave a comment below!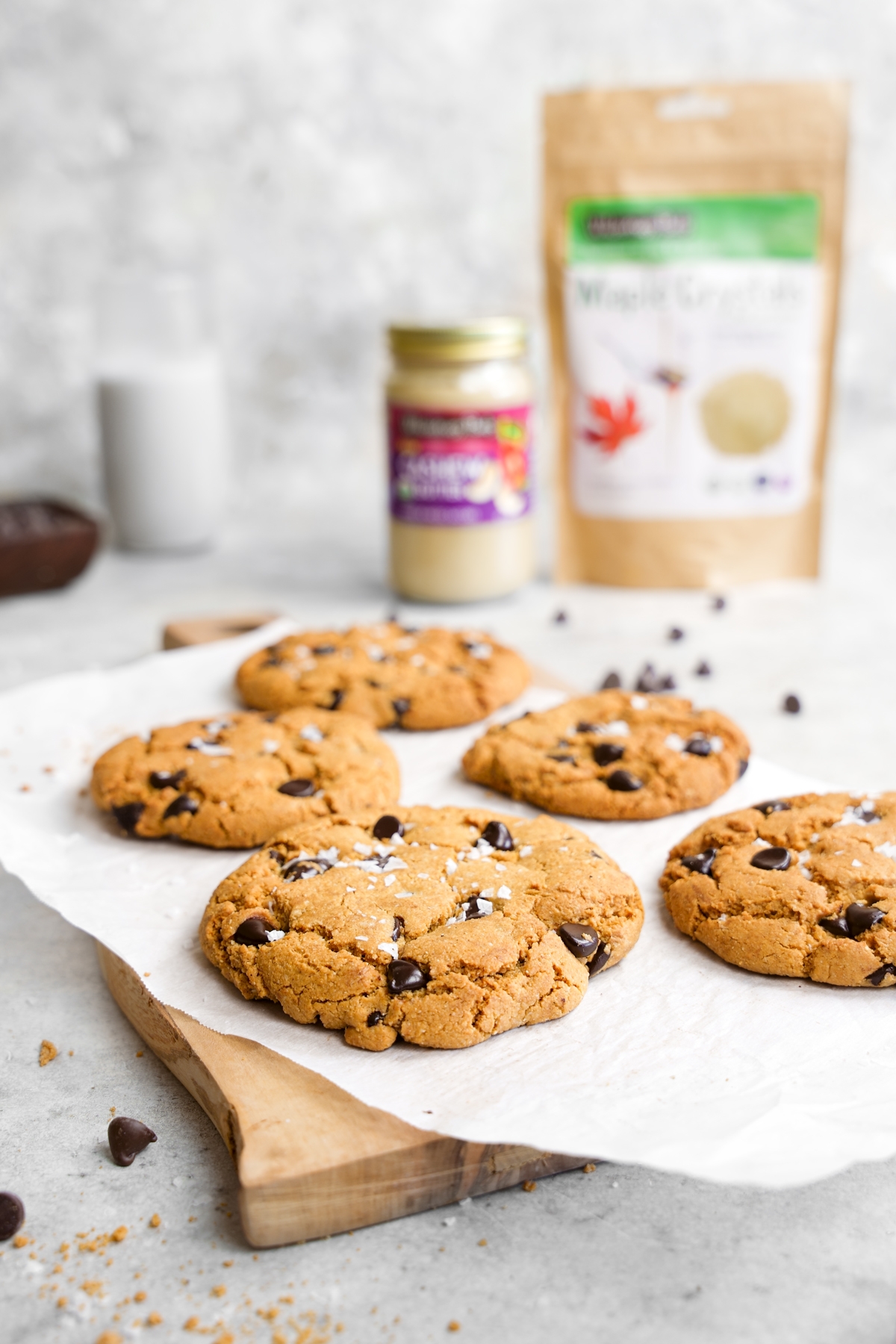 Why It Is Important To Avoid Butter/Vegan Butter:
Butter/vegan butter is another ingredient that I strictly avoid. There is and will never be a recipe on The All Natural Vegan that calls for butter/vegan butter. Why is this? I obviously don't use regular butter, because I am vegan and create vegan recipes. But why is vegan butter a no-go too?
Vegan butter is made from highly processed oils, flavorings, and sodium. All things I generally try to avoid. Although I am not 100% oil-free, I never bake with oil. The only types of oils I use are high quality cold pressed oils which I use in some salad recipes. Cold pressed oils contain nutrients that processed oils do not.
If you look at the nutrition label on most vegan butters you will probably see: Vegetable oil blend containing canola oil, sunflower oil, palm oil, and olive oil. None of these are green light foods. Let's break it down.
Why Canola Oil Is So Unhealthy:
The worst of the worst when it comes to oil is canola oil. For starters the canola is a completely man made plant (which is high key terrifying). It is also one of the most heavily sprayed crops. These herbicides can cause a plethora of health issues, including serious damage to your gut.
Lastly (for now, this list is truly endless) canola oil and all seed oils is extremely processed. There are about 7 steps of whipping out nutrients and adding harmful ingredients to canola oil before it is ready to be packaged. This process creates trans fats and removes all the nutrients.
I could break down every ingredient, but the message is going to be the same. Vegan butter is not healthy, and should be avoided. It's just heavily processed oils and artificial flavors (even "natural flavors" can be artificial) that create a fiberless fat bomb. I see no reason to add such a thing to my diet when there are so many better whole foods plant based options out there!
Ingredients for this Healthy Vegan Chocolate Chip Cookie recipe:
Dry Ingredients:
Almond Flour - One of the best gluten-free flours for cookies. It adds healthy fats and doesn't fall apart when baking. It can be quite expensive, so I definitely recommend buying it in bulk!
Sorghum Flour - One of my favorite gluten-free flours for baking. It works a lot like regular flour, and does not have a strong taste. Therefore it works well in many recipes.
Raw Cashew Butter - This WFPB Chocolate Chip Cookie recipe uses cashew butter in place of butter/vegan butter. It's important that you use raw cashew butter and not roasted cashew butter. Roasted cashew butter has a much different flavor that won't work as well as raw cashew butter. I buy my cashew butter in bulk with code: "VEGAN10" for $10 off.
Baking Soda - If you follow a super strict all natural diet, you can leave this out. However it will greatly affect the way these cookies bake. They won't spread properly. However they still turn out great and are more of a soft baked cookie. Just keep in mind the appearance will be slightly different.
Plant Based Chocolate Chips - Any vegan chocolate chip will work, but try and make sure you use ones that are refined sugar-free. These are my go-to healthy chocolate chips!
Sea Salt - I love topping all my cookies with some flaky sea salt. It makes the perfect sweet and salty combo!
Maple Crystals - One of the most crucial ingredients in this recipe! Maple Crystals work just like cane sugar, yet are low glycemic, and high fiber. More on this powerful sweetener later. If looking to purchase, or restock my code: "VEGAN10" gets you $10 off your purchase!
Wet Ingredients:
Water - I know it seems odd to add water to a cookie recipe, but trust me the littlest bit of water completes these cookies and makes them soft and chewy!
Vanilla Extract - I will die on this hill: Mexican vanilla is an absolute baking necessity. The taste is so superior to regular vanilla, it will elevate the flavor of everything you bake. I will never go back to regular vanilla extract.
Ground Flaxseed (flax egg) - Works as the perfect vegan egg substitute. Not to mention it is filled with healthy Omegas.
How To Make These Healthy Vegan Chocolate Chip Cookies:
These Healthy Vegan Chocolate Chip Cookies are surprisingly easy to make. Even though this recipe calls for some ingredients that some people may consider a bit odd, there's nothing odd about making these cookies.
First things first, preheat your oven to 350 and make the flax egg and set aside. Making a flax egg is as simple as mixing the ground flaxseed and water together and letting rest for about 10 minutes. You will quickly see how the mixture develops an eggy texture.
Next, sift the dry ingredients together in a large bowl. Sifting is super important when baking, because it helps prevent clumps of flour, or baking soda, and therefore give you perfectly universal baked goods.
Add the vanilla extract, water, raw cashew butter, and flax egg to the bowl with the dry ingredients. Mix until cookie dough forms (I used my hands towards the end to achieve the right texture. Fold in the chocolate chip and mix until they are evenly spread out.
Scoop six large or 12 small balls out of the mixture and place on a non stick baking mat. Press down lightly (you want them to be somewhat flat, but not pancake flat). Bake for 12-15 minutes, or until slightly golden on top. Remove from heat and allow to cool for 10 minutes before eating. Enjoy!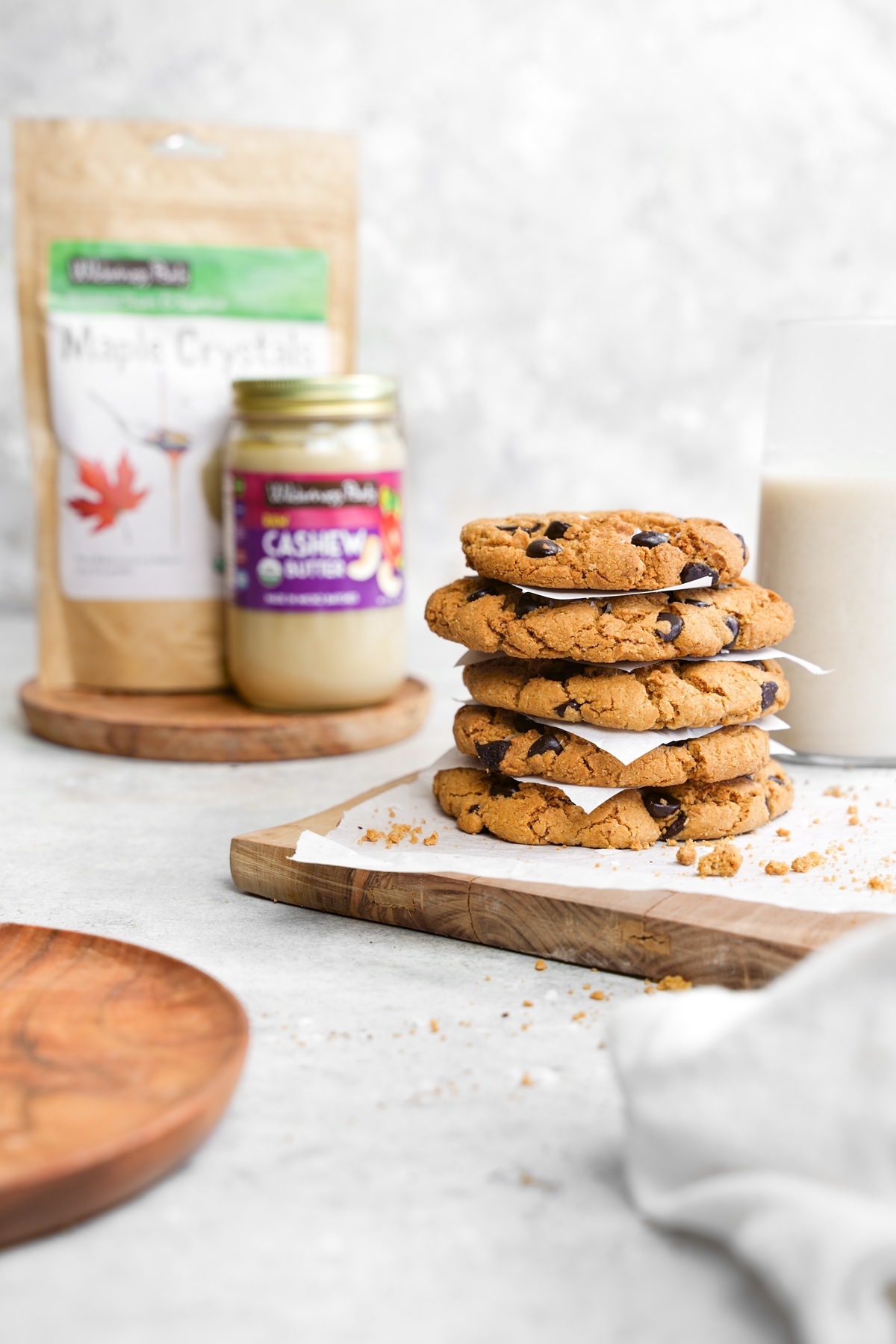 Frequently Asked Questions:
What Are Maple Crystals:
Maple Crystals aren't exactly something you heart about everyday. I don't understand why! They are an absolute game changer when it comes to refined sugar-free baking, especially when it comes to baking cookies like these Healthy Vegan Chocolate Chip Cookies.
Maple crystals are loaded with vitamins and minerals, as well as fiber which makes them a low glycemic sweetener, yet they are sweeter than cane sugar! Therefore a little goes a long way. The flavor is rich and deep, but definitely not overwhelming. To me it just tastes like an improved sugar!
It is perfect for baking recipes like this Whole Foods Plant Based Chocolate Chip Cookie, because it melts like regular sugar. I've made just about everything using them, and I can tell you that they are a miracle worker.
I always purchase mine from Wilderness Poets. Personally I prefer to buy it in bulk, because I use it so often. I also love Wilderness Poets, because they're organic! If you're interested in trying maple crystals, my code: "VEGAN10" gets you $10 off your Wilderness Poets order (aka you can basically try the maple crystals free when you stock up on other organic bulk ingredients).
Why Aren't My Healthy Vegan Chocolate Chip Cookies Spreading?
Typically cookies spread when baking due to the mixture of butter and sugar melting. However, since this WFPB Chocolate Chip Cookie recipe is made butter-free and refined sugar-free, how do the cookies spread?
First off, they will not spread exactly like traditional chocolate chip cookies, so do not expect that. However they will spread some and turn out just like regular chocolate chip cookies!
In order to ensure these plant based chocolate chip cookies spread correctly, you will need use all the right ingredients. You can not substitute date sugar for maple crystals for example. Once you have the cookie dough prepared, form it into balls and then press it down on the baking sheet. It should not be pressed down a lot, but it should resemble more of a flat circle than a ball.
Bake and allow to cool. You should have perfectly spread round cookies made without butter or refined sugar!
Can I Eat This Healthy Vegan Chocolate Chip Cookie Dough Raw?
Team cookie dough vs team baked cookie? Personally I can't get enough of either. I love them so much! I used to eat so much cookie dough growing up, and it probably wasn't the safest due to eggs and wheat flour. It is not recommend to eat regular cookie dough.
However this is a vegan and gluten-free chocolate chip cookie recipe, so does this mean the cookie dough is safe? Most likely yes. All of the ingredients in this recipe are 100% whole foods plant based and safe to eat raw, except possibly the sorghum flour.
There's not a ton of information on whether or not sorghum flour is safe to eat raw, so I can't give a proper answer. It is most likely 100% safe, but if you are concerned I would just replace the sorghum flour for coconut flour when making these WFPB Chocolate Chip Cookies for the dough only (or if you want to make it paleo).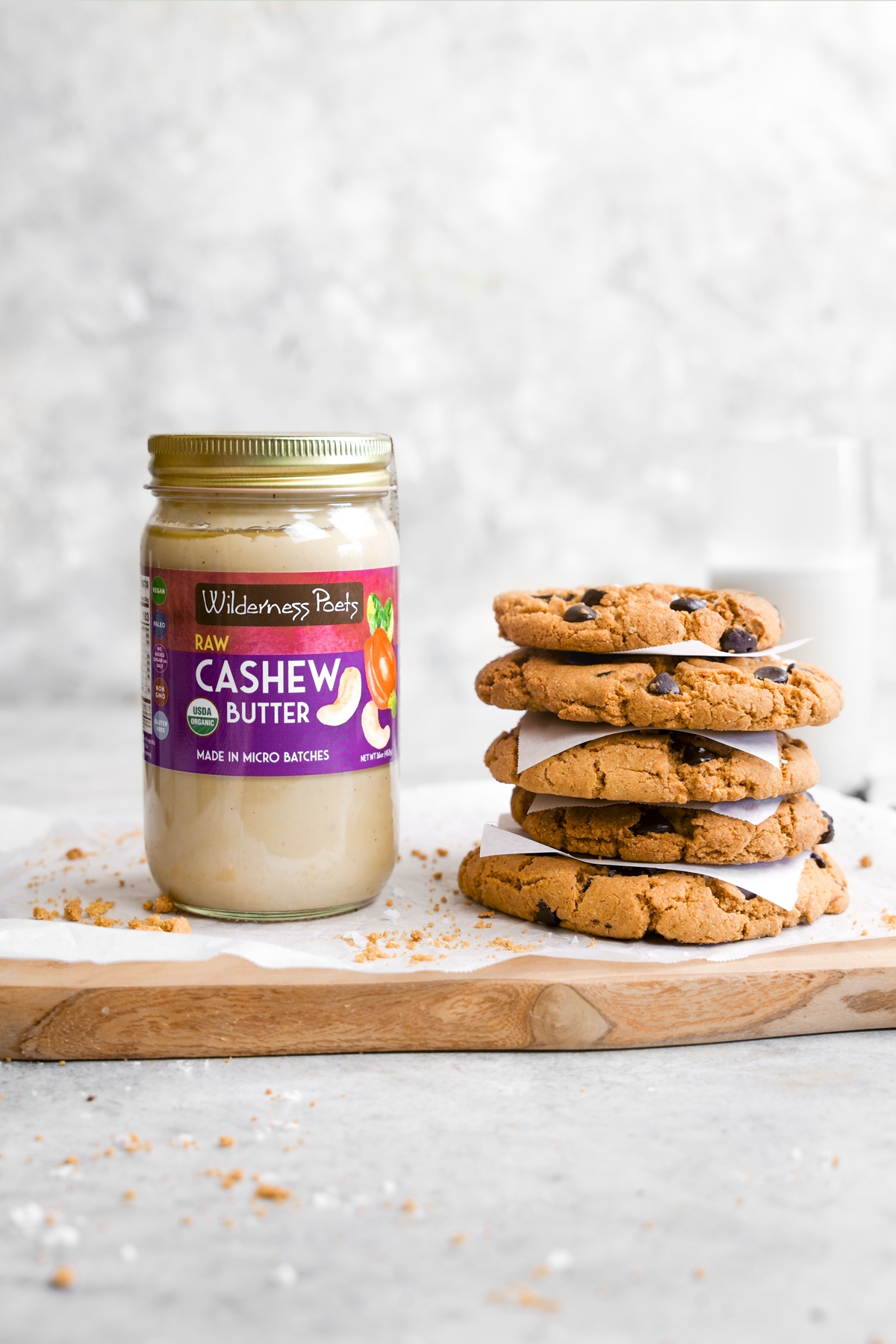 Related Maple Crystal Recipes:
Whole Foods Plant Based Chocolate Chip Cookies
This is the perfect whole foods plant based chocolate chip cookie recipe. They're soft and chewy and spread just like traditional chocolate chip cookies. This cookie recipe is vegan, gluten-free, oil-free, butter-free, date-free, and refined sugar-free!
Ingredients
Wet Ingredients:
2

teaspoon

vanilla extract

1

flax eggs

1 tablespoon ground flaxseed with 3 tablespoon water

2

tablespoon

water
Instructions
Begin by preheating your oven to 350.

Prepare the flax egg by combining the ground flaxseed and the water. Mix and set aside until eggy texture is formed (about 10 minutes).

In a large bowl sift together dry ingredients (except chocolate chips).

Add wet ingredients and mix until dough forms. It is easiest just to use your hands, or a stand mixer. Add the chocolate chips and mix until spread out evenly.

Scoop out 6 large or 12 small cookies and place on the baking sheet. I like to flatten them slightly with the bottom of a cup so they spread better when baking.

Bake for 12-15 minutes or until slightly golden, and allow to cool on a cooling rack 5-10 minutes before enjoying!