This vibrant golden beet juice recipe is the perfect sweet and refreshing treat for summer! This contains superfoods for the ultimate nutritious cold pressed juice. It is raw vegan, cold pressed, organic, and anti-inflammatory!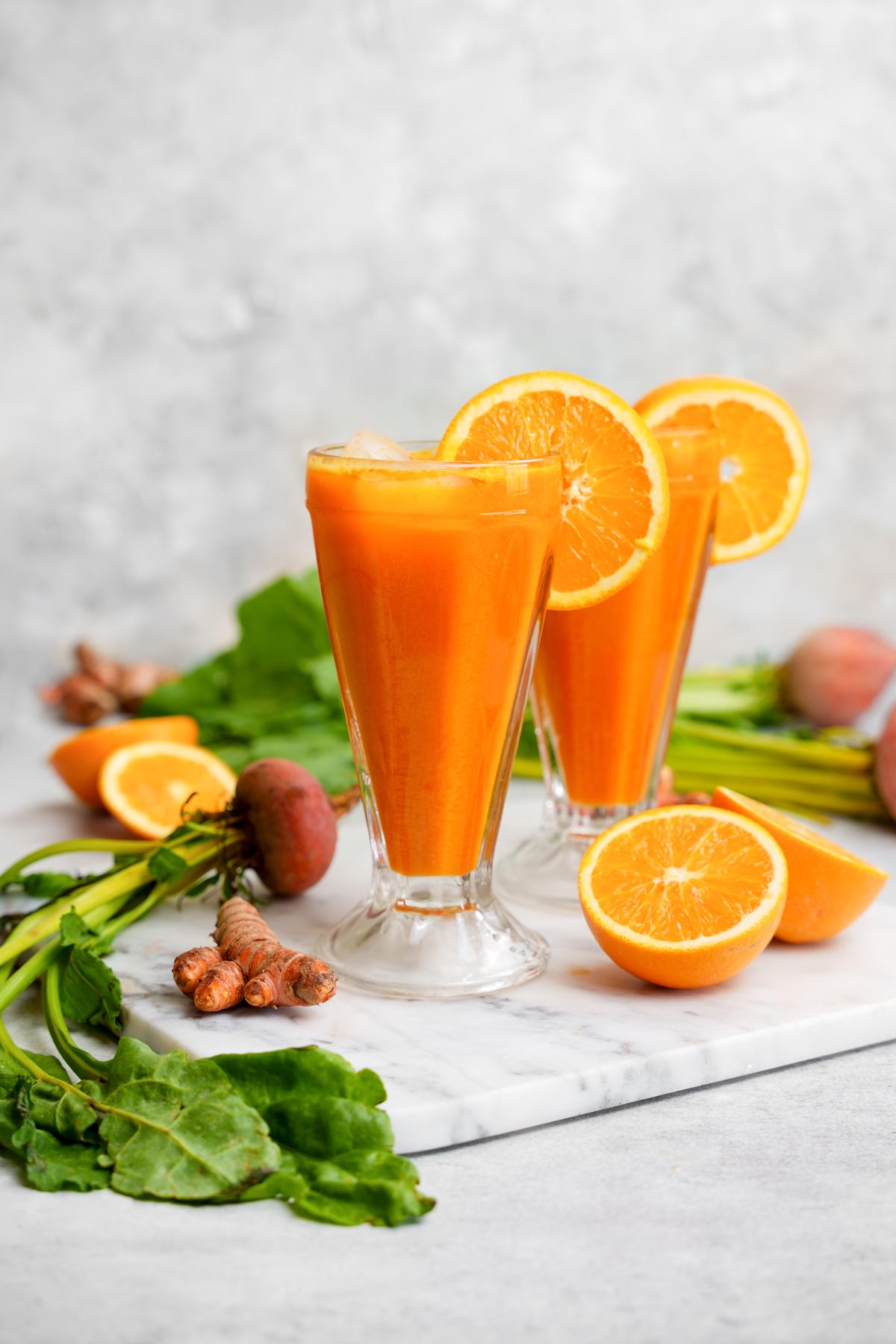 I am so excited to shared today's cold pressed Golden Beet Juice recipe with you all. This vibrant yellow juice is the perfect refreshing superfood packed drink for Summer. I've been loving making cold pressed juices recently. They're a great way to incorporate additional nutrients into your diet while treating yourself to a tasty beverage.
Health Benefits Of This Golden Beet Juice:
This Golden Beet Juice is the perfect refreshing superfood juice for summer. This juice recipe is full of health benefits. Some of the health benefits of this juice include:
Lower Blood Pressure: Golden beets contain an abundance of dietary nitrates. Nitric Oxide helps to relax blood vessels and therefore lower blood pressure.
Reduce Inflammation: Turmeric is an anti-inflammatory superstar. Inflammation in the body is a good thing. However chronic inflammation is where the problems arise. Many people struggle with chronic inflammation daily. This Golden Beet Juice is the perfect way to incorporate anti-inflammatory foods into your diet.
Promotes Healthy Vision, Lungs, And Skin: Carrots are full of Vitamin A which is crucial to support healthy lungs, eyes, and skin. The antioxidants in carrots specially work to enhance eye health.
Promotes Healthy Digestion: This juice is naturally hydrating which is key for healthy digestion. The betaine in beets increase stomach acid levels. This helps to relieve constipation and keep you regular.
Detoxifies The Liver: Beets contain betaines which stimulate the function of the liver. This helps to flush out toxins in the body. Beets can even reverse fatty liver!
Best Cold Press Juicer:
It's important when you are juicing at home that you use a high quality cold pressed juicer. If you use a low quality juicer at home you will run into a variety of problems. First, low quality juicers will heat your juice. If you are a raw vegan, this is super problematic. Second, you will waste a lot of the nutrients and fluids. Lastly, they're a major pain to clean!
If you decide to upgrade your juicer to a high quality cold pressed juicer you will end up with more nutritious and raw vegan juices. I use the Kuvings C7000 cold pressed juicer, and I absolutely love it! It's easy to use and easy to clean. If you're interested in upgrading your juicer, my Kuvings discount code: "NATURALVEGAN" will get you $40 off your purchase!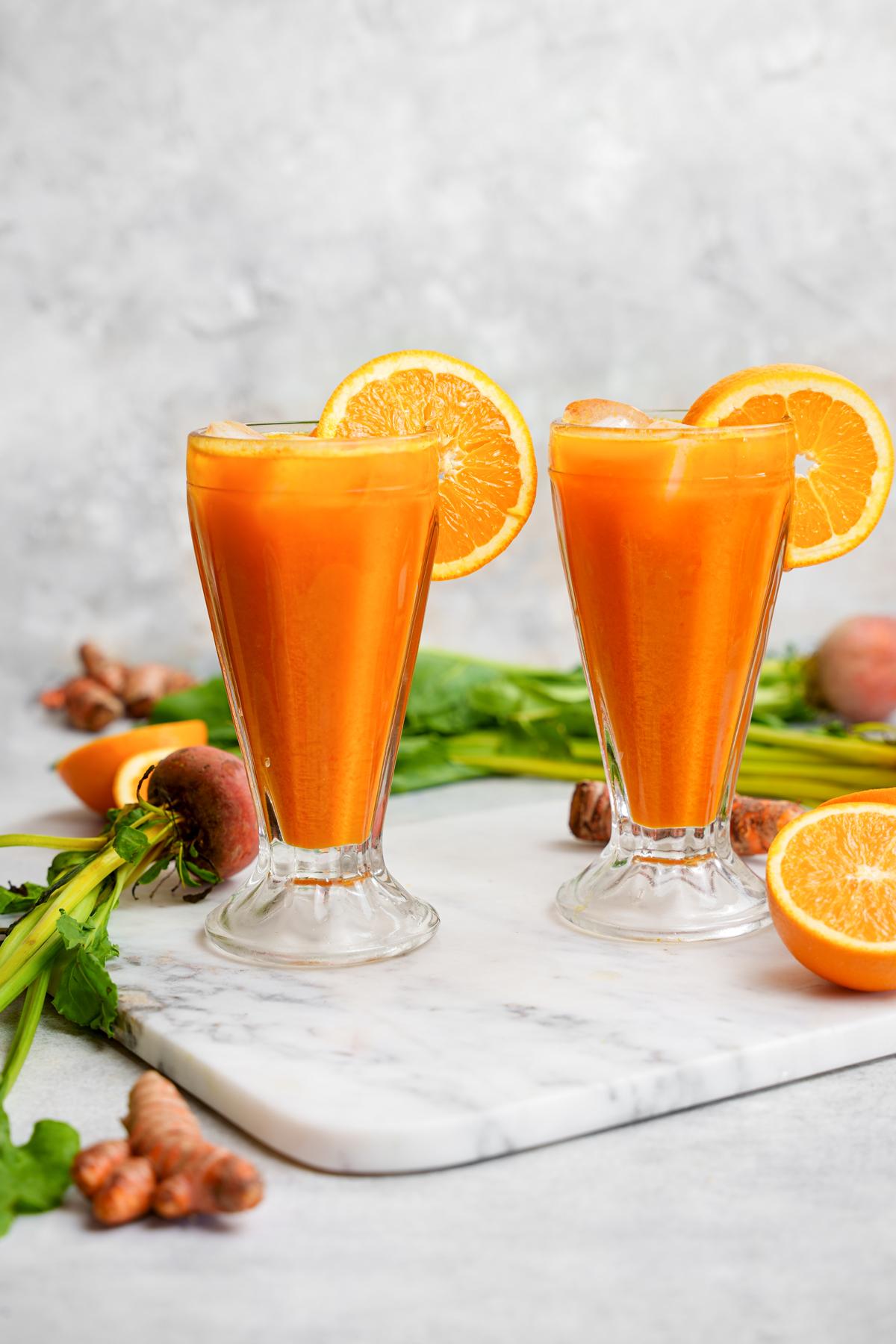 Things You'll Need To Make This Cold Pressed Golden Beet Juice:
Ingredients For This Golden Beet Juice:
Oranges - Loaded with Vitamin C, folate, antioxidants, and potassium. Oranges add sweetness and hydration to this juice recipe.
Golden Beets - Are full of copper, iron and manganese, as well as Vitamin B6. Golden beets add sweetness, flavor, and hydration to this juice recipe!
Turmeric - Is full of antioxidants, and is super anti-inflammatory. Turmeric adds extra nutrients and color to this juice.
Carrots - Are full of Vitamin A, antioxidants, potassium, and more. This helps improve vision, regulate blood pressure, and support brain and liver health.
Black Pepper (optional) - Helps to increase the absorption of turmeric by 2000%.
How To Make This Golden Beet Juice:
This Golden Beet Juice is super easy to make. Begin by thoroughly washing your vegetables. It's important to wash them properly, because this recipe leaves the skin on all the vegetables.
Begin by roughly chopping the beets into large cubes. You can juice the beet greens as well, just know that it will change the color of the juice.
Cut the carrots into one inch pieces, and turmeric into smaller pieces. Cut the peel off the orange and cut the oranges in half.
Turn on the juicer and begin adding the ingredients. Alternate between firm ingredients and juicy ingredients. Serve the juice over ice and enjoy!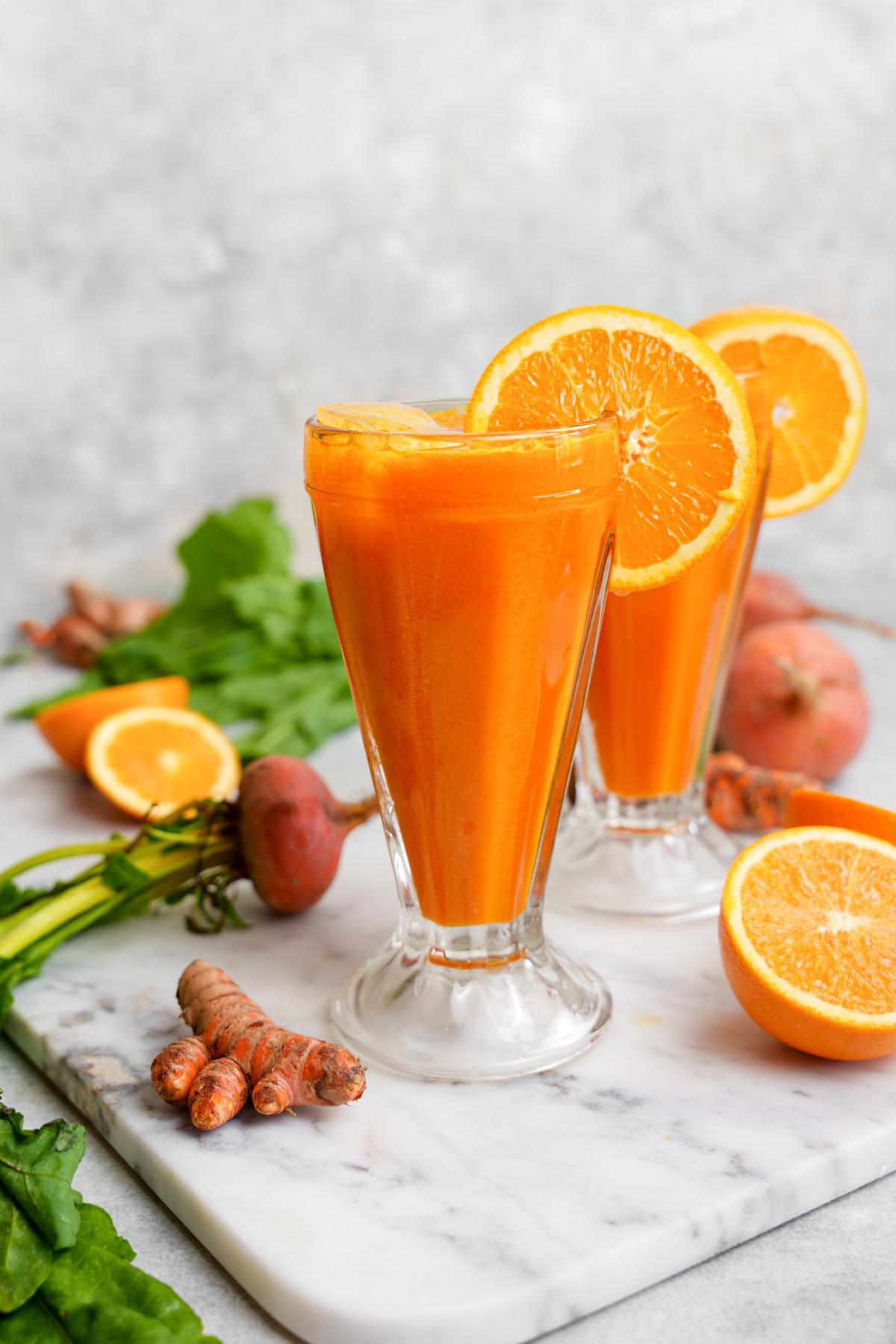 Frequently Asked Questions:
Which Is Better For You Red Or Golden Beets?
There is actually a wide variety of beets. There's candy cane beets (or striped beets), golden beets (yellow beets), red beets, purple beets, sugar beets, and white beets. All of these varieties contain similar nutrients and are incredibly healthy.
However if you are looking for the most nutritious beet, I am here to tell you that there is no significant nutritional difference between golden beets and red beets. In my opinion golden beets taste significantly better than red beets, but red beets have that vibrant color that we know and love! Red beets are much easier to find in stores, so if you can't find golden beets, you can use red beets and make this juice the same!
Who Should Avoid Beetroot?
This Golden Beet Juice is super nutritious and can be an excellent addition to many people's diets. However beetroot may be something you want to avoid if you are someone who regularly struggles with kidney stones.
Beets are high in oxalate which can contribute to kidney stones. However this should only be a concern if you regularly struggle with kidney stones. If you consume a healthy and balanced diet, incorporating this Golden Beet Juice into your diet will only have positive effects.
Do I Peel Turmeric Before Juicing?
One of the best things about juicing is you don't have to peel anything! The skin of many fruits and vegetables is where the most nutrients are found. However many people do not enjoy the way the skin tastes, or feels so they peel it off.
However when juicing you can leave it on and not worry about it effecting the flavor! This Golden Beet Juice recipe is full of root veggies, and I left the peels on all of them!
You can actually always eat the skin of turmeric and ginger. Just make sure that you clean it well and buy organic!
Is Fresh Turmeric Better Than Powdered?
Turmeric is an incredibly nutrient dense root. It's gained a lot of popularity in recent years, and for good reason. Turmeric is incredibly anti-inflammatory and loaded with antioxidants. If you're like me and you are always looking to eat the most nutrient dense foods, then I would recommend juicing fresh turmeric over eating the powder.
Although turmeric powder is healthy and full of nutrients, it is missing a key component that is only found in raw turmeric: curcumin. Curcumin is what makes turmeric so anti-inflammatory. Therefore it only makes sense to get the most of this powerful nutrient. That's why I always recommend raw turmeric over powdered turmeric. I find the easiest way to incorporate turmeric into your daily routine is by juicing!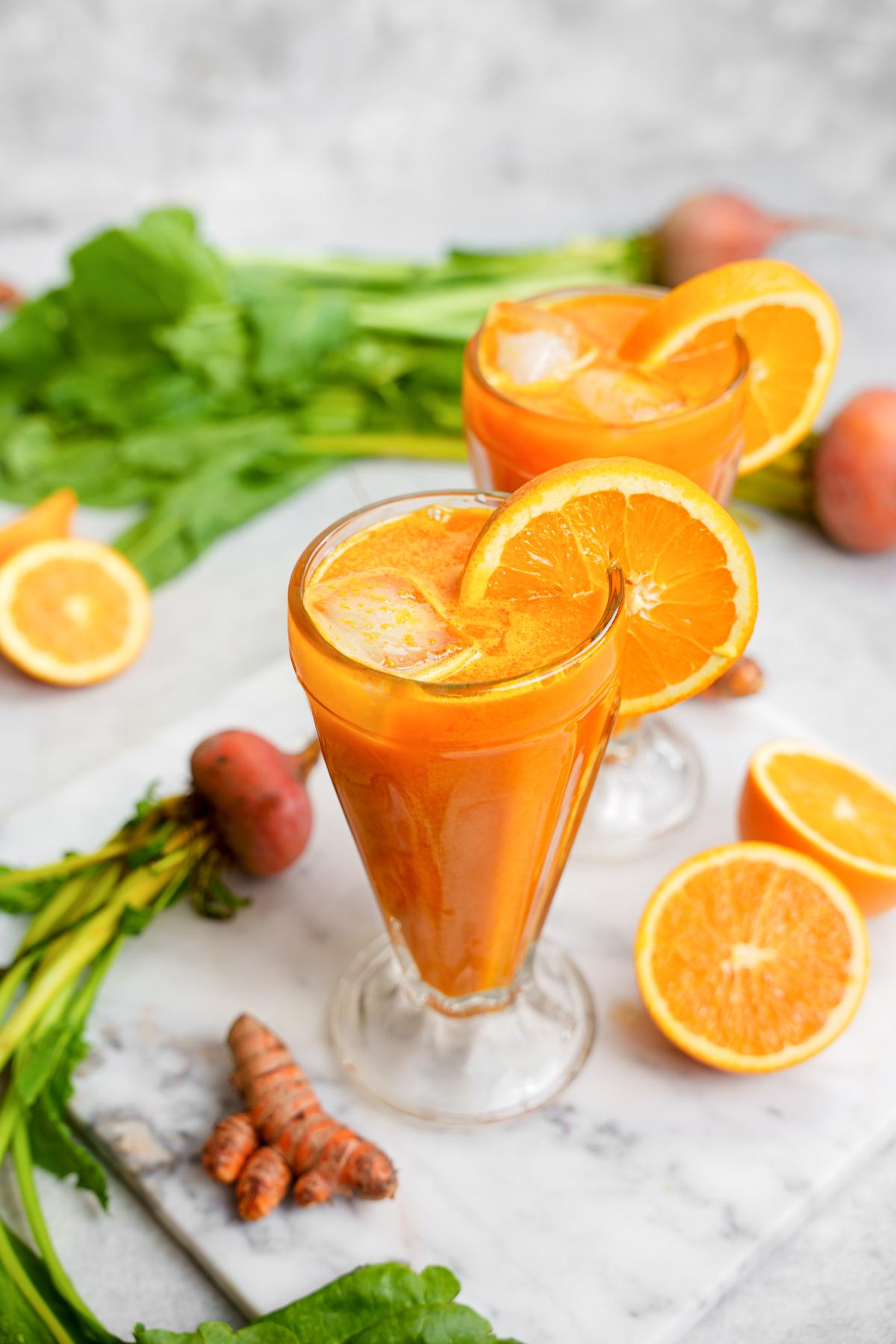 Related Recipes:
Golden Beet Juice
This vibrant golden beet juice recipe is the perfect sweet and refreshing treat for summer! This contains superfoods for the ultimate nutritious cold pressed juice. It is raw vegan, cold pressed, organic, and anti-inflammatory!
Ingredients
3

oranges

2

large

golden beets

5-6

carrots

1

inch piece

turmeric

add more or less to taste
Instructions
Begin by thoroughly washing your vegetables.

Once washed, chop the carrots into 1 inch pieces, the turmeric into small pieces, and the beets and oranges into rough cubes.

Add ingredients to the juicer alternating between firm and juicy ingredients.

Serve over ice and enjoy!