This healthy vegan caramel cheesecake is delicious, and made with flavorful whole foods plant based nut butter! The perfect dessert recipe to make for a crowd of vegans and non vegans alike, they are sure to love it! This vegan cheesecake recipe is: oil-free, refined sugar-free, gluten-free, and WFPB!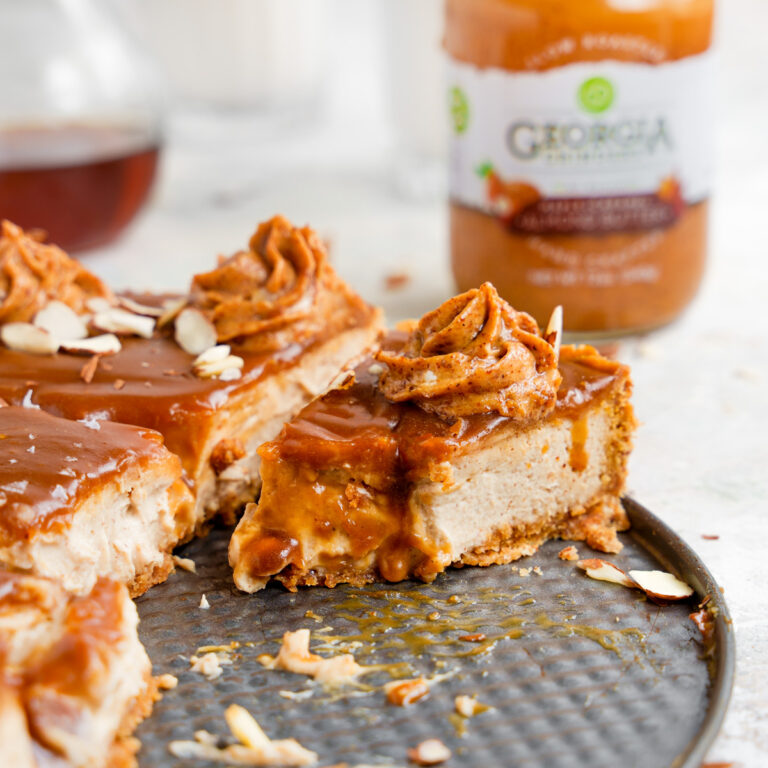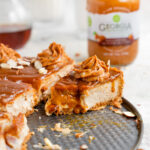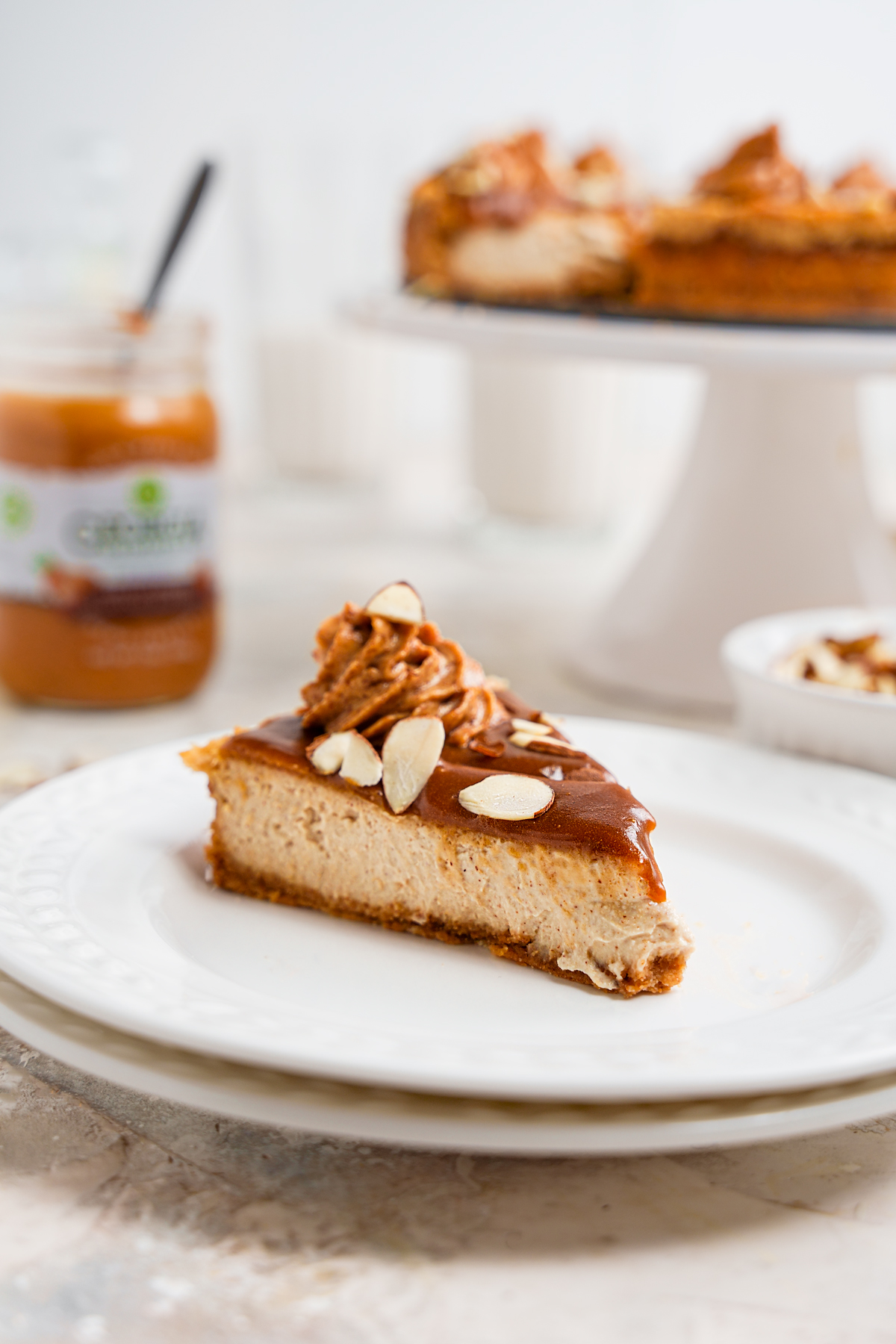 I am so excited to bring you today's healthy vegan Cheesecake recipe! Before going vegan cheesecake was my all time favorite dessert, so you can imagine that I missed it a little when I went vegan. Going vegan was extremely easy for me, so I was never tempted to fall off the wagon and eat traditional cheesecake. I thought that it was simply something I would have to live without.
However as the years passed, and I learned more about vegan desserts, I began making vegan cheesecake recipes that I found online. They were delicious, but almost all of them were raw vegan and didn't quite taste like a classic cheesecake. The good news is that this vegan caramel cheesecake recipe tastes just like a traditional cheesecake! I served it to my non vegan family, and they were amazed by how delicious it was! This Maple Caramel Almond Cheesecake is not only delicious, but it is also a healthy vegan cheesecake that is gluten-free, oil-free, and refined sugar-free! I don't think it gets much better than healthy and delicious!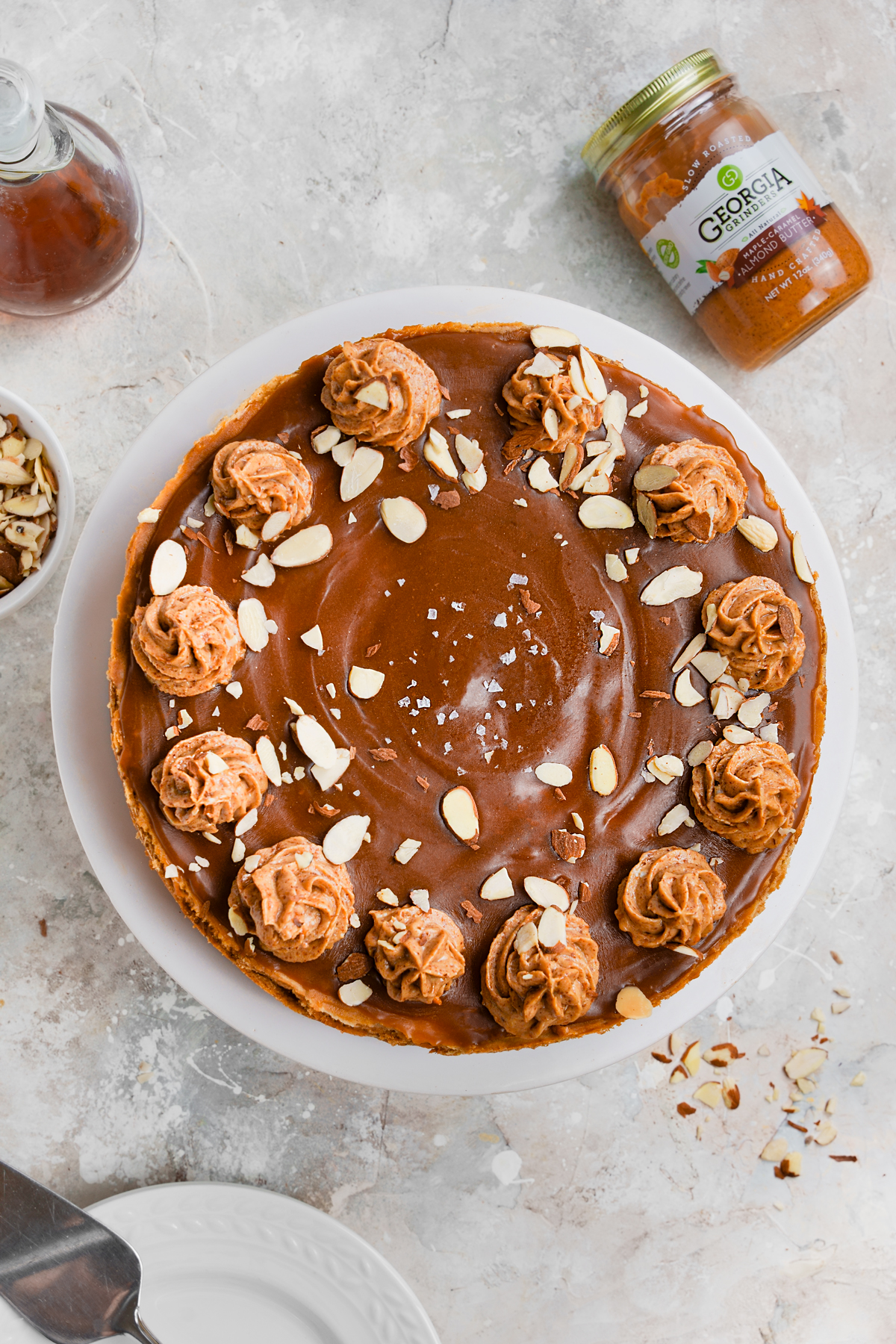 Is This Vegan Caramel Cheesecake Healthy?
There are plenty of vegan cheesecake recipes online. Many of them are delicious, and even taste like traditional cheesecake. However many of these recipes are made with refined sugars, highly processed oils, and bleached grains.
Luckily this vegan caramel cheesecake recipe is made with whole foods plant based ingredients! Therefore this healthy vegan cheesecake recipe is not only free of all the bad stuff, but is loaded with health promoting ingredients. Basically you can eat cheesecake to promote your health - I'm in!
How does one make a healthy vegan cheesecake? There is a couple important factors at play when making a cheesecake recipe healthy. First, and foremost: ensure that all of the products you are using contain simple and "clean" ingredients.
What do I mean by "clean"? In my opinion a clean label means the ingredients are as close to their natural form as possible, and you can pronounce everything on the label. For example the nut butter in this recipe from Georgia Grinders only contains: Roasted Almonds, Maple Syrup (Caramelized and Dehydrated into a natural powder form), and Sea Salt.
This is one of the many reasons I love this nut butter, because unlike many nut butters out there, it is made with simple all natural ingredients!
Second, look for ingredients that are high fiber when making this vegan caramel cheesecake! Fiber is present in all plants, and therefore when a product contains higher amounts of fiber it is usually less processed.
Fiber is also important when eating sweets, because it helps to slow the absorption of sugar and help improve blood sugar levels! Luckily this healthy vegan cheesecake is made with whole foods plant based ingredients so it is naturally high fiber!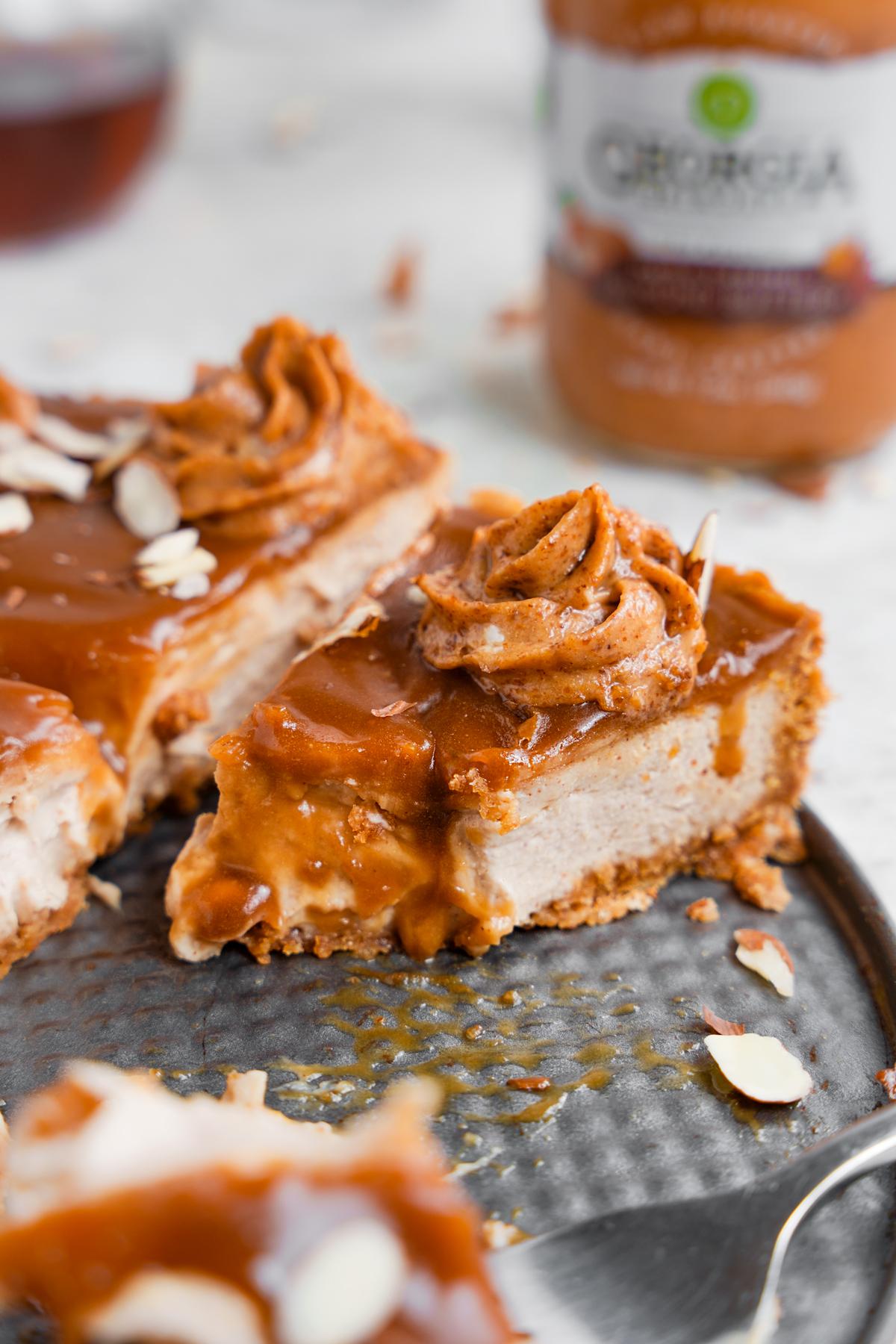 How To Make Vegan Cheesecake Refined Sugar-Free:
Making refined sugar-free desserts can be challenging. Many vegan cheesecake recipes are made with refined white sugar. Although these may be delicious, they are quite unhealthy. I am a believer in "treating yourself" and finding ways to make all foods fit.
However my general rule of thumb is: if it can be made healthy then why not make it healthy! For example this recipe is a naturally sweetened vegan cheesecake. This Maple Caramel Almond Cheesecake still has the delicious sweet taste we know and love, only without the unhealthy added sugar.
Pure maple syrup is a wonderful natural sweetener, especially for cheesecakes, but it is not the only sweetener present in this vegan cheesecake recipe. I utilized date syrup and the Georgia Grinders Maple Caramel Almond Butter to create the perfect amount of sweetness for this low sugar cheesecake! All of my recipes are refined sugar-free. If you're interested in more refined sugar-free baking recipes be sure to check out some of my other recipes!
Related Refined Sugar-Free Vegan Dessert Recipes: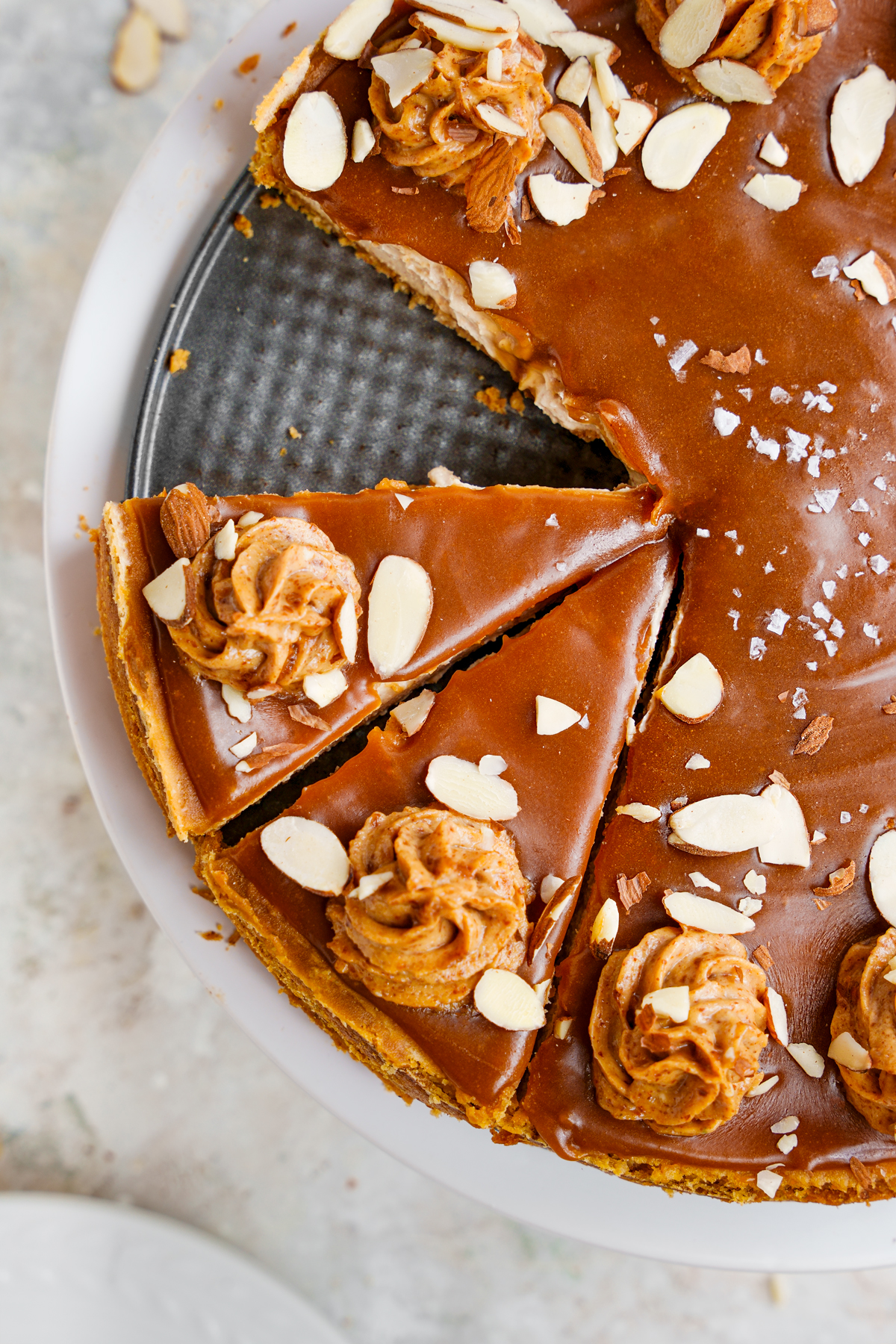 What Makes This Vegan Caramel Cheesecake Special:
This Maple Caramel Almond Cheesecake is truly one of a kind. How so? This vegan caramel cheesecake's flavor base is the Georgia Grinders Maple Caramel Almond Butter. I touched on this product earlier, but calling all my nut butter lovers, because I have a new favorite for you guys!
This nut butter is made with super simple and clean ingredients, is low sugar, and is so incredibly delicious! I honestly have been eating it straight from the jar most days lol.
This healthy vegan caramel cheesecake recipe would not be complete without it! You could make this recipe with regular almond butter if you don't have a way to access Georgia Grinders nut butters, but I can guarantee the flavor won't be the same.
The maple caramel flavor that it brings to this recipe is next level. It's the best of both worlds, because you get all the delicious flavors without the added sugars you would find in other nut butter recipes.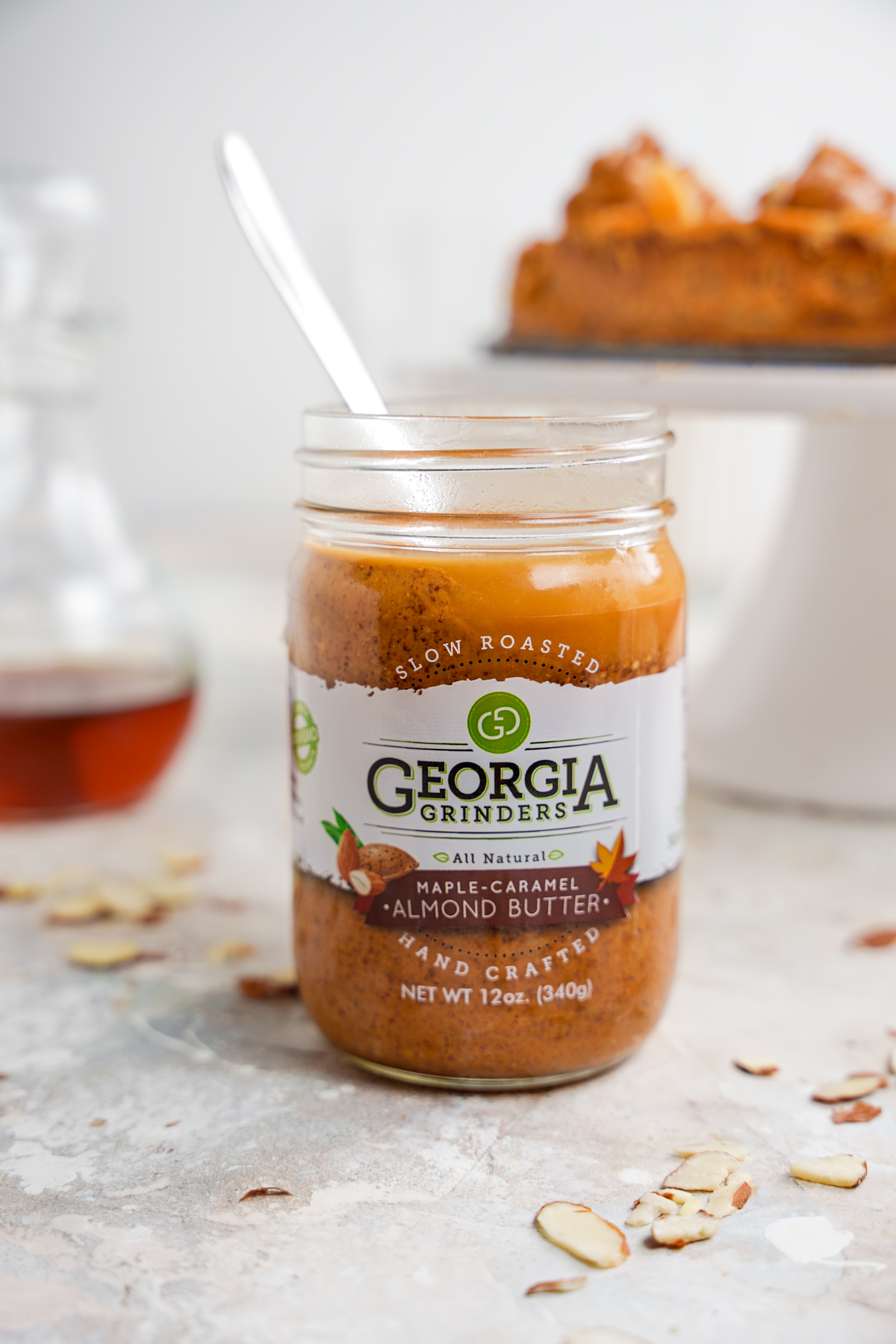 Why I Love Georgia Grinders Nut Butter:
When it comes to branded products I am very picky. Since my diet is whole foods plant based and my job is making recipes, I don't eat a lot of preprepared/prepackaged foods. Therefore the pre-made products that I do use I am very particular about.
Nut butter is a product that I buy, because lets face it making homemade nut butter is a disaster! With that said, many of the nut butter products out there are full of junk. Thankfully Georgia Grinders is the perfect whole foods plant based nut butter solution!
Georgia Grinders focuses on creating clean, nutrient dense nut butters. It makes me so happy whenever I discover a brand that aligns so well with my health values. But wait, it gets better! One thing that I have noticed along my health journey is that some products that are made with clean and simple ingredients can be a bit bland and flavorless.
Thankfully Georgia Grinders nut butters are on the complete opposite side of the spectrum, and are incredibly flavorful and delicious! Like I said earlier, I've been downing jars by the spoonful.
One of my absolute favorite things about Georgia Grinders is that all their nut butters are oil-free! Nothing drives me more crazy then when a nut butter has added oil (okay a bit dramatic, but still!). There's no reason to add oil to nut butter when nuts naturally produce oil! It tastes the same, if not better.
This is extra important to me, because I don't cook with oil. Therefore this healthy vegan caramel cheesecake is only possible, because the Maple Caramel Almond Butter is oil-free! You can still achieve all the delicious cheesecake flavors without the added oil.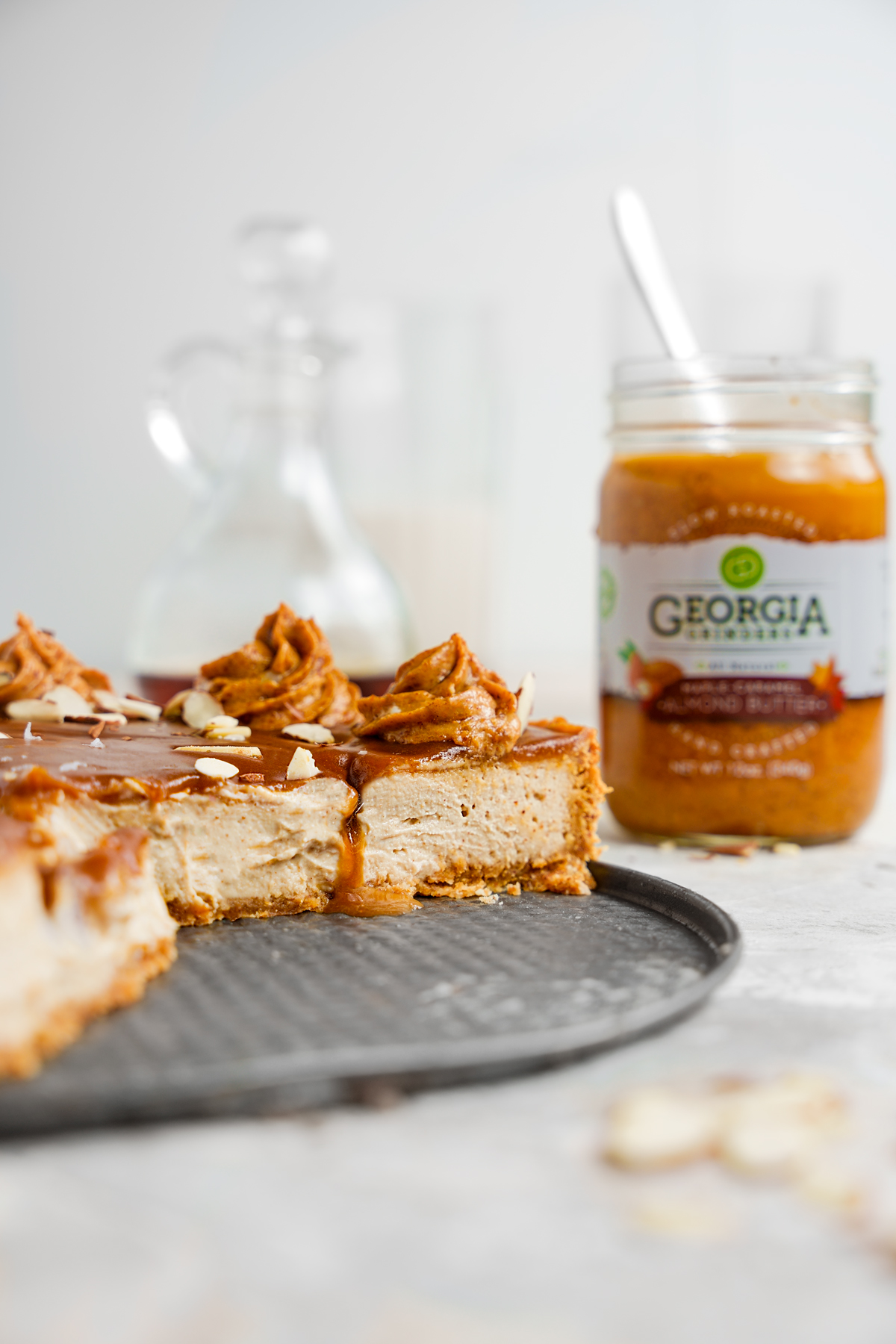 How To Make This Maple Caramel Almond Cheesecake:
This healthy vegan cheesecake recipe may be a bit intimidating at first, but I promise it is pretty simple! There's a lot of steps and it does take time, but there is also a lot of flavor. Therefore this vegan caramel cheesecake is perfect for events and special occasions! I already have plans to make it again as my vegan Easter dessert recipe for my non vegan relatives, and I'm very confident they'll love it!
There are a couple tips I want to share before getting to the actual recipe. First, patience is key when it comes to this recipe. For example the frosting and cheesecake need to be completely chilled before decorating/eating.
Therefore I recommend making this recipe the day before serving so that it has adequate time to cool completely. Next, do not leave the cheesecake out on the counter to cool the entire time, and do not immediately put in the fridge. I will touch on this in the next section.
Last, but not least: you can make this recipe as bars as well. I love when I can easily convert a recipe from a round pan to a square pan. Depending on the occasion this is clutch.
For example if you're looking to bring a recipe and serve to 10+ people, you could make this caramel vegan cheesecake as bars and feed more without adjusting the recipe. Or you can simply enjoy as is!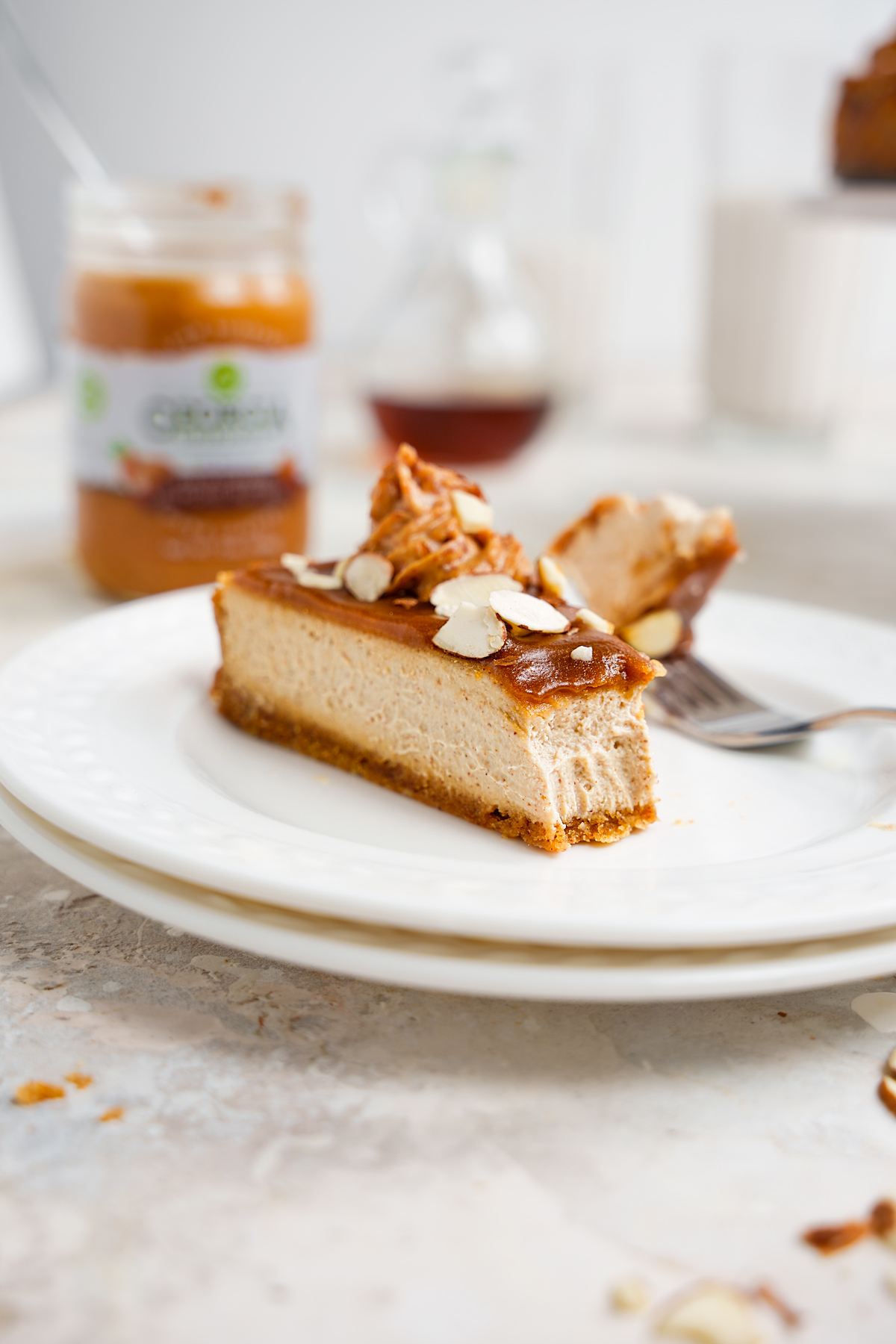 How To Prevent Vegan Cheesecakes From Cracking:
To be completely honest I had no idea that cheesecake cracking was real until I tested this recipe and received a rude awakening. I opened up the fridge to finish decorating my healthy vegan cheesecake, and what did I see? Cracks everywhere!
It was after this that I deeply researched why this happens and how to prevent it. At this point I could honestly write a 10 page paper, but I've been going on for quite awhile so I'll leave you with the sparknotes.
In order to prevent this vegan caramel cheesecake from cracking there's a couple steps to follow.
First, cheesecake shrinks so making sure the sides are non stick, or greased is a necessity.
Second, once you pour the filling into the crust use a spatula to move it around and ensure there is not any air bubbles trapped.
Next, bake in a water bath. I simply placed my pan in a sheet pan full of water and baked it. This is optional, because honestly I think it's the least influential factor, but better safe than sorry! Once removed from the oven and before removing the springform pan, scrape the edges with a knife to ensure nothing sticks. Once cooled remove from the springform pan and decorate!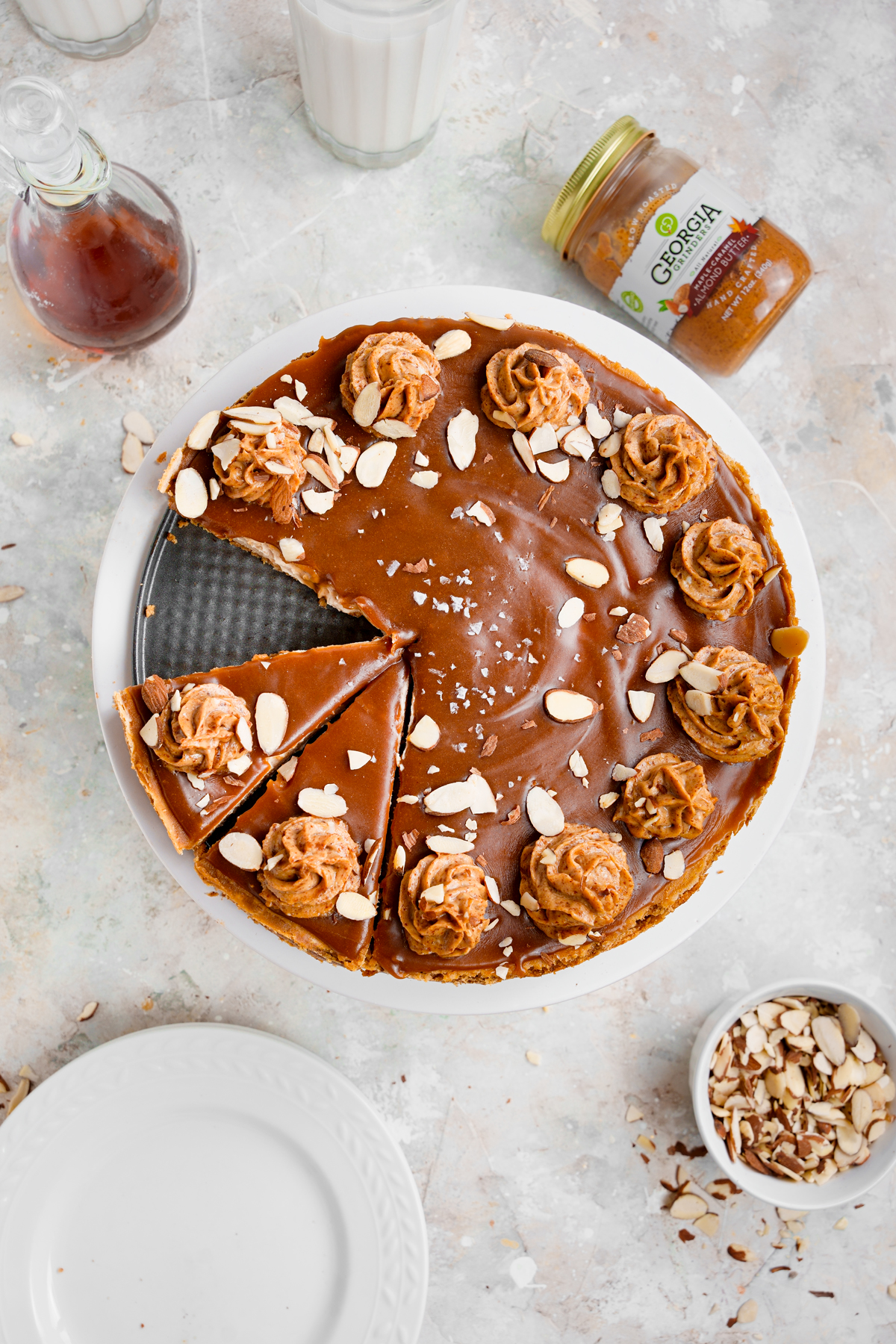 Ingredients For This Maple Caramel Almond Cheesecake Recipe:
CRUST INGREDIENTS:
Almond flour
Cassava flour
Vanilla extract
CHEESECAKE FILLING INGREDIENTS:
Cornstarch
Maple syrup
Plain Vegan yogurt - Kite Hill is my recommendation, but Silk works too!
Cashews
Lemon
Vanilla extract
CARAMEL TOPPING:
Date syrup
Coconut butter
ALMOND FROSTING:
Coconut cream
Maple Syrup
TOPPINGS: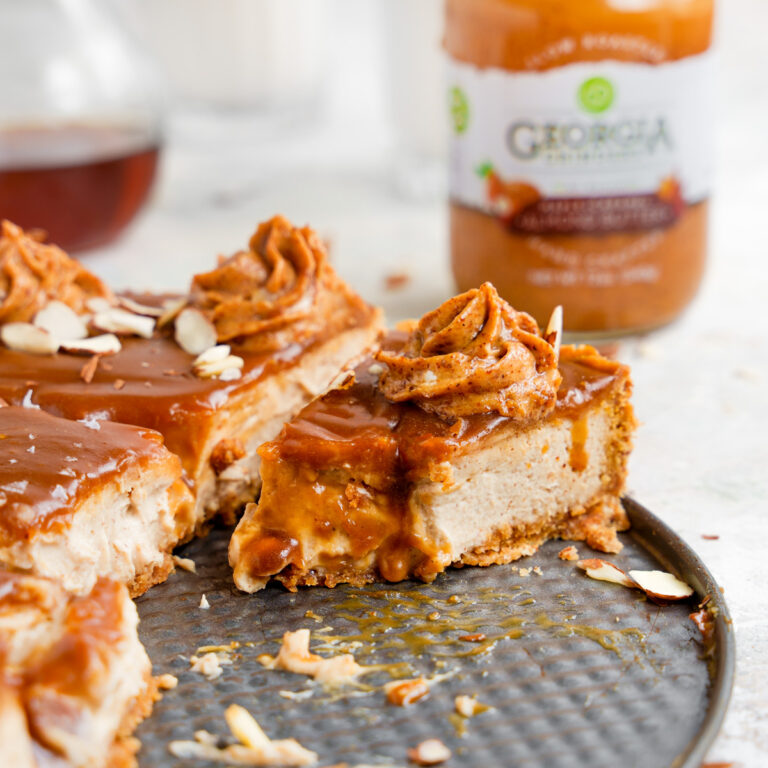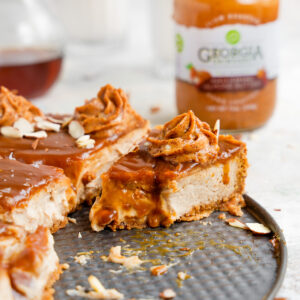 Maple Caramel Almond Cheesecake
This healthy vegan caramel cheesecake is delicious, and made with flavorful whole foods plant based nut butter! The perfect dessert recipe to make for a crowd of vegans and non vegans alike, they are sure to love it! This vegan cheesecake recipe is: oil-free, refined sugar-free, gluten-free, and WFPB!
Instructions
Begin by soaking your cashews overnight.

Preheat your oven to 350. Mix together crust ingredients and press into a 9" springform pan, making sure to build up the edges. Poke holes with a fork into the crust and bake for 10 minutes.

While the crust is baking, make the cheesecake filling by combining all ingredients in filling category into a blender and blend until silky smooth.

Remove the crust from the oven and pour the filling in. Bake for 35 minutes. Once done, remove from the oven and allow to cool at room temperature 15 minutes before placing in the fridge for at least 2 hours, or until chilled completely.

Make the frosting by mixing together the chilled white portion of the coconut cream, nut butter, and maple syrup and allow to chill in the fridge before piping (I make it while the cheesecake is baking and let it cool for the same amount of time as the cheesecake).

Once cooled completely make the caramel sauce. It helps to heat the coconut butter a little before mixing it together with the date syrup. Once caramel is achieved, remove the cheesecake from the pan and spread the caramel sauce over top of the cheesecake.

Pipe the frosting on top of the cheesecake. Sprinkle almonds and sea salt on top and enjoy!
Notes
If you forgot to soak the cashews overnight, you can add them to a pot of boiling water and boil until soft (about 15 minutes), and then rinse with cold water!