These nutrient dense cherry almond bliss balls are the perfect simple healthy dessert recipe! These energy bites are perfect for healthy dessert meal prep, healthy snacking, or on the go breakfast! This recipe is: raw vegan, paleo, oil-free, refined sugar-free, gluten-free, grain-free, and whole foods plant based!
I am excited to bring you today's cherry almond date bliss balls recipe! I've been making an effort to diversify my content recently. With that said, I've had a lot of request for more simple dessert recipes, and these easy bliss balls are the perfect solution. This cherry almond recipe is simple to make and uses whole foods plant based ingredients making it the perfect simple vegan bliss balls recipe!
How To Satisfy Your Sweet Tooth With Healthy Vegan Desserts:
I have a huge sweet tooth and love baking so sometimes I get caught up in making fancy vegan dessert recipes. However I can also be extremely lazy and crave the most simple sweet treats sometimes. If you would have asked me a couple years ago what I did when these cravings hit I would have told you I just ignored them. I'd say "I wasn't really craving anything".
However this ended up biting me in the butt and I ended up having months of cravings and binging. Now days I make simple treats like these cherry almond bliss balls. This helps to satisfy my cravings and incorporate additional nutrients into my diet!
How Long Can I Store These Cherry Almond Date Bliss Balls?
One of the best things about these cherry almond date bliss balls is that they are the perfect dessert meal prep! I find that meal prepping dessert can be difficult, because it's one of those things that it rarely tastes as good the second day. Of course there are some exceptions, but for the most part I find this to be true. I find this to be an issue, because sometimes by the time I've finished cooking dinner the last thing I want to do is make dessert. That's when these date bliss balls come to the rescue!
These bliss balls with dates are the perfect simple dessert recipe to meal prep and eat throughout the week. Not only can you make these cherry almond energy bites and enjoy them for dessert throughout the week, but they also make the perfect sweet and healthy snack, or on the go breakfast! These cherry bliss balls can store in the refrigerator for up to a week (but they may be gone before then haha)!
How To Enjoy Cherries Out Of Season:
There's nothing better than fresh in season cherries! That's a bit dramatic, but they're freaking delicious! However I will say, out of season cherries are rough! I actually hated cherries growing up, because the first time I remember having them they were out of season and gross. However I eventually tried them again when they were in season, and boy was I happy I did! They were delicious!
What happens when you're craving cherries when they are out of season? For starters you can always buy frozen cherries and make smoothies, or my Cherry Almond Ice Cream. Frozen cherries can definitely be hit or miss though.
My solution: Foods Alive Tart Cherries! I love these cherries because they have the delicious cherry flavor and they are just cherries – no added funky ingredients! They are perfect for snacking, or making these cherry almond date bliss balls when cherries aren't in season!
What Makes These Date Bliss Balls So Healthy:
Not only is this recipe packed full of healthy whole foods plant based ingredients, but it is also free of all the unhealthy stuff! These cherry almond bliss balls are super nutrient dense and perfect for all diets! These date bliss balls are:
RAW VEGAN
OIL-FREE
GLUTEN-FREE
REFINED SUGAR-FREE
GRAIN-FREE
PALEO
HIGH FIBER
HIGH PROTEIN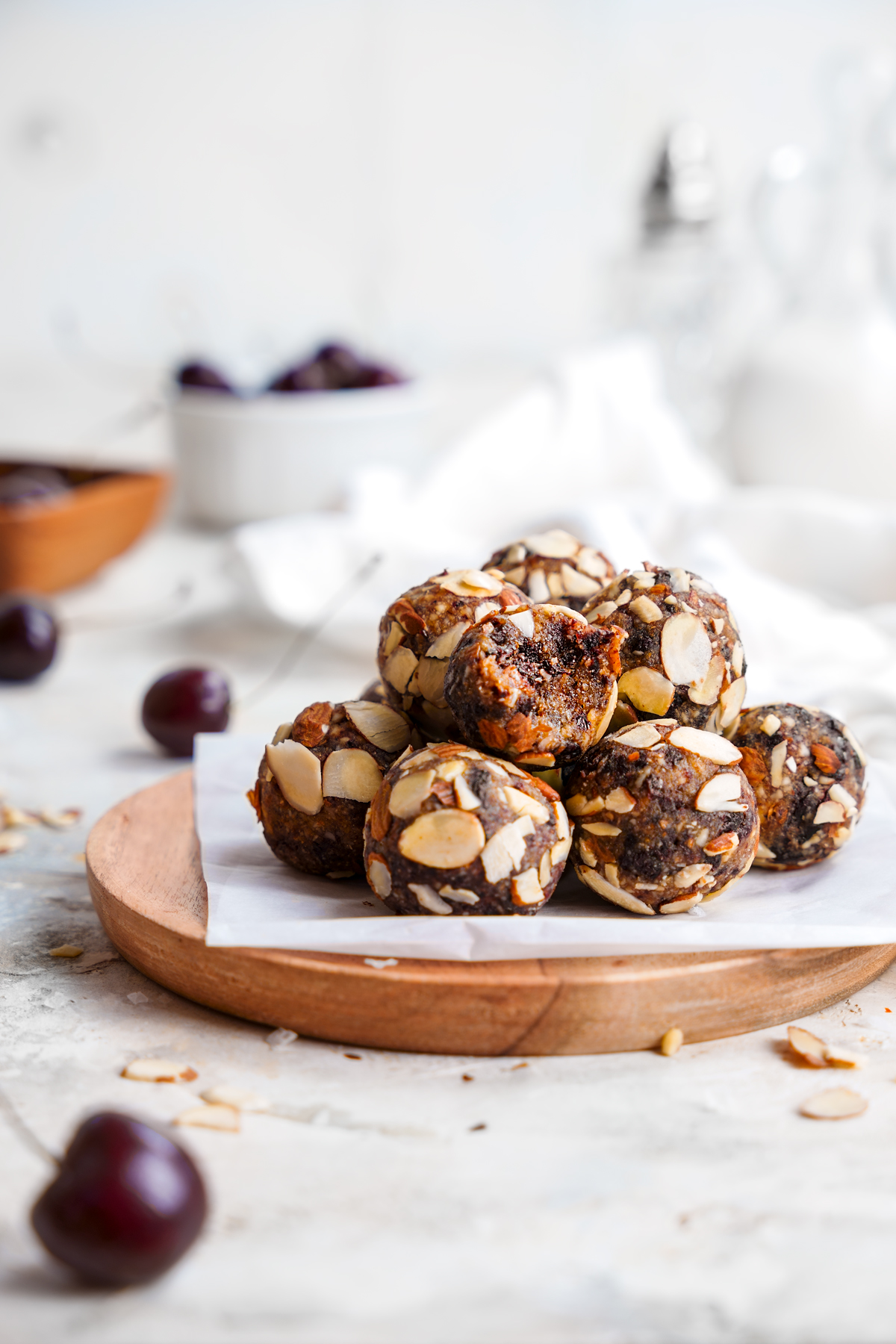 Can I Make These Cherry Almond Bliss Balls Date-Free?
Although I love dates, I understand that they are not for everyone. I love using dates, because they are the perfect caramel sweet candy that is perfect for naturally sweetening all kinds of things. However if you are not a date lover do not fear. These cherry almond date bliss balls can actually be made date-free! There is a couple of ways to make these vegan bliss balls without dates. Here are my suggestions:
Make these bliss balls using raisins, apricots, or prunes. You'll have to play around with the amount a little, but it should be somewhat close to the measurements for dates. I love using any dried fruit to sweetened my recipes, because it is 100% natural. Since dates are one of the more moist dried fruits you may have to add a tad bit of water to get your food processor going, but it shouldn't take too much work!
You can also make these cherry bliss balls without dates by doubling the amount of cherries and adding nut butter. Nut butter takes the place of the dates as far as stickiness goes, and the added cherries help to sweeten up the bliss balls. Since these cherries are tart I would suggest adding a bit of plant based sweetener such as maple syrup to add a bit of sweetness.
Ingredients For Cherry Almond Date Bliss Balls:
Medjool dates
Dried cherries
Whole almonds
Sliced almonds
Vanilla extract
Almond extract
How to make the best date bliss balls:
I feel like vegan bliss balls are either hit or miss. Sometimes they're the most delicious and addictive thing, and other times they taste dry and like blended up oatmeal. Thankfully this cherry almond bliss ball recipe is 100% delicious and grain free! How did I create the perfect cherry energy bites without any grains? These paleo bliss balls are made with nuts and fruits making them the perfect energy boosting snack or dessert!
There are a couple things to keep in mind when making the perfect paleo energy bites. First, make sure to follow the steps carefully. If you don't follow the steps for this cherry almond date bliss ball recipe you may blend the ingredients out of order and end up with a poor texture that doesn't stick together.
Second, make sure that you are using whole almonds and not almond flour. If you go with almond flour it may blend too much and you'll end up with a bliss ball that is far too sticky, because the flour will turn into butter.
Last, but not least is to use almond extract to enhance the almond flavor in these date bliss balls. I find that adding almond extract to almost any quick dessert recipe instantly boosts the flavor and makes it taste more like a fancy dessert!
Related Simple Vegan Dessert Recipes:
Cherry Almond Date Bliss Balls
These nutrient dense cherry almond bliss balls are the perfect simple healthy dessert recipe! These energy bites are perfect for healthy dessert meal prep, healthy snacking, or on the go breakfast! This recipe is: raw vegan, paleo, oil-free, refined sugar-free, gluten-free, grain-free, and whole foods plant based!
Ingredients
1

cup

medjool dates

packed down

1/2

cup

tart dried cherries

1

cup

whole almonds

1

tsp

vanilla extract

1

tsp

almond extract

1/3

cup

sliced almonds
Instructions
Begin by pitting all your dates and adding to the food processor. Blend until the dates are in small pieces.

Add the almond and vanilla extracts along with the whole almonds and blend again. You will start to see a smoother creamy texture.

Add the cherries and pulse until they begin to stick.

Roll mixture into 12 balls and roll in the sliced almonds (you may need to press the sliced almonds into the balls a bit). Serve and enjoy!