These Cherry Mango Popsicles are the perfect healthy and refreshing treat. They are made with simple, clean ingredients, and naturally sweetened. This recipe is raw vegan, oil-free, refined sugar-free, and gluten-free!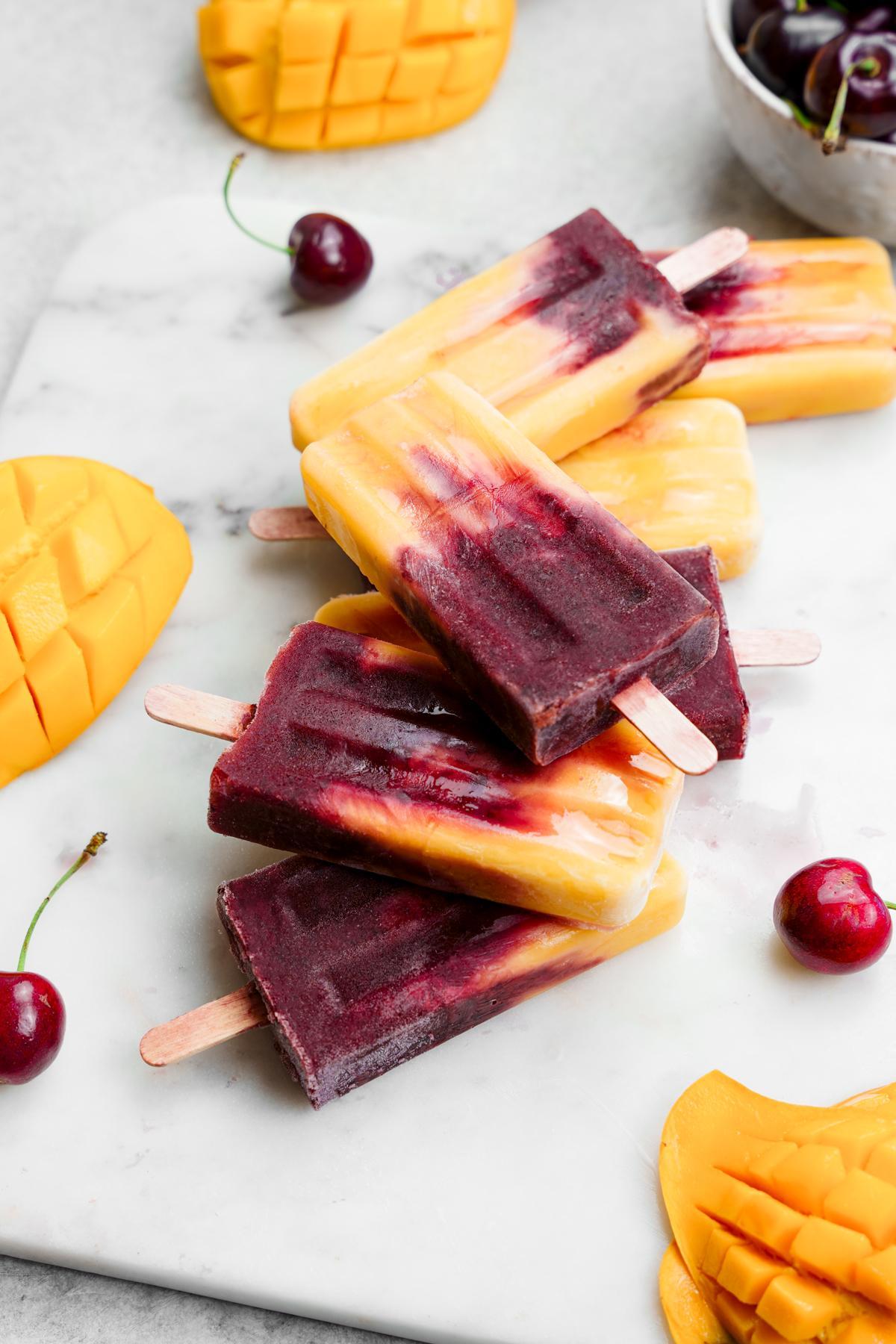 I am so excited to share today's Cherry Mango Popsicles with you! Cherries and mangos are both in season right now so bring on all the treats! There's something about this fruit combo that is just out of this world delicious! These naturally sweetened fruit based popsicles are the perfect summer treat for kids and adults alike.
What Makes These Cherry Mango Popsicles So Healthy?
If you've been on the search for the best healthy popsicle recipe, you've come to the right place! These Cherry Mango Popsicles are fruity and delicious, and made with whole foods plant based ingredients. Therefore they are packed full of health benefits! Some of the health benefits of this recipe are:
Full of electrolytes: This popsicle recipe is perfect for summer, because it is super hydrating. Coconut water is essentially nature's gatorade. It's full of electrolytes and low in sugar/carbs. The combination of the coconut water, cherries, and mango is the perfect refreshing treat for summer!
High in Vitamin C: Fruits are known for being packed full of Vitamin C, and cherries and mangos are no exception. Each of these fruits contain about 20% of your recommended daily intake of vitamin C.
Supports Heart Health: Both cherries and mangos are proven to support a healthy heart. Magnesium and potassium both help maintain healthy blood flow, which promotes lower blood pressure.
Aids in Digestion: This popsicle recipe uses plant based yogurt, which is a great source of probiotics. I recommend using plant based yogurt because it's vegan, but also because it contains fiber unlike dairy based yogurt. Fiber is crucial for healthy digestion, and this recipe is full of it.
Increases Muscle Recovery: Recent studies have shown that cherries may increase muscle recovery. The anti-inflammatory compounds and antioxidants may relieve muscle pain and damage. Even if you are not exercising, you're probably a lot more active in the summer. These popsicles are perfect for anyone looking to cool off and relax on a hot day.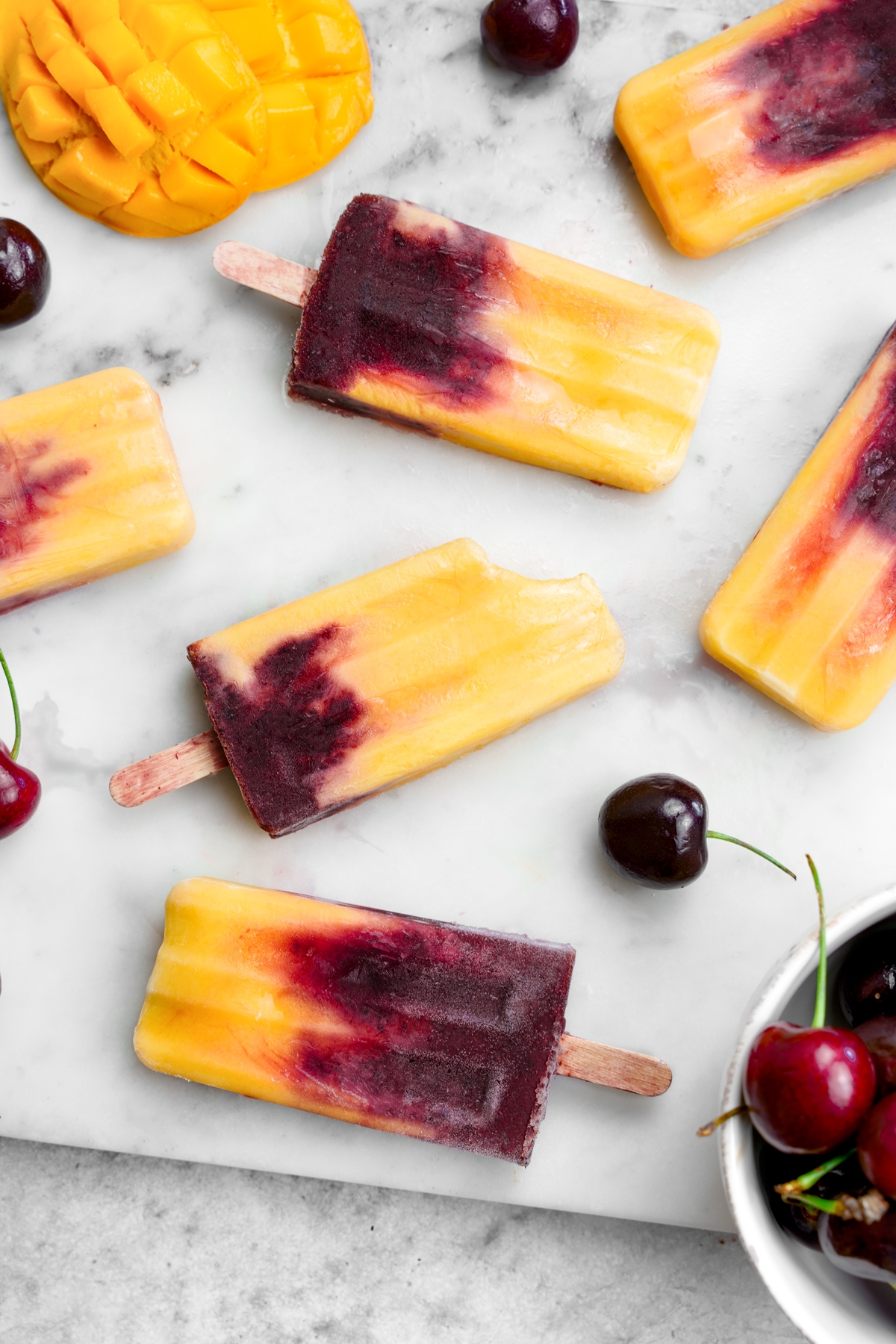 How To Keep Your Fruit Popsicles From Getting Icy:
A common problem I see having with homemade popsicles, especially homemade fruit popsicles is ice. It's very easy to attempt to make a fruit popsicle that's soft enough to bite into, but turns out to be a teeth-breaking block of ice. However I have a couple tips and tricks to prevent this from happening.
First, make sure you're not using ice, or water already. This may seem obvious, but water will freeze quicker than the other ingredients and that will cause you to end up with icy popsicles. Nobody wants that!
Second, use coconut water! To achieve the perfect frozen, but not icy texture, I love using coconut water. Coconut water has a lower freezing temperature than water (27 degrees vs 32 degrees), so it will take longer to freeze. The longer these Cherry Mango Popsicles take to freeze, the less likely they are to become icy.
Last, but not least, make sure that you always keep your popsicles covered. If left uncovered (even a little bit), they can get freezer burnt. This is one of the reasons I love these popsicle molds so much. They keep the popsicles tightly covered all over.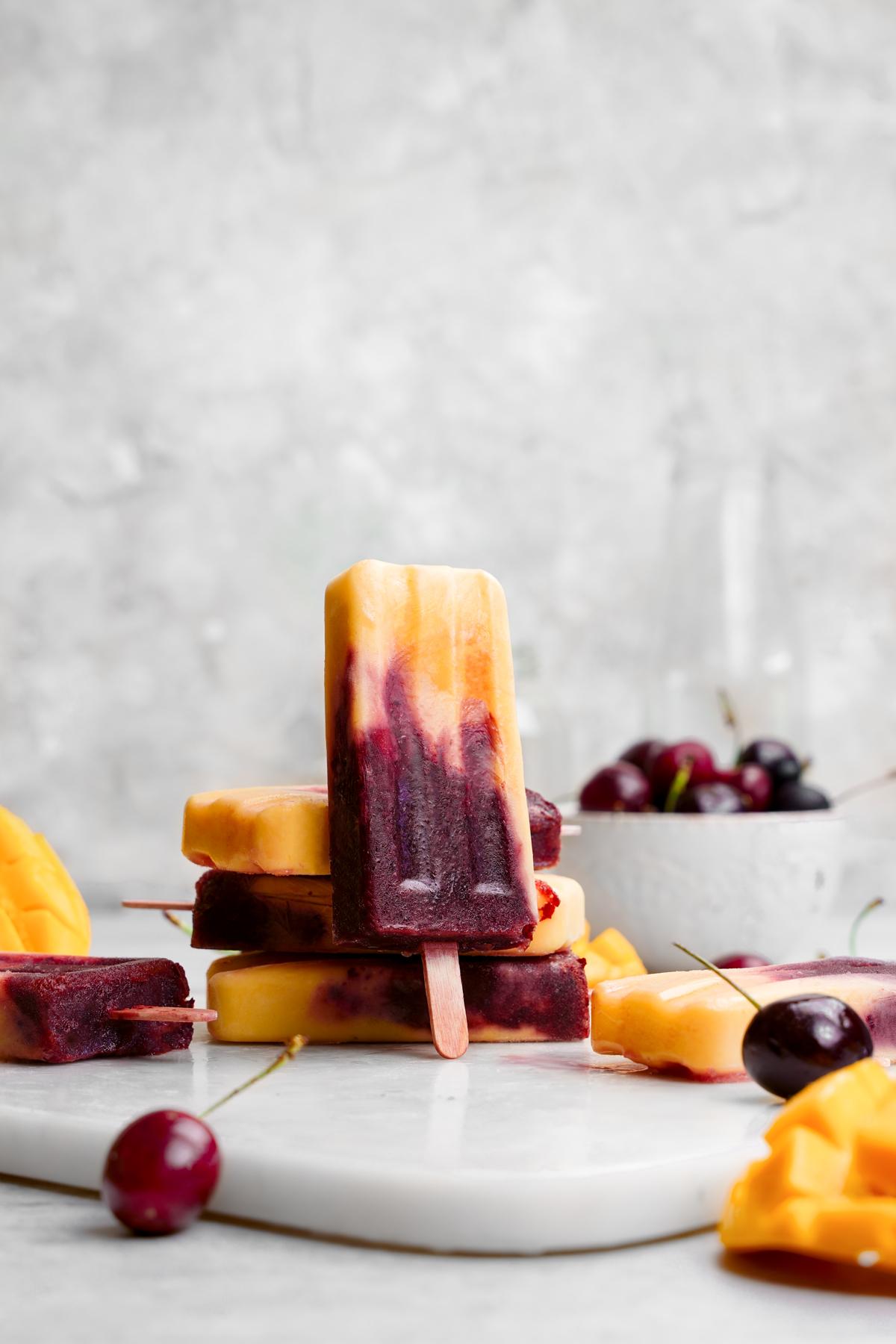 Ingredients For These Cherry Mango Popsicles:
Frozen Dark Sweet Cherries – This is the only ingredient you will need to purchase already frozen. I suggest buying frozen for a couple reasons. First, who wants to de-pit all those cherries? Second, frozen cherries are much easier to blend. Lastly, frozen cherries have a sweeter taste (in my opinion), so they're great for sugar-free popsicles like these!
Honey Mangos – You can also use regular mangos if you can't find honey mangos. I find that honey mangos have a much creamier texture and are not stringy like other mangos.
Vanilla Extract – Helps to prevent the mango frozen yogurt layer from turning into a hard block, and enhances the flavor.
Coconut Water – Recently I have seen a lot of companies begin to add cane sugar to their coconut water. Make sure to check the label and get an unsweetened one! Harmless Harvest is a brand I can always count on!
Plant Based Yogurt – I went with Kite Hill almond milk yogurt. You can make this recipe using any vegan yogurt, I am sure coconut yogurt would taste incredible!
How To Make This Cherry Mango Popsicle Recipe:
To make these Cherry Mango Popsicles, all you will need is popsicle molds (these are the ones I use and I LOVE them), and a blender or food processor. You can make these mango cherry swirl popsicles like in the photos, or you can blend all the ingredients together for easier preparation.
If making layers and swirls, begin by making the mango frozen yogurt layer. I put this layer first, because it's thicker and would sink if put on top.
To make this layer, begin by slicing off the sides of the ripe mango, then scoring it into cubes. Pop the cubes off into the blender with the plant based yogurt and vanilla extract. Blend until silky smooth.
Pour the mango mixture into the popsicle molds. Next, make the cherry portion. Rinse the blender and add the frozen cherries and coconut water. It helps to let the cherries thaw for a bit before blending. Blend until smooth and no fruit chunks are left.
Pour the cherry mixture on top of the mango half. Use a chopstick to achieve beautiful mango cherry swirls. Place the popsicle sticks in and cover. Freeze for 4 hours, or overnight. When ready to eat, simply pop and enjoy!
Frequently Asked Questions:
How Long Do These Cherry Mango Popsicles Keep?
Homemade popsicles are much healthier than store bought. Store bought popsicles contain all kinds of preservatives and stabilizers, whereas homemade don't. This is great, because you can still enjoy the deliciousness of popsicles, but without all the harmful ingredients.
With that said, homemade popsicles have a much shorter shelf life. I wouldn't keep these popsicles in your freezer for longer than two weeks. The flavor and texture will begin to be effected at that point. Luckily these Cherry Mango Popsicles are so good that they probably won't make it to the end of that shelf life.
Are Popsicles Good For Weight Loss?
Popsicles can be a great healthy treat for weight loss if you choose the right kind. I would suggest avoiding store bought popsicles. They typically contains lots of added sugar, or artificial sweeteners.
However if you make homemade popsicles like these Cherry Mango Popsicles they're great for weight loss. They are made with whole foods plant based ingredients, so they are naturally very healthy. Popsicles are also great, because they are portioned out.
If you're anything like me and suck at portion control, this is great. You can enjoy the popsicle without overindulging. Although, I think it's impossible to overindulge on the goodness of fruit!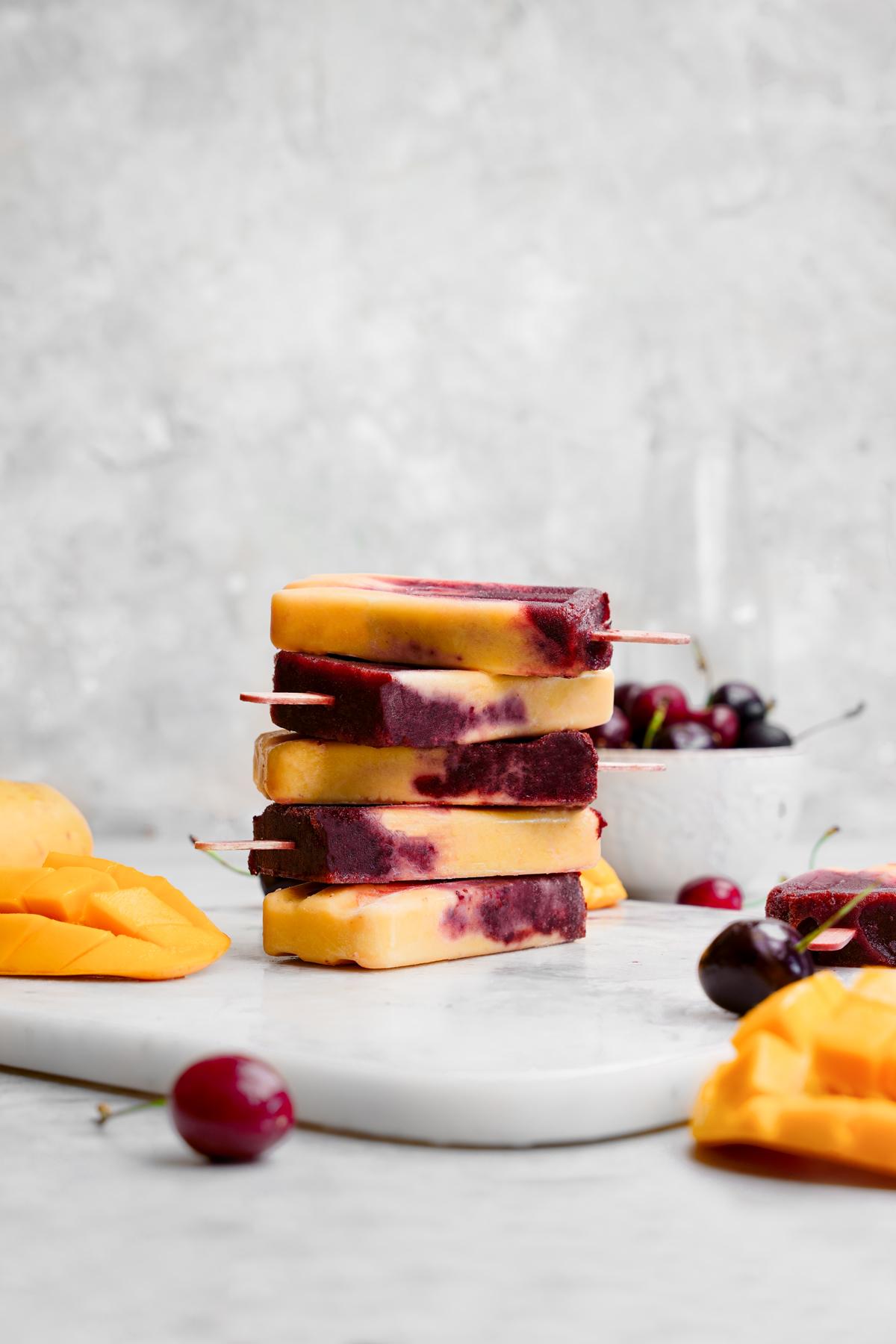 Can I Make These Mango Cherry Popsicles With Frozen Mango?
Frozen fruit is amazing. It allows you to have all these deliciously sweet ingredients on hand and ready to go at any moment. For the most part I think that frozen fruit tastes just as good as fresh fruit (with the exception of frozen blueberries which I prefer over fresh). However there are some fruits that I find are simply not as good when frozen.
At the top of this list is frozen strawberries, and then a close second is mangos. Mangos are tricky, because I've had some really good frozen mango, and some really, really bad frozen mango. For this reason I wouldn't recommend using frozen mango. Luckily fresh mangos are very affordable, and accessible, so this should not be an issue.
Related Summer Recipes:
Cherry Mango Popsicles
These Cherry Mango Popsicles are the perfect healthy and refreshing treat. They are made with simple, clean ingredients, and naturally sweetened. This recipe is raw vegan, oil-free, refined sugar-free, and gluten-free!
Ingredients
For The Mango Frozen Yogurt Half:
4

honey mangos

you can use regular mangos too (I'd say use 2-3)

2

cups

plant based yogurt

1

tsp

vanilla extract

if making this raw vegan, use vanilla bean powder
For the Cherry Popsicle Half:
2

cups

frozen cherries

1

cup

coconut water
Instructions
For The Mango Frozen Yogurt Half:
Begin by preparing the mango. I slice the cheeks off, then score the sides and scoop the cubes into the blender.

Once all the mango is in the blender, add the the yogurt and vanilla extract. Blend until smooth.

Pour into the popsicle molds.
For The Cherry Popsicle Half:
Let the cherries thaw for about 10 minutes before blending.

Add cherries and coconut water together and blend until smooth.

Pour over the mango half and use a chopstick to create the swirls.

Place in the freezer and freeze for at least 4 hours (overnight is best). Once frozen, serve and enjoy!
Notes
If you want to increase the sweetness to this recipe you can add 1 tbsp of maple syrup to each half and blending. It may take a bit longer to freeze, but other than that it works great!