This superfood yogurt bark is the perfect healthy summer treat! It uses simple whole foods plant based ingredients and only takes 5 minutes to make. This recipe is: vegan, oil-free, gluten-free, and refined sugar-free!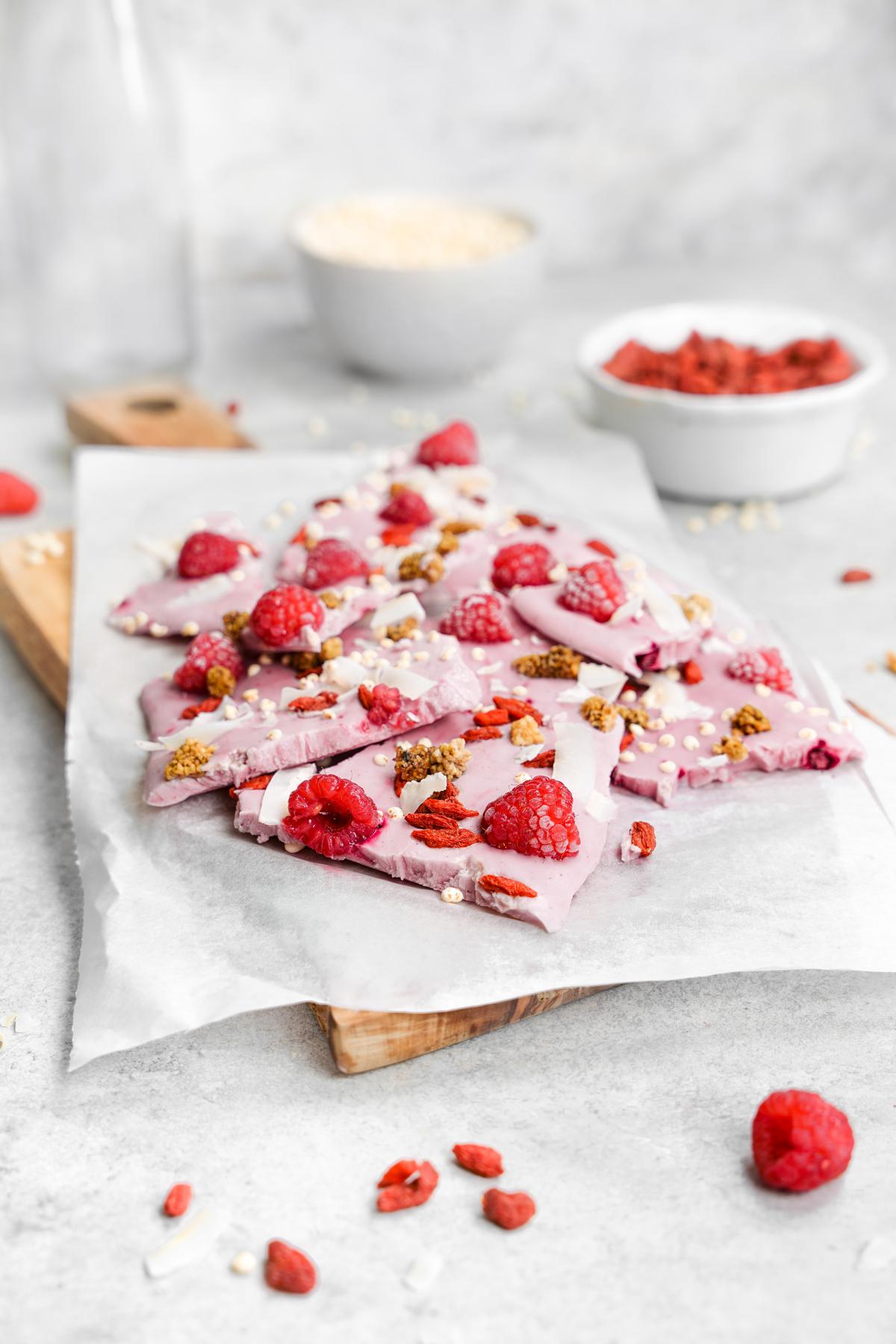 I am so excited to share today's vegan superfood yogurt bark recipe with you guys! This frozen treat is loaded with superfoods and nutrient dense ingredients. I've been making it on repeat and snacking on it throughout the week whenever my sweet tooth kicks in. It's so quick and easy to make!
What Is Yogurt Bark and how can you make it vegan?
Yogurt bark recently shot to fame after going viral on TikTok. However I have been making yogurt for years. I used to make it all the time with greek yogurt before I was vegan. When I first went vegan the plant based yogurt options were pretty nonexistent. Therefore I moved on and forgot about it.
However after seeing all the videos on TikTok, I was inspired. There are so many delicious plant based yogurts available nowadays that I no longer had an excuse to not make it.
Typically yogurt bark is just sweetened yogurt topped with fruit and granola. To make yogurt bark vegan, all you nees to do is use a vegan yogurt and plant based toppings. If you choose to add granola, make sure that it does not contain honey!
I could have made just another regular yogurt bark, but I made an extra special yogurt bark made with superfoods! This elevates this treat to make it extra healthy and extra delicious!
What Superfoods Are In This Vegan Yogurt Bark?
This yogurt bark recipe is packed full of a variety of beauty boosting superfoods. Instead of going through the hassle of trying to add the right ratios of each superfood, I prefer to use a superfood blend. My absolute favorite is Smoov Blush Blend.
Smoov is a Canadian based superfood company that creates, organic, freeze dried, and raw vegan superfood blends. They offer a variety of delicious plant based blends that can be enjoyed in smoothies, yogurts, or even just mixed with water.
Their Blush Blend is specially crafted to support natural beauty. It is full of powerful ingredients that are known to support and increase some of our bodies physical aspects. These ingredients and benefits include:
Pomegranate - Full of fiber, antioxidants, folate, Vitamin C and K.
Beet - Contain fiber, folate, vitamin C, manganese, iron, potassium, and help increase blood flow.
Acerola Cherry - One of the best sources of Vitamin C. They are used to treat skin blemishes, and promote skin elasticity.
Raspberry - Have anti-aging effects, and are high in fiber, manganese, and Vitamin C.
Strawberry -Are loaded with Vitamin C, manganese, potassium, fiber and antioxidants.
Cranberry - Are rich in various bioactive plant compounds that can help prevent UTI's and improve heart health.
Blueberry - Full of antioxidants that repair and maintain skin and improve brain function.
Red Dragon Fruit - Loaded with antioxidants that help to prevent damage from free radicals that can lead to premature aging.
If you're interested in trying out Smoov, you can use my code: "THEALLNATURALVEGAN" for 15% off!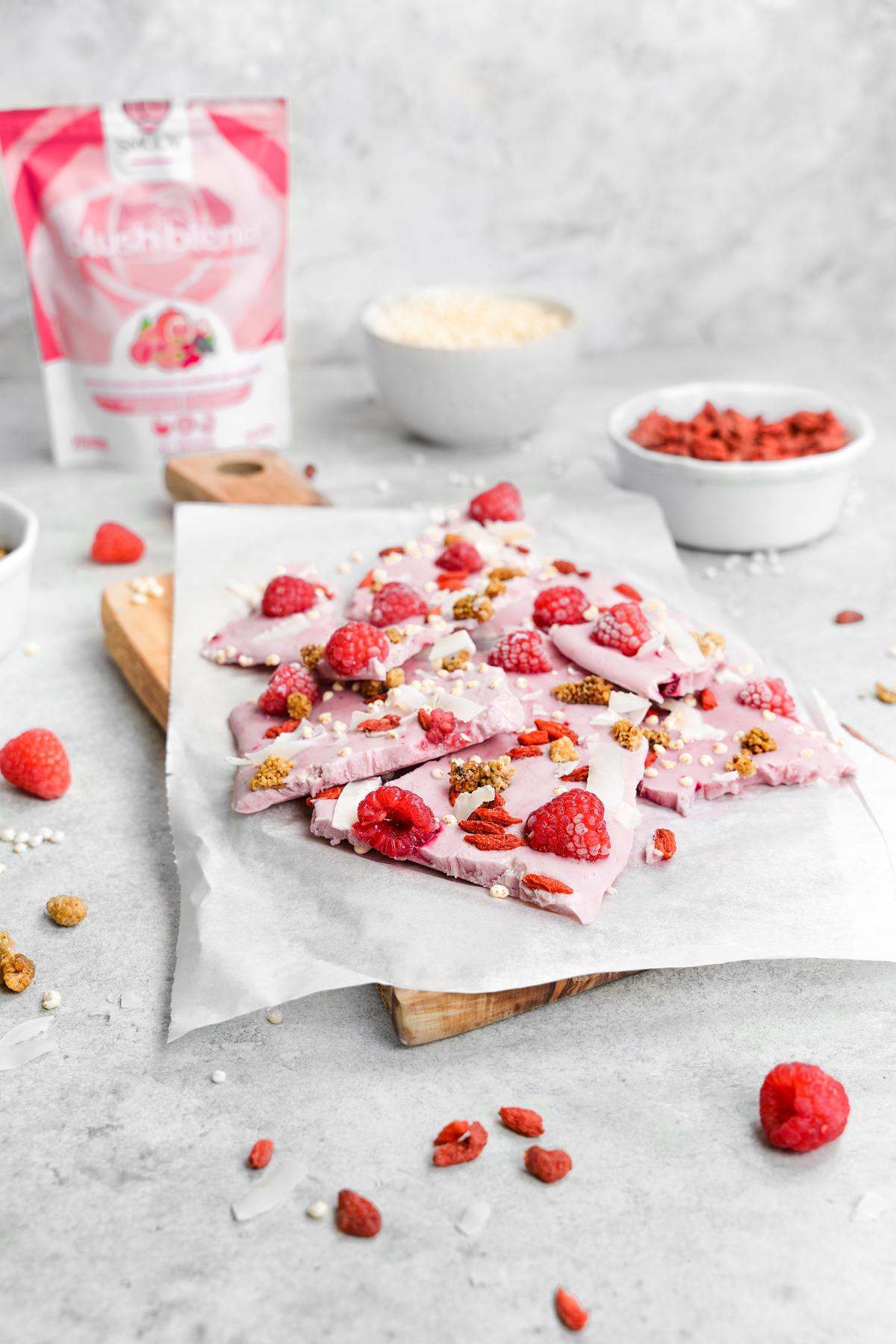 Ingredients For This Superfood Yogurt Bark:
Plant Based Yogurt - Any unsweetened yogurt will work. Make sure you are looking for one that contains live active cultures (good for gut health), and is oil-free/refined sugar-free. Some of my favorite vegan yogurt brands include: CocoJune, Harmless Harvest, Kite Hill, and even the Sprouts generic brand coconut yogurt.
Pure Maple Syrup - Make sure that you use pure 100% maple syrup, and not a sugar, or corn syrup based blend. Pure maple syrup contains antioxidants, vitamins and minerals like: iron, magnesium, potassium, and more!
Smoov Blush Blend Superfood Powder - If you're interesed in trying Smoov, my code "THEALLNATURALVEGAN" gets you 15% off!
Dried Goji Berries - One of my absolute favorite superfoods. Goji berries are a delicious dried berry that is full of antioxidants, support immune health, promote eye health, and support healthy digestion.
Dried Mulberries - Another one of my favorites. Mulberries are a dried fruit that aids digestion, helps increase circulation, improve vision, boost immunity, and are anti-inflammatory.
Coconut Flakes - Any dried coconut will work. Make sure that you get unsweetened. Coconuts are full of iron, magnesium, copper and selenium. These nutrients help support a health metabolism, and cell protection.
Puffed Millet - This adds a nice breakfast cereal taste, and looks pretty. If there's an ingredient I'd tell you that you could leave out it'd be this one. Puffed grains do not contain a lot of nutrients, or fiber. However they are still much healthier than sugary breakfast cereals.
Raspberries - You can use any fresh fruit, but I find that raspberries freeze the best and taste the best. Unlike other fruits they don't turn into a solid block when frozen. Raspberries are low in sugar, loaded with antioxidants, high fiber, and have anti cancer benefits.
How To Make This Superfood Yogurt Bark:
This vegan yogurt bark may just be one of the easiest recipes I have ever shared. There are no special tools needed for this recipe. All you will need is a medium sized bowl, parchment paper, and a spoon!
Add the yogurt and the maple syrup together in the bowl. Mix until smooth. Add in the Smoov Blush Blend and mix again until there's no chunks of the powder.
Spread a sheet of parchment paper on a large sheet pan, or cutting board (any flat surface that will fit in the freezer will work). Scoop the yogurt onto the parchment paper and spread with the back of the spoon. You'll want it to be about ¼ inch thick.
Next sprinkle the toppings on top. There's really no right or wrong way to do this. Whatever amount feels best to you is how much you should use! Once covered with toppings, place in the fridge for at least 2 hours.
Once completely frozen, break apart and enjoy!
Frequently Asked Questions:
How Long does yogurt bark last in the freezer?
This yogurt bark recipe must be stored in the freezer. If you don't store this recipe in the freezer, it will melt and turn back into regular yogurt. If stored properly this yogurt bark can keep in the freezer for about 2 weeks (although I doubt you'll be able to resist it for that long).
Best way to store this vegan yogurt bark:
Storing this yogurt bark correctly is absolutely crucial. How do you do that? Air-tight glass storage containers. It's the only way to ensure that this recipe keeps for the full two weeks in the freezer. You can use other storage container, but you will risk freezer burn.
Is dairy-free yogurt healthy?
It seems like new vegan substitutes are popping up daily. Which is great for vegans, but not always great for people following a whole foods plant based vegan diet like myself. Many of these substitutes are full of heavily processed seed oils, weird flavorings, preservatives, and more.
I was scared to try vegan yogurt for the longest time, because I assumed that they were made with these ingredients. I couldn't have been more wrong. For the most part dairy-free yogurts are made with whole foods plant based yogurts and even contain the probiotics that yogurt is known for.
If you look through the label and you don't see any oils, weird ingredients you can't pronounce, or added sugar, you should be good to go!
Can I make this superfood yogurt bark with other Smoov Superfood Blends?
Smoov offers a variety of superfood blends. Each blend contains specific ingredients targeted at certain aspects of wellness. For example I also love making this Superfood Yogurt Bark with their Green Blend. It's the perfect way to incorporate more nutrient dense ingredients into your diet.
I personally find that their blends have a great flavor naturally. However if you prefer more sweet foods, you may want to add a bit more maple syrup when using blends like the greens!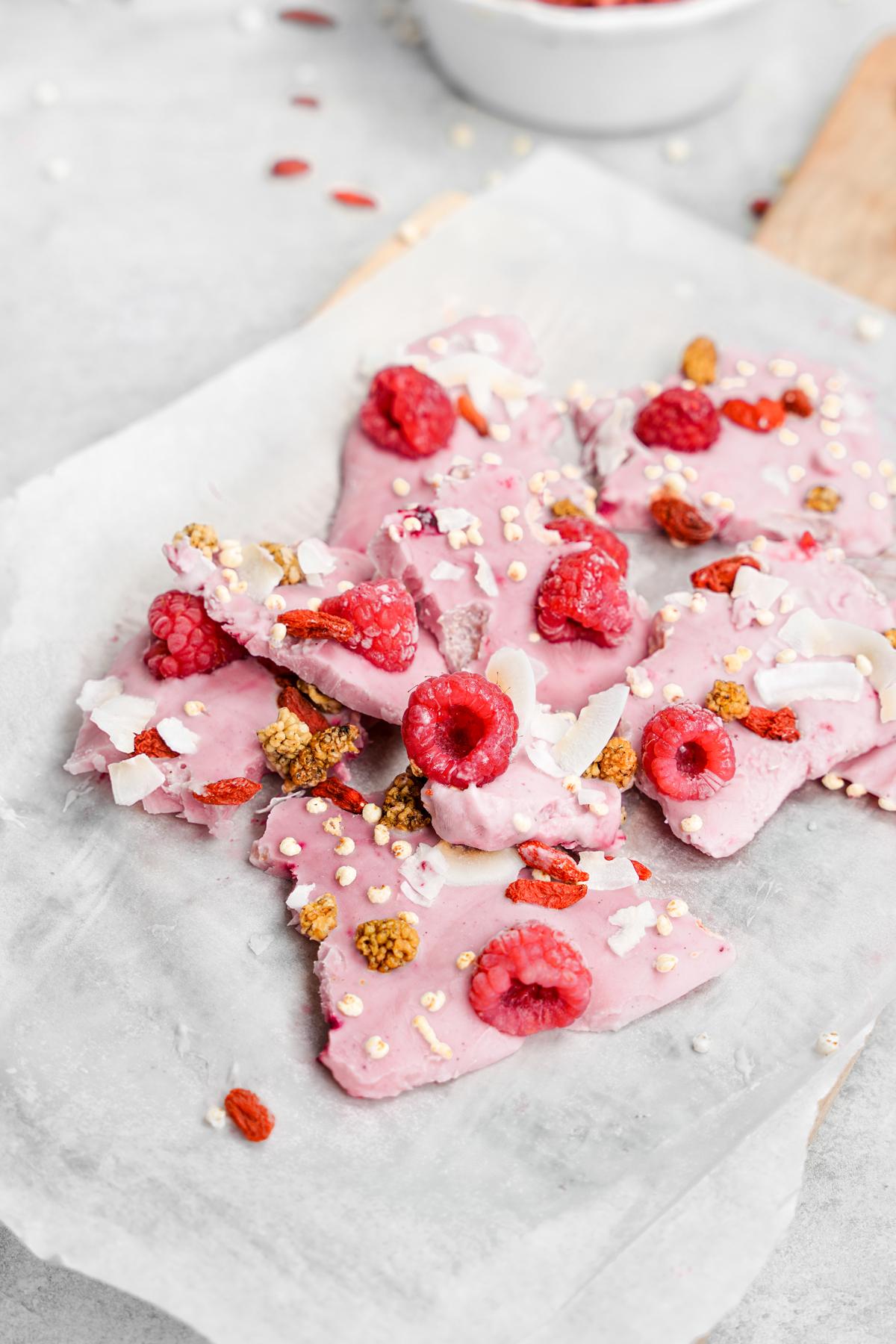 Related Recipes:
Superfood Yogurt Bark
This superfood yogurt bark is the perfect healthy summer treat! It uses simple whole foods plant based ingredients and only takes 5 minutes to make. This recipe is: vegan, oil-free, gluten-free, and refined sugar-free!
Equipment
Parchment paper

1 medium bowl

1 spoon
Ingredients
Toppings:
goji berries

white mulberries

puffed millet

coconut chips

fresh raspberries
Instructions
Begin by combining the yogurt and maple syrup together. Mix until smooth.

Add in the Smoov Blush Blend and mix until there's no clumps.

Place a sheet of parchment paper on a sheet pan or cutting board (any flat surface that will fit in the freezer will work.

Pour the yogurt onto the parchment paper and spread with the back of the spoon. You'll want it to be about ¼ of an inch thick.

Add the toppings and place in the freezer to freeze for at least 2 hours. Once frozen, break apart and enjoy!