This Whole Foods Fettuccine with Cauliflower Alfredo sauce recipe is ultra creamy and vegetable based for the ultimate low calorie pasta recipe! This simple vegan recipe only has 10 ingredients and 5 steps (and one of those is just boiling water!). This plant based Fettuccine Alfredo Recipe is: oil-free, vegan, gluten-free, nut-free, refined sugar-free, low-calorie, and whole foods plant based!
I am so excited to bring you one of my classic vegan recipes: Fettuccine with Cauliflower Alfredo sauce! In my pre vegan days Fettuccine Alfredo was one of my all-time favorite foods. Growing up pasta was a staple in my family, because it is affordable, and serves a crowd (there were 7 of us growing up!). As much as I love tomato sauce, creamy Alfredo sauce has my heart! What's not to love about creamy pasta?
Well, there's something to hate about traditional creamy pasta and that is dairy. I could go on for days about all the reasons to avoid dairy. However I'll keep it short and sweet, because chances are if you're on my website you're already not eating, or limiting your dairy intake. Dairy is harmful to our health, because: it robs our bodies of calcium (contrary to the popular belief), it causes acne and hormonal imbalances, and can cause ovarian and prostate cancer.
However if you're a cream and cheese lover no need to fear! You can still make all of your favorite recipes like Fettuccini Alfredo dairy-free! Not only by making this cauliflower Alfredo sauce dairy-free are you avoiding all the harmful effects of dairy, but you are incorporating health promoting ingredients into your diet and increasing the plant based diversity in your gut microbiome. That's a win-win if you ask me! If you're interested in other classic dishes made whole foods plant based vegan, check some of my others out!
Classic Whole Foods Plant Based Recipes:
What Is This Alfredo Sauce Made From?
This creamy and delicious plant based Alfredo sauce is made from whole foods plant based ingredients. No processed ingredients are involved when making this recipe! This healthy fettuccine recipe is also loaded with vegetables. I love taking advantage of any opportunity to add extra vegetables to a recipe. We all know that eating vegetables is good for us, but it's especially good for us when we sub out something bad for a healthy vegetable. This cauliflower Alfredo sauce recipe does exactly that.
This vegan cauliflower Alfredo sauce takes the place of a typically high saturated fat sauce. Therefore it is providing us with a clean and delicious whole foods plant based sauce! I feel like fettuccine Alfredo is a major fear food for many people. Traditionally it is loaded with saturated fat and is very calorically dense. However my low calorie cauliflower Alfredo sauce is to the rescue! It is super simple and tastes just like the reel thing!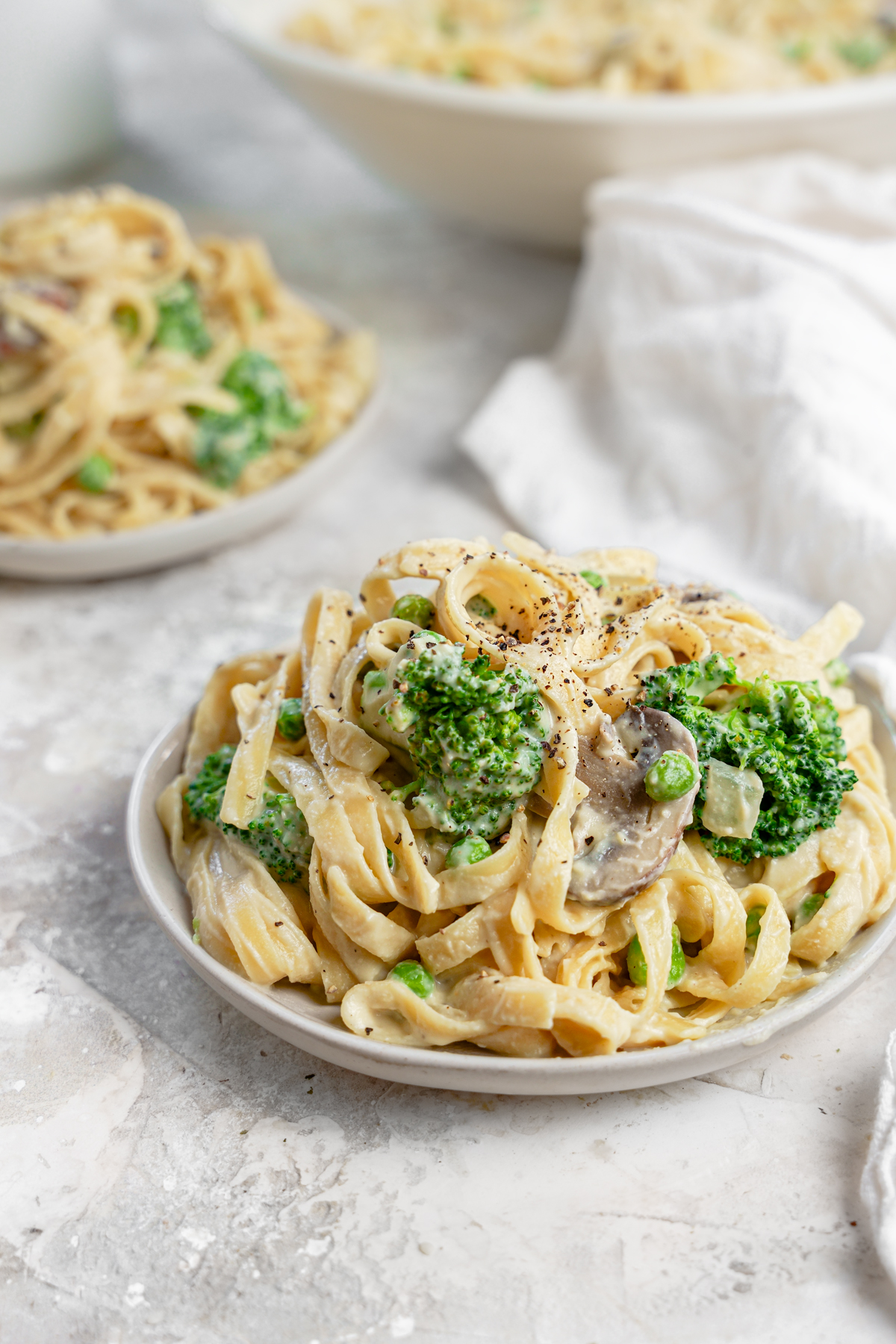 What Makes This Cauliflower Alfredo Sauce Healthy:
This healthy cauliflower Alfredo sauce is one of the healthiest sauces out there for more reasons than just that it is cauliflower based. This vegan cauliflower Alfredo sauce recipe contains 7 100% plant based ingredients that can improve your gut microbiome with plant based diversity. When you combine the sauce with the fettuccine and cooked vegetables you are increasing the diversity even more! However this vegan Alfredo sauce is not only loaded with the good stuff, but it is also free of all the bad stuff! This Alfredo sauce is:
OIL-FREE
GLUTEN-FREE
DAIRY-FREE
VEGAN
WFPB
LOW SODIUM
REFINED SUGAR-FREE
Tips For Making The Best Vegan Cheese Sauces:
Vegan cheese can be such a mess (literally and figuratively). The recipes are either way too chunky, or slimy and gross. However after years of experimenting in the kitchen trying to craft the perfect vegan cheese recipes and cheese sauces, I have discover one crucial key: golden potatoes. You may be like huh? Honestly I don't blame you! When I first experimented with adding potatoes I thought that there was no way it would work. However to my surprise it made the perfect creamy vegan cheese! It's important that you use golden potatoes. I am honestly not sure why, but I have tried with other kinds of potatoes and it doesn't work quite as well!
By adding cooked golden potatoes to this cauliflower Alfredo sauce you are increasing the start content naturally. This helps to give it the ultimate stretchy cheese/cream like texture when heated. Not only does it help the texture, but it also helps the flavor of this cauliflower sauce. Because it helps keep the cauliflower flavor in check. By this I mean: cauliflower can sometimes be an overwhelming flavor, so it's important to find ways to mute that flavor when you don't want it to be the overpowering flavor. Cauliflower may be the chameleon of vegetables, but let's stop denying that there is a flavor!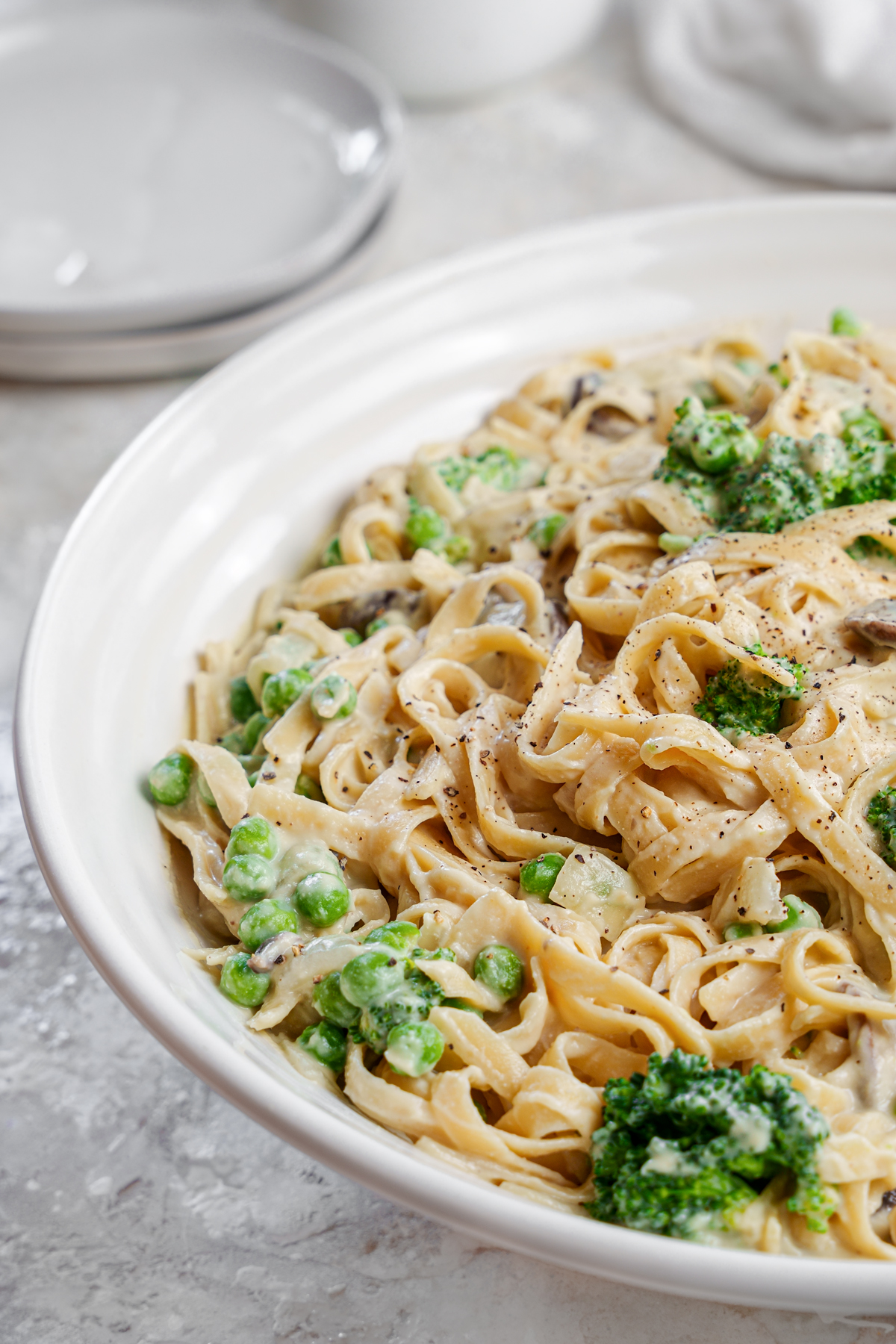 Can I Make This Cauliflower Alfredo Nut-Free?
This cauliflower Alfredo recipe honestly may be one of my most-made recipes on my website. It's simple, easy, and healthy. Over the many times I've made this recipe, I've played around with it to see how different ingredients have different effects. This recipe as listed does contain cashews, or cashew butter. However you can easily make this cauliflower Alfredo sauce nut-free by simply leaving out the cashews. The flavor will not be effected significantly, and the overall calories of this Alfredo sauce will be lowered.
Ingredients For This Fettuccine With Cauliflower Alfredo Sauce Recipe:
FOR THE FETTUCCINE:
Broccoli
Onions
Garlic
Mushrooms
Peas
FOR THE CAULIFLOWER ALFREDO:
Cauliflower
Golden potatoes
Miso paste
Plant based milk
Black pepper
How To Make This Cauliflower Alfredo:
This cauliflower Alfredo recipe may be a bit intimidating at first, because it requires a couple of steps, but I assure you it is an incredibly easy recipe! To make this vegan Alfredo sauce recipe you need a steamer/pressure cooker and a high speed blender. These are definitely investment purchases, but I could not recommend them enough! I use both of these appliances daily (if not multiple times a day). For example using my Vitamix over my old nutribullet for this cauliflower Alfredo sauce is not even comparable. It comes out so smooth and creamy, and not chunky at all!
If you're in a time crunch, you can totally speed this process up by using frozen cauliflower and potatoes. Simply reheat and then add to your blender with remaining Alfredo ingredients and blend until smooth!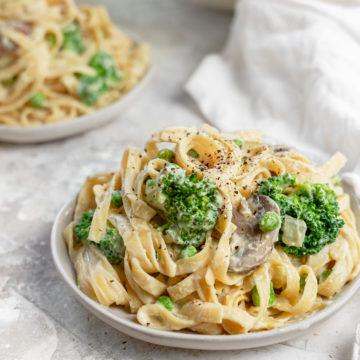 Fettuccine with Cauliflower Alfredo Sauce
This Whole Foods Fettuccine with Cauliflower Alfredo sauce recipe is ultra creamy and vegetable based for the ultimate low calorie pasta recipe! This simple vegan recipe only has 10 ingredients and 5 steps (and one of those is just boiling water!). This plant based Fettuccine Alfredo Recipe is: oil-free, vegan, gluten-free, nut-free, refined sugar-free, low-calorie, and whole foods plant based!
Ingredients
For the fettuccine:
1

box

bean based fettuccine

2

crowns

broccoli

2

cloves

garlic

1

cup

button mushrooms

1

onion

1

cup

peas
For the Alfredo:
1

cauliflower

⅓

cup

nutritional yeast

1

teaspoon

miso paste

½

cup

unsweetened plant based milk

½

cup

soaked cashews

or ¼ cup raw cashew butter

2

golden potatoes

1

tablespoon

garlic powder

black pepper
Instructions
Begin by roughly chopping your cauliflower and potatoes and placing in your pressure cooker to steam. I went for about 11 minutes on high.

Next boil your fettuccine and cook according to package instructions.

Dice onions, mince garlic, slice mushrooms, and chop broccoli. In a sauté pan add your onions and garlic with a little water and sauté. Add the mushrooms followed by the broccoli. Turn on medium/low.

Once the cauliflower and potatoes have finished steaming, add them along with the other sauce ingredients to a high speed blender and blend until smooth.

Add strained fettuccine and sauce to vegetable mixture and cook for about 5 minutes, or until the sauce has thickened slightly and the fettuccine is evenly coated. Top with black pepper, serve and enjoy!