This creamy vegan lemon bars recipe is made with simple whole foods plant based ingredients. These lemon bars are also low-fat and coconut free! This recipe is oil-free, gluten-free, refined sugar-free, and of course vegan!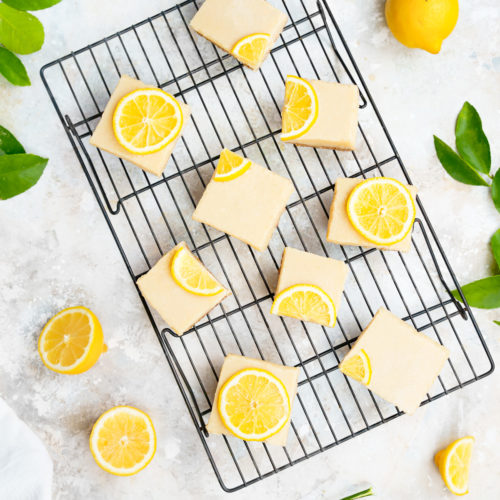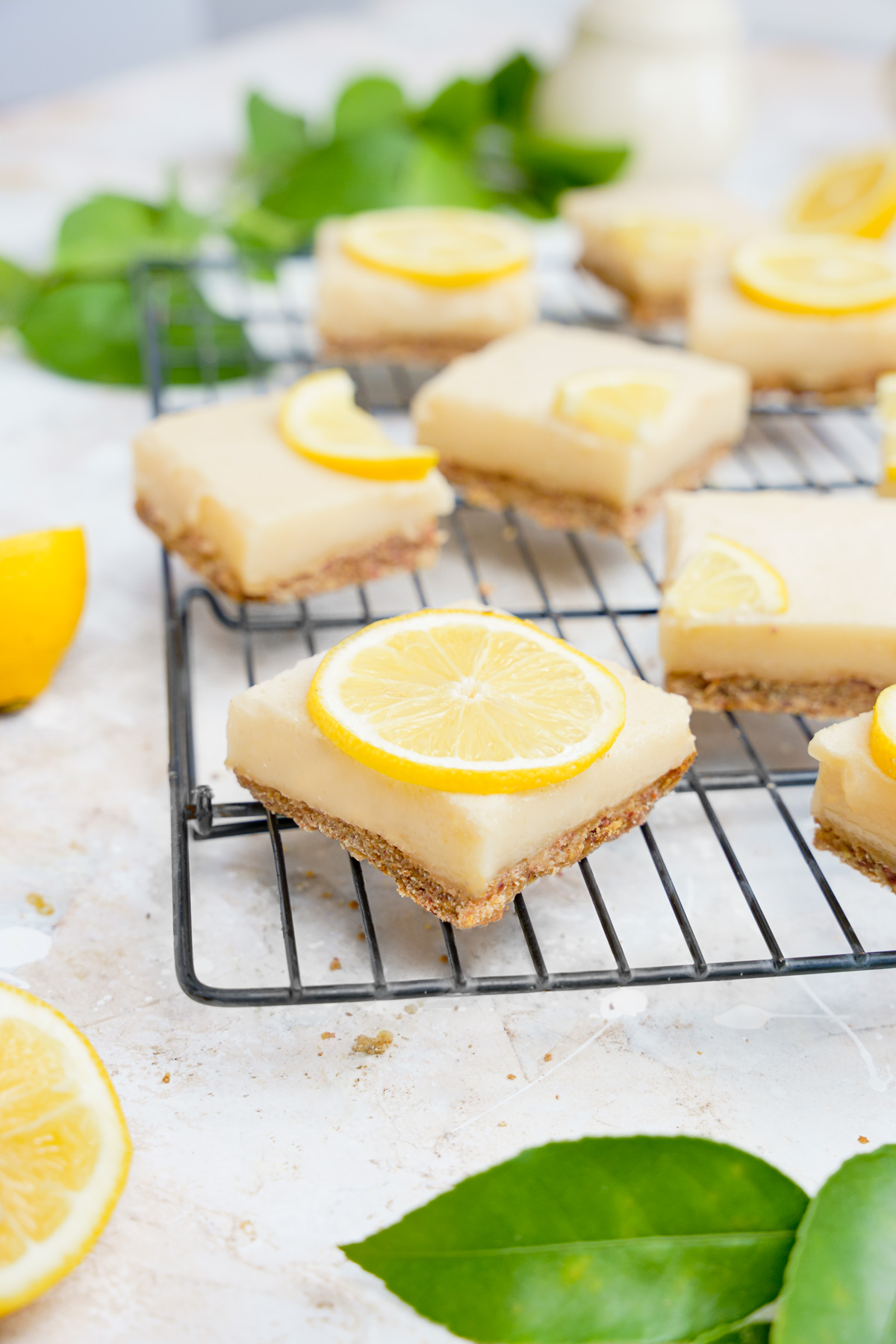 Today is a very special day, because I get to share one of my all time favorite foods with you all: creamy vegan lemon bars! These vegan gluten-free lemon bars are the perfect Spring treat. I am honestly confused why it took me so long to share this recipe, because lemon bars are my all-time favorite dessert. After going vegan I kind of forgot about them.
I've said this before, but when I went vegan I did not look for substitutions for old recipes, but rather found new ones. However I have been vegan now for about 4 years and I am finally recreating many of those classic recipes that I really missed. These healthy lemon bars are one of those recipes!
I am truly a sucker for anything lemon. There's something about the flavor that just sits better. Don't get me wrong, I love a good decadent recipe such as my Healthy Vegan Chocolate Cake, or my Date Sweetened Brownies. However I simply can not get enough of Spring inspired citrus desserts!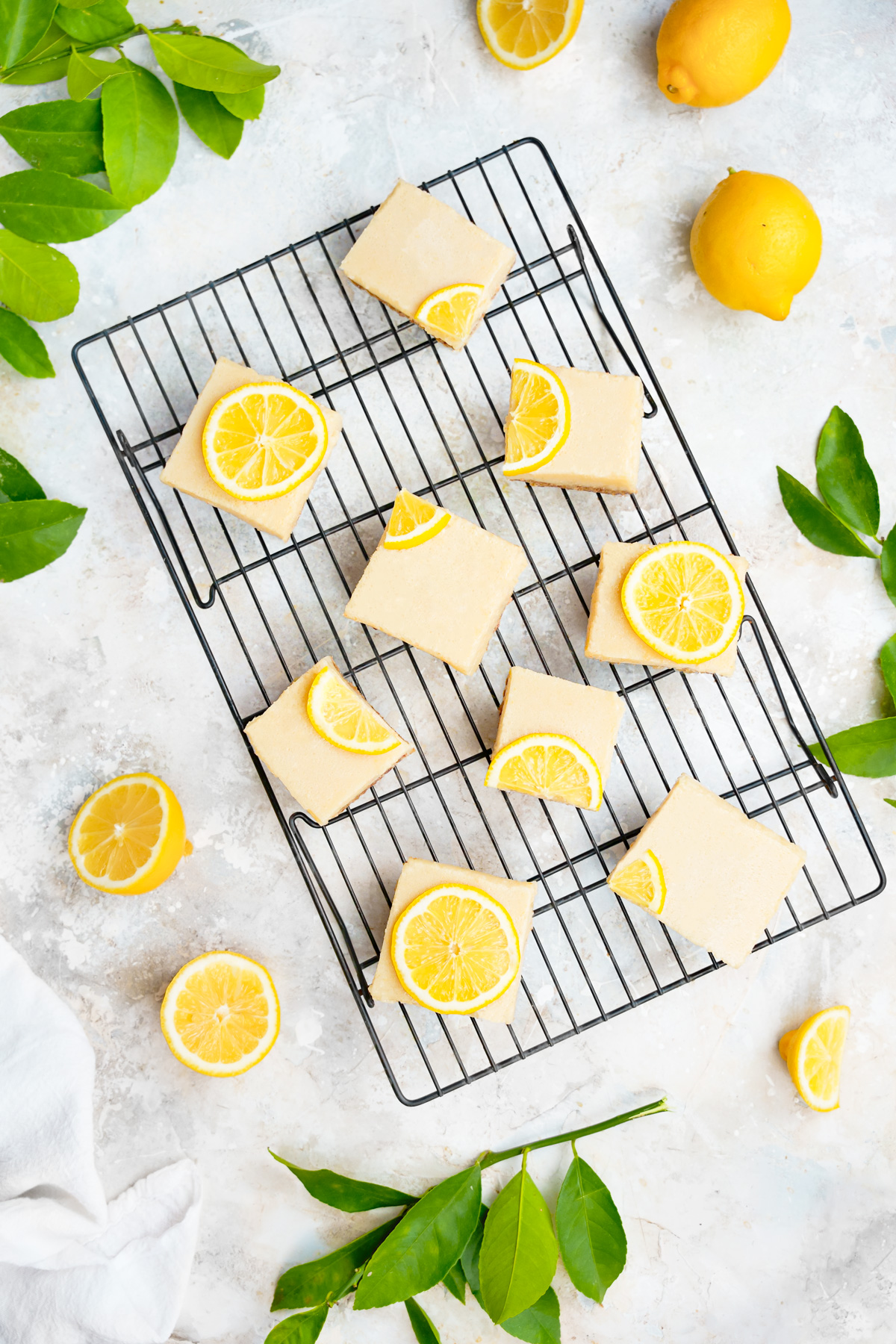 How To Make Healthy Vegan Lemon Desserts For Spring:
I will be the first to admit that I have a strong sweet tooth. I have always had one, and therefore I am always creating vegan desserts. In the summer I usually eat more fruits, so the cravings are not as strong. However the period in between Christmas and Summer the cravings are at an all time high.
Luckily, my job is to make vegan Spring dessert recipes like these creamy vegan lemon bars. I could make my recipes using refined sugars, processed oils, and refined flours, but that is not what I am about here at The All Natural Vegan. I want each and every one of my all natural recipes to be made with clean simple ingredients.
The word "clean" is very broad. I will probably get some hate for using it, but I think it describes my recipes perfectly. For example: these vegan creamy lemon bars are made with only 8 ingredients that are simple and minimally refined!
Not only are the ingredients minimally refined, but they are also health promoting. It is important that I remain true to my values and incorporate ingredients that are health promoting into my recipes.
How To Make Naturally Sweetened Vegan Lemon Bars:
What is in these creamy lemon bars that makes them so healthy? There's actually two sources of natural sweetness to these vegan lemon bars. The first is probably my most used plant based sweetened: dates. I am a date fanatic. I think I could eat like 50 a day if I was not concerned with weight gain (dates won't make you gain weight, but anything in excess can cause weight gain).
They are just so sweet and rich. This makes them the perfect plant based sweetener to opt for! I love using Medjool dates to make crusts like this one. Check out my Healthy Vegan Pecan Pie recipe for another recipe featuring a similar vegan crust!
The second plant based sweetener featured in this healthy lemon square recipe is Maple Crystals. Maple Crystals are a pretty recent discovery of mine, and I am truly hooked! They are one of those sweeteners that you try and you're just like "why isn't everyone using this?". Aside from the flavor being spot on, they are a low glycemic sweetener, and they are high in fiber!
These are two very important things I consider when choosing a plant based sweetener. I get mine from Wilderness Poets in bulk (way more affordable, and totally worth it!).
It may seem a little pricy, but they are 4 times sweeter than sugar, so a little goes a long way! I have a 2lb bag that I've had for 6 months (and I make a lot of sweets!). If you are interested, my code: "VEGAN10" will get you $10 off your purchase!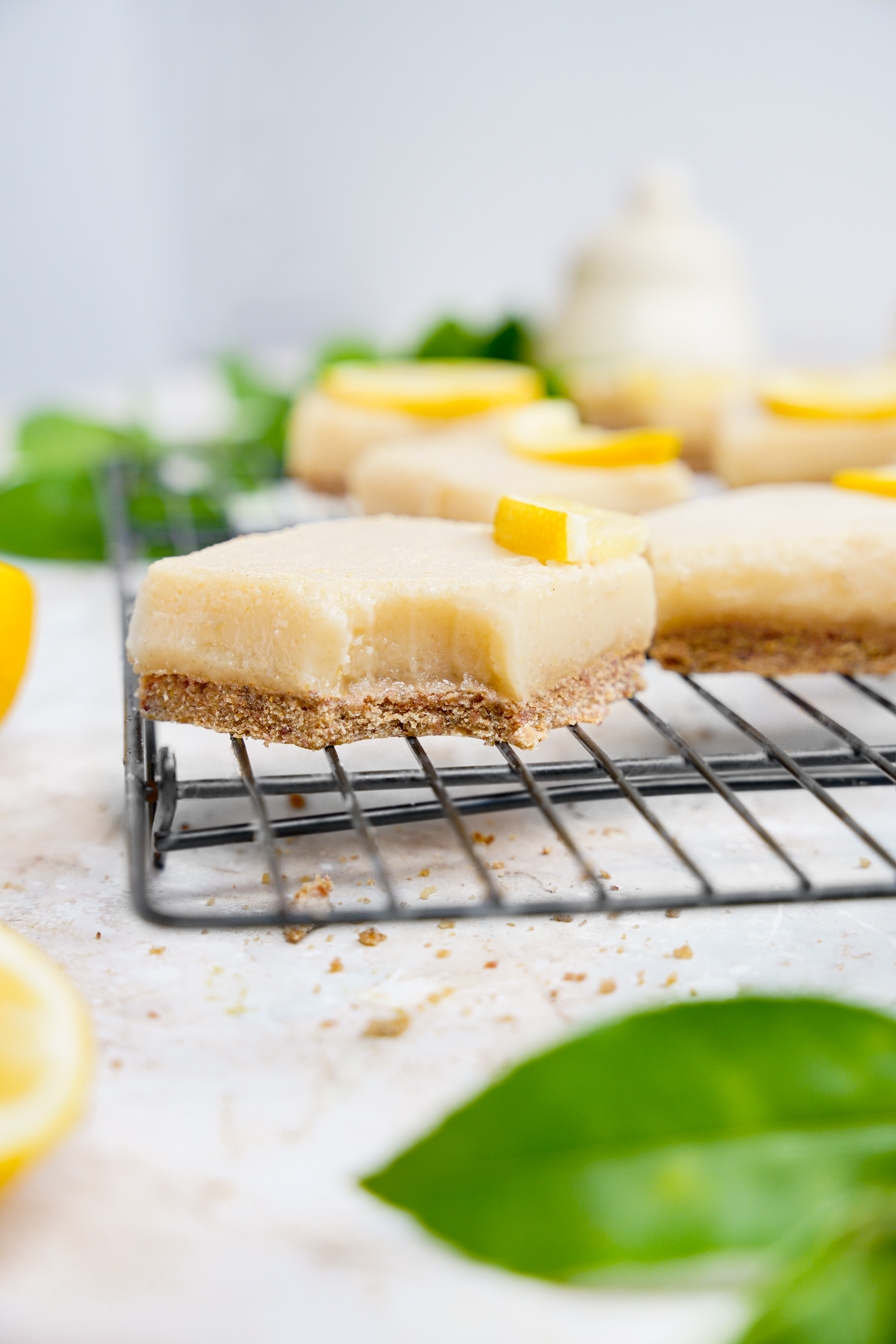 How To Make Vegan Lemon Bars Without Coconut Milk:
A huge reason I am so proud of these creamy vegan lemon bars is because they are free of coconut milk! This means that these are low fat lemon bars! I personally try to eat a low fat diet ( I just find that it works best for me).
Therefore I absolutely love whenever I create a low fat vegan dessert recipe! There's plenty of vegan lemon bar recipes online, but there's very few without high fat coconut milk. I made these creamy vegan lemon bars coconut-free just for you!
How did I do it? It was actually surprisingly easy. To be completely honest I was a little shocked how easy. The answer my friends is almond milk! Yep, no fancy vegan ingredient, just plain old simple almond milk.
In order to make these plant based lemon bars with almond milk, you just need to add the milk AFTER melting the maple crystals and lemon juice. It will separate, but do not worry, it form back again if you give it a little time. After that, add the cornstarch mixture and you'll have the creamiest low fat vegan lemon bars ever!
Why I Love These Creamy Vegan Lemon Bars:
I already shared that lemon bars are probably my favorite dessert ever, but why do I love these specifically? First and foremost, they are delicious. I think this probably goes without saying, because why would I share a recipe if it was not delicious?
The second reason is because these are healthy vegan lemon bars. Again, probably goes without saying, because all of my recipes are healthy. The last reason is what sets these lemon bars apart.
That is: these are non vegan friendly. What does that mean? I think it's time we start assigning terms to the non vegans who freak out when they eat "vegan food", because honestly it's 2022 and 99% their grown adults.
These creamy vegan lemon bars are so delicious that your non vegan friends and family won't even be able to tell their vegan (or healthy)! It is one of my favorite feelings when I serve a vegan recipes to non vegans and they love it.
Can I Make These Creamy Vegan Lemon Bars Without Starch?
The last point I want to touch on is if these vegan lemon bars can be made starch-free, or without corn starch. This creamy vegan lemon bar recipe can 100% be made with tapioca flour, or arrowroot powder.
Honestly tapioca is my go-to, but all the stores were sold out when I was developing this recipe. You should be able to make this recipe with a 1:1 ratio with either of those options.
However if you are trying to avoid starch completely, I would suggest using agar powder. I am not super familiar with agar, but from what I have learned using it is that it would help give you a firmer consistency. I would suggest using about 2 teaspoons for this recipe, and letting it sit overnight!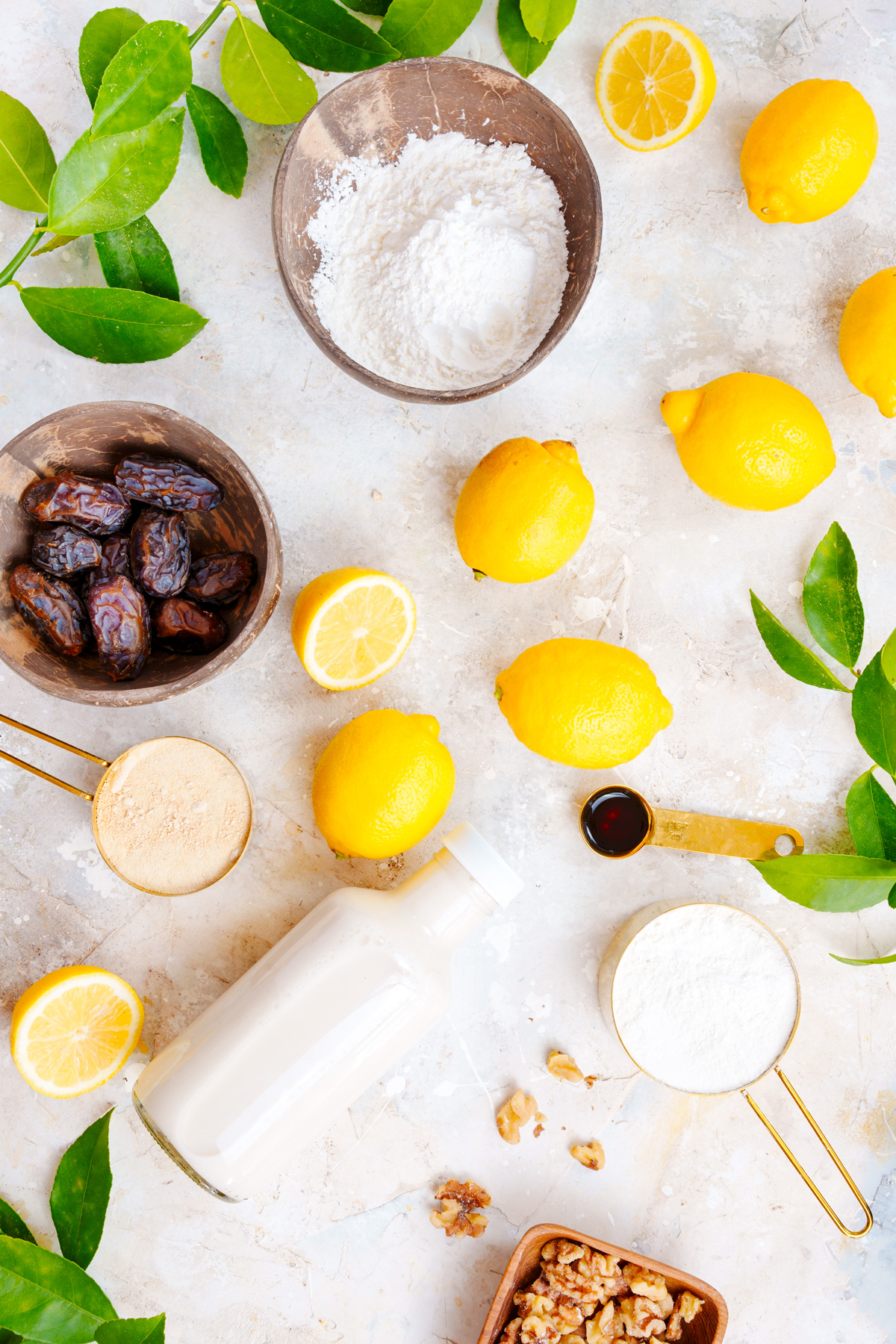 Ingredients For These Creamy Vegan Lemon Bars:
Dry Ingredients:
Lemon zest - This helps to enhance the lemon flavor in this lemon bar recipe.
Cornstarch - Is necessary to create that perfect gooey and creamy filling.
Maple Crystals - Are my favorite plant based sweetener for recipes like this one. They're sweet, they dissolve, and they're full of vitamins and minerals. As always my Wilderness Poets code: "VEGAN10" gets you $10 off!
Medjool dates - Make the perfect natural sweetener for the crust. They're high in fiber, vitamins, and minerals.
Cassava flour - Is my go-to gluten-free flour for crusts. It doesn't rise a bunch in the oven, and it has a sweetness to it.
Walnuts - This will provide some healthy fats to the crust and help the ingredients stick together better.
Wet Ingredients:
Vanilla extract - A little bit of vanilla extract added to the crust of these bars can instantly elevate the whole recipe.
Almond milk - This is what makes these Creamy Vegan Lemon Bars creamy! It's the perfect low fat solution.
Lemons - of course these vegan lemon bars would not be complete without lemon juice!
Related Vegan Lemon Dessert Recipes: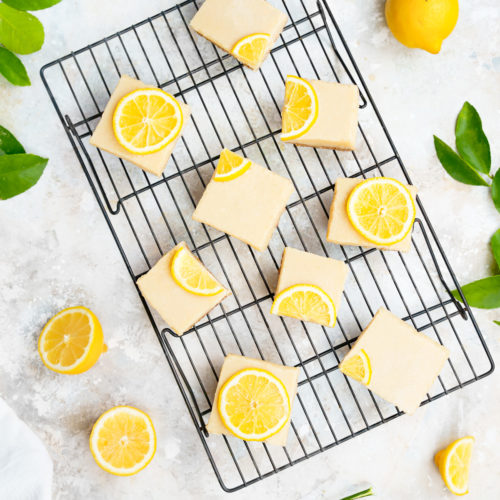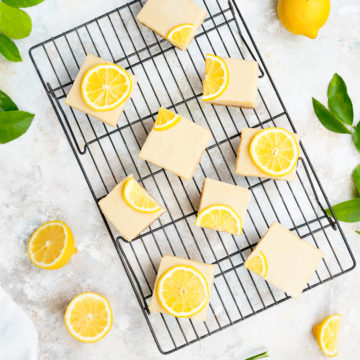 Creamy Vegan Lemon Bars
This creamy vegan lemon bars recipe is made with simple whole foods plant based ingredients. These lemon bars are also low-fat and coconut free! This recipe is oil-free, gluten-free, refined sugar-free, and of course vegan!
Ingredients
For the creamy lemon filling:
1 ¼

cup

lemon juice

about 9 lemons

2

cups

unsweetened almond milk

2

teaspoon

lemon zest

½

cup

maple crystals

¾

cup

cornstarch mixed with ½ cup almond milk
Instructions
Begin by preheating the oven to 350.

Add the walnuts and dates to the food processor and blend until you have crumbles. Add the cassava flour and blend again. Add the vanilla and water and blend. Once mixture begins to stick slightly, remove from food processor and press into a lined brownie pan. Poke with a fork randomly and place in the oven for 12 minutes.

While the crust is in the oven, juice the lemons.

Add the lemons, lemon zest, and maple crystals to a saucepan and cook until maple crystals have dissolved. Add almond milk. It will separate and look curdled, but do not worry that will go away.

Once boiling and smooth again add the cornstarch almond milk mixture. Whisk until thick and remove from heat.

Pour the lemon mixture onto the cooked crust and place in the fridge to cool for 3 hours. Once chilled, serve and enjoy!