This flavorful summer grain salad is packed full of healthy plant based ingredients, that are guaranteed to give you a nutrition boost while remaining super delicious. This Italian Barley Salad is vegan, plant based, dairy-free, and high fiber!
I am so excited to share today's Italian Barley Salad recipe with you all today! This pearl barley salad is a recipe that has been on my Instagram forever. However I have recently decided to look through some of those recipes and get them up on The All Natural Vegan! This barley salad was at the top of my list of recipes to publish.
When I originally created this recipe I was so excited, because it was one of the best nutrient dense salad recipes I had ever had in my life (honestly). This recipe features so many vegetables and flavors that work so harmoniously together in this Italian Barley salad. The best part is that each of those ingredients brings its own unique health benefits to the salad.
Summer Grain Salads for a healthy lifestyle:
If you are anyone looking to adopt a healthier lifestyle, I think the best advice to follow is to find simple ways to incorporate more plant based ingredients into your diet. The reasons why this is such an effective strategy for reaching your health goals is because the more healthy plant based ingredients that you incorporate into your diet, the less unhealthy processed foods and animal products you will eat. Cutting back on these ingredients is the best thing you can do to start living a healthier lifestyle. Recipes like this Italian Barley salad are the perfect solution to incorporate more healthy foods into your diet while also avoiding the unhealthy ones.
The second reason this is so effective is when your diet includes more of these foods you can eat more. Therefore you will feel more full and satiated with less total calorie intake. If your goal is not to lose weight, be prepared to have to eat a little more than you would have before! The last reason I want to bring up I can personally only touch on a little, because the science is overwhelming, but the unique health benefits each plant brings to the table. There is more and more science coming that proves how important it is to eat a variety of plants daily for overall health, and especially gut health (Fiber Fueled is an amazing book if you're interested in learning more about this).
Can I eat gluten and be healthy?
While I do create mostly gluten-free recipes here at The All Natural Vegan, I do not eat 100% gluten-free. Why? Simply put: I do not have a gluten allergy, or intolerance. If you do not either, then you by no means have to eat gluten-free to be healthy. Actually, I would encourage you to eat gluten! Ingredients that contain gluten (in its whole grain form) are typically higher in protein and fiber than their gluten-free counterpart. Therefore recipes like this Italian Barley Salad are loaded with healthy high fiber grains (barley in this case), helping you to eat more whole foods plant based ingredients.
At the end of the day, just do you! Don't feel like you have to eat gluten-free just because it's a huge trend right now. If you enjoy making gluten-free recipes (like me), then by all means make all the gluten-free recipes (hint: I have tons on my blog :P).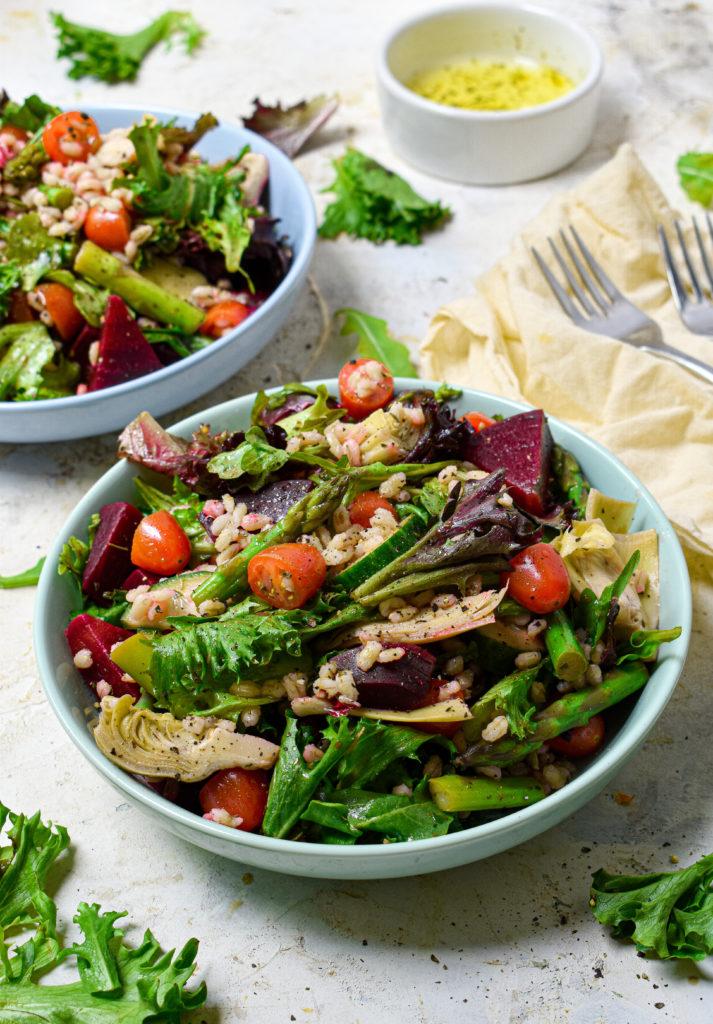 Grain Salads for Summer:
It's no secret around here that I love my salads. I am one of those weirdos who genuinely enjoys salads. I know I can't be the only one! Salads are such a great way to incorporate a variety of plant based ingredients into your diet all at once. I always hear people say that salads are like "rabbit food", and they're not filling enough. However Grain salads are the perfect solution, because they're loaded with fiber and protein! Therefore they are a great dinner salad option. This Italian Barley salad is one of my favorite salad recipes for dinner!
There are plenty of grain salads on my blog already. Make sure to check out my salad category for more! I have everything from my Rainbow Kale Salad to Barley Pesto Salad as far as summer grain salads. I am always adding more healthy vegan salads to The All Natural Vegan. Make sure to subscribe to my newsletter so you are the first to know when the next recipe drops!
Ingredients for this Italian Barley Salad:
Spring mix
Barley
Beets
Cherry tomatoes
Asparagus
Artichoke hearts
Cucumber
White balsamic vinegar
Italian seasoning
Italian Barley Salad
This flavorful summer grain salad is packed full of healthy plant based ingredients, that are guaranteed to give you a nutrition boost while remaining super delicious. This Italian Barley Salad is vegan, plant based, dairy-free, and high fiber!
Instructions
Prepare the barley according to package instructions ( I used my Ninja Foodi to speed up the time an instapot works well too!).

Chop the beet up and steam until soft. You can also blanch the asparagus at the same time, making sure you give the strained asparagus an ice bath to ensure it stays bright and green.

Add the spring mix, strained and rinsed artichoke hearts together. Chop both the cucumber and cherry tomatoes in half and add to the salad. Once barley and vegetables are done cooking cool them off with cold water before adding to the salad.

To make the dressing simply combine vinegar, oil, pepper and seasoning together and pour over the salad. Toss the salad and serve, enjoy!