These mint chocolate chip matcha popsicles are the perfect simple and healthy summer treat! This popsicle recipe only takes a couple steps and uses whole foods plant based ingredients. This recipe is: vegan, oil-free, gluten-free, and refined sugar-free!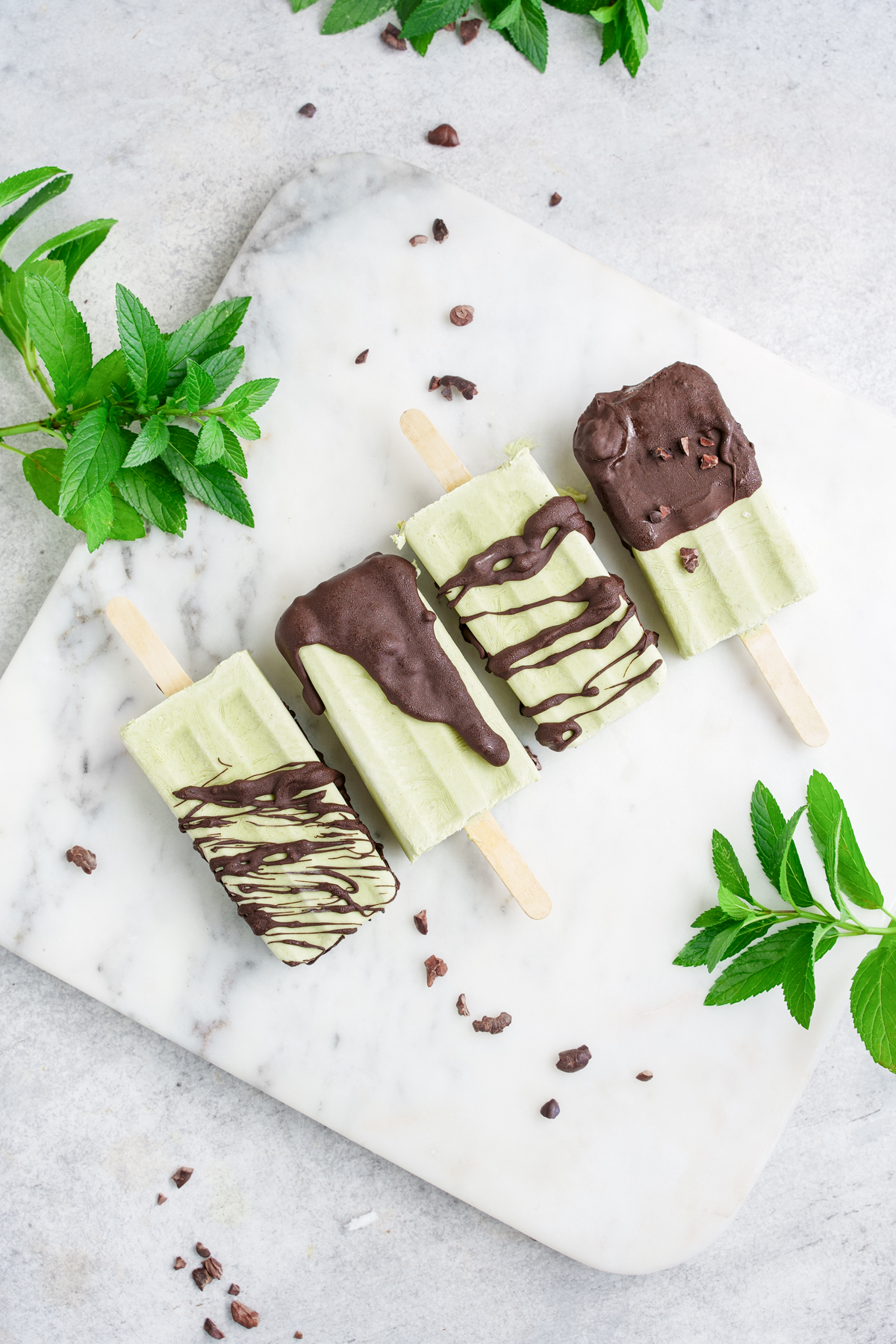 I am so excited about today's Mint Chocolate Chip Popsicles! These rich and creamy matcha popsicles are the perfect healthy summer treat with an antioxidant boost! I've been craving ice cream like crazy since it started heating up outside, and I can not get enough of these simple vegan ice cream popsicles!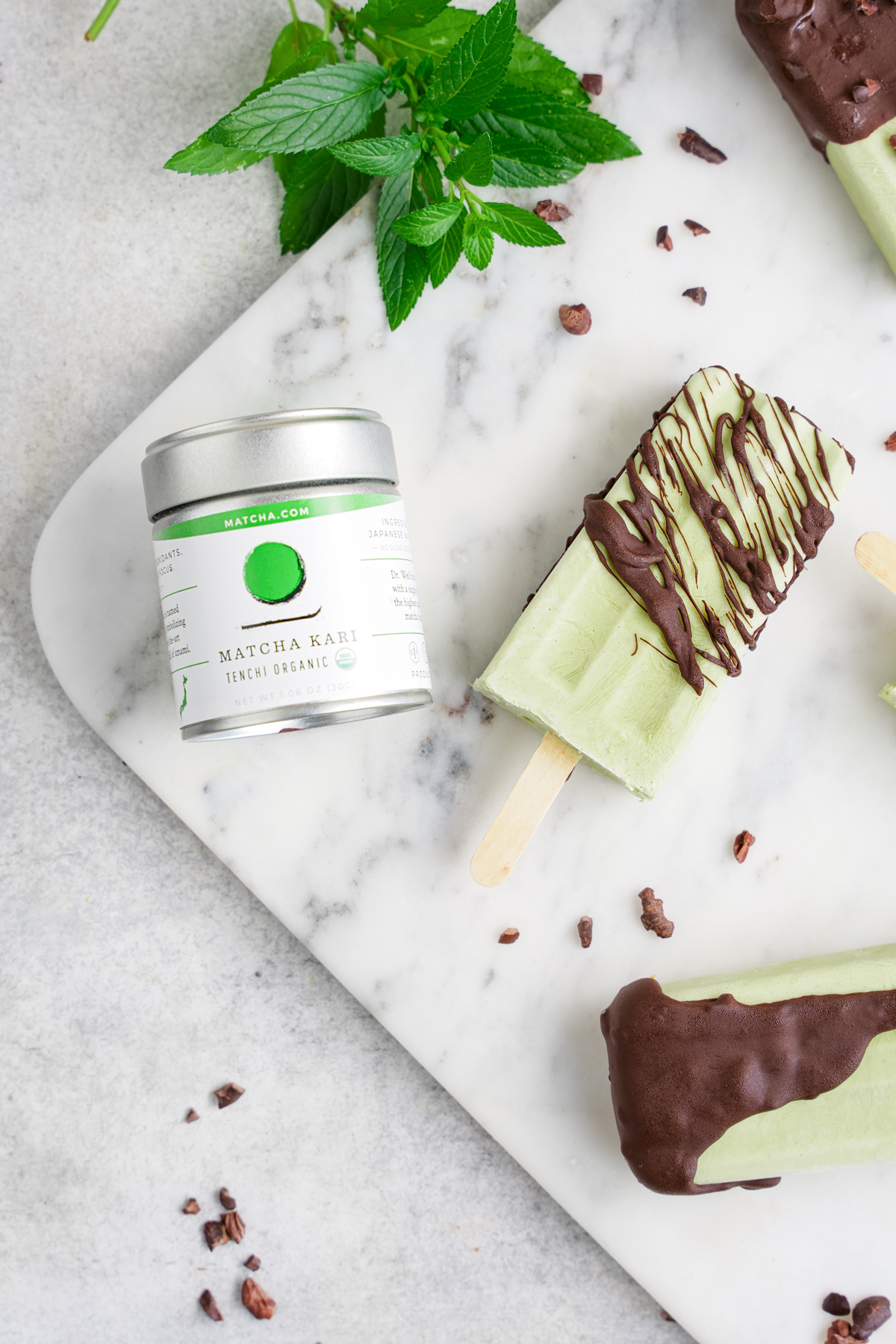 Why Add Matcha To These Mint Chocolate Chip Popsicles?
These Mint Chocolate Chip Popsicles are not only delicious, but they are also super healthy too. These vegan matcha popsicles are whole foods plant based, but they also contain a superfood: matcha! I am relatively new to the matcha game, but I have quickly become obsessed. I had no idea how incredible matcha was until I discovered Matcha.com and all their resources.
Matcha.com is the ultimate resource for all things matcha. They have a wide variety of matcha blends to choose from, as well as an abundance of information about matcha! I'm not even kidding I spent a whole day reading through their website, because it was so interesting.
What is matcha? Matcha is technically a type of green tea. However matcha is grown differently. Due to the way it is grown it becomes more nutrient dense. Matcha is full of chlorophyl, antioxidants, and is especially full of ECGC (catechins).
What is ECGC? Honestly I just learned about this powerful antioxidant recently. Matcha.com states: "catechins are reported similarly to promote human health by scavenging free-radicals, modulating brain health, and supporting against cardiovascular disease." All this from just one serving of matcha.
Matcha can have a bold flavor, so if you're not a fan of the natural taste try incorporating it in recipes like this Mint Chocolate Chip Popsicle recipe! These matcha popsicles are naturally sweetened and full of peppermint flavor!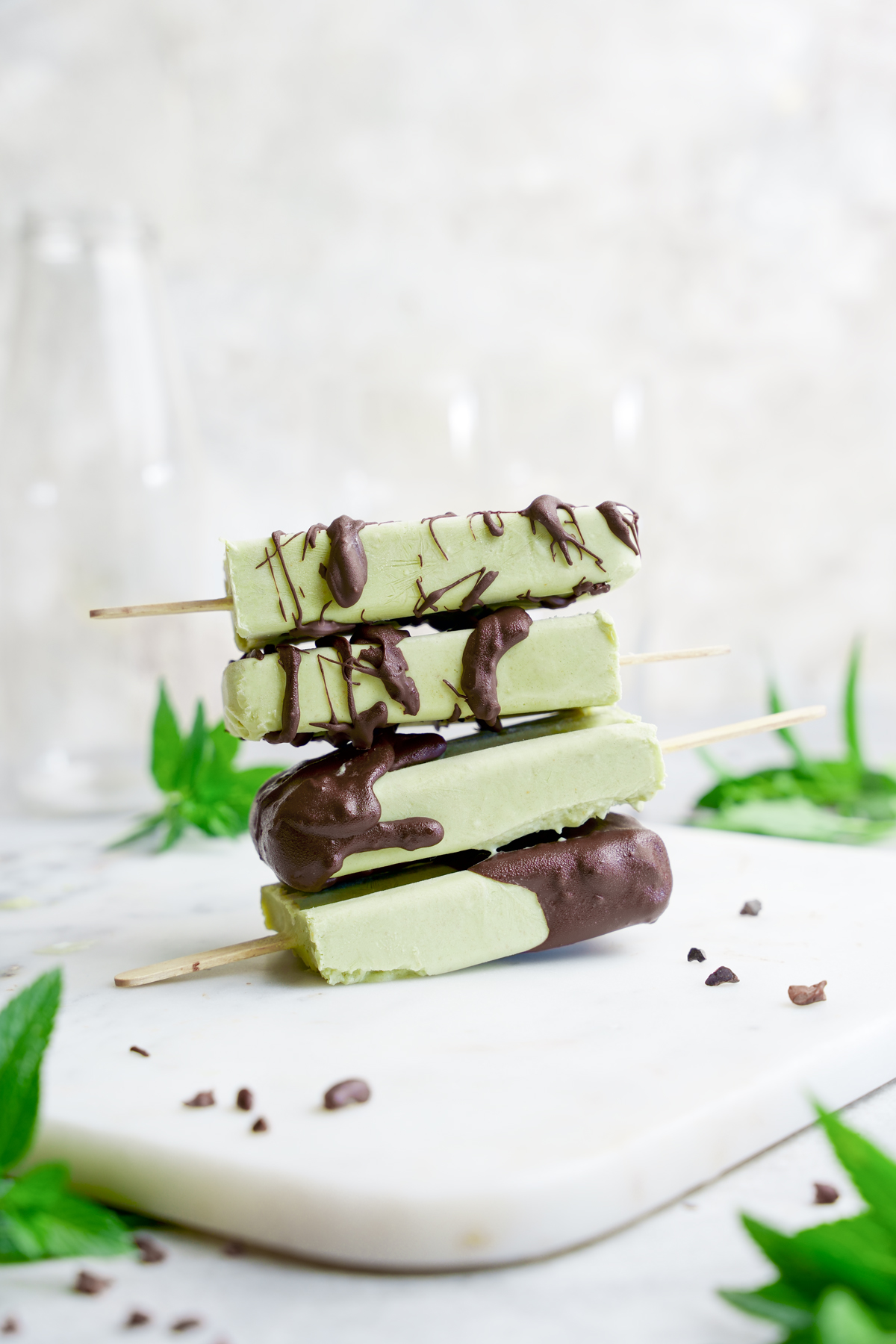 How To Choose The Right Matcha These Matcha Popsicles:
If you're new to matcha you may struggle with finding a matcha that is right for you. There are so many options out there! However it is important that you are picky when it comes to matcha.
A majority of matcha you find in stores, or online are poor quality. Therefore they are less nutrient dense and have a much more bitter taste. Yet they are still pricy. It's a total scam! That's why I only get my matcha from Matcha.com. As soon as you open any Matcha Kari brand matcha the difference is obvious. The matcha is so vibrant it almost looks like it's glowing (I'm not even exaggerating).
If you go to the Matcha.com website you may be overwhelmed by all the different types of matcha. If you go to the website they dive into detail about each matcha. For today's Matcha popsicles I'll just focus on the blend I used in this recipe: Tenchi Ceremonial Organic.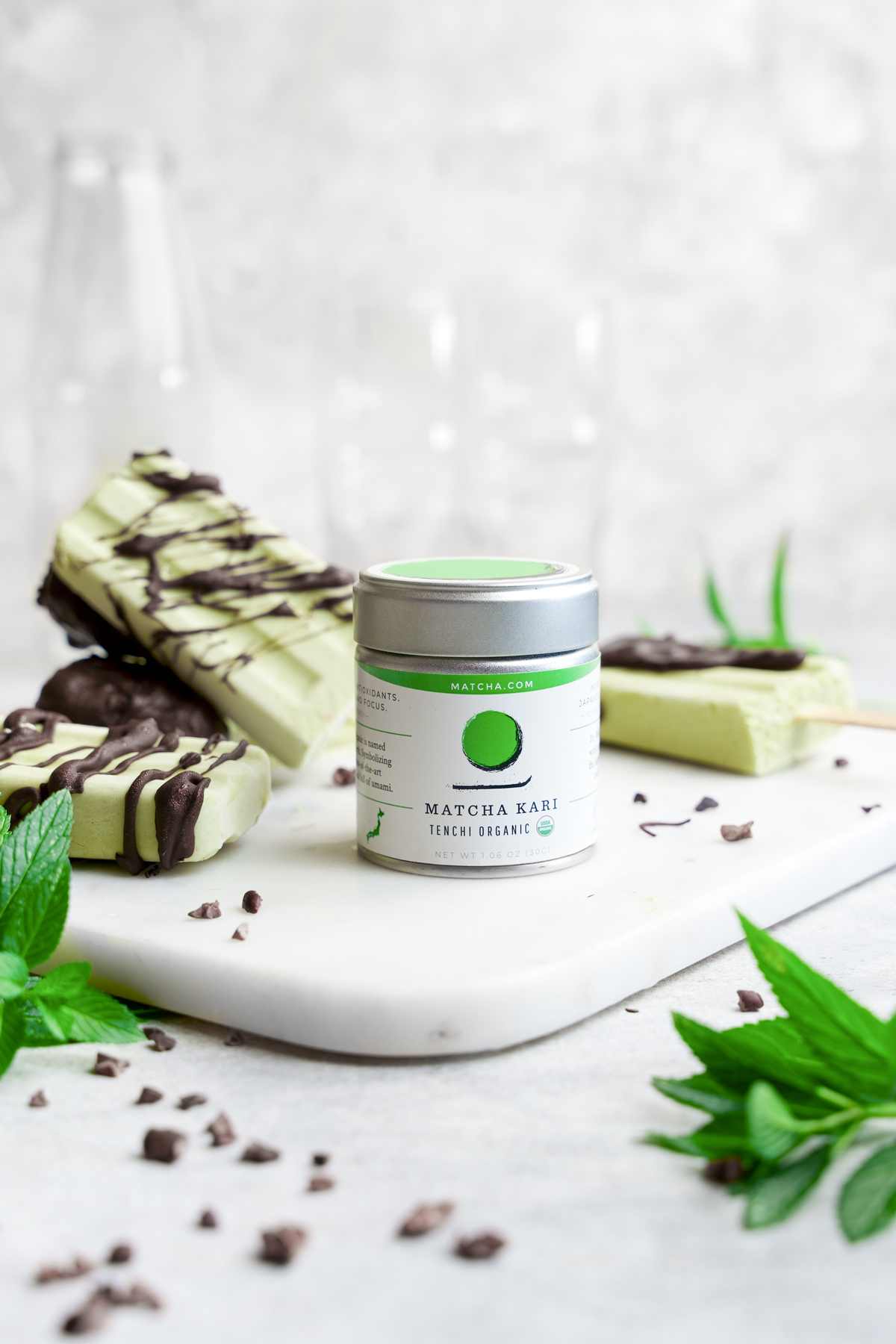 What Makes Tenchi Ceremonial Organic Matcha Special?
This matcha is perfect for these vegan mint chocolate popsicles for a couple reasons. First, this matcha is the perfect matcha to give you that vibrant blue/green natural tone for mint chocolate chip. I can't emphasis how horrible artificial colors are for you, so I always recommend using natural sources of color.
Second, the Tenchi matcha is grown in the oldest and most famous tea farm in Japan. It's only harvested once a year and receives the highest level attention. Because of the way it is grown and attended to, it is the most nutrient dense matcha of any organic matcha.
That's why I love using it for these matcha popsicles. Although this mint chocolate chip matcha popsicle recipe is made with whole foods plant based ingredients that are all healthy and full of macronutrients and fiber, it doesn't contain a lot of micronutrients. This is why matcha is the perfect addition to this recipe!
It adds antioxidants, polyphenols, and L-theanine without changing the flavor at all! I love using this matcha for no-bake vegan desserts like these popsicles, or just enjoying by itself in a latte. You can easily make a latte this flavor using similar ingredients. I do have a Matcha Kari discount code if you are interested in investing in high quality matcha: "TANVEGAN" which gets you 20% off your matcha purchase at Matcha.com.
What Makes These Vegan Mint Chocolate Chip Popsicles Healthy?
This vegan mint chocolate popsicle are extra special because they are super healthy! What does this mean? This recipe is:
RAW VEGAN
REFINED SUGAR-FREE
OIL-FREE
DAIRY-FREE
GLUTEN-FREE
WHOLE FOODS PLANT BASED
Not only is this vegan matcha popsicle recipe free of all these things, but it is also made with real ingredients. It's important to me that as I create new recipes that they are free of all the unhealthy ingredients, but that they are created with nutrient dense ingredients as well.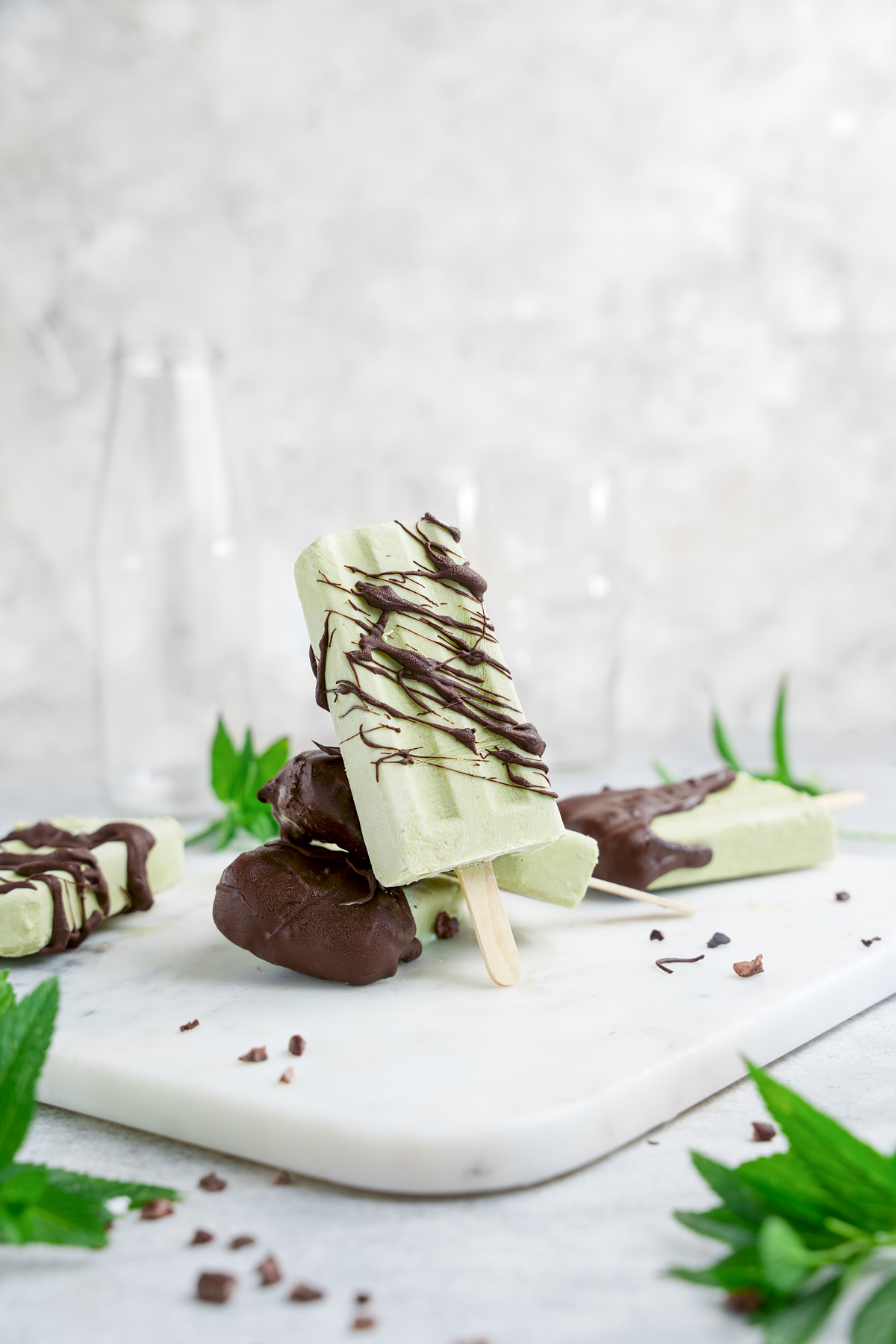 Ingredients For These Mint Chocolate Chip Popsicles:
How To Make These Matcha Popsicles:
Making these Mint Chocolate Chip Popsicles are incredibly easy.
First, soak your cashews and dates together for at least 2 hours, or overnight. I like to soak mine in just enough water to cover the dates and cashews completely. I do this so I can add the water to the popsicle mix. This helps make the popsicle's lower in fat. You can totally strain the water and just use the dates and cashews for a richer ice cream. Personally I am just a volume eater so I prefer recipes that I can eat larger quantities of.
If you do strain the water make sure to save it and add it to smoothies for a sweet boost! Next add your soaked dates, cashews, matcha, and pure peppermint extract to a high speed blender. Blend until silky smooth (about a minute on high).
Pour the cashew ice cream mixture into your popsicle molds, insert popsicle sticks, and freeze for at least 2 hours. Once frozen all the way through, melt your chocolate. Once melted decorate your matcha popsicles however you like. I like dipping mine, or drizzling chocolate over.
For the perfect chocolate chip crunch sprinkle, or mix in cacao nibs! Allow the chocolate to cool in the freezer (about 5 minutes, and serve! You can store in covered containers in the freezer for 2 weeks. Make sure to cover to avoid freezer burn!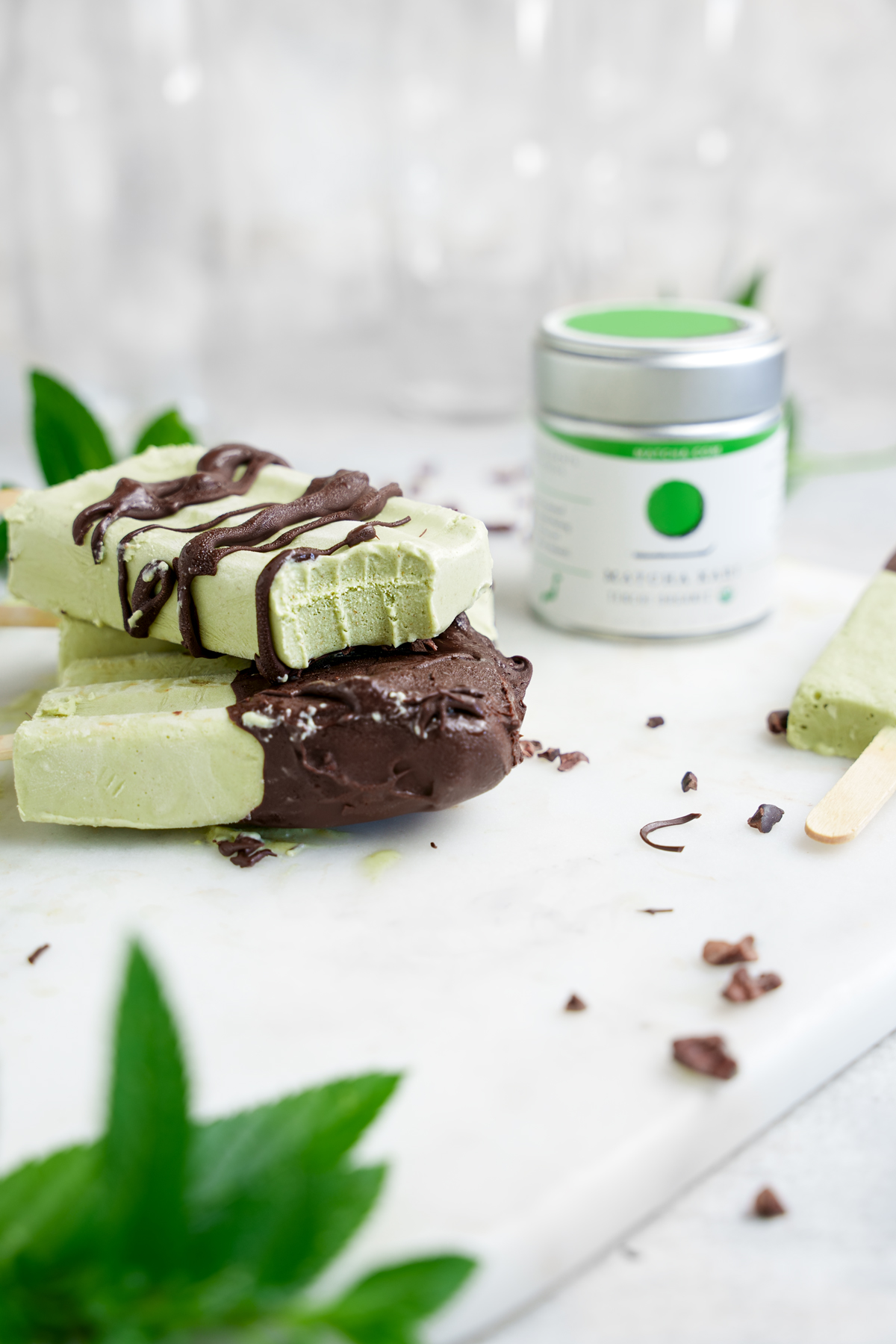 Frequently Asked Questions:
How To Cool The Chocolate Without Messing One Side Up:
A cool trick I learned when developing this matcha popsicle recipe was how to cool the chocolate without ruining one side. A problem I often face when working on chocolate coated recipes such as this mint chocolate chip popsicle is coating one side beautifully and then the back side being flat from laying.
You could drizzle one side with chocolate and let it freeze and then do the other. However I find that is way too tedious. You can coat these vegan ice cream popsicles beautifully in one go with my simple trick.
Place the mint chocolate chip popsicles upright in your popsicle molds and place in the freezer. It's that simple! I'm not sure if this will work with every popsicle mold, but that's why I love mine!
What Type Of Mint Is In Mint Chocolate Chip Ice Cream:
This is crucial. You can totally mess up this vegan ice cream popsicle recipe and make it taste like toothpaste if you choose the wrong kind of mint. Even though this is a mint chocolate chip recipe, do not buy mint extract. I made this mistake once before when making a recipe that was mint chocolate flavored and it ended up tasting like a mouth full of toothpaste!
Therefore it is crucial that you use pure peppermint extract for these mint chocolate chip ice cream popsicles. You may be wondering if this will cause it to taste like a candy cane. I can assure you that it will not and you will end up with the perfect minty flavor!
Is Mint Chocolate Healthy?
Traditionally, not at all. Mint Chocolate typically contains artificial colors, artificial flavors, refined sugars, and dairy. However my vegan mint chocolate chip popsicles are made with super clean, natural, and healthy ingredients.
Mint chocolate is a flavor that has been around for quite some time. Usually when something has been around for awhile it means that its original recipe was made with natural ingredients. That's exactly the case with mint chocolate chip.
It is one of those flavors that took a turn for the worst and became artificial as time went on. However I am here to bring you the ultimate healthy version!
Why Is Mint Chocolate Ice Cream Green?
Mint Chocolate ice cream is dyed green to resemble natural mint leaves. However like I have said before it is often dyed using artificial colors. This makes me laugh, because why ruin something with artificial colors to make it look more natural?
This is why we have matcha! It adds the perfect vibrant green as well as nutrients! Therefore you get the classic mint chocolate chip look as well as the nutrients from natural ingredients for these matcha popsicles.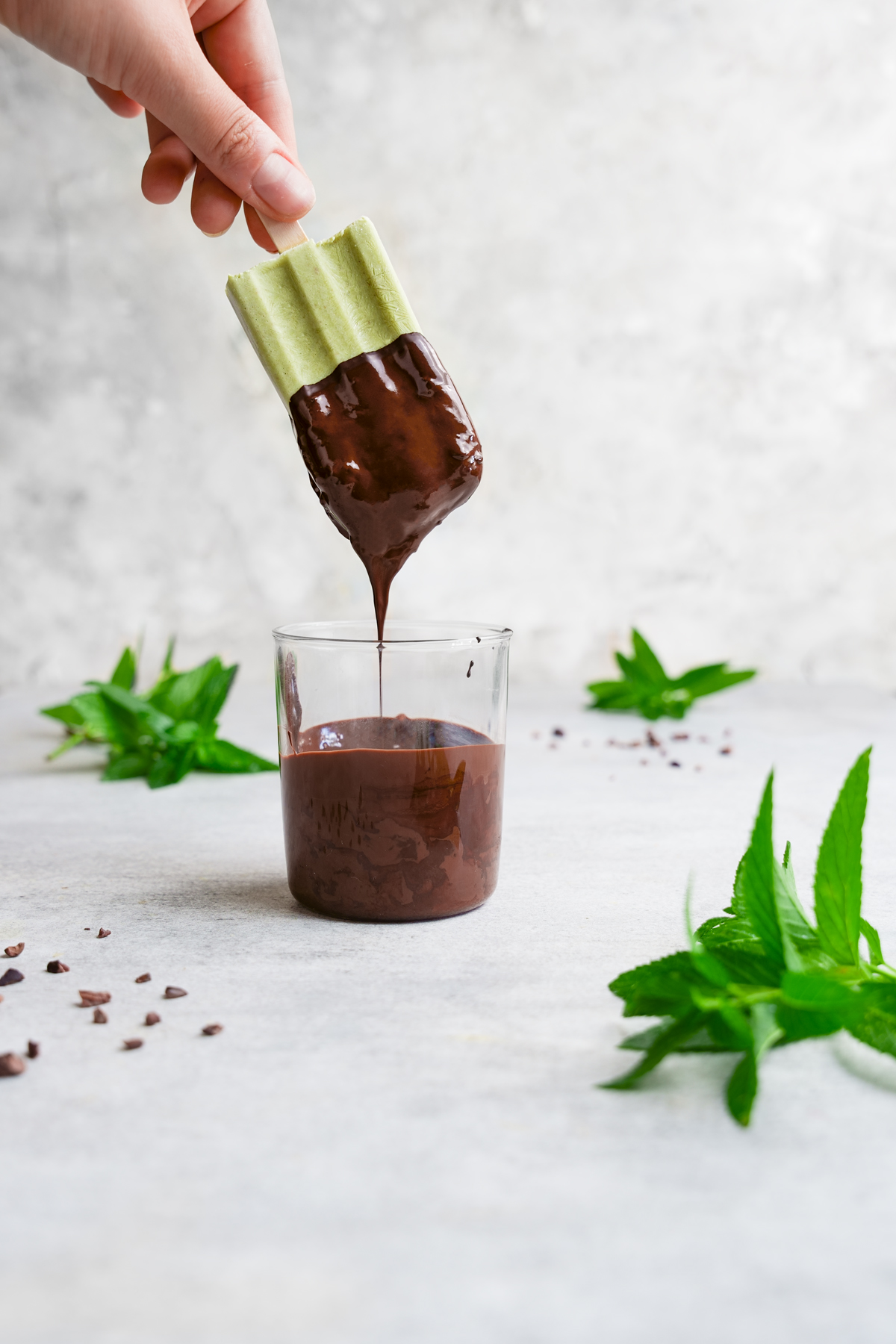 Related Recipes:
Mint Chocolate Chip Popsicles
These mint chocolate chip matcha popsicles are the perfect simple and healthy summer treat! This popsicle recipe only takes a couple steps and uses whole foods plant based ingredients. This recipe is: vegan, oil-free, gluten-free, and refined sugar-free!
Instructions
Begin by soaking your cashews and dates with just enough water to cover them in a bowl. Soak for at least 2 hours or overnight.

Strain the cashews and dates and add to a blender along with coconut milk, matcha, and peppermint extract. Blend until silky smooth - about 1 minutes on high.

Pour into 8 popsicle molds and insert popsicle sticks. Place in the freezer for at least 2 hours or overnight.

Once frozen melt your chocolate chips and decorate popsicles however you like ( I like adding cacao nibs for the extra crunch). Place back in the freezer for about 5 minutes to allow the chocolate to cool. Serve and enjoy!
Notes
Make sure to keep the popsicles sealed/covered when storing to avoid freezer burn!