These vegan matcha cupcakes are made with simple whole foods plant based ingredients and super fluffy and moist. This healthy recipe is easy to make and perfect for vegans and non vegans alike. These cupcakes are: Oil-free, gluten-free, dairy-free, refined sugar-free and of course vegan!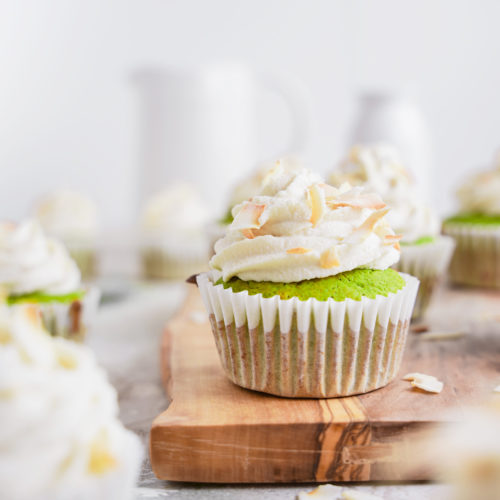 I am so excited to share today's vegan Matcha cupcake recipe with you all! These Matcha coconut cupcakes have become one of my recent obsessions. They're super simple to make, delicious, and contain matcha, aka a superfood! It was super easy to make these matcha cupcakes vegan with a few simple ingredients that I'll touch on later!
What Is Matcha:
Matcha has gained a lot of attention in the past couple years and for good reason. Matcha at its core is ground up green tea. Green tea is great for health benefits such as: weight loss, protecting against cancer, lowering risk for heart disease, the list goes on! However as great as green tea is, matcha is better. Matcha is a more concentrated higher grade tea with significantly more antioxidants and other health benefits. Although matcha and green tea come from the same plant, they are cultivated differently which causes matcha to be the more nutrient dense option.
Matcha also beats green tea in the convenience factor. Although I love a good cup of green tea, it's not always convenient to boil water and steep tea. However since matcha comes in powder form you can easily make recipes like these matcha cupcakes, or just mix it in with a cup of water. If you know me then you know I am all for recipes that sneak in extra nutrition, and matcha is one of my favorite ways to do that! Matcha can be added to everything: oats, smoothies, desserts, you name it!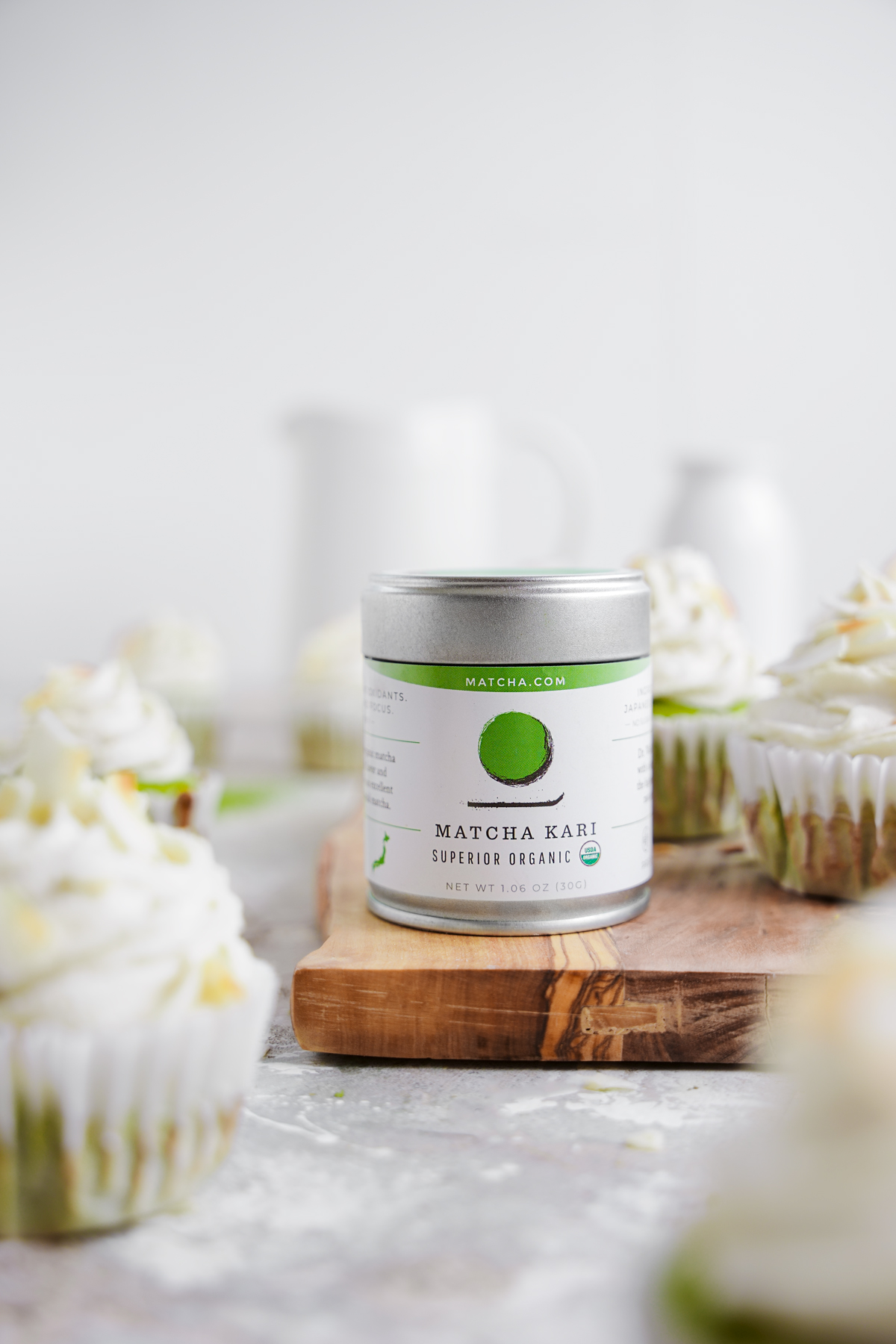 Why Choose Matcha Kari (Matcha.com) Matcha:
I am sure you have seen matcha before, whether that's at the grocery store, a coffee shop, or online. It's very trendy at the moment (as it should be!). However every matcha is different, and the quality of matcha can be drastically different. To be completely honest, up until recently I was not a fan of matcha. I always found the taste to be very bitter and grainy. However after receiving some product from Matcha Kari ( Matcha.com ) I realized that I have been having poor quality matcha my entire life!
It was clear to me that the Matcha.com matcha was superior as soon as I opened it and saw the vibrant emerald green matcha. It was even clearer after making these vegan matcha cupcakes and seeing how green in color they remained after baking. Something to keep in mind whenever purchasing any whole food plant based ingredient such as matcha, or even produce at the store is: the more vibrant and colorful it is, the more nutrient dense it is. Therefore if I am going to spend my money on a matcha, it better be a nutrient dense matcha!
Matcha.com goes beyond just superior quality. Their matcha is special because there is less than 60 authentic matcha tea farms left, and they get their matcha from the hillsides of Uji in Japan, the birthplace of matcha. Therefore when you purchase from Matcha.com you help to protect the few remaining authentic Japanese matcha tea farmers and their farms. I am so passionate about supporting brands that go above and beyond and Matcha.com definitely does that.
How To Choose The Right Matcha For You At Matcha.com
If you're new to matcha you may be a little overwhelmed by all the high quality matcha options that Matcha.com offers. There are plenty of matchas to choose from, each with it's own unique flavor and hue. For this matcha cupcake recipe I went with the superior organic. Matcha Kari Superior Organic matcha is the perfect matcha for these Matcha Coconut Cupcakes, because it has a sweet, rich flavor as well as deep natural green color. The subtle sweetness complements the coconut in this recipe, and the emerald green remains vibrant even after baking.
If you're new to matcha and looking for a starter matcha to drink I would recommend the First Harvest. This is the perfect value, because it is affordable and high quality. You may be wondering if you can still make this matcha cupcake recipe with any Matcha.com matcha, and absolutely! Luckily all of Matcha.com's matcha is high quality, so regardless of which one you choose you will still end up with these delicious vegan matcha cupcakes!
Use can use my Matcha.com discount code: "TANVEGAN" for 20% off your first purchase!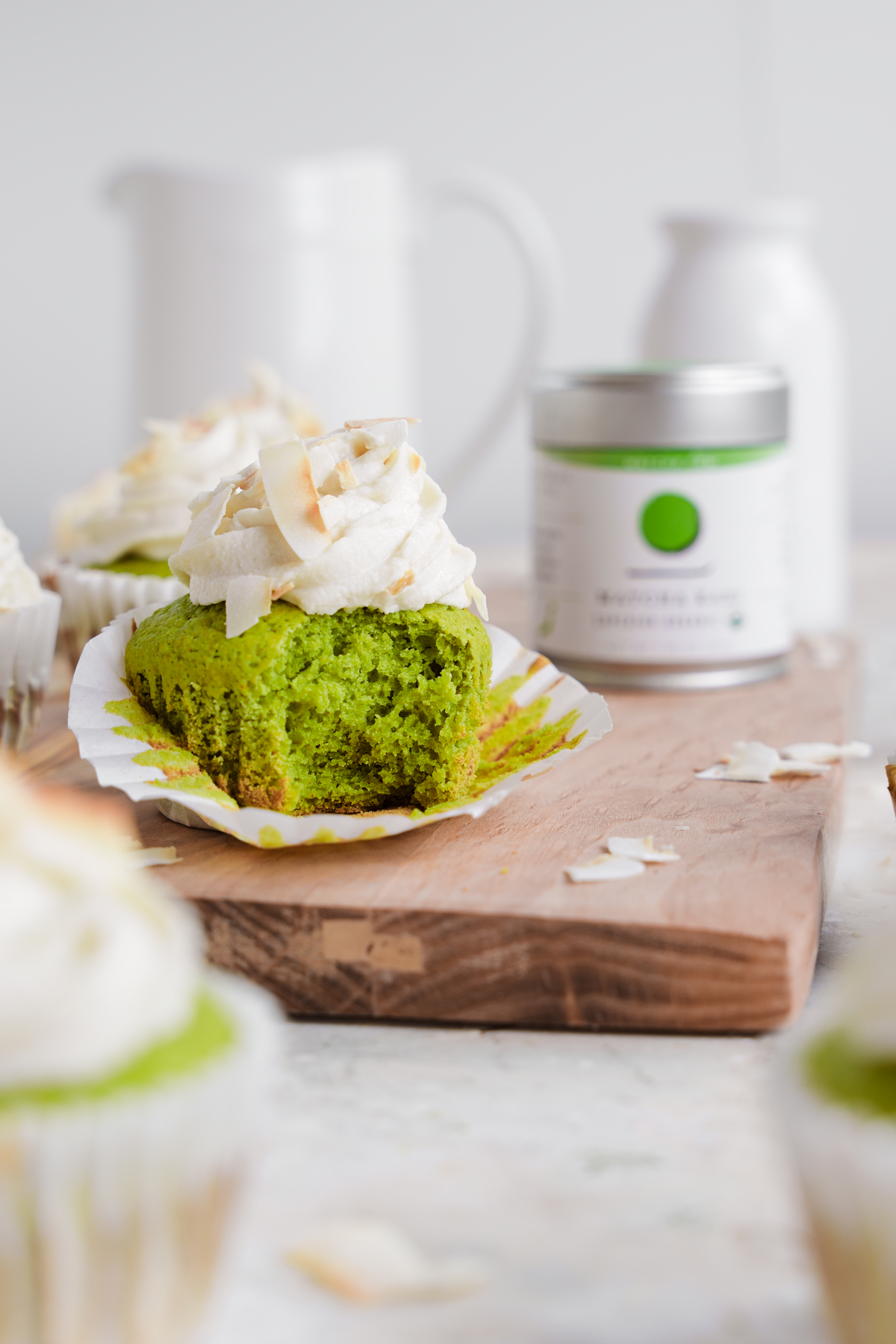 Why I Love This Coconut Matcha Cupcake Recipe:
A little fun fact about myself is I used to be obsessed with baking when I was little. I would spend hours making extravagant cakes with fondant just for fun. As I got older, I spent less and less time making cakes, but I still made the family birthday cakes, and then I made my siblings wedding cakes. For my sisters wedding I made a cake and an absurd amount of cupcakes all different flavors. That was about 5 years ago, and to this day I still have people raving about those cupcakes. I bring this up, because I know a good cupcake/cake recipe when I see one, and these vegan matcha cupcakes pass the test!
Not only are these delicious matcha cupcakes vegan, but they are completely whole foods plant based. Important reminder that just because something is vegan doesn't mean it's healthy. And that's exactly why I love these Coconut Matcha Cupcakes, because they're:
OIL-FREE
GLUTEN-FREE
DAIRY-FREE
VEGAN
WHOLE FOODS PLANT BASED
REFINED SUGAR-FREE
Will This Matcha Cupcake Recipe Keep Me Up At Night?
If you are sensitive to caffeine, pay attention here. Matcha does contain caffeine, about 50mg (for reference a cup of coffee has about 100mg). You may be thinking: why would I put caffeine in a dessert recipe. It may seem strange, but I can assure you these matcha cupcakes will not give you the jitters, or keep you up. This is because Matcha.com's matcha has the amount of caffeine that your body naturally needs, is released slowly, and even contains L-Theanine - a rare amino acids that promotes relaxation. Therefore this matcha cupcake vegan recipe is the perfect superfood packed dessert! If you're interested in more superfood packed desserts, be sure to check out some of my other nutrient dense dessert recipes. Surprise they even contain hidden veggies!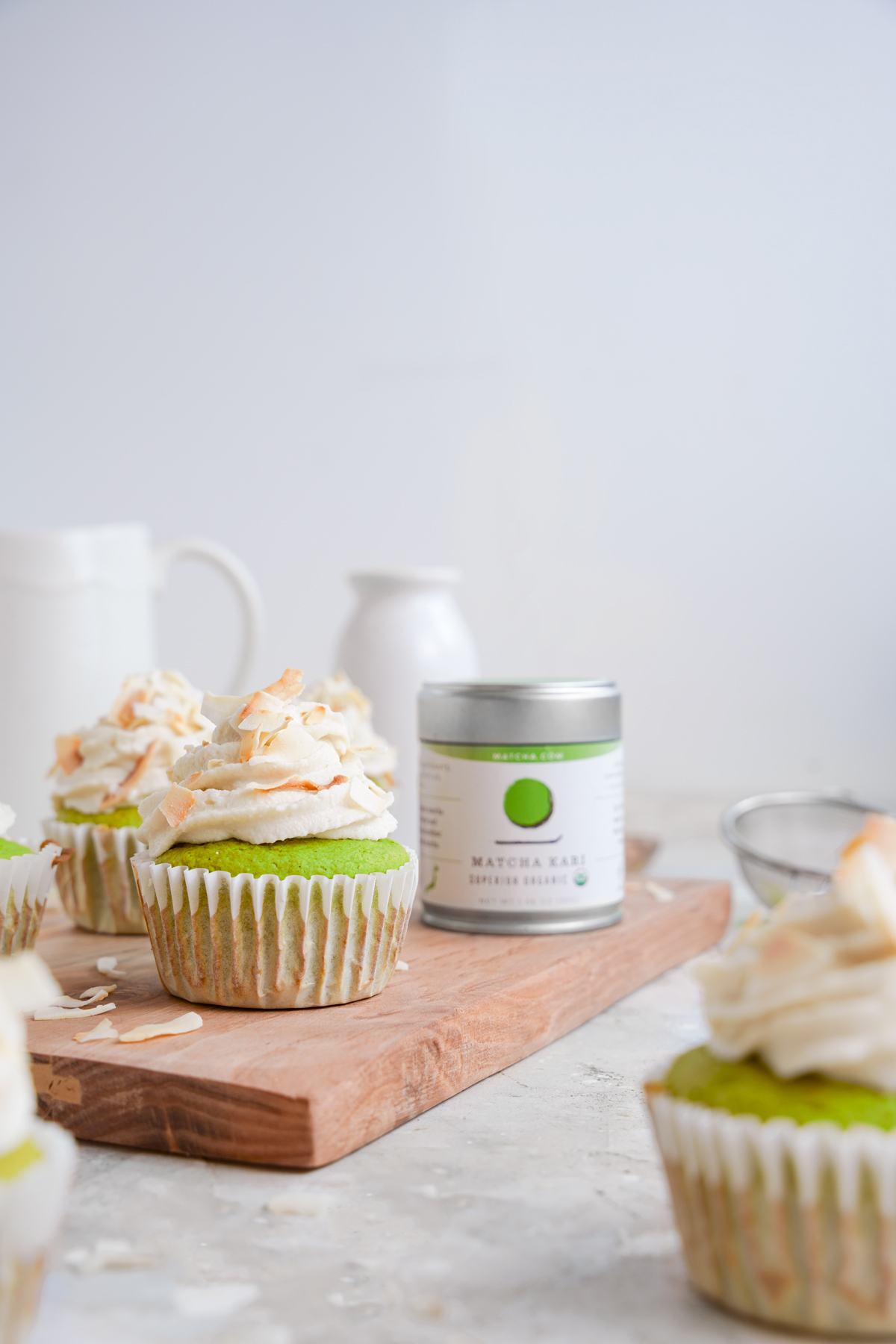 Ingredients For The Matcha Coconut Cupcake Recipe:
DRY INGREDIENTS:
WET INGREDIENTS:
Vanilla extract
Coconut extract
Coconut milk
Applesauce
Ingredients For The Coconut Cream Cheese Frosting:
Vegan cream cheese
Coconut cream
Cassava flour
Maple syrup
Toasted coconut chips
How To Make Vegan Matcha Cupcakes:
First, It is vital that you make the frosting ahead of time. This coconut cream cheese frosting is very unique (and fabulous), so it needs time to chill and allow the flavors to combine. It should only take about 2 hours to chill - this is okay, because you'll want to chill the cupcakes as well.
Second, it is super important to sift your ingredients. If you do not sift the matcha in with the rest of the dry ingredients, you will end up with chunks of concentrated matcha throughout your cupcakes instead of a smooth beautiful green color. I also just recommend sifting your ingredients regardless whenever creating any breads/cupcakes/muffins, etc. because it helps the recipe to rise evenly.
Next, don't over do it. What do I mean by over do it? These matcha cupcakes obtain their beautiful green color purely from matcha and not artificial food colorings. Since matcha is a natural and nutrient dense source of food coloring, it is not flavorless. Therefore it is important to add just the right amount of matcha to compliment the coconut flavor of these matcha cupcakes, without overdoing it.
Once you have sifted your dry ingredients together, add the wet ingredients and mix until smooth. Bake and allow to cool completely before topping with frosting and toasted coconut.
How To Choose The Best Gluten-Free Flour For Vegan Baking:
Navigating gluten-free flours can be a hot mess. It seems like every brand has one these days. Although this is great for anyone with a gluten allergy, it is not always great for people who are health conscious.
I say this because many gluten-free flour mixes are made with highly refined gluten-free grains/starches. Therefore I advise you to look for two things when choosing a gluten-free flour for this matcha cupcake recipe. First, look for a flour mix that is high in fiber. I truly believe when it comes to flour the more fiber the better, because it means it still contains much of its original nutrients.
Second, look for protein. I am not a vegan protein junkie over here, but it's important to look for flours with protein on top of the fiber, because they boost the satiating factor of the recipe!
As important as the nutrients are, it is important to also choose a gluten-free flour mix that works! At the end of the day it doesn't matter how nutritious a recipe is, it better be delicious. Unfortunately this comes down to personal preference. You're going to have to see which flours you like the taste of best in order to find the perfect mix. My personal go-to is the Bob's Red Mill All Purpose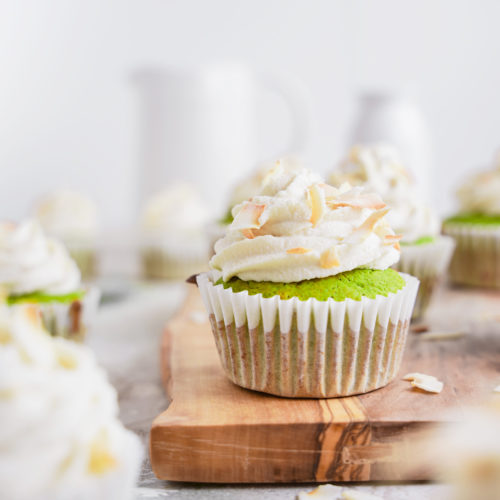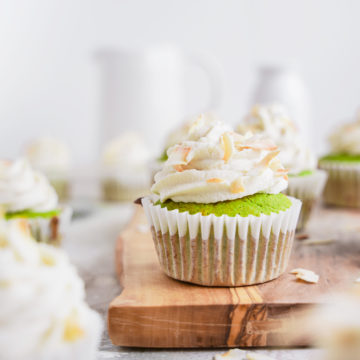 Matcha Coconut Cupcakes
These vegan matcha cupcakes are made with simple whole foods plant based ingredients and super fluffy and moist. This healthy recipe is easy to make and perfect for vegans and non vegans alike. These cupcakes are: Oil-free, gluten-free, dairy-free, refined sugar-free and of course vegan!
Ingredients
Coconut Cream Cheese Frosting:
8

oz

vegan cream cheese

I recommend using Kite Hill

1

can chilled coconut cream

½

cup

cassava flour

3

tablespoon

maple syrup - or plant based sweetener of choice

1

teaspoon

coconut extract

Toasted coconut chips
Instructions
Begin by making the frosting ahead of time and allowing to sit in the fridge. With an electric mixer, mix the coconut cream until smooth. Add remaining ingredients and mix until smooth. Set in the fridge for at least an hour.

Preheat the oven to 350.

Sift together dry ingredients. Add remaining ingredients and mix until smooth. Pour into a standard size lined cupcake pan and bake for 25 minutes, or until you can poke with a knife and it comes out clean.

Once removed from heat, cover tightly and place in the freezer to cool for about an hour (by covering tightly you're trapping the moisture and helping moisten the cupcakes).

Once cooled frost and top with toasted coconut. Serve and enjoy!