This Creamy Golden Beet Pasta recipe is the perfect easy meatless weeknight recipe! It's packed full of delicious whole foods plant based ingredients, and doesn't take long to make. This recipe is: vegan, oil-free, refined sugar-free, and gluten-free (if made with gluten-free pasta).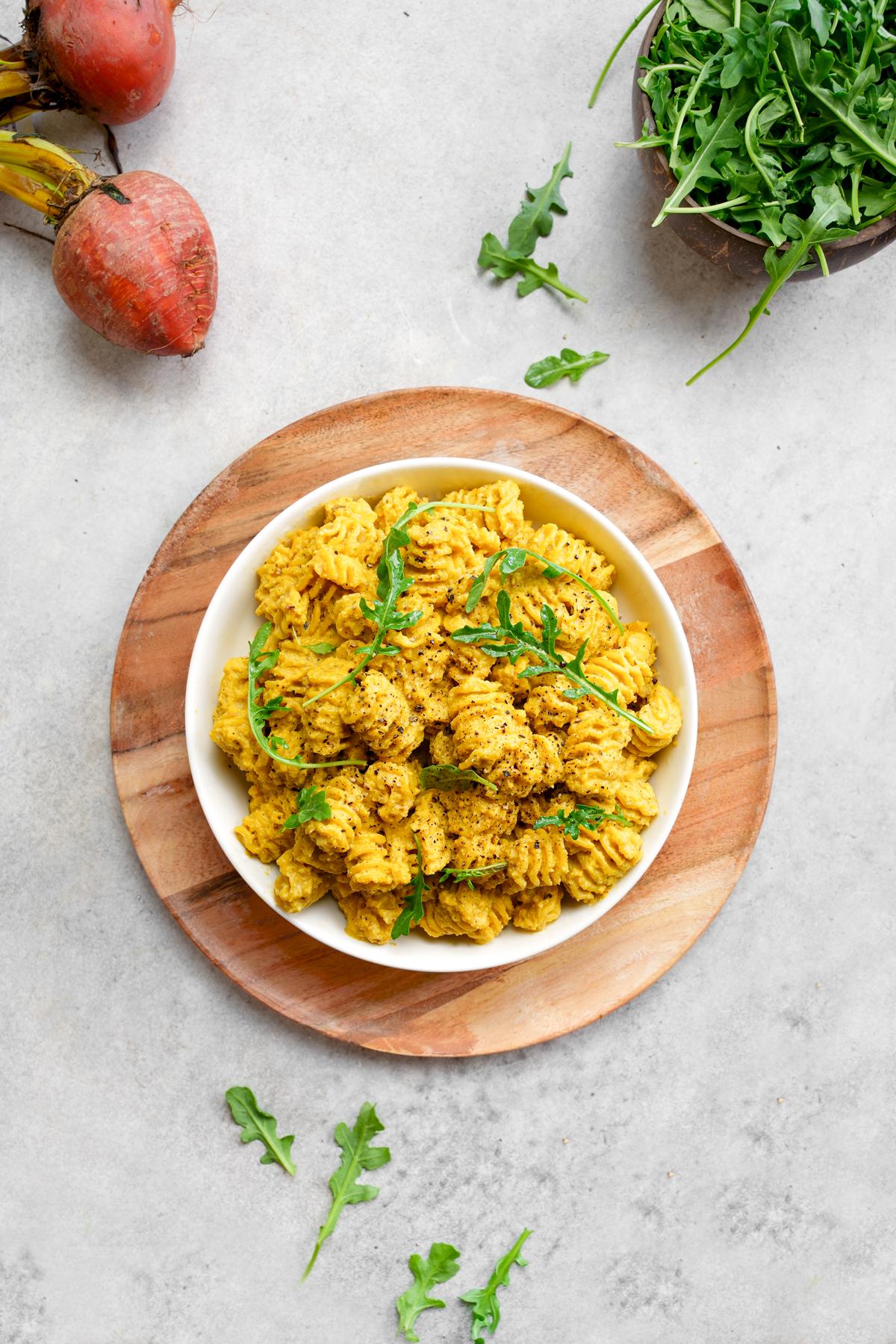 I am so excited to share today's Creamy Golden Beet Pasta with you guys! I've been obsessed with golden beets recently, and this healthy vegan pasta recipe is the ultimate way to enjoy them! It's loaded with veggies and simple, clean ingredients, and it's super easy to make!
What Are Golden Beets?
If you've never had a golden beet before, you may be wondering what exactly they are, and how they are different from their red counterpart. Up until about a year ago I had never had golden beets before. However I was quickly amazed by them.
Golden beets are simply another variety of beets. There are actually plenty of beet varieties out there such as: candy cane beets, white beets, pink beets, and more! Each variety has a slightly different taste, but are all relatively similar. Beets are a lot like apples in this way.
Golden beets are probably my favorite beet variety, because their flavor is sweet and less "earthy" than other beet varieties. They work just like regular beets and taste amazing in so many recipes. You might be thinking that golden beets are less nutritious than regular beets due to their less pigmented color. However it turns out that golden beets and regular beets are almost identical when it comes to nutrients.
Personally golden beets are my go-to. They're delicious, healthy, and beautiful. Plus, it helps that they don't stain everything when preparing them!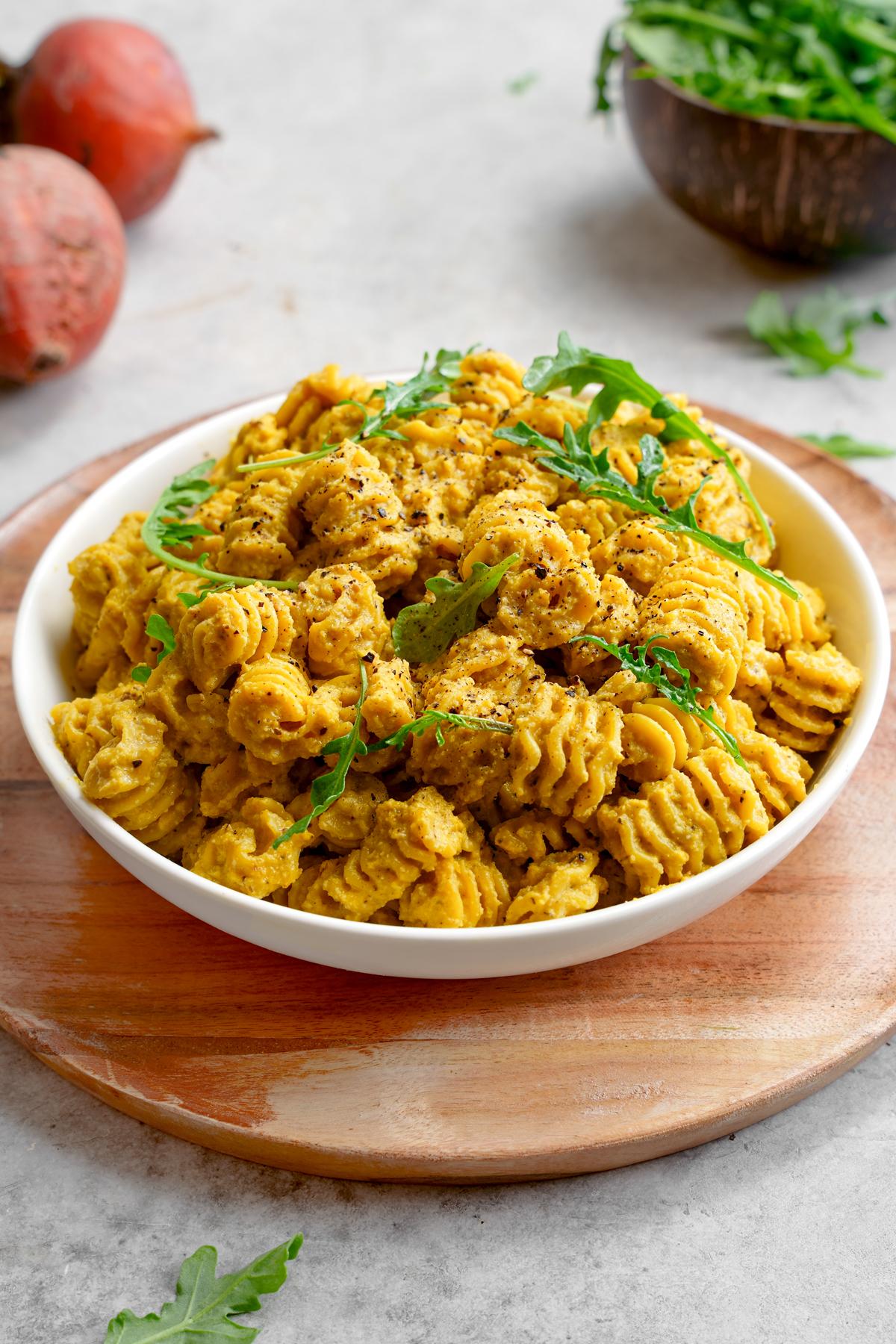 Ingredients for this creamy golden beet pasta:
Golden Beets - You can totally make this recipe with regular beets, or any other beet variety. You can find golden beets at most grocery stores.
Onions - I used Vidalia onions to enhance the natural sweetness of this recipe even more. You can use any onion variety you prefer.
Garlic - You can also use garlic powder, but nothing beats fresh garlic!
Coconut Aminos - Coconut aminos are a lot like soy sauce, but it has a natural sweetness that is incredible for roasting vegetables. You can find it in the soy sauce, or Asian section of most grocery stores.
Cashew Butter - Make sure that you are using raw cashew butter. Roasted has a much different, and bitter flavor, whereas raw is creamy and smooth. I always get my raw cashew butter in bulk from Wilderness Poets. I do have a code if you're interested. "VEGAN10" will get you $10 off your purchase.
Lemon Juice -Make sure you're using fresh lemons and not pre-made lemon juice. Pre-made lemon juice is full of sketchy ingredients and has a different flavor than fresh lemons.
Nutritional Yeast - Adds the perfect subtle cheesy flavor to this creamy sauce. It's also high in protein and B vitamins which make it the perfect healthy additional to any vegan recipe!
Gluten-Free Pasta - You can use any shape and any kind of pasta. If you're not on a gluten-free diet, you can definitely use whole wheat pasta.
Arugula - Feel free to top this pasta with any fresh herbs. Personally I love the way the arugula tastes with the the golden beets.
Black Pepper
How To make this golden beet pasta:
This Creamy Golden Beet Pasta is super easy to make. All you will need is a sheet pan (optional: silicone baking mats), a pot to boil the pasta, and a blender. You don't need a fancy blender like a Vitamix, but if you have one, great!
Begin by thoroughly washing the beets. You actually don't need to peel beets, so just make sure that you're washing all the dirt off. Preheat the oven to 400.
Roughly chop the beets, onion, and garlic. Place on the baking sheet and toss with the coconut aminos. Place the baking sheet in the oven and bake for 25 minutes.
While the vegetables are roasting, boil your pasta. Strain and set aside. Once the timer is done, add the vegetables to your blender with the cashew butter,
Toss the pasta and creamy golden beet sauce together until the pasta is coated completely. Serve and top with fresh arugula and black pepper. Enjoy!
How To Meal Prep This Golden Beet Pasta:
This Creamy Golden Beet Pasta is a great healthy vegan meal prep recipe. I almost prefer it cold (of course you can easily reheat it)! However there are a couple things that you should make note of.
First, make sure to keep the arugula separate. If you store the arugula with the beet pasta, the liquid will mix in and you'll end up with soggy greens. No need to worry, because you can keep the arugula in the container from the store and sprinkle fresh greens on top when you're ready to enjoy it!
Second, make sure that you're storing it in a true air-tight container. Pasta dries up super easily in the fridge so it's super important to prevent that. I say tru air-tight, because most Tupperware is made very cheaply, and will allow air into the container and dry out your pasta quicker. It's also important to use glass containers to avoid BPAs. I linked the ones I use for you!
Lastly, if you're planning to meal prep this creamy beet pasta, you may want to make more sauce. As the pasta sits, the sauce will become drier (regardless of how it's been stored). Therefore if your planning on having this in the fridge for multiple days, I recommend making about ½ batch more of the sauce for the same amount of pasta. This will give you creamy pasta for the whole week!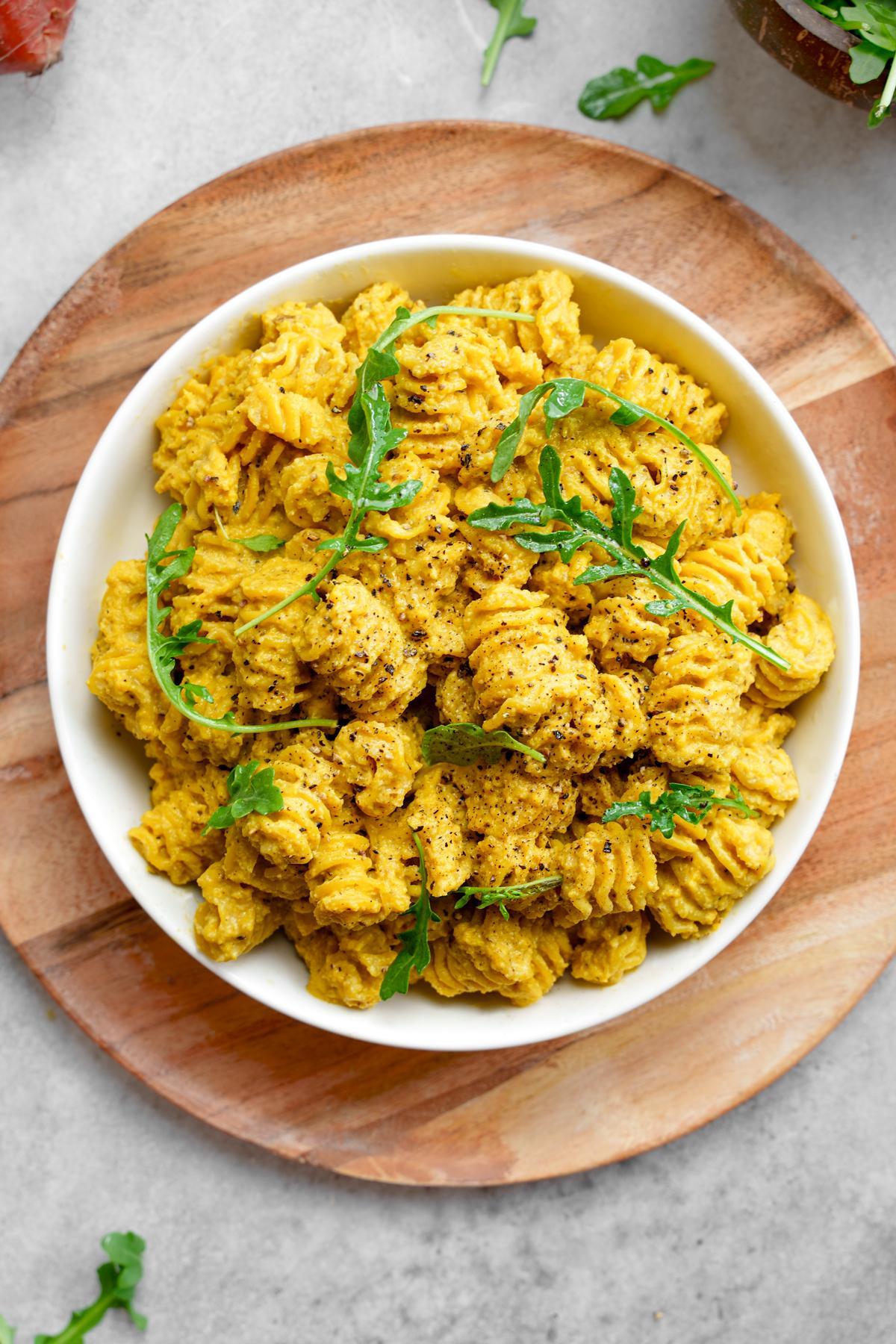 Frequently Asked Questions:
Do You Need To Peel Beets Before Cooking Them?
My entire life I grew up thinking that beets had to be peeled before cooking. However after becoming a complete health nut over the last couple years I learned that you don't have to. You actually should be leaving the peel on.
Beets are a lot like sweet potatoes, or apples. A lot of the nutrients reside in the skin of the vegetable. Therefore I recommend leaving the skin on. It's important that if you choose to leave the skin on, that you thoroughly scrub the beets. Since beets are root vegetables they're usually covered in dirt when you buy them!
Are Beets High In Sugar?
Beetroot is a natural source of sugar. Sugar beet is actually a variety of beets that is grown and then highly processed and turned into sugar crystals. This type of beet sugar is not healthy for you.
However the natural sugar found in beets is not something to fear at all. Beets are full of fiber. When foods contains natural sugars and lots of fiber the sugar is not something to worry about (this is why fruit sugar is so much better for you than cane sugar).
The fiber helps the sugar to not spike your blood sugar as much. This helps prevent weight gain, diabetes, and more. Therefore you should never fear the sugar found in natural plant based ingredients like beetroot.
Is This Beetroot Pasta High Protein?
This Creamy Golden Beet Pasta recipe is a wonderful weeknight dinner recipe. It's full of healthy vegetables, whole grains, and healthy fats. If you make this recipe with gluten-free pasta it will be pretty low in protein.
However if you're looking to increase the protein content of this recipe you can use whole wheat pasta, or bean based pasta (for a gluten-free/grain-free option!). You can also add some tofu feta on top for even more protein. This recipe is super easy to adjust, so make it whichever way you'll enjoy it most!
Related Recipes With Beets:
Creamy Golden Beet Pasta
This Creamy Golden Beet Pasta recipe is the perfect easy meatless weeknight recipe! It's packed full of delicious whole foods plant based ingredients, and doesn't take long to make. This recipe is: vegan, oil-free, refined sugar-free, and gluten-free (if made with gluten-free pasta).
Ingredients
For The Pasta:
1

box

gluten-free pasta of choice
For The Creamy Golden Beet Sauce:
Toppings:
2

cups

fresh arugula

black pepper
Instructions
Begin by washing your beets. Roughly chop the beets, onion, and garlic and place on a baking sheet. Toss with coconut aminos and bake for 25 minutes.

While the vegetables are cooking boil the pasta. When done, make sure to save ½ cup of the water and strain the rest.

Once the timer goes off for the vegetables, remove them from the oven and add to a blender along with remaining sauce ingredients. Blend until smooth.

Add the pasta and sauce together in a large bowl and toss until coated.

To serve, add to large pasta bowls and top with the fresh arugula and black pepper. Enjoy!