Whether you're looking for a comfort recipe, or trying to find ways to eat more vegetables this Easy Vegan Chili recipe is for you! This whole foods plant based chili recipe is: vegan, oil-free, gluten-free, and refined sugar-free.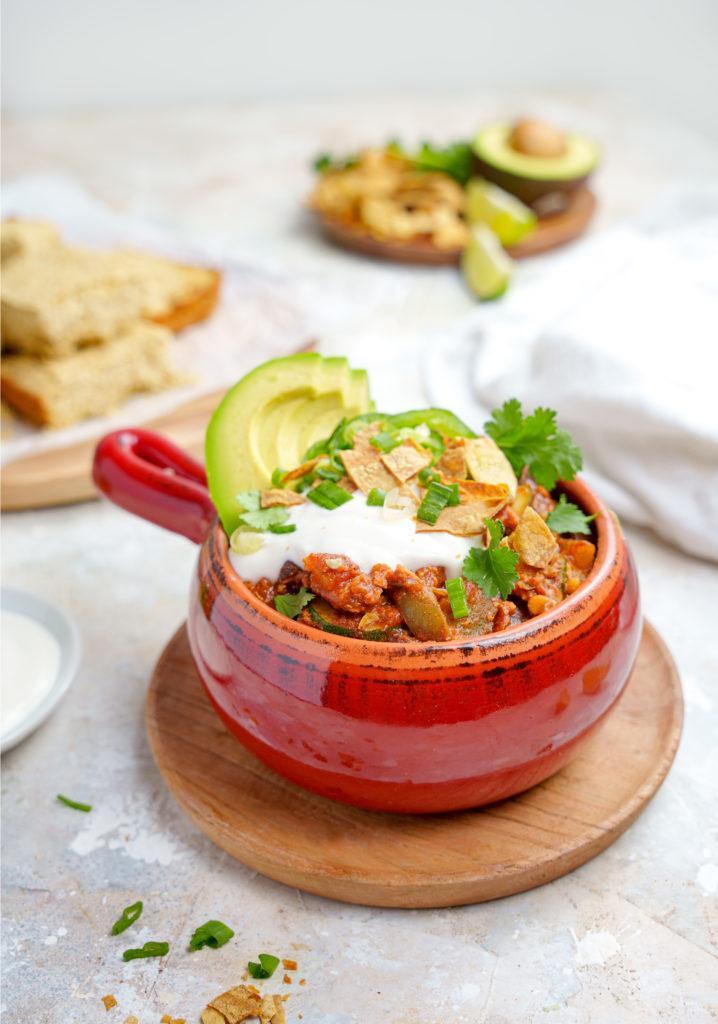 Today's easy vegan chili recipe is one of my classic vegan recipes. When I first went vegan chili was one of the foods I made often, because it is so easy to make vegan and healthy! Soup is one of my favorite dishes to make, because you can pack in a whole bunch of veggies and plant based protein! If you are a fellow soup, or chili lover, I have plenty of other recipes like this easy plant based chili recipe on my blog. Here are some of my top picks: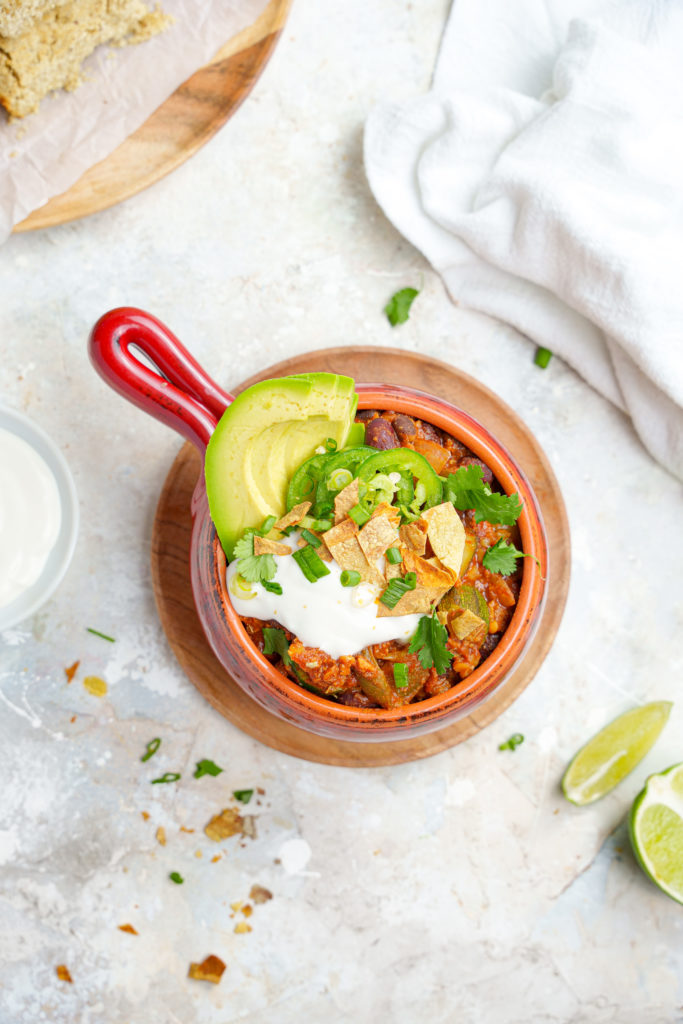 What makes this vegan soup healthy?
You guys know that I am all about making recipes as healthy as possible. What makes this easy vegan chili healthy? Let me fill you in! First, this chili is made from 100% plant based ingredients. Whether you're vegan or not, it's important to find ways to incorporate more plant based ingredients into your diet for your overall health. Second, this plant based chili recipe is loaded with healthy plant based protein and fiber, both of which help keep you full and satiated (not to mention build muscle, and keep the system moving!). Last, but not least: if you choose to use unsalted ingredients for this chili it becomes low-sodium. I always opt for the unsalted version of canned goods and what not, because as a society we overeat sodium by a lot! And that's why I love this vegan chili recipe so much, it's super healthy and totally delicious!
How to make this vegan bean chili:
Obviously this recipe is easy, considering the name of the recipe is easy vegan chili, but let me tell you just how easy! This plant based chili can be made on a stovetop, or in any pressure cooker (instant pot, ninja foodi, etc.). I love making recipes like this that are so versatile, because they make it easy to eat more healthy recipes! If you're looking to make this vegan chili budget friendly, then you can easily do a couple things to make this recipe even more affordable!
First, use dried beans instead of canned. This substitution is a little more dependent on the time you have considering that dried beans take longer to cook. However since this recipe is made from predominantly beans, it's a good idea to make them from scratch. If you are using a pressure cooker, you can cook all the beans at the same time, allowing you to save time! Second, make sure that you are using seasonal produce! I can not preach this enough, but shopping seasonally is so important. For example, although this recipe calls for zucchini, most of you are probably making chili during colder months when zucchini is out of season. Simply substitute the zucchini for sweet potatoes or kale and you're good too go!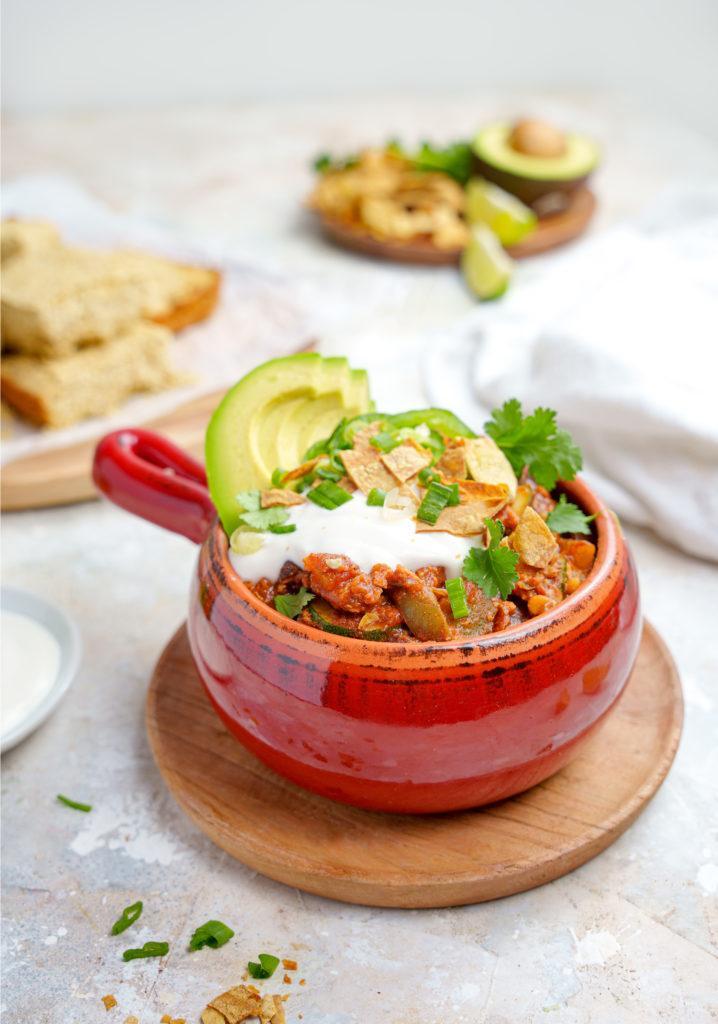 Making vegan chili for non vegans:
Whether you're a vegan, vegetarian, or just trying to get your family to eat healthier; making vegan food for non vegans can be difficult. I have a very opinionated family who will not even remotely try to hide how they feel about the food (sorry guys lol). However I have learned over the years which types of vegans recipes are best for non vegan. This easy vegan chili recipe happens to be one of them.
The key to serving vegan food successfully to non vegans is to serve food that they are already familiar with such as serving chili vegan. Therefore although recipes like my Best Vegan Pho are delicious, they may be a bit confusing for non vegans. I have a whole bunch of other vegan recipes for non vegans on my blog, here are some of my go-to recipes:
Is vegetarian bean chili always vegan?
Most of the time, yes! I honestly feel like vegetarian chili was one of the founding fathers of vegan recipes. Whether you're vegan, vegetarian, or a meat lover, you have probably had a vegetarian chili recipe and you have probably loved it because let's be real, what's not to love about chili? The biggest difference between vegetarian chili and vegan chili is the toppings. Which is great, because what you put on top is completely up to you!
This easy vegan chili recipe is perfect for vegans, vegetarians, and anyone looking to incorporate more vegetables into their diet! Like all my recipes I created this recipe to not only be delicious, but to also be nutrient dense. It is important for me as this page grows to always keep you in mind. Therefore I will always create recipes that are not only free of all the bad stuff, but that are also health promoting.
Can I make this plant based chili in an Instant Pot?
Yes! This Easy Vegan Chili recipe can be made on the stove top, in a slow cooker, or in a pressure cooker! I made mine in my Ninja Foodi which is a kitchen gadget that I would recommend everyone to invest in. Honestly, this pressure cooker is really a one stop shop when it comes to making anything! If you do choose to use a pressure cooker, you can turn this easy plant based chili recipe into a super quick dinner! All you have to do to make this vegan chili recipe is throw it all in the pressure cooker, and cook on high for 12 minutes, it's that simple!
Ingredients for this easy vegan bean chili recipe:
Zucchini
Kale
Jalapeño
Bell pepper
Black beans
Dice tomatoes
Tomato puree
Lentils
Kidney beans
Vegetable broth
Chili powder
Cumin
Smoked paprika
Corn meal
Oregano
Nutritional yeast
Garlic
Onions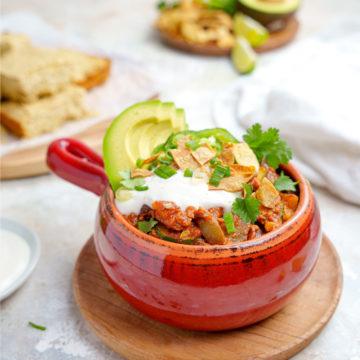 Easy One Pot Vegetable Chili
Whether you're looking for a comfort recipe, or trying to find ways to eat more vegetables this Easy Vegan Chili recipe is for you! This whole foods plant based chili recipe is: vegan, oil-free, gluten-free, and refined sugar-free.
Ingredients
2

zucchini

2

cups

kale

1

onion

4

cloves

garlic

1

jalapeño

1

bell pepper

1

can

unsalted diced tomatoes

1

15.4oz can

black beans

1

15.4oz can

kidney beans

1/2

cup

textured vegetable protein

1/2

cup

red lentils

2

cups

tomato puree

2 1/2

cups

vegetable broth

3

tbsp

chili powder

2

tsp

smoked paprika

2

tsp

cumin

1

tsp

dried oregano

3

tbsp

nutritional yeast

2

tbsp

corn meal
Instructions
Dice all your vegetables into chunks.

If using a pressure cooker simply combine all ingredients and cook for 12 minutes on high. If using a pot, add your onions and garlic first, sauté, then add remaining ingredients and cook for 30 minutes.

Top with avocado, cilantro and chips of choice. Serve and enjoy!