These nutrient dense turmeric balls are the perfect mix of sweet and sour. This recipe is made with whole foods plant based ingredients, and is super simple to make. I love making a giant batch and snacking on them throughout the week! This recipe is: oil-free, raw vegan, whole foods plant based, gluten-free, coconut-free, grain-free and refined sugar-free!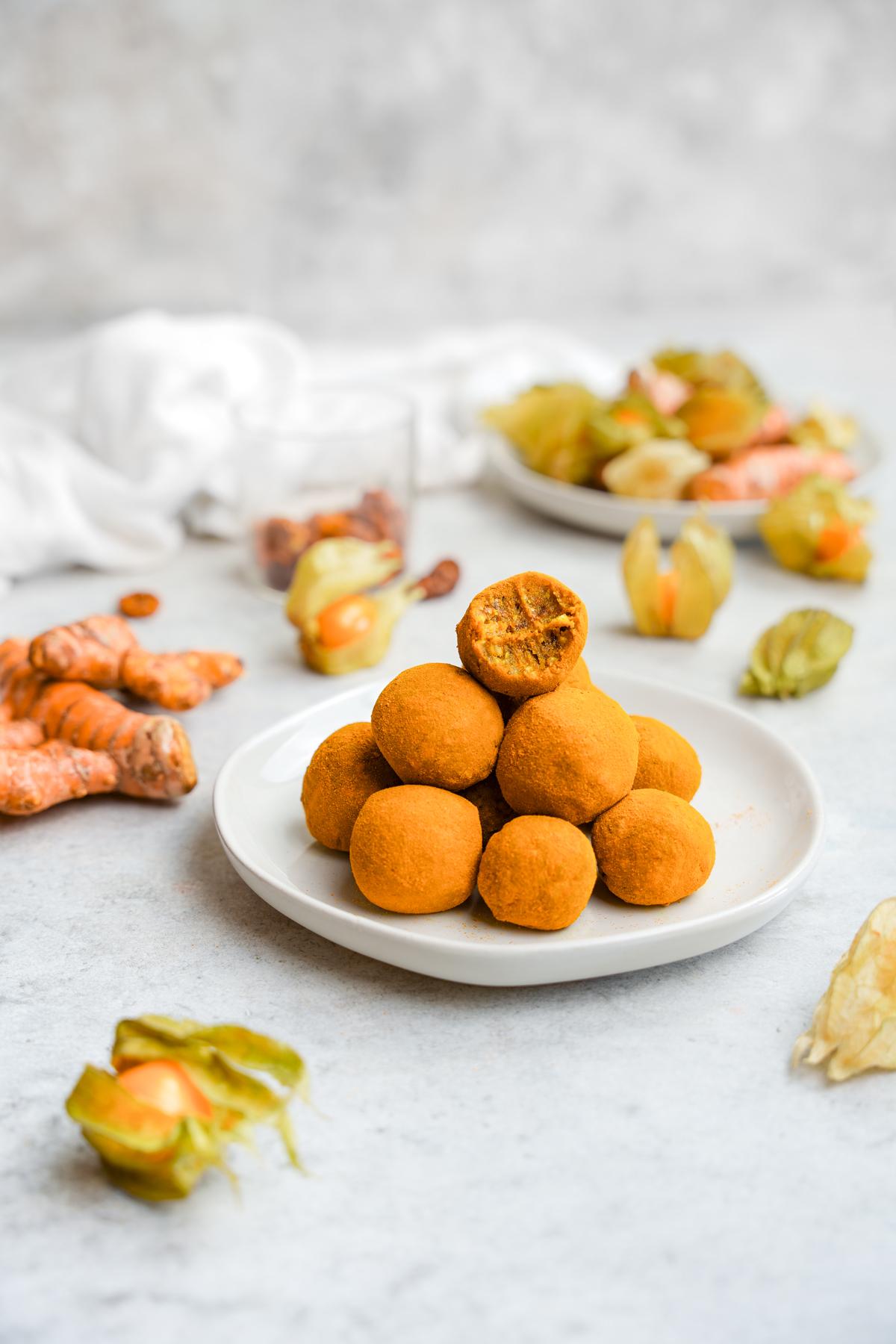 I am so excited to bring today's Turmeric Golden Berry Bliss Balls recipe! These turmeric balls are the perfect simple and sweet plant based treat. This recipe is super easy to make and are made with whole foods plant based ingredients (no oil!). I love making a giant batch of them and snacking on them throughout the week.
Why Choosing Organic Is Important For This Turmeric Balls Recipe:
I have not always bought 100% organic produce, nor do I currently buy 100% organic. However recently I have made an effort to buy more organic produce after finally understanding why conventional produce is so unhealthy.
It wasn't until someone explained it to me like this: produce is sprayed with bug killing pesticides. We have billions of good bugs in our gut (all the talk about gut health refers to those little guys). When we eat convention produce those pesticides end up in our gut and kill all the good bugs. Therefore you can take all the probiotics you want, but it won't make a difference unless you're eating organic produce.
Unfortunately organic foods can become outrageously expensive. Therefore I like buying all my dried organic goods in bulk. Some of my favorite places to buy organic foods in bulk are Foods Alive (where I purchased the products for these turmeric balls), Wilderness Poets "VEGAN10" for $10 off your purchase, Terrasoul, and of course Amazon - linked my storefront with some of my favorite budget friendly organic bulk finds!
What Are Golden Berries?
If you've never heard of golden berries, allow me to introduce you to nature's sweet and sour candy! Golden berries (also known as Cape gooseberry, poha berry, husk cherry, pichu berry, aguaymanto, topotopo, Inca berry, and Peruvian groundcherry) are a nutritious berry that is most popular in its dried form.
Golden berries are most popular when dried, because they are relatively new to western diets. In my opinion the dried tastes way better than the fresh kind. What makes golden berries so nutritious?
Golden berries are loaded with antioxidants, anti-inflammatory compounds, and plenty of other vitamins and minerals. Along with all the micronutrients, golden berries are also high in fiber and low in sugar.
The taste of golden berries reminds me of sour candy. I love the way the sourness of the golden berries pairs with the turmeric in these turmeric balls. It is truly the perfect balance!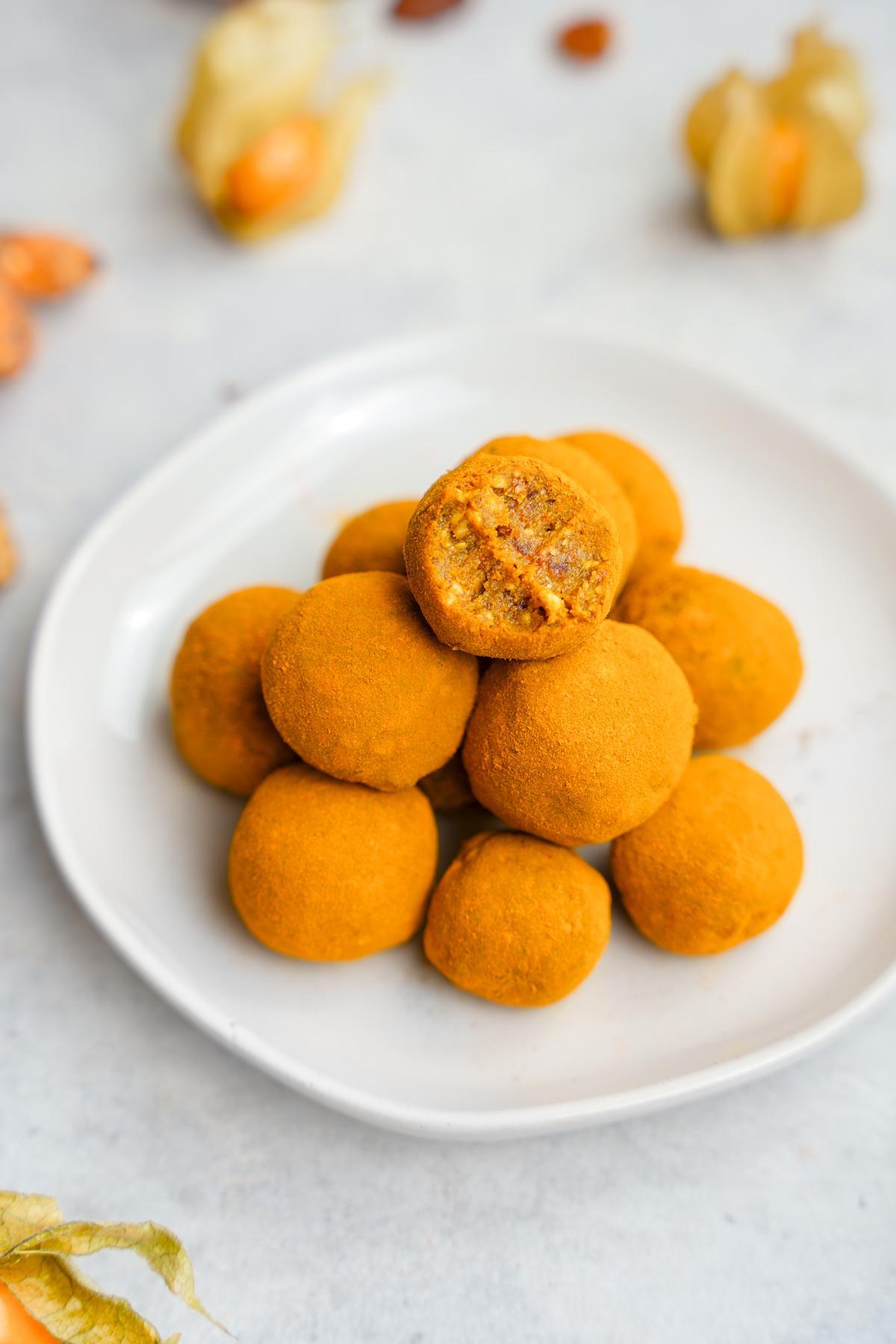 What Makes These Turmeric Balls So Healthy?
This turmeric ball recipe is the perfect healthy snacks. They are nutrient dense and free of all the bad stuff. What does that mean? This recipe is:
OIL-FREE
GLUTEN-FREE
RAW VEGAN
REFINED SUGAR-FREE
GRAIN-FREE
PALEO
COCONUT-FREE
DAIRY-FREE
WHOLE FOODS PLANT BASED
Why Is Turmeric So Good For You?
Turmeric has absolutely blown up over the last 5 or so years (unless you're from India, where it's been a staple for thousands of years). Turmeric shot to fame, because it is extremely anti-inflammatory. However turmeric has many more health benefits other than just being anti-inflammatory.
Turmeric can increase the antioxidant capacity, lower risk for heart disease, and boost brain-derived neurotrophic factor, prevent cancer, and treat Alzheimer's disease. Just to name a few of the benefits lol. Including turmeric into your daily routine can be an incredible way to improve your overall health.
However turmeric has a strong flavor, so it can be hard to fit it into your daily routine. That's why these turmeric balls are so perfect. These turmeric balls are the ultimate healthy snack that you can easily make and eat throughout the week.
Ingredients For Turmeric Balls:
Dry Ingredients:
Turmeric Powder - For dusting the turmeric balls.
Fresh Turmeric - Has a milder taste and is more nutritious than dried turmeric.
Raw Cashews - It's important to use raw unsalted cashews and not roasted.
Dried Golden Berries - You can find these in most health foods stores.
Maca Powder - This ingredient is optional, but recommended for a nutrition boost!
Medjool Dates - You can use any dates, but medjool dates work the best for processing.
Black Pepper - Increases the absorption of turmeric by 2000%
Wet Ingredients:
Vanilla Extract - This is optional, but I think it really completes the recipe!
How To Make Turmeric Balls:
These turmeric balls are super simple to make. However there's a couple crucial steps that should not be skipped. First, soak your golden berries. Golden berries can get quite firm, especially if they're cold. This can cause issues when making these bliss balls, because they won't mix properly with the rest of the ingredients. Therefore it is important to soak the golden berries for at least 2 hours before preparing these Golden Berry Turmeric Bliss Balls.
Next, use a food processor to blend all the ingredients together. You can also do this step in a blender, but it will be much more labor intensive.
Finish these turmeric balls off by dusting them, or rolling them with turmeric powder. Make sure to be careful with the turmeric, because it stains!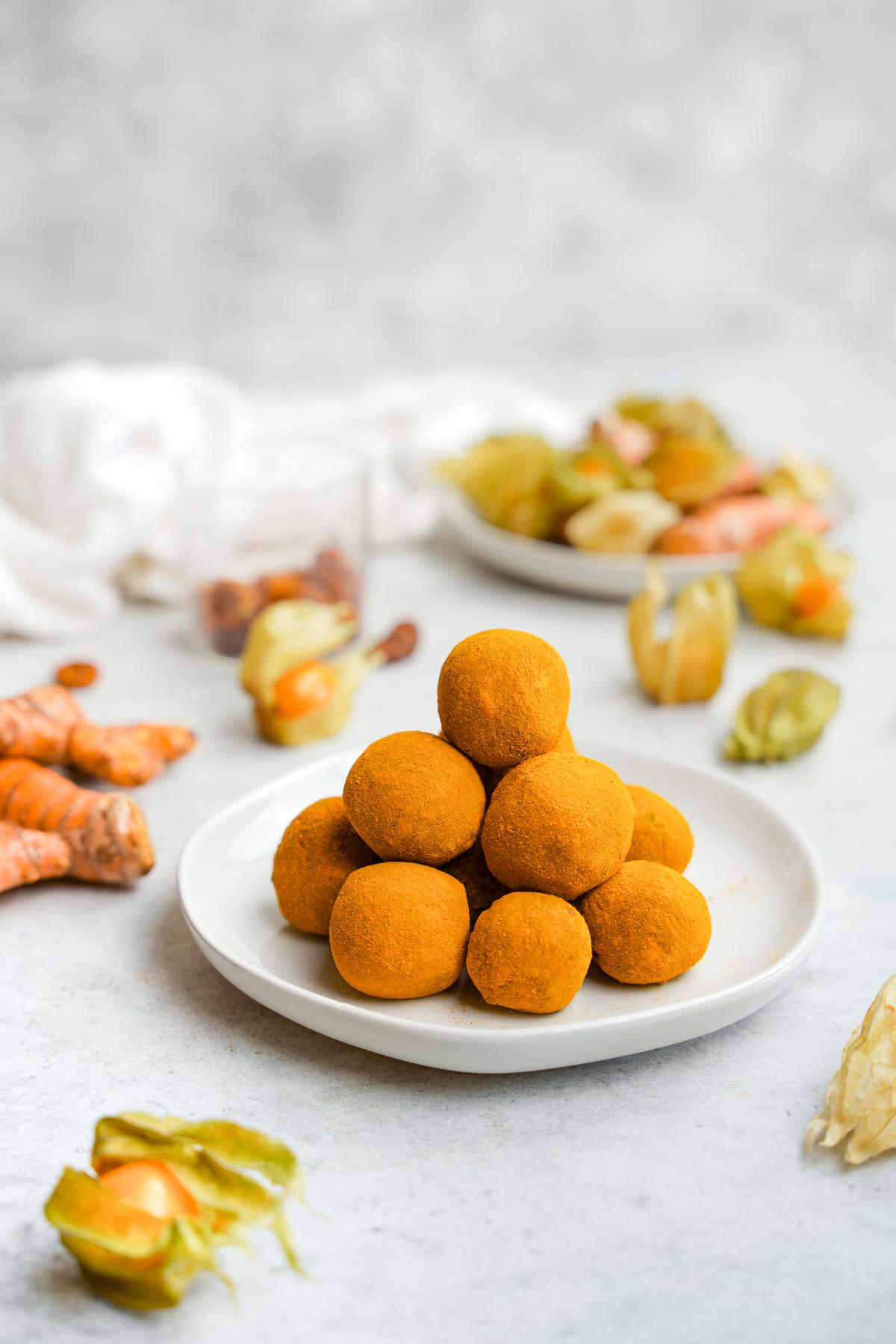 Frequently Asked Questions:
What Are The Benefits Of Turmeric Balls?
These turmeric balls are incredibly nutrient dense. I love making a giant batch of these and snacking on them throughout the week whenever I need a nutrition pick me up. The benefits of turmeric balls include:
They keep you full for long periods of time (High fiber).
Full of antioxidants
Anti-inflammatory
Hormone Balancing
These turmeric balls are also great, because you can easily add all kinds of superfoods to this recipe and they'll still taste amazing! You can also add other spices like cinnamon, cardamom, nutmeg, etc. for a fun flavor! I like adding a bit of lemon zest to my recipe, because I think it pairs wonderfully with the golden berries!
What Is The Best Way To Take Turmeric?
Turmeric has gotten so much attention in recent years, and for good reason too. However I find that whenever something becomes popular, people like to nit pick all the details.
There's constant debate on what is the best form of turmeric, and what's the best way to take turmeric. My rule of thumb prevails again: the most natural form is always the best form. Turmeric root is more nutritious than turmeric powder.
Turmeric contains the Curcumin which is the key active ingredient. Curcumin health benefits include: Arthritis Symptom Relief, eye health, kidney health, and is a potential cancer treatment. How epic of an ingredient is that?
However when turmeric is dried the curcumin is lost in the process (not all, but a majority). Don't get me wrong turmeric powder is still an exceptionally healthy ingredient. However if you are looking to get the most bang for your buck, I recommend using raw turmeric root. If you can't find the raw turmeric in a store near you, no worries - you can still make this turmeric ball recipe with the turmeric powder!
What Does A Golden Berry Taste Like?
I always hear people refer to dates as nature candy. While I do believe that dates are incredible, I don't necessarily think of them as candy. When I think of candy I think of sourness and fruity flavors. Therefore I believe that golden berries are natures candy!
Golden berries have a sweet and sour taste that reminds me of lemon drop candy (except chewy and not rock solid). The texture is very pleasant, it's more chewy than a raisin, or a goji berry. This is also why they remind me of candy!
What To Do With Dried Golden Berries?
Dried golden berries are the most common form you can find golden berries in. In my opinion they're the best too. They are more firm than a raisin, but still chewy. I personally love the texture (that says a lot). To me they're like sour candy!
They're delicious on their own, however there's quite a bit you can do with them. Obviously you can make these turmeric balls with them. You can also add them to salads, overnight oats, raw vegan cheesecakes, the list goes on! Make sure to subscribe to my newsletter so you know when I create more golden berry recipes!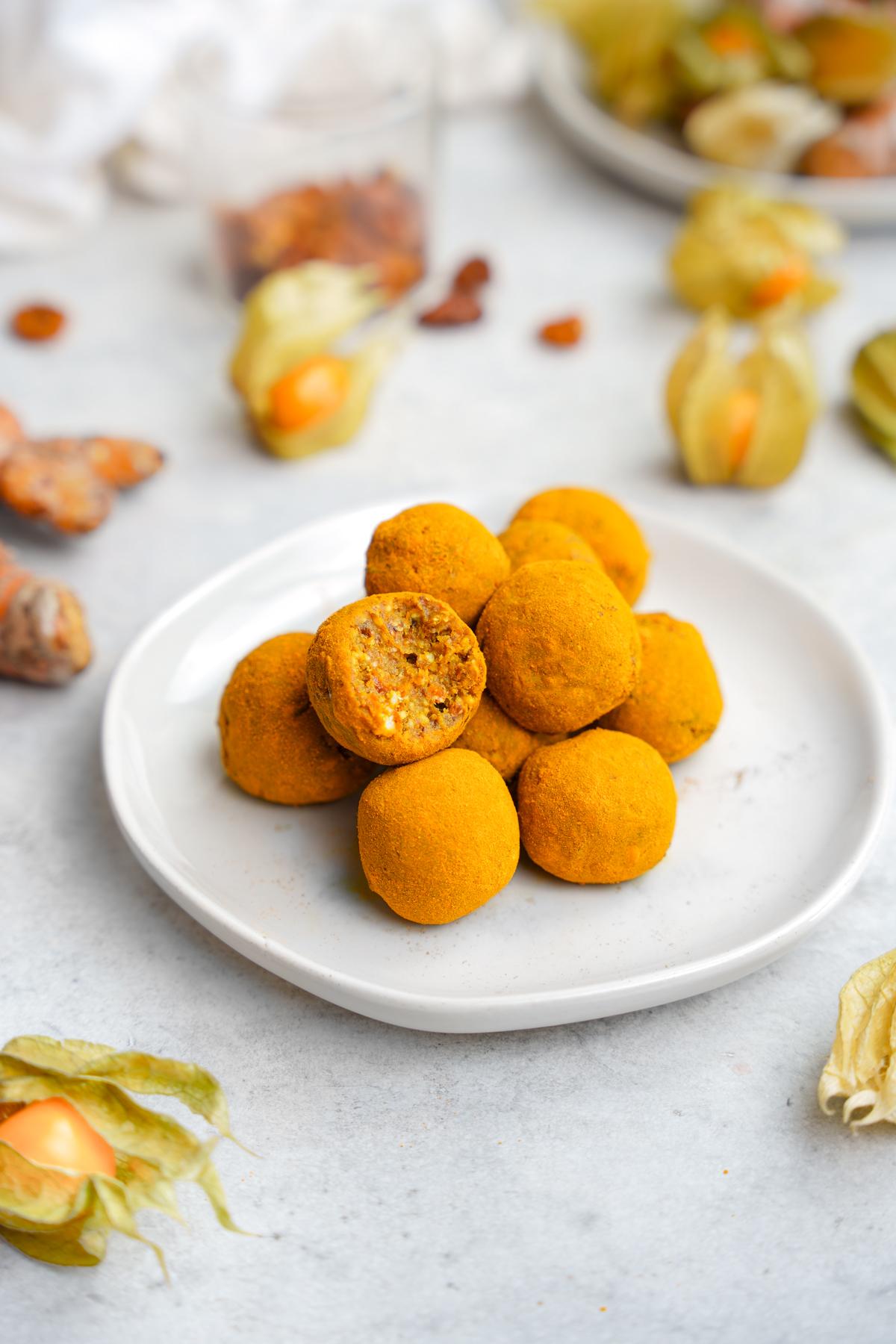 Related Recipes:
Golden Berry Turmeric Bliss Balls
These nutrient dense turmeric balls are the perfect mix of sweet and sour. This recipe is made with whole foods plant based ingredients, and is super simple to make. I love making a giant batch and snacking on them throughout the week! This recipe is: oil-free, raw vegan, whole foods plant based, gluten-free, coconut-free, grain-free and refined sugar-free!
Instructions
Begin by soaking your golden berries in water (for about 2 hours). This helps them blend easier when processing.

Once soft, strain and add to food processor with all remaining ingredients except turmeric powder. Process until everything starts to stick and is in crumbles.

Form into balls and roll in the turmeric powder. Store in the fridge and enjoy!