This cold pressed turmeric ginger juice recipe is loaded with nutrients and is the perfect way to enjoy turmeric. This Turmeric glow juice is absolutely delicious and super anti-inflammatory! Vegan, gluten-free, refined sugar-free, and cold pressed!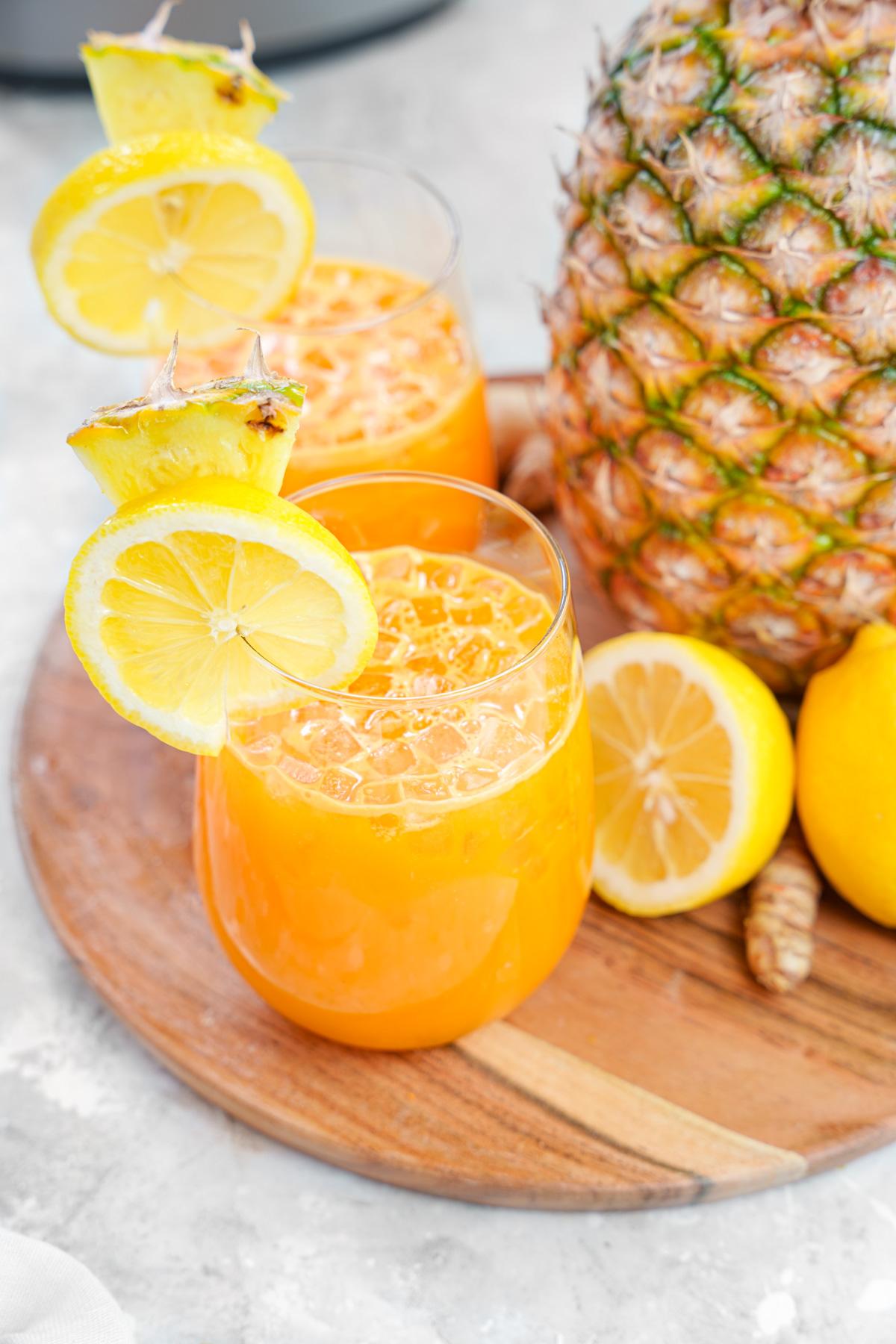 I am so excited to be sharing today's turmeric juice recipe with you all! I seriously make this pineapple ginger turmeric juice at least once a week, I try to drink a glass a day. Why? It's so easy, affordable, and healthy!
I'll admit I am a little recent to the juicing game (normally a smoothie person!), but I have been absolutely hooked recently. There was definitely a learning curve to figuring out how to make delicious cold pressed juice recipes. However I think I have finally mastered making the best turmeric juice!
What Is Cold Pressed Juice?
Like I previously said, I am pretty new to the juicing world. If you asked me a couple months ago what is so great about cold pressed juice? I don't think I could have given you a solid answer. However, I dove deep into learning about cold pressed juices, and it's truly amazing!
A cold pressed juice is a juice that's fruits and vegetables are crushed slowly and never heated. By keeping the juice cold, it retains more nutrients. It is so important to make sure that you are making cold pressed juice whenever making recipes like this cold pressed turmeric juice recipe, because you want to retain the highest amount of nutrients possible!
What Makes This Pineapple Ginger Turmeric Juice Recipe So Healthy:
The first key to making this pineapple ginger turmeric juice recipe is using a cold pressed juicer (see below for the one I use!). The second key is using quality ingredients. What does quality ingredients mean? In my opinion, quality ingredients means organic and nutrient dense. This turmeric juice recipe checks both of those boxes!
Organic Produce is important (Especially When Juicing):
To be blunt, I just recently started opting for organic produce. I've been a whole foods plant based vegan for almost four years, and I just discovered how important eating organic truly is. We always hear that it is important to buy organic, and that the pesticides used in conventional produce is horrible for you. But what is it that makes it so bad?
I didn't know until someone explain it to me like this: when you eat produce that is sprayed with pesticides you are therefore eating the pesticides. Pesticides kill bugs. Our gut microbiomes are full of good bugs that help our bodies function properly. When you eat produce that contains these pesticides that kill bugs, you are killing your gut microbiome.
Therefore you can take all the probiotics and gut health supplements in the world, but it won't make a difference as long as you are eating conventional produce.
This had me shook! I'm telling you I have had the ick ever since then about conventional produce, and I am now making an effort to buy as much organic produce as possible!
It Is Incredibly Nutrient Dense:
I am going to be blunt again: turmeric is not a delicious flavor. Honestly I low key hate turmeric (except in my Simple Chickpea Curry of course!) However turmeric is insanely healthy. It is one of the best sources in the world for fighting inflammation and is also loaded with antioxidants that help fight free radicals.
What about ginger and pineapple? Ginger is great for stimulating digestion, and is anitbacterial! Pineapple is loaded with vitamin C (and delicious of course!).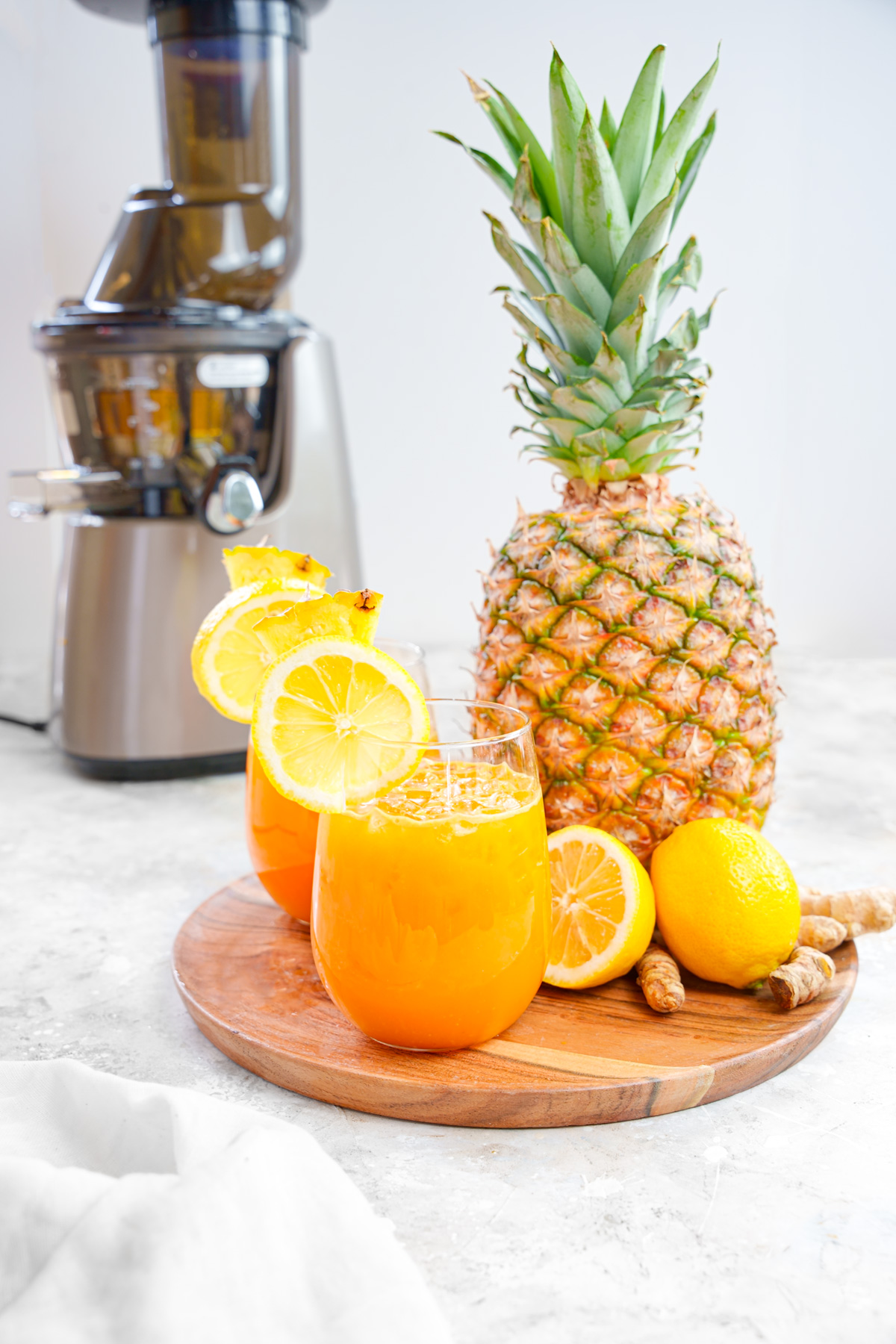 Why Juice Turmeric:
There are plenty of ways to enjoy turmeric. You can grate it and use it in curries, or blend it in smoothies. However my personal favorite way is to make this turmeric juice recipe. I love this cold pressed turmeric juice, because it is so easy!
For the longest time I hated juicing, because cleaning the juicer was so difficult. However ever since I upgraded my juicer it has been the easiest way to eat turmeric. All you have to do is throw it in the juicer and you are good to go!
The Best Cold Pressed Juicer:
What juicer did I choose to upgrade to and why? I upgraded my juicer to the Kuvings Whole Slow C7000 Series. This juicer has seriously changed my life, and I am not even being dramatic. How? It's simple.
This juicer has allowed me to reduce my food waste, consume foods I otherwise wouldn't have, and boosted my daily nutrition! I do this by making simple recipes like this turmeric and ginger juice recipe.
I love how easy it is to use and more importantly clean! To clean this juicer you just have to use the brush and water! It seriously only takes a couple minutes. Not only does this juicer make delicious juices like this cold pressed turmeric juice recipe, but it can also make nut milks and sorbets!
Since upgrading to this juicer I started making my own nuts milks, which has been a dream of mine since going vegan. As always, my Kuvings Discount Code: "NATURALVEGAN" gets you $40 off your Kuvings order!
How Long Does This Cold Pressed Turmeric Juice Recipe Last?
Kuvings cold pressed juicers are great for so many things, but one of my favorites is the ability to keep in the fridge! When you use a quality juicer to make recipes like this turmeric juice recipe, you can store your juices in the fridge for longer periods of time.
This pineapple ginger turmeric juice recipe stores in the fridge for 72 hours! It may be hard to keep it around for that long though, because it is so delicious! I like saving glass bottles from store bought kombuchas and prepping my juice in them.
By prepping this cold pressed turmeric juice like this, it is much easier for me to simply grab and go. I find that the best way to stay consistent is to incorporate little steps like this into my day to day. This also makes it the perfect on the go snack!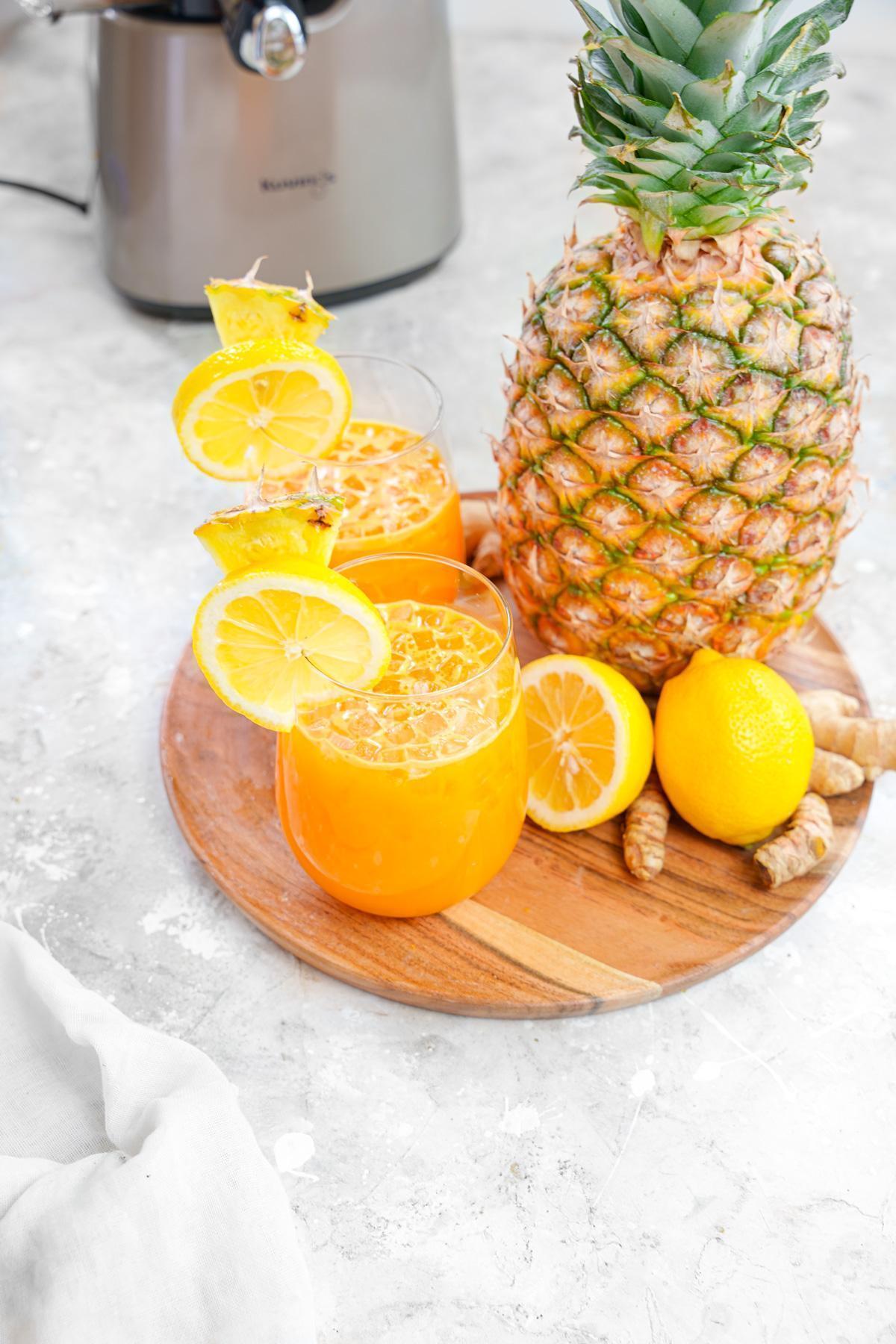 Ingredients For This Turmeric Ginger Glow Juice:
Turmeric
Ginger
Pineapple
Lemon
Carrots
How To Make This Cold Pressed Turmeric Juice Recipe:
Making this col pressed turmeric juice is incredibly simple (another reason I love the Kuvings juicer!). To make it all you need to do is cut the skin off the lemon and pineapple. You can and should keep the skin on the ginger and turmeric since many of the nutrients are found there.
After peeling the fruit, cut into chunks. These chunks don't need to be super small, just small enough to fit in the juicer. Simply add the ingredients alternating between the soft and hard produce. And there you have it! Perfect pineapple turmeric ginger juice!
Frequently Asked Questions:
Can You Drink Raw Turmeric Juice?
Turmeric is most popular in its powdered form. However cold pressed turmeric juice may be the best way to consume it. Cold pressed juice is raw, and therefore is not stripped of any benefits. Although turmeric powder is still a great way to incorporate turmeric into your diet, raw turmeric will always be the best.
Consuming foods in their natural raw form is the best way to enjoy all the nutrients. Raw turmeric also has a more mild taste than the powder, making it much more pleasant to consume!
What Happens If You Drink Cold Pressed Turmeric Juice Every Day?
Turmeric is an antioxidant powerhouse. Therefore when you incorporate this cold pressed turmeric juice recipe into your daily routine, you are bound to see some serious benefits. Turmeric is know for its anti inflammatory benefits.
However this juice recipe is made to make you glow! I named this recipe the turmeric ginger glow juice, because it actually makes you glow! "Its antioxidant properties protect cells from damage caused by free radicals, which brightens your skin tone and adds a healthy glow, and it slows down the aging process, making you look young."
Related Recipes:
Turmeric Ginger Glow Juice
This cold pressed turmeric ginger juice recipe is loaded with nutrients and is the perfect way to enjoy turmeric. This Turmeric glow juice is absolutely delicious and super anti-inflammatory! Vegan, gluten-free, refined sugar-free, and cold pressed!
Ingredients
2-3

thumbs

turmeric

1

thumb

ginger

1

lemon

2

carrots

1

pineapple
Instructions
Begin by assembling your juicer.

Peel the carrots, pineapple, and lemon.

Add ingredients to the juicer, alternating between soft ingredients and firm ingredients. Make sure not to add them all at once and overwhelm the juicer.