These Pizza Nachos are the ultimate vegan appetizer. It's perfect for parties, or a game day finger food. They're super easy to make, customizable, and healthy! This vegan recipe is made with simple and clean ingredients.
These Vegan Pizza Nachos are the ultimate vegan game day appetizer! This recipe brings together the connivance of nachos, and the deliciousness of pizza for a fun finger food. They're easy to make, customizable, and perfect for large groups.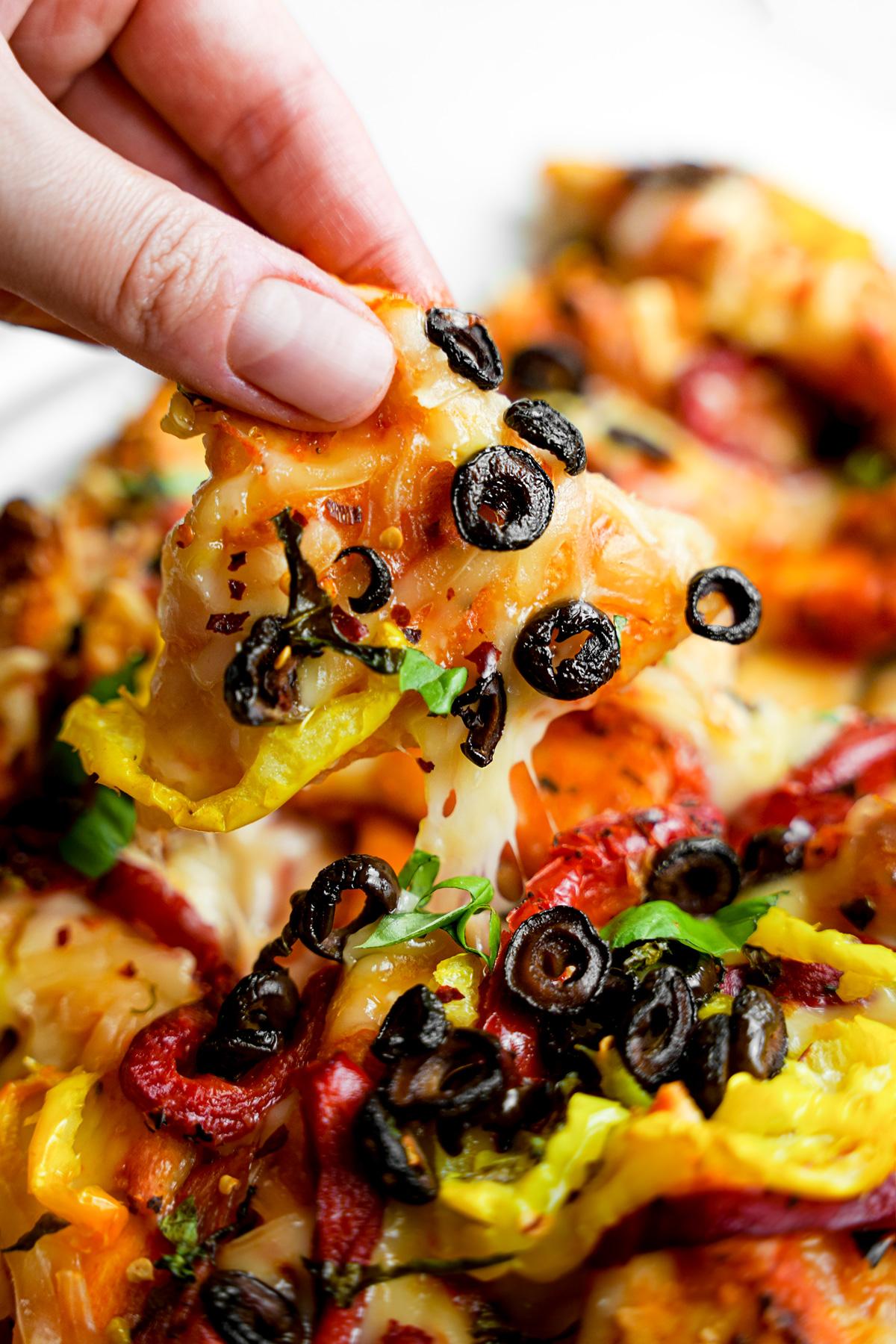 With football playoffs happening, and the Super Bowl right around the corner, it's the perfect time to start party planning.
If you're looking to make a vegan appetizer that will not only be a fan favorite, but something everyone will be talking about for weeks, these Pizza Nachos are for you.
Jump to:
Ingredients For Pizza Nachos:
Aside from a couple ingredients, these Pizza Nachos are completely customizable. I'll include my favorite toppings, but if there's a topping you love and don't see, feel free to add it on top!
For The Pizza Nachos:
Pizza Dough - You can use store bought dough, or you can make homemade dough. Here's the recipe I use for oil-free homemade pizza dough (you can also use whole wheat flour in this recipe).
Pizza Sauce - Any pizza sauce will work. You can make your own, or buy pre-made from the store. If buying pre-made, just make sure to take a close look at the label and make sure it is made with clean ingredients.
Vegan Mozzarella - Any brand of vegan mozzarella will work for these pizza nachos. I always use the VioLife brand, because it's made with clean and simple ingredients (and it tastes amazing!)
Toppings:
Roasted Red Peppers - One of my favorite pizza toppings is roasted red peppers. They are full of flavor, and since they're already roasted, they have the perfect texture.
Black Olives - I love adding black olives to any pizza, but I especially love adding them to these pizza nachos, because it helps to achieve that signature nacho look.
Banana Peppers - My favorite pizza topping ever! I know they're not for everyone, but I love banana peppers on pizza. They're salty, spicy, and so delicious. Make sure to look at the label and make sure that you are buying peppers that are naturally colored with turmeric, and not artificial food dye.
Basil - I love garnishing this recipe with some fresh basil. It helps the presentation, and it adds delicious flavor on top1
See recipe card for quantities.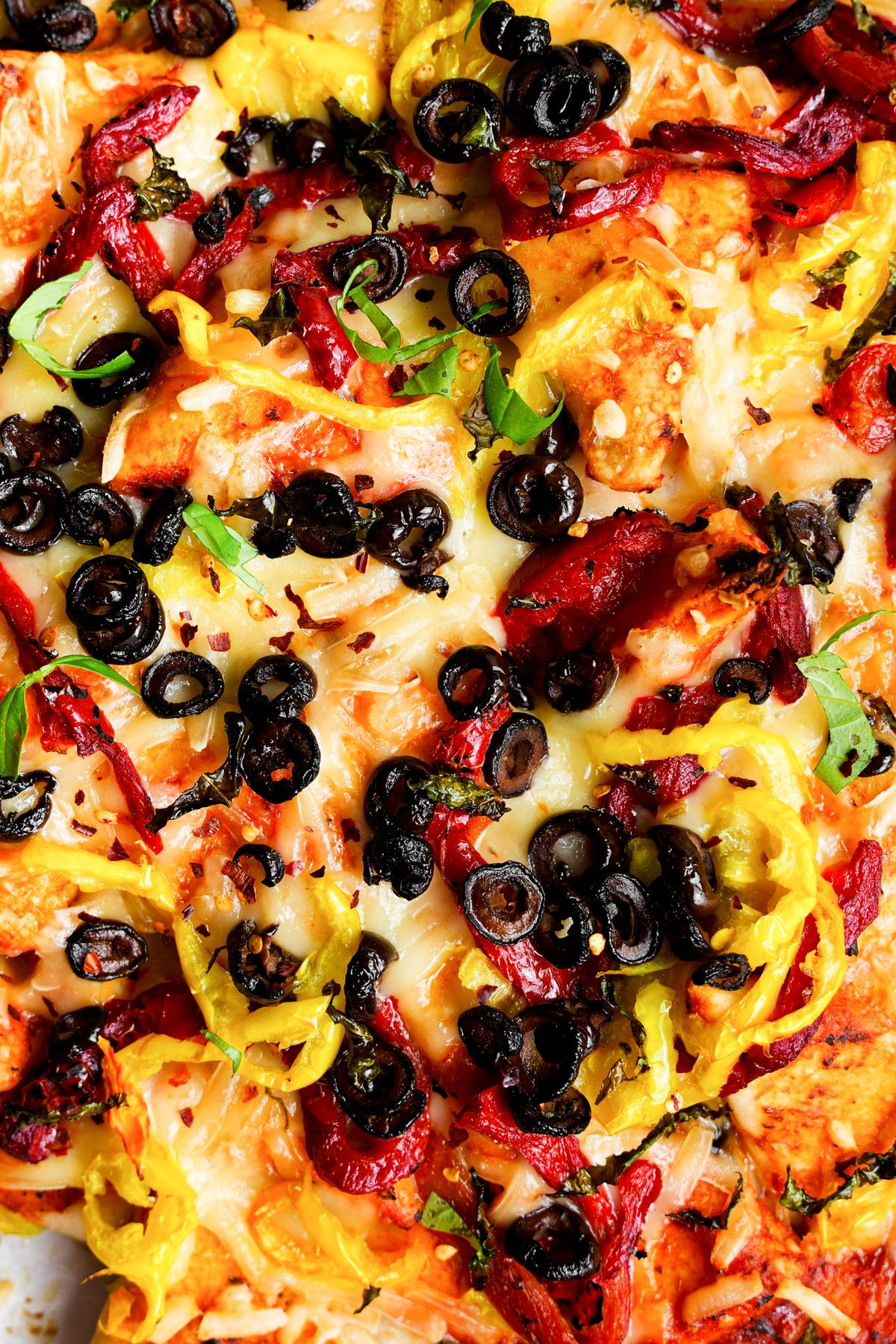 How To Make Pizza Nachos:
Pizza Nachos may just be my new favorite way to make vegan pizza, because they're incredibly easy to make.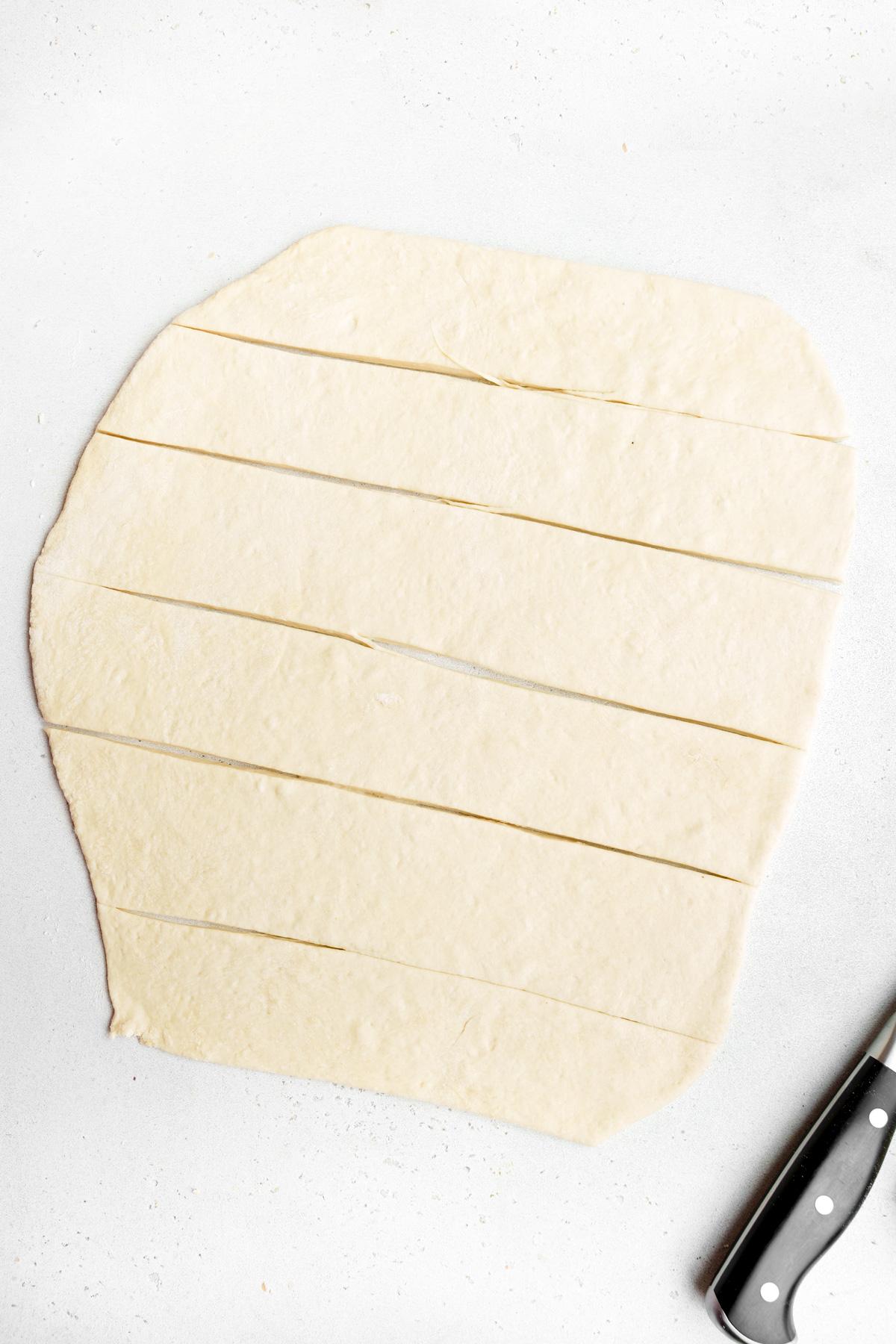 Begin by rolling out the pizza dough and cutting horizontal strips. Preheat the oven to 375.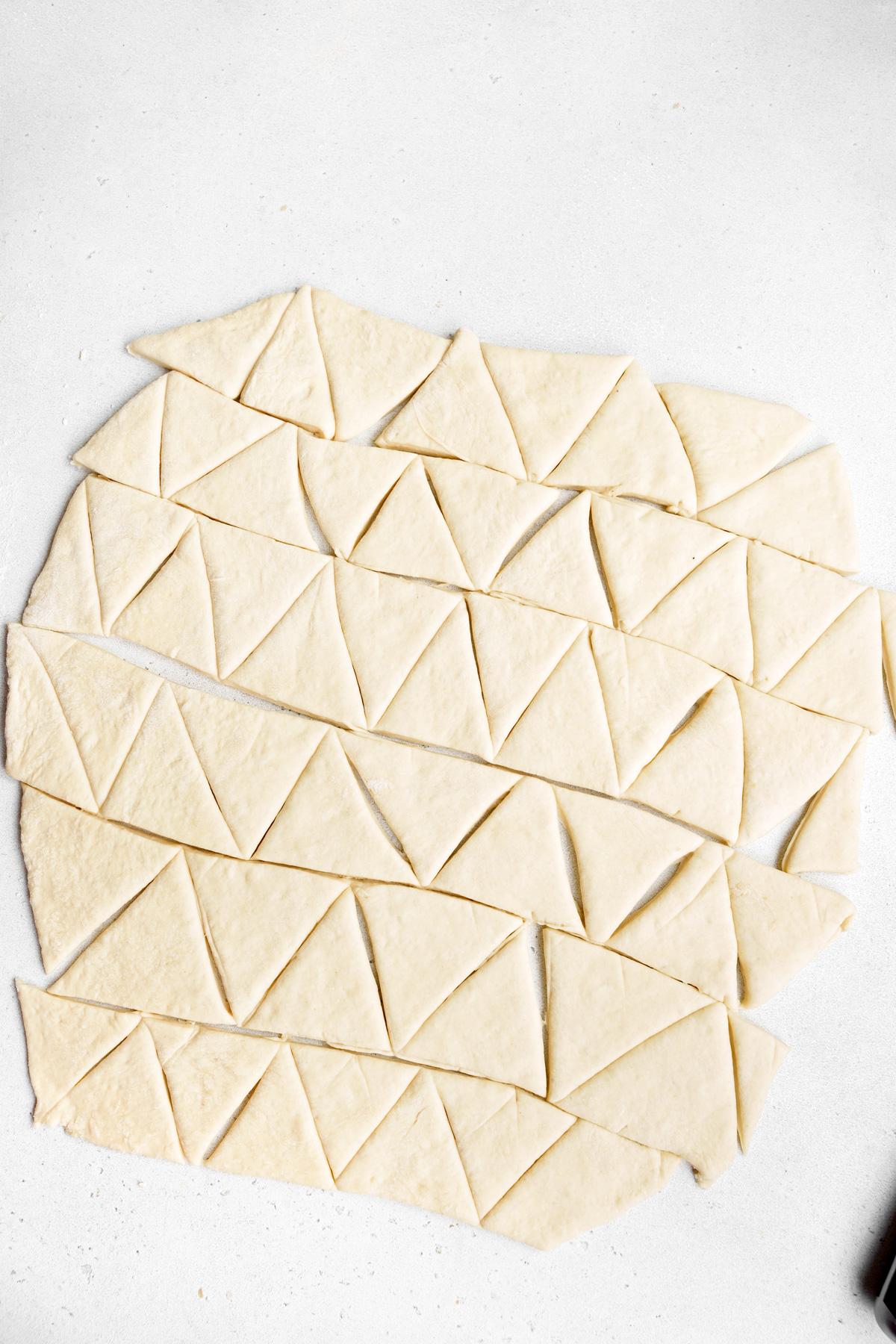 Cut the horizontal strips into triangle crust chips.
Bake the crust chips for about 5 minutes (just until they are baked, they shouldn't be golden). Assemble the crust chips on a baking sheet in a pile (like you would with nacho chips).
Coat the crust chips with pizza sauce. I like to use a silicone brush to coat the chips evenly.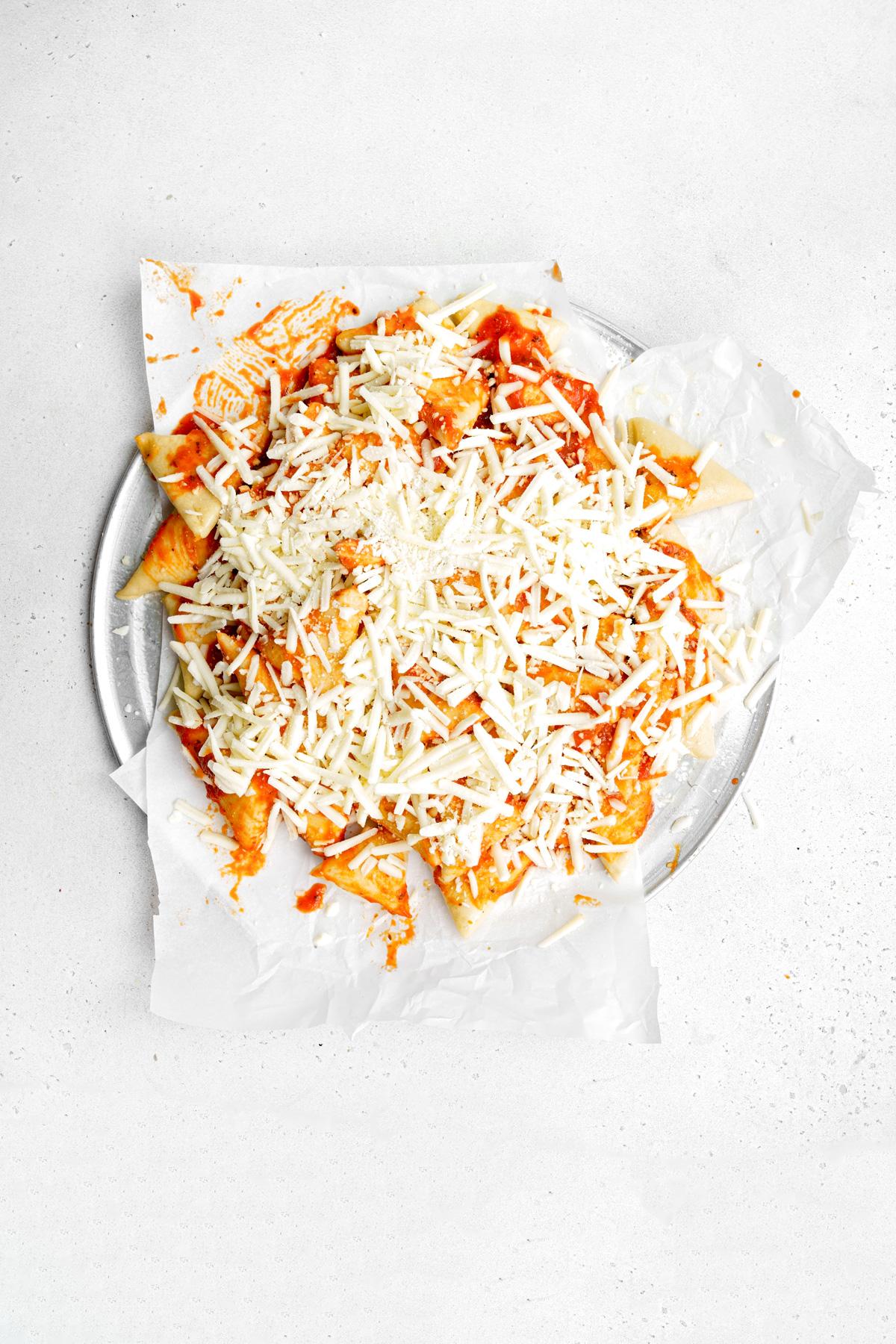 Add the vegan cheese.
Allow the pizza nachos to cool for 5 minutes before serving.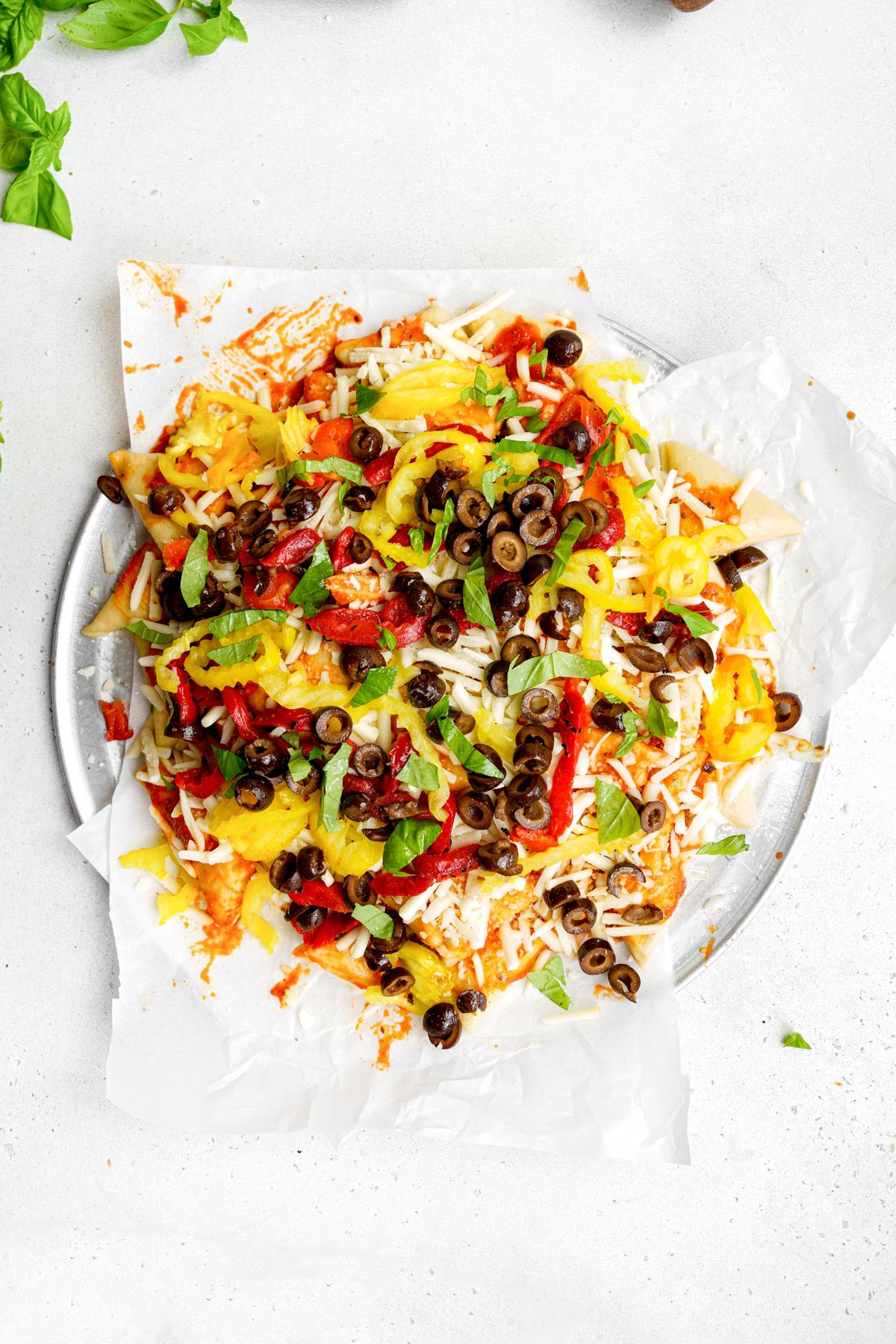 Add the toppings and bake for 20 minutes.
Hint: Bake the pizza nachos on parchment paper for an easy clean up!
Substitutions
This is a great recipe, because there are so many substitutions that can be made, everyone can enjoy!
Cheese- Although this pizza nacho recipe is vegan, and I strongly encourage you to make it vegan, any cheese will work perfectly in this recipe.
Gluten-Free - These pizza nachos can easily be made gluten-free. To make this recipe gluten-free, all you need to do is use a gluten-free pizza crust, or gluten-free pizza dough recipe.
Toppings - Like I said earlier, feel free to add any pizza toppings. Here are some suggestions; onions, bell peppers, artichoke hearts, tomatoes, mushrooms, tempeh, etc.
Oil-Free - If you're looking to make these vegan pizza nachos oil-free, you can use the cheese recipe from my Oil-Free Vegan Pizza recipe!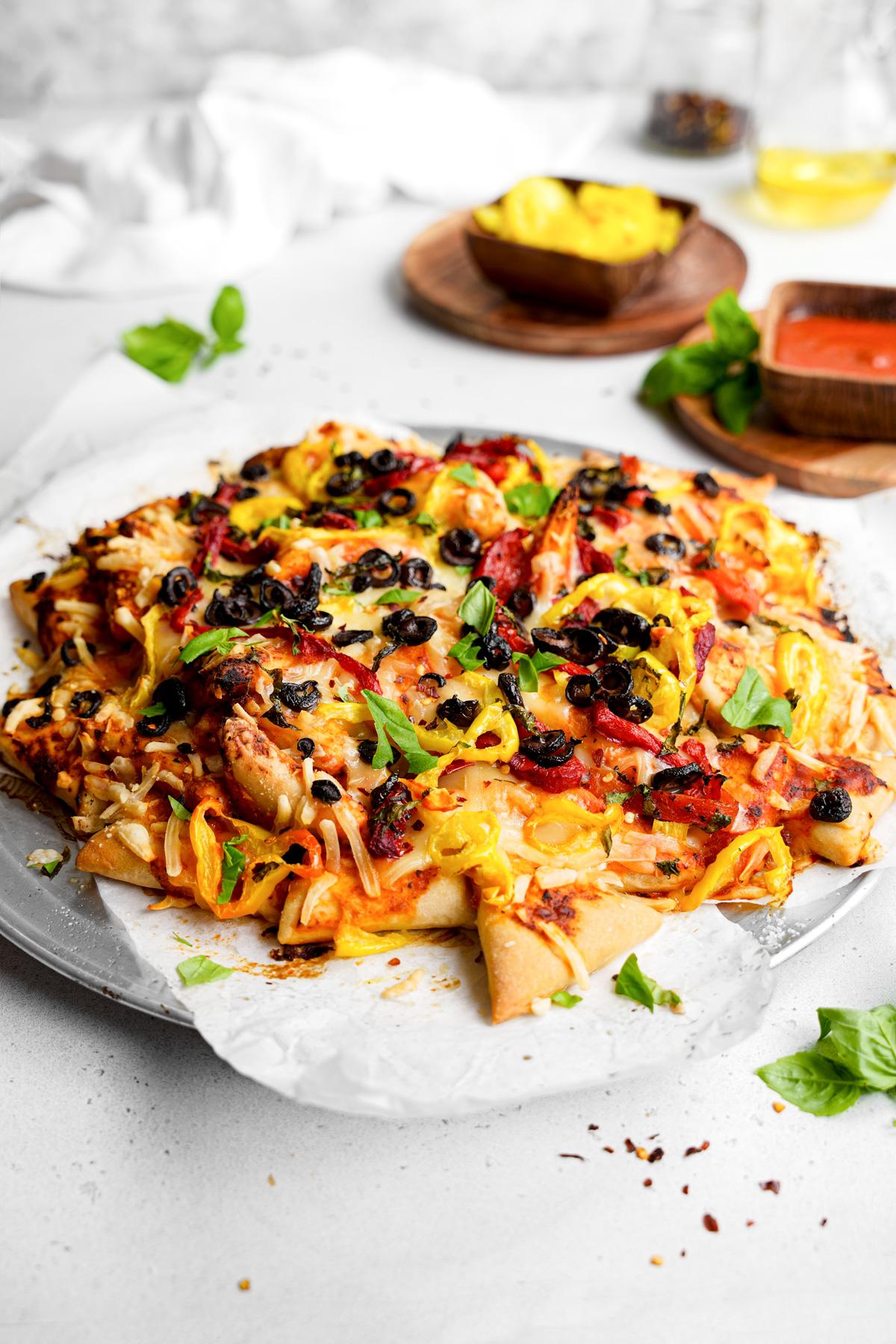 Pizza Nachos Variations
Another great thing about Pizza Nachos is there are so many variations that can be made.
Spicy - add chili pepper flakes or cayenne pepper to the sauce to make it spicy. Add your favorite peppers on top and enjoy!
Mexican - Enjoy these pizza nachos with a Mexican spice by adding chili powder to the sauce, using cheddar/Mexican blend cheese, and topping with green chilis, olives, corn, peppers, and guacamole.
Kid friendly - Use extra vegan mozzarella and sauce to make cheese pizza nachos that the kids will love!
Equipment
These pizza nachos are great, because they do not require a lot of equipment. You probably have the equipment on hand already.
Baking Sheet I recommend using a light colored metal baking sheet. This won't heat up as much as other baking sheets, and will prevent the nachos from burning on the bottom.
Chef Knife - Any knife will work, however I recommend using a long knife like a chefs knife, because it will be easier to cut the strips.
Silicone Brush - This will help you spread the pizza sauce over the chips.
Storage
There's something about leftover pizza that is just so good. Luckily you can still enjoy these pizza nachos as leftover too!
I wouldn't recommend storing them for more than a couple days. However if stored in an air-tight container these pizza nachos can be a real treat the next day.
Top Tip
My top tip for this pizza nacho recipe is to let it bake for longer than you think it needs to. It's best when the crust chips get firm on the edges. Every oven is a bit different, so you'll want to keep a close eye on the nachos. I recommend baking them for longer than 20 minutes.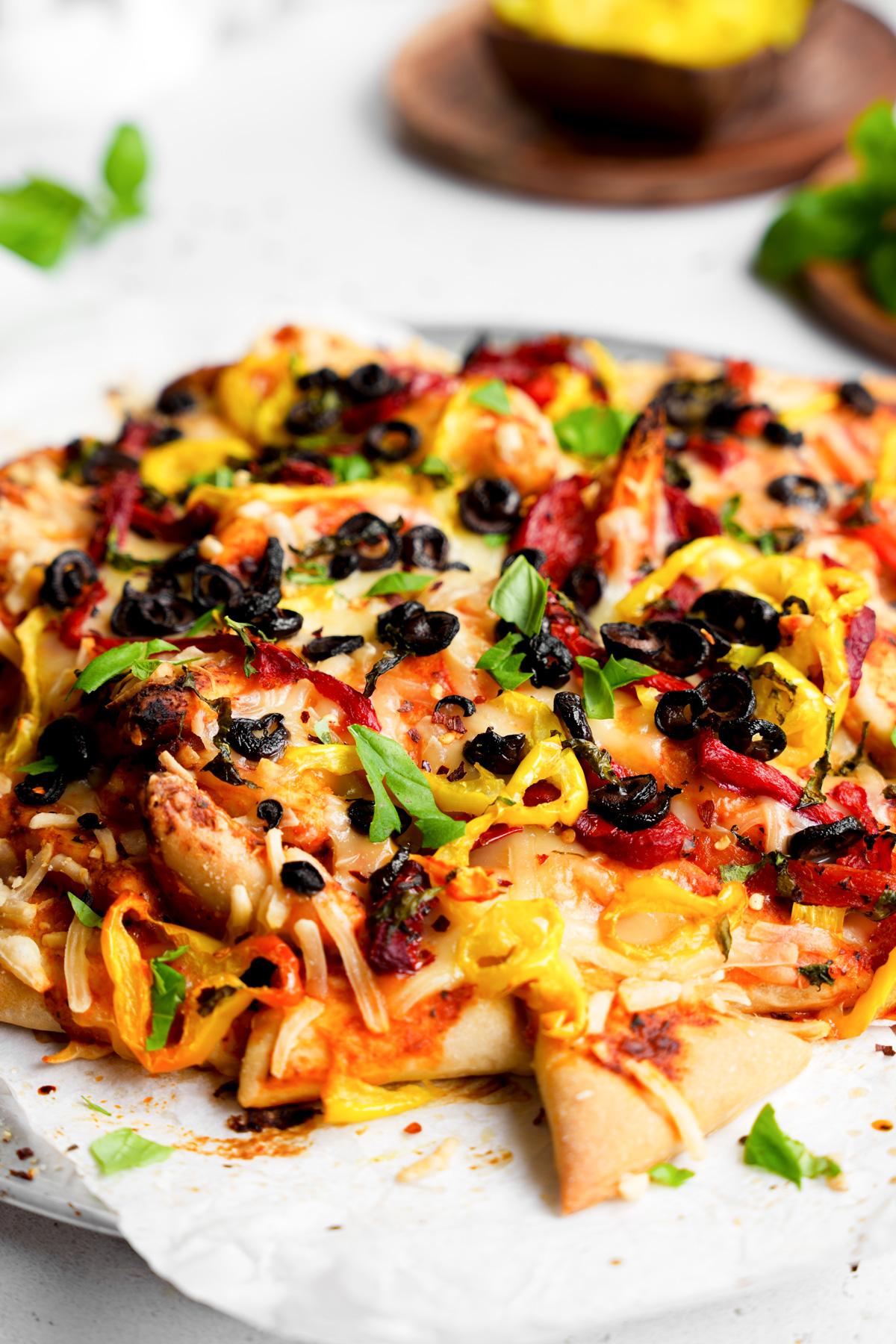 Frequently Asked Questions:
Can I Make Pizza Nachos With Tortilla Chips?
Tortilla chips are the base to pretty much every nacho recipe. However in my opinion tortilla chips and pizza sauce don't go together. This is why I made the crust chips used in this recipe. If you want that extra crunch, I would recommend using pita chips instead of tortilla chips.
Is Vegan Cheese Healthy?
This is a very common questions amongst vegans, and honestly the answer is: it depends. There are so many brands and varieties of vegan cheeses, each with different ingredients. My rule of thumb when choosing a healthy vegan cheese is to look for a cheese with as minimal ingredients as possible. The less ingredients, the more clean it it. Also make sure that it uses a healthy oil like coconut oil, and not canola oil.
Related Vegan Appetizers:
Looking for more vegan game day appetizers? Try these:
Pizza Nachos
These Pizza Nachos are the ultimate vegan appetizer. It's perfect for parties, or a game day finger food. They're super easy to make, customizable, and healthy! This vegan recipe is made with simple and clean ingredients.
Ingredients
For The Crust Chips:
1

package

pizza dough

(or one batch of homemade pizza dough)
For The Pizza Nachos:
1

cup

pizza sauce

1

bag

plant based cheese

½

cup

roasted red peppers

⅓

cup

banana peppers

1

small can

sliced black olives

½

bunch

basil
Instructions
Begin by rolling out the pizza dough to about ¼ inch thick. Preheat the oven to 350.

Cut into horizontal strips.

Cut the strips into triangles and bake flat on a baking sheet for 5-7 minutes.

Make a pile out of the chips and cover with sauce, then vegan cheese, then toppings.

Bake in the oven for 20 minutes, or until edges have become crispy.

Allow to cool for 5 minutes before serving.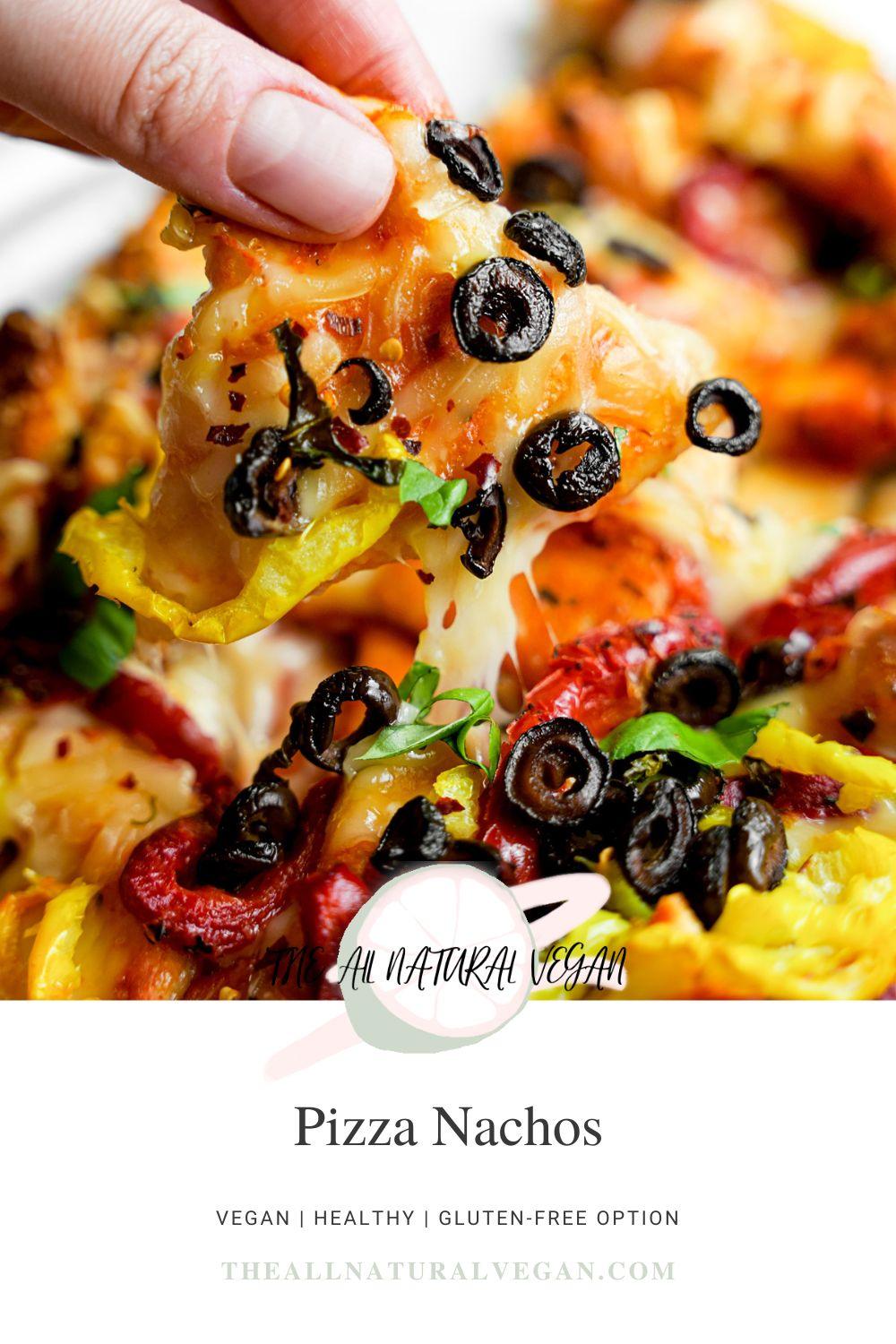 Favorite Vegan Game Day Recipes:
These are my favorite dishes to serve with Pizza Nachos:
Food Safety
It's always important to practice good food safety measures in the kitchen.
Don't leave food sitting out at room temperature for extended periods
Never leave cooking food unattended
Use oils with high smoking point to avoid harmful compounds