This Protein Fudge is the ultimate healthy and vegan chocolate treat. It's made with simple and clean ingredients, and will keep you full for hours. This chocolate fudge is: vegan, oil-free, gluten-free, and refined sugar-free.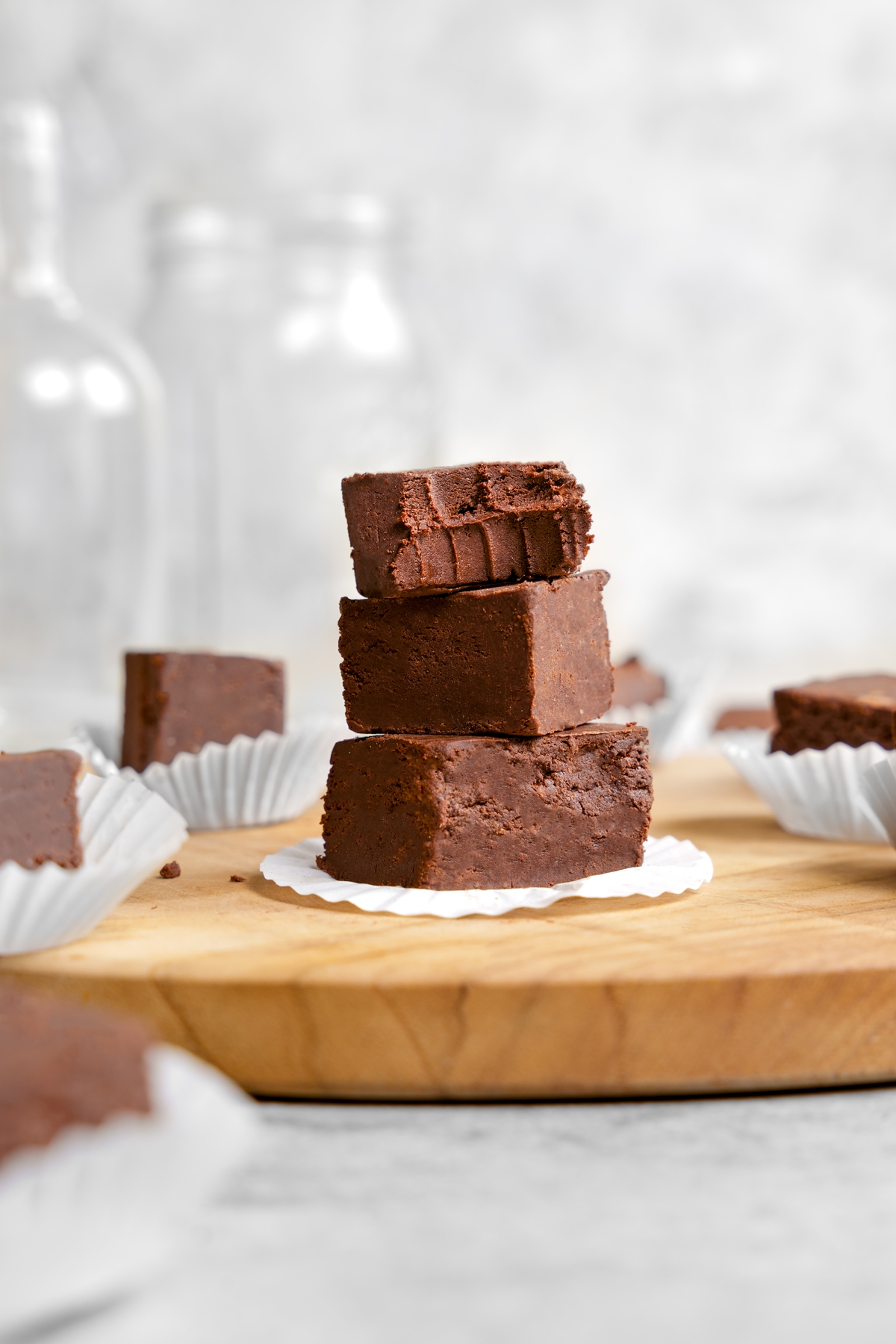 I am so excited to share today's Protein Fudge recipe with you guys. This high protein fudge recipe features plant based protein powder and natural sweeteners for the ultimate healthy vegan treat. This recipe can be enjoyed as a protein packed snack, or as an easy healthy vegan dessert!
Best Protein Powder For Vegan Protein Fudge:
It should come as no surprise that the key ingredient in protein fudge is protein powder. Therefore it's super important that you use the right kind and quality of protein powder. I have tried many plant based protein powders throughout my years of being vegan, and I have yet to find one that can complete with PlantFusion.
If you've ever tried one of my high protein recipes, then I am sure you are familiar with PlantFusion. You could say I am obsessed. PlantFusion is all about making high quality vegan protein powders with ingredients you can trust. One of my biggest gripes with protein powders is the lack of transparency. Too often I see shady ingredients with no explanation.
PlantFusion has their Purity Promise, which is a commitment to creating products that are made with nutrient dense and clean ingredients. Not only are all their products made with clean ingredients, but they're uniquely made to fit specific needs. Protein powders should not be created with a one size fits all approach.
For this Protein Fudge I went with one of my go-to PlantFusion Products: Inspire for Women. You can use any PlatFusion protein powder for this fudge, but this product works best for this recipe. I love this protein powder, because it tastes delicious, it helps to balance female hormones, boosts energy and metabolism, and builds and repairs muscle. It's the perfect daily protein powder! As always my code: "NATURALVEGAN" gets you 25% off your entire PlantFusion purchase!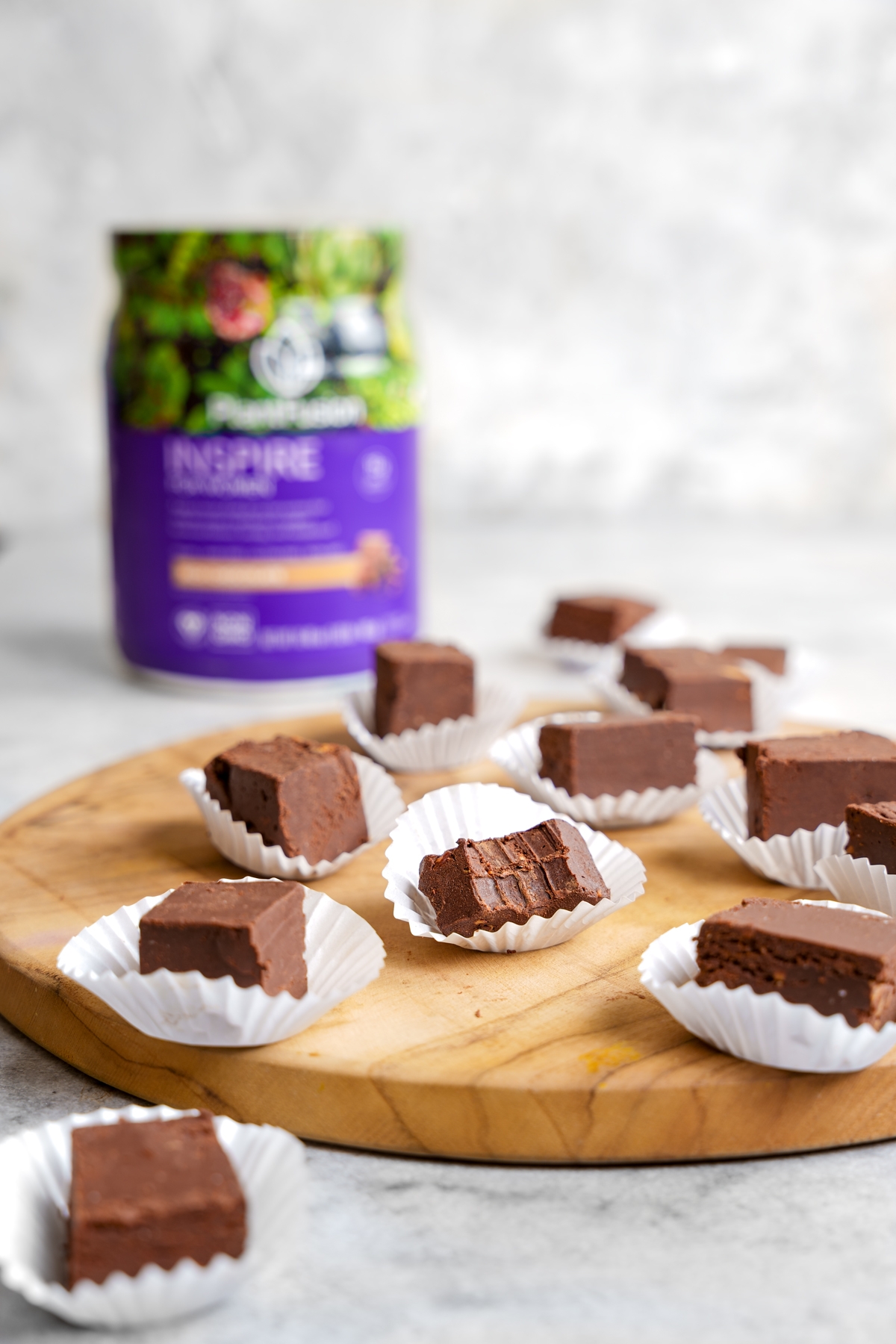 What Makes This Protein Fudge Healthy?
Fudge is typically not a healthy food at all. However this Protein Fudge recipe is packed full of nutrient dense ingredients. However it is not only loaded with the good stuff, but it is also free of all the unhealthy bad stuff. This recipe is:
VEGAN - Means that it is free of all animal based and derived ingredients.
OIL-FREE - This recipe does not contain any refined oil. Therefore it is full of fiber and other essential nutrients.
GLUTEN-FREE - This recipe is free of gluten and any grains.
REFINED SUGAR-FREE - It does not contain any refined, or processed sweeteners. It is naturally sweetened with pure maple syrup, and monk fruit from the PlantFusion protein powder.
WHOLE FOODS PLANT BASED - This recipe does not contain any refined, or artificial ingredients. It is made using simple and clean ingredients.
Ingredients For Protein Fudge: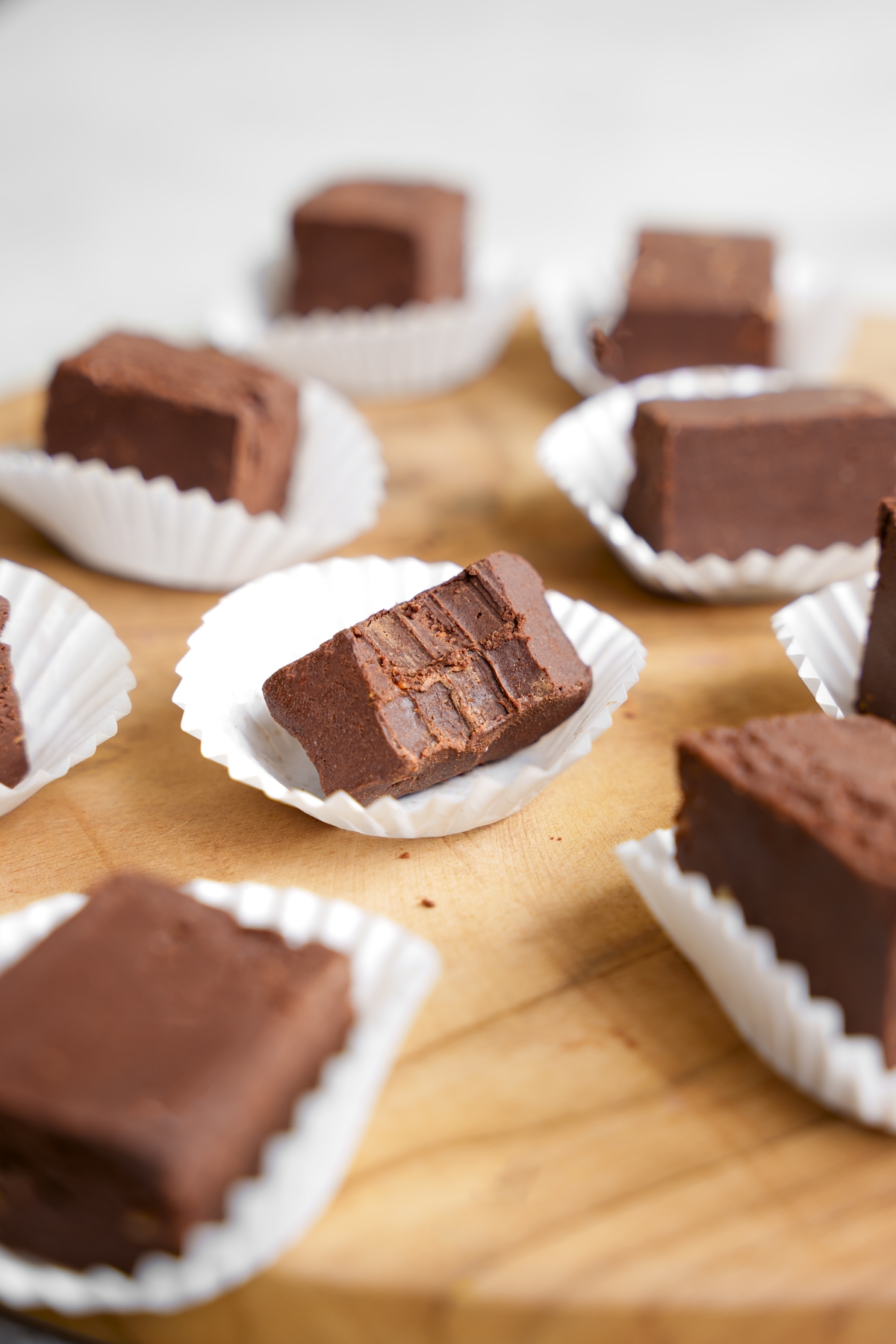 How To Make Protein Fudge:
This Protein Fudge is surprisingly easy to make. However there are a few crucial steps to making it successfully.
Begin by combining room temperature almond butter and the maple syrup. It's super important that the almond butter is room temperature and not chilled. If you use chilled almond butter it can become hard to mix, and can ruin the texture of this fudge.
Whisk together until smooth. Melt the chocolate chips and pour into the sweet almond butter mixture along with the vanilla extract. Mix until smooth. Add the protein powder and stir until combined. The texture will be more solid and cookie dough like.
Cut a piece of parchment paper and place in a shallow brownie pan. Press the mixture into the parchment paper covered pan. This recipe is small batch, so you it will fill about ½ an 8x8 pan. However since it's firm, it will be able to stand on it's own.
Smooth the top of the mixture and place in the fridge to firm up. I suggest letting chill for at least 2 hours. Once firm cut into squares and enjoy immediately. Store any leftovers in the fridge, or freezer.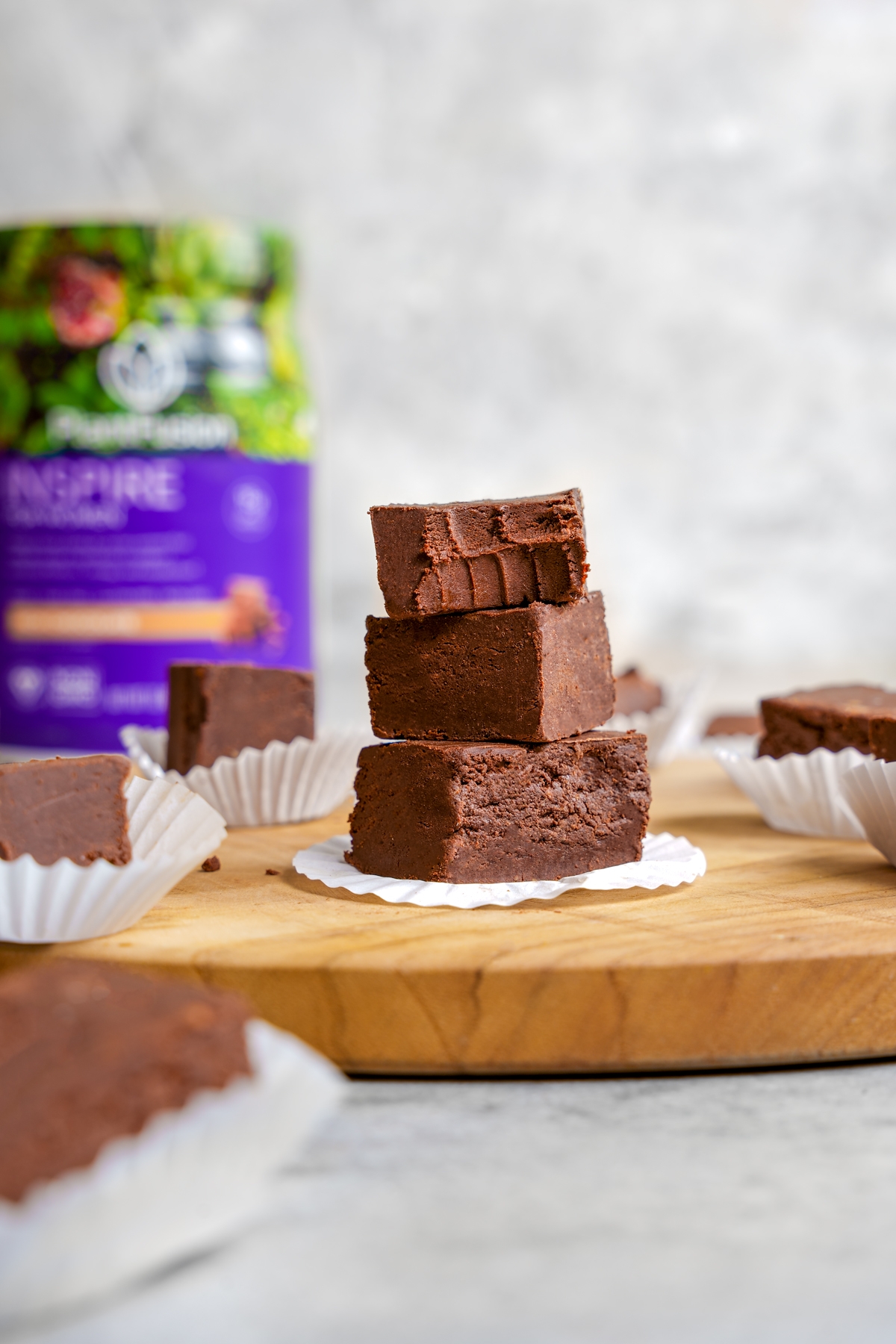 Frequently Asked Questions:
How Long Does This Protein Fudge Last?
Growing up my Mom always made insane amounts fudge during Christmas time. She would make such large quantities, because fudge keeps for a long time if stored properly. Unlike my Mom's fudge, this Protein Fudge is vegan, and therefore has an even longer shelf life.
Plant Based foods almost always keep longer than traditional foods, because they're free of animal products. Animal products spoil much quicker than plant based products, because bacteria grows at room temperature, whereas with plant based products, they can be kept for much longer at room temperature.
With that said, most plant based foods can store for quite a long time when refrigerated or frozen properly. For example, this Protein Fudge can store for months in the freezer if stored in an air tight container. However it's so good that I doubt you'll want to freeze it. Therefore I recommend storing it in the fridge. Since there's no cooking involved (aside from melting the chocolate), it won't hold it's firmness at room temperature as well.
Is Plant Based Protein Powder Better For You Than Whey Protein?
Even if you are not vegan, you can still enjoy this protein fudge recipe. It's rich and decadent. However I still encourage you to use plant based protein over whey protein. Whey protein is definitely the most common protein used in protein powders, however it is not the best. Whey protein is obtained as a by-product of cheesemaking.
However there are many unhealthy and harmful side effects of consuming whey protein. Some of the most harmful side effects include: kidney damage, cardiovascular disease, acne, digestive issues, cancer, and more.
Unlike whey, plant based protein has no potentially harmful side effects, and is health promoting. Plant based protein powders contain, vitamins, minerals, fiber, and of course protein. Therefore incorporating plant based protein into your diet is great regardless if you're vegan, or not.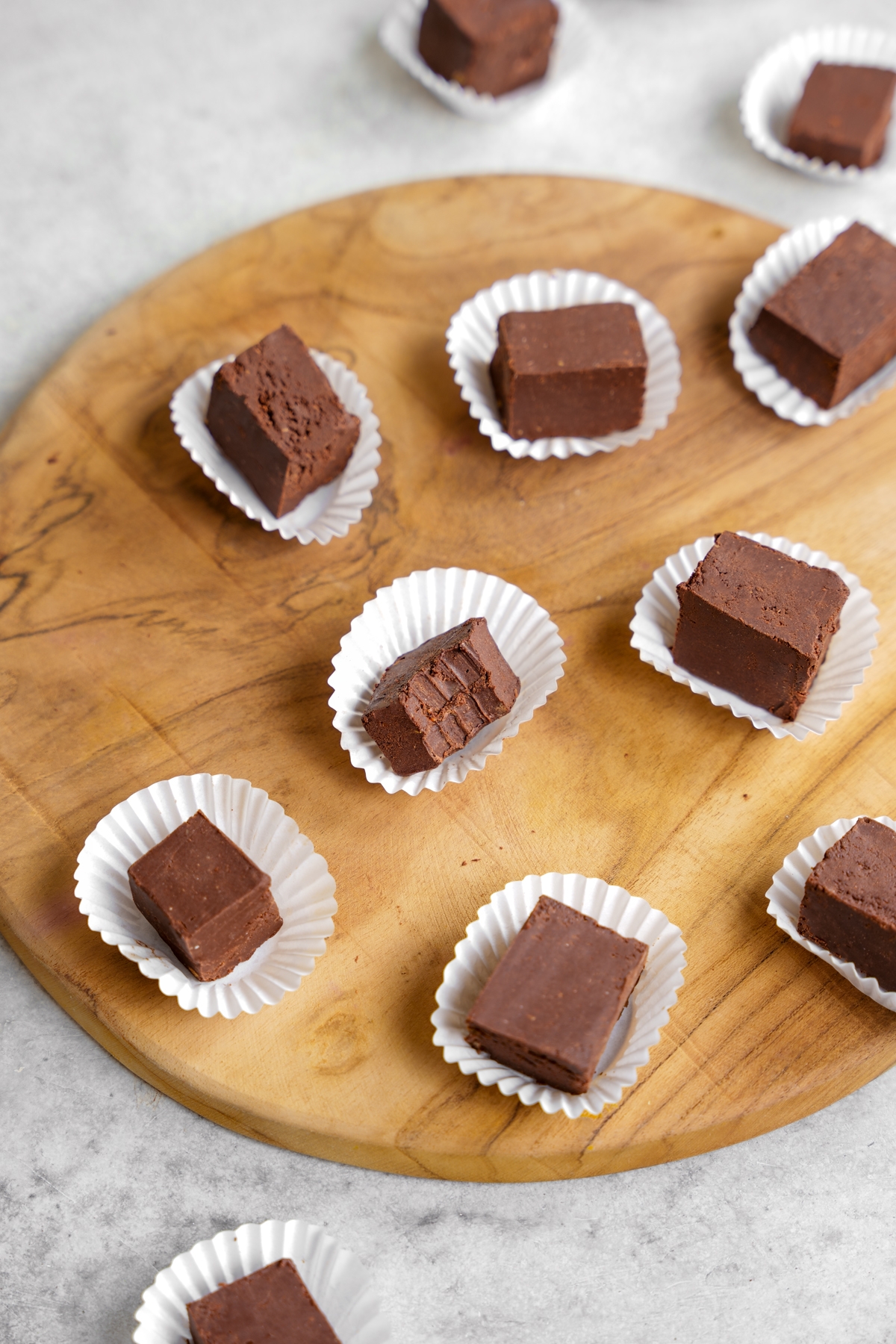 Can I Make This Protein Fudge With Other Nut Butters?
One of the key ingredients in this Protein Fudge is almond butter. It helps to keep the fudge soft and fudgy! However almond butter can be quite expensive, or you may have an allergy to nuts. The good news is that you can still make this recipe using any nut, or seed butter. You may have to slightly adjust the measurements depending on the type of nut/seed butter you're using.
For example, if you made this fudge recipe using sunflower seed butter instead of almond butter, I would recommend using less. Sunflower seed butter is much more runny than almond butter, and therefore doesn't firm up quite the same as almond butter. Therefore I would recommend using about ⅛ of a cup less if making this as a nut-free fudge. To do this just scoop out about 1 ½ tablespoon from the ½ cup.
Related High Protein Vegan Desserts:
Protein Fudge
This Protein Fudge is the ultimate healthy and vegan chocolate treat. It's made with simple and clean ingredients, and will keep you full for hours. This chocolate fudge is: vegan, oil-free, gluten-free, and refined sugar-free.
Instructions
Begin by melting the chocolate chips. You can do this with a double broiler, or in the oven.

In a large bowl, combine the room temperature almond butter, and the maple syrup. Whisk together until smooth. Add the melted chocolate and the vanilla extract and mix until everything is evenly combined.

Add the protein powder and mix immediately. It will firm up, and should have a cookie dough texture.

Press the protein fudge into a parchment paper lined brownie pan. This recipe will only fill about half a brownie pan, because it is small batch. If you want a full brownie pan, simply double the recipe.

Smooth the top and place in the fridge to chill for at least 2 hours. Once chilled and firm, cut into squares and enjoy!
Notes
This fudge should be stored in the fridge too maintain it's firmness.