This rich dark chocolate raspberry overnight oats recipe is the perfect dessert for breakfast. Made with plant based protein and nutrient dense ingredients. This simple healthy breakfast recipe is: vegan, oil-free, gluten-free, and refined sugar-free.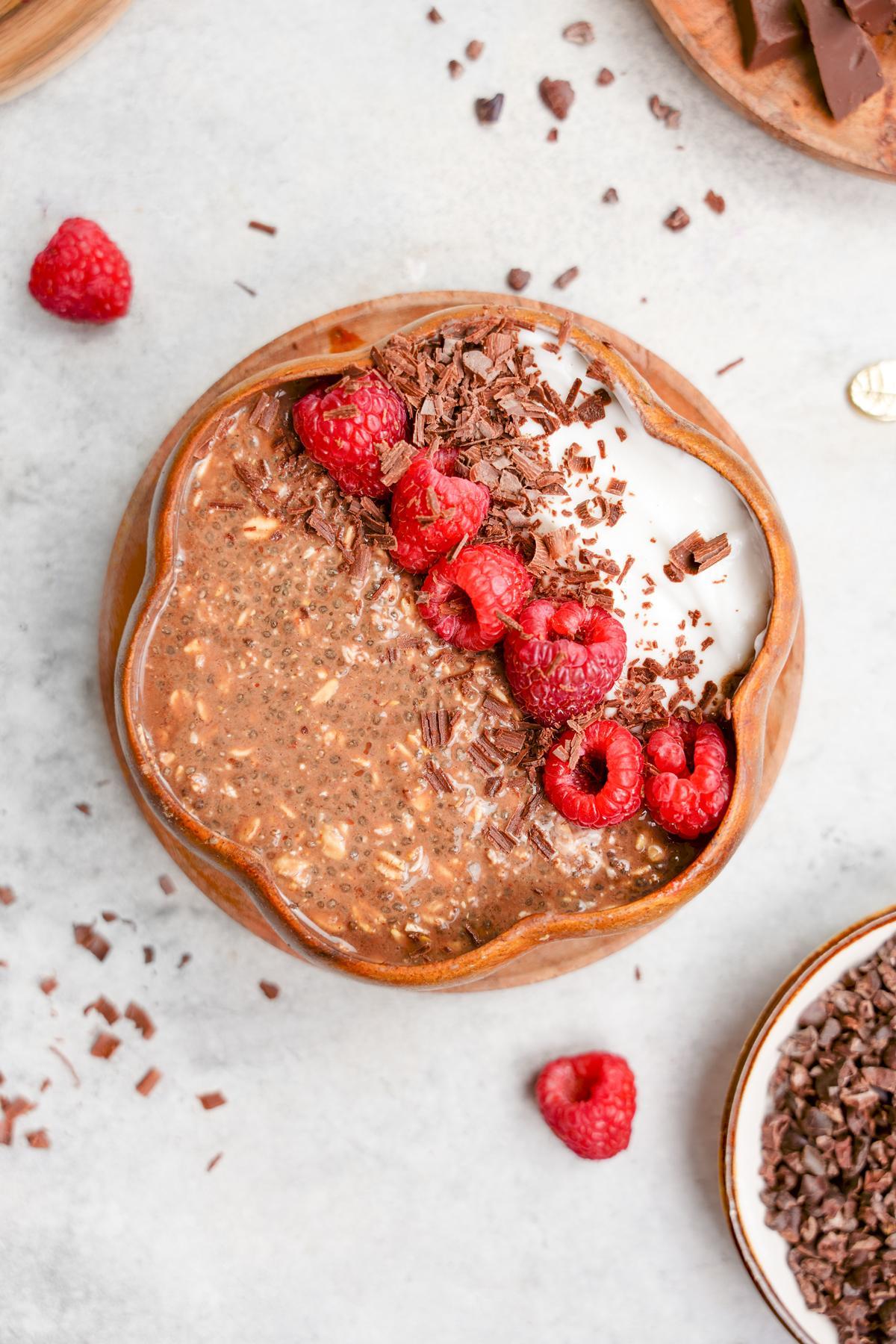 I am so excited to share today's Chocolate Raspberry Overnight Oats recipe with you guys. This oatmeal combines rich dark chocolate and tart sweet raspberries for the ultimate dessert for breakfast combo!
What Makes These Chocolate Raspberry Overnight Oats Healthy?
Overnight oats are everywhere these days. There's thousands of recipes online, pre-made oats in stores, the list goes on. However, unfortunately these oats are usually not very healthy. Luckily I'm here to bring you this delicious and healthy overnight oats recipe.
This Overnight Oats Recipe Is:
Vegan
Oil-Free
Gluten-Free
Dairy-Free
Refined Sugar-Free
High Fiber
High Protein
These oats are not only free of unhealthy ingredients, but they're also full of vitamins and minerals thanks to the chia seeds, flaxseeds, and PlantFusion protein powder (more on that later).
Best Plant Based Protein For Overnight Oats:
It's no secret that I love adding plant based protein to my overnight oats recipes. It's also no secret that I love PlantFusion's vegan protein powders. They check all the boxes of things I look for in protein powders.
First, their products are by far the most delicious vegan protein powders I've ever had. I'm very picky when it comes to protein powder. In my opinion too many of them have a chalky taste, or are far too sweet. I've tried every line of protein from PlantFusion, and I can tell you that they are truly one of a kind. The texture is consistently super smooth and the flavors are perfectly sweet.
Second, all their products are made with clean ingredients. Since protein powder is naturally a processed food, it's important that you look for one with a clean label if you're eating a whole foods plant based diet.
There are plenty of vegan companies that claim to be made with wholesome ingredients, but when you take a closer look at the label, it turns out that they're actually full of sketchy ingredients. PlantFusion has their Purity Promise, which means that their products are: Non-GMO, Gluten Free and Vegan as well as being free of dairy, soy, rice, eggs, nuts, fish, tree nuts, shellfish, artificial flavors, and colors
Lastly, PlantFusion does an amazing job at keeping me full for hours. This is because their products contain both protein and fiber. Most protein powders (like whey protein) only contain protein and don't have any fiber. Therefore they digest quickly so the satiation doesn't last.
If you're interested in PlantFusion products, my code: "NATURALVEGAN" gets you 25% off your entire order!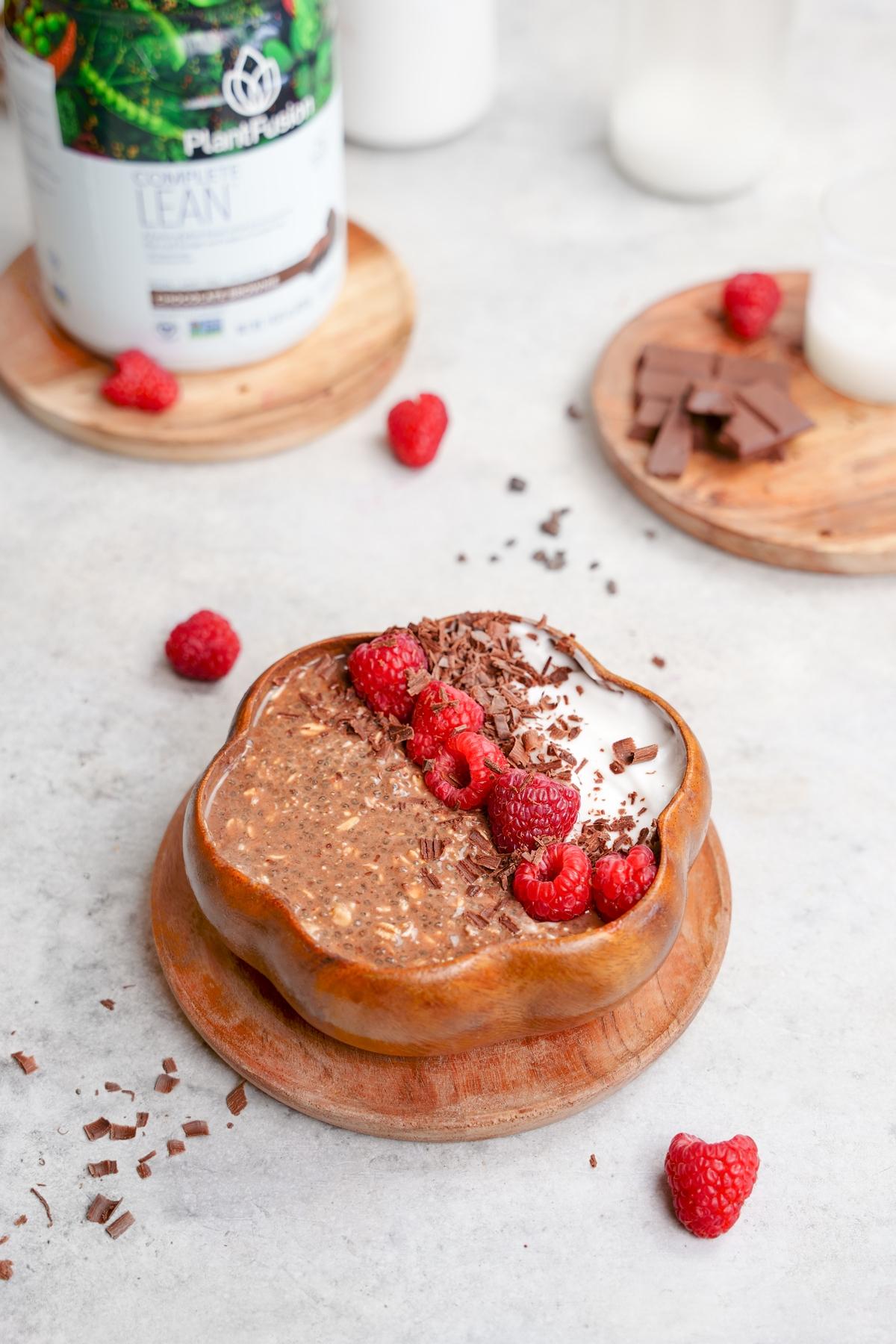 Ingredients For These Chocolate Raspberry Overnight Oats:
PlantFusion Chocolate Brownie Complete Lean - This is one of my favorite PlantFusion protein flavors. It's rich, sweet, and chocolatey! I love the complete lean line, because it's loaded with superfoods, and contains 21grams of unique protein that curbs hunger 35% better than whey. As always my PlantFusion discount code: "NATURALVEGAN" gets you 25% off you're entire purchase!
Gluten-Free Oats - If you do not eat gluten-free, you can totally use regular oats. I do recommend using organic oats. Oatmeal is one of the most heavily sprayed grains, so if you can afford to I really encourage you to use organic.
Chia Seeds - These helps to add bulk and nutrients to these overnight oats. Chia seeds are full of fiber and healthy omegas. This helps make these oats super filling!
Ground Flaxseed - Make sure you're using ground flaxseed and not whole flaxseed. Whole flaxseed won't soak up the liquid, and your body doesn't break down the whole seed.
Cacao Powder - Make sure that you are using cacao powder and not cocoa powder. Cocoa powder is very processed, whereas cacao is raw vegan and loaded with antioxidants!
Fresh Raspberries - You can top these oats with fresh raspberries, or mix them in!
Cacao Nibs - I love soaking cacao nibs in my overnight oats. They soften when they soak, but still add a nice texture to the oatmeal.
Vegan Yogurt - Any plant based yogurt will work great. Some of my favorite yogurt brands are: Kite Hill, Harmless Harvest, CocoJune, and the Sprouts generic brand Coconut Yogurt.
Tips For Making These Chocolate Raspberry Overnight Oats:
Making these Chocolate Raspberry Overnight Oats could not be any easier. Unlike some of my other overnight oats recipes that have different layers, these oats are as simple as adding everything together in a bowl, placing in the fridge overnight, and topping with fresh ingredients the next day.
However there are a few tips and tricks I want to share with you to help you achieve the best overnight oats ever! First, make sure that you combine all the dry ingredients before adding in the wet ingredients. If you add the ingredients together randomly, there's a good chance you'll end up with clumps of chia seeds and flaxseeds.
Second, it's important to wait to add the toppings onto this recipe until the next day. If you add the toppings on before the oats have soaked, you'll end up with soggy raspberries and extra liquid in the oatmeal.
Last, but not least, used rolled oats and not quick oats. Rolled oats are actually a healthier option, because they are closer to their natural form. This is the healthier option, because your body takes longer to digest the rolled oats versus the quick oats. Therefore quick oats have a slightly higher glycemic index than rolled oats.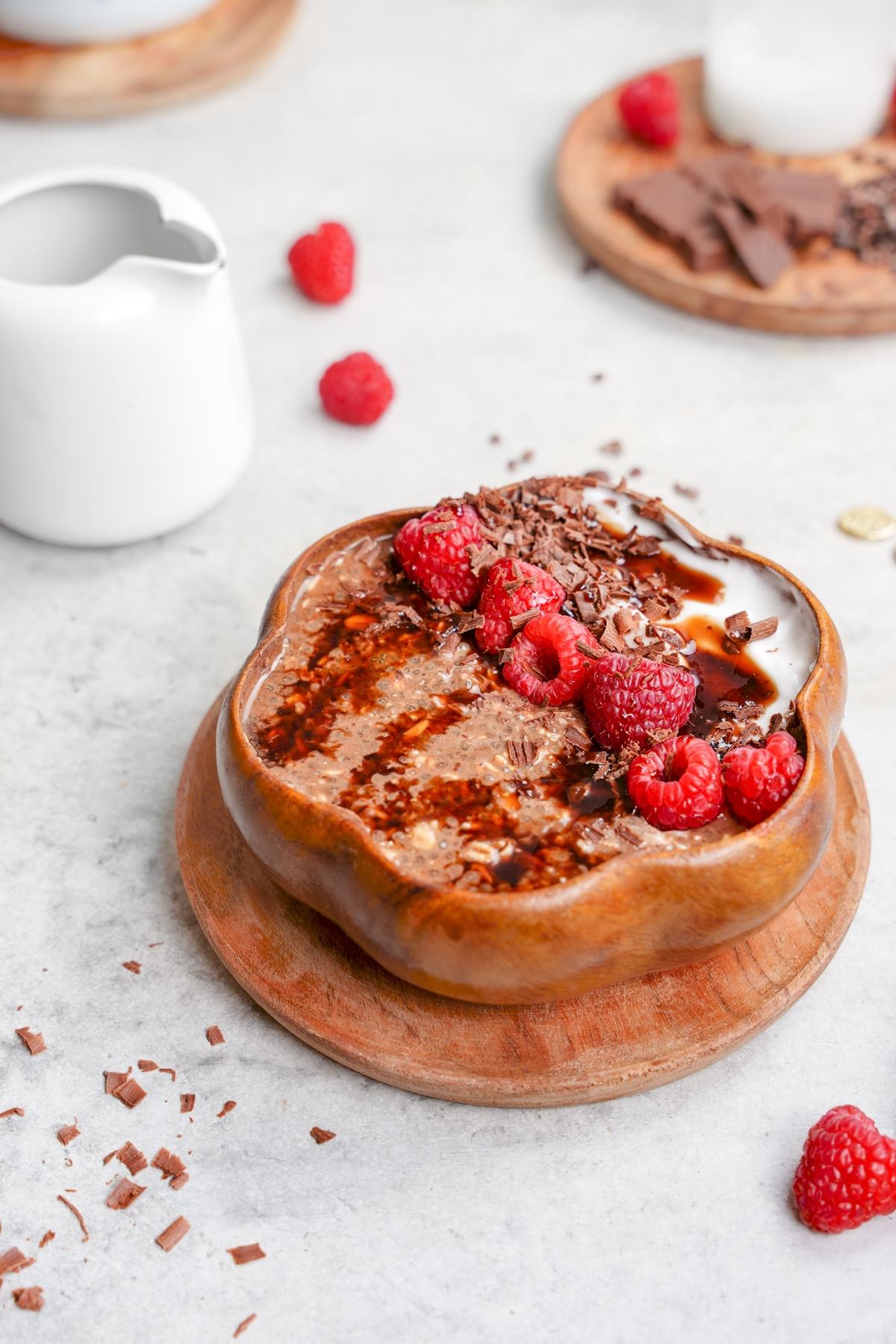 Frequently Asked Questions:
Can you put fruit in overnight oats the night before?
Overnight oats are one of the easiest breakfast recipes out there. However there is a couple ways you can really mess them up. One of those ways is mixing the fruit in the oatmeal overnight. When fruit sits in liquid it gets soggy and the juices cause everything else to be soggy as well. This is especially the case with fruits like strawberries and raspberries.
Therefore I would not recommend adding the fruit to these overnight oats the night before. You can top it the next morning with fresh fruit.
Can you use frozen fruit in overnight oats?
Frozen fruit is significantly more affordable than fresh fruit, especially when it comes to berries. It also it more nutrient dense, because the fruit is picked and frozen at peak ripeness. But does it work well in overnight oats.
It does and it doesn't. Let me explain. Frozen fruit will obviously defrost overnight in the fridge, and therefore there will be more liquid in the oats. This can actually work out to your advantage. If you make the overnight oats with less liquid than you normally would, the juice from the fruit will seep into the oats. Therefore your oats will be more fruit infused!
Personally I love eating frozen raspberries, so I would top these overnight oats with fresh, or frozen raspberries.
Do Overnight Oats With Fruit Last?
These Chocolate Raspberry Overnight Oats are a great healthy breakfast meal prep option. However I personally do not think it's a good idea to meal prep overnight oats in the fridge for more than one night. If the oats sit too long they dry out and become super thick and clumpy. I also really do not think it's a good idea to let the oats sit with fruit, because the fruit may begin developing an alcoholic taste.
However you can still prep these oats for a full week. To do this simply combine all the dry ingredients together and store them in air tight containers in the pantry. Add the liquid ingredients the night before and mix. Place in the fridge and top with the fresh ingredients in the morning!
Related High Protein Vegan Overnight Oats Recipes:
Chocolate Raspberry Overnight Oats
This rich dark chocolate raspberry overnight oats recipe is the perfect dessert for breakfast. Made with plant based protein and nutrient dense ingredients. This simple healthy breakfast recipe is: vegan, oil-free, gluten-free, and refined sugar-free.
Ingredients
Toppings:
Dark chocolate or cacao nibs

vegan yogurt

fresh raspberries
Instructions
Begin by combining all your dry ingredients into a medium bowl. Mix until combined.

Add the vanilla and the plant based milk and mix.

Place in the fridge to soak overnight.

Add the toppings and serve. Enjoy!