These healthy key lime pie overnight oats will take you to a tropical paradise with every bite. They are creamy, rich, and loaded with plant based protein. This overnight oats recipe is: vegan, gluten-free, oil-free, refined sugar-free, and whole foods plant based!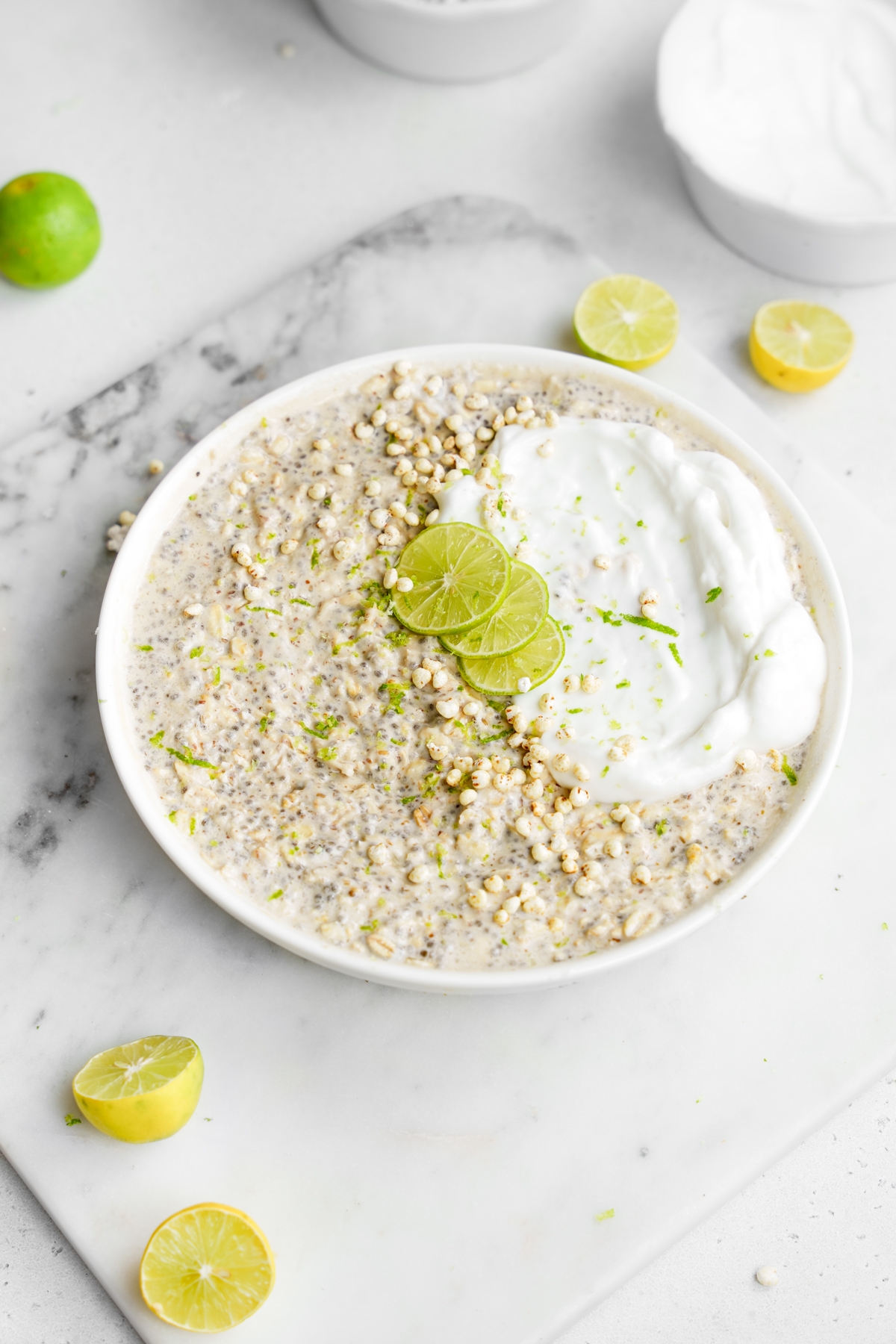 Calling my all my fellow dessert for breakfast lovers for this key lime pie overnight oats recipe! This overnight oats recipe is loaded with the perfect creamy flavor, healthy plant based protein, and healthy omegas for the ultimate healthy plant based breakfast recipe!
The best vegan protein powder for oatmeal:
For the first 2-ish years of being vegan I tried every vegan protein out there. I don't lift weights and my goal is not building muscle, so for me the most important factors are: ingredients, flavor, and ability to keep me full. After searching forever, and I mean forever, I finally discovered the perfect vegan protein powder: PlantFusion.
I have been hooked on PlantFusion for quite some time now, and I honestly love all their products. I pretty much eat overnight oats everyday (or waffles). No overnight oats recipe is complete without a quality protein powder. This key lime pie overnight oats recipe features the PlantFusion Vanilla Complete Lean for the ultimate creamy protein and flavor boost!
This is one of my favorite lines from PlantFusion, because it is super filling and incredibly creamy. The creaminess is great for recipes like these key lime overnight oats, because it makes them taste like dessert! I find that a lot of vegan protein powders can be very grainy. I can assure you that PlantFusion is smooth and creamy!
PlantFusion is the best vegan protein powder, because there is truly something for everyone. What's important to me when looking for a protein powder may not be the same as what is important to you when looking for a protein powder. Thankfully PlantFusion has a variety of products each designed for different purposes.
As always my PlantFusion discount code "NATURALVEGAN" will get you 25% off your entire PlantFusion purchase! I have so many recipes on my blog featuring their products, so if you purchase one of their products you can try some of these out!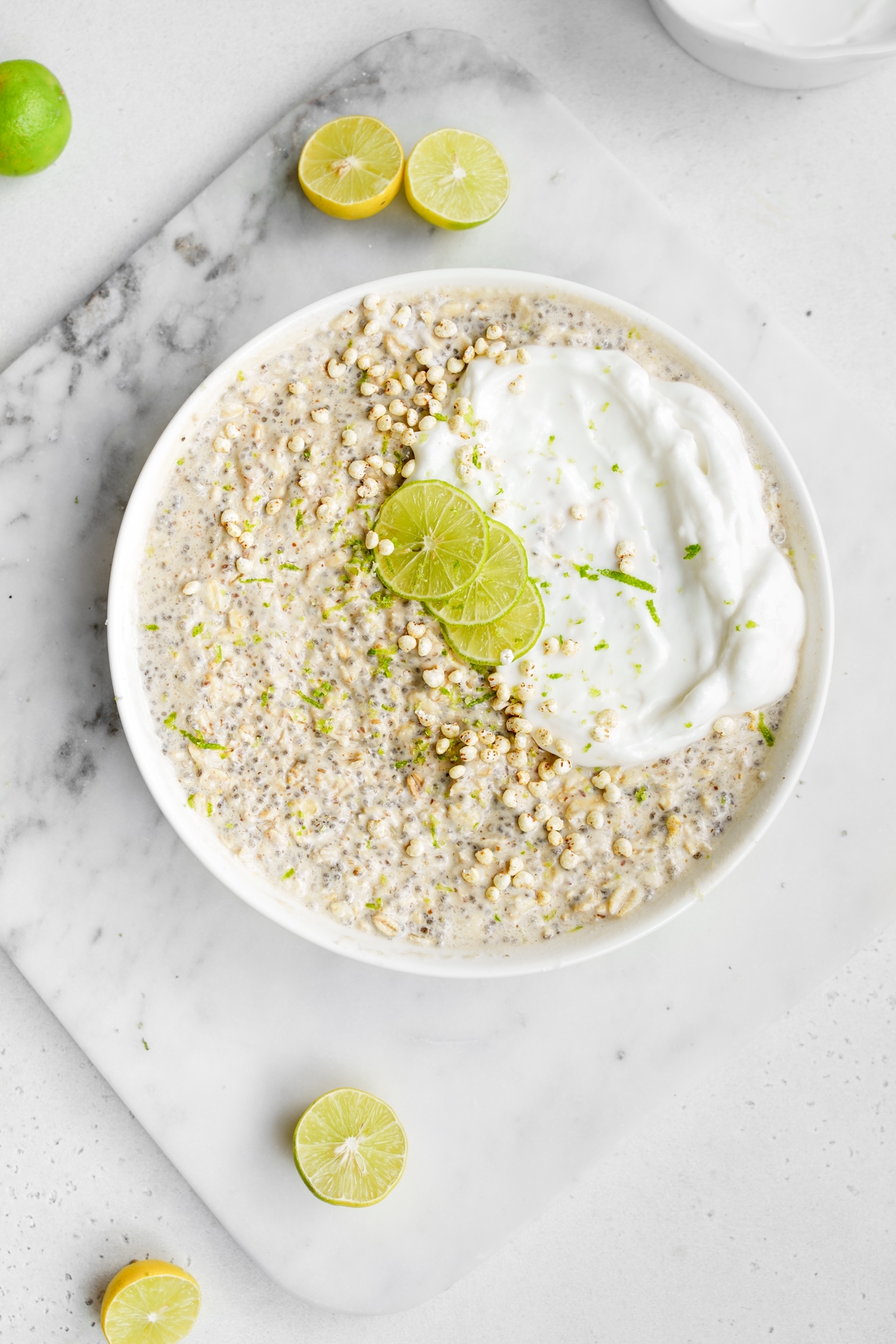 Are Key Lime Pie Overnight Oats Healthy?
If you've been around for awhile, then you're very aware that I LOVE sweet breakfasts. It's actually the only breakfast I eat haha! However my idea of sweet and the general idea of sweet are very different. Traditional sweet breakfasts are probably one of the worst ways you can start your day. They're loaded with processed grains, oils, and refined sugars. I strictly avoid these ingredients.
How did I make a Key Lime Pie Overnight Oats Recipe that is free of all these ingredients? It's actually not complicated at all. It's incredible all the sweet flavors you can achieve using whole foods plant based ingredients. For this recipe I used the PlantFusion protein to naturally sweeten it.
If you don't like protein powder, but still want to enjoy these naturally sweetened overnight oats, there's a couple things you can do. First, I would double the amount of vegan yogurt used. That's what's going to give you the creamy pie taste. Next, I would use vanilla beans, or pure vanilla extract! Last, I would use a plant based sweetener like date syrup, maple syrup, maple crystals, etc.
Ingredients for this Key Lime Pie Overnight Oats Recipe:
Gluten-Free Rolled Oats - If you do not eat a gluten-free diet, you can use regular rolled oats. However oats are heavily sprayed with pesticides, so I always recommend buying organic oats, which are often certified gluten-free.
Key Lime Juice - Make sure to use either fresh key limes, or preservative-free key lime juice. If you're making this recipe in the summer, you can find fresh key limes in most grocery stores.
PlantFusion Vanilla Complete Lean - This is my go-to vanilla protein powder. It's smooth and creamy, and the perfect addition to this Key Lime Pie Overnight Oats Recipe!
Vegan Yogurt - This helps to give these oats the perfect creamy tart pie flavor. I used coconut yogurt, because I find the flavor to be the most neutral, but any plant based yogurt will work great!
Chia Seeds - These help to keep the oats together and soak up the liquid overnight. They add healthy omegas, fiber, and protein!
Ground Flaxseeds - Work a lot like the chia seeds. They add a nice pie crust flavor to this recipe.
Plant Based Milk - You can use any plant based milk. I make homemade sunflower seed milk and use that for most of my recipes!
How to make these key lime pie overnight oats:
These Key Lime Pie Overnight Oats are incredibly easy to make. This is one of the many reasons I love this recipe. You can prep it in 5 minutes the night before and have your breakfast ready to go first thing in the morning!
To make these oats, begin by adding the dry ingredients to a large bowl. It's important to mix the dry ingredients together before adding the wet ingredients to avoid ingredients clumping together. Once you have the dry ingredients mixed together, add the key lime juice and plant based milk. Mix until smooth. You want it to look like it has too much liquid (this helps the oats to not be clumpy the next day).Place in the fridge overnight (or at least 4 hours).
The next day assemble your oatmeal! Top with vegan yogurt, puffed millet (or granola), and some key lime juice to taste. Enjoy!
Frequently Asked Questions:
What's The difference between a key lime and a regular lime?
Key lime pie is a very common flavor. It's creamy, tart, and absolutely delicious. Of course there are a ton of ingredients that go into making a key lime pie, but the most important is key limes. If you've ever tried to make key lime desserts with regular limes, you know how much of a difference key limes make.
The major physical difference between key limes and regular limes is that key limes are much smaller, more yellow in color, and contain seeds! As far as the flavor goes, key limes are more aromatic, tart, and flavorful. This makes them the ideal lime for desserts and baking.
Fresh key limes are usually only available in the US from June - September. However you can get key lime juice anytime of the year. I always recommend using the whole food over the processed version, because it is more nutrient dense and free of any preservatives. However I understand that it is not always the most practical option. Luckily there are ways to buy key lime juice without preservatives.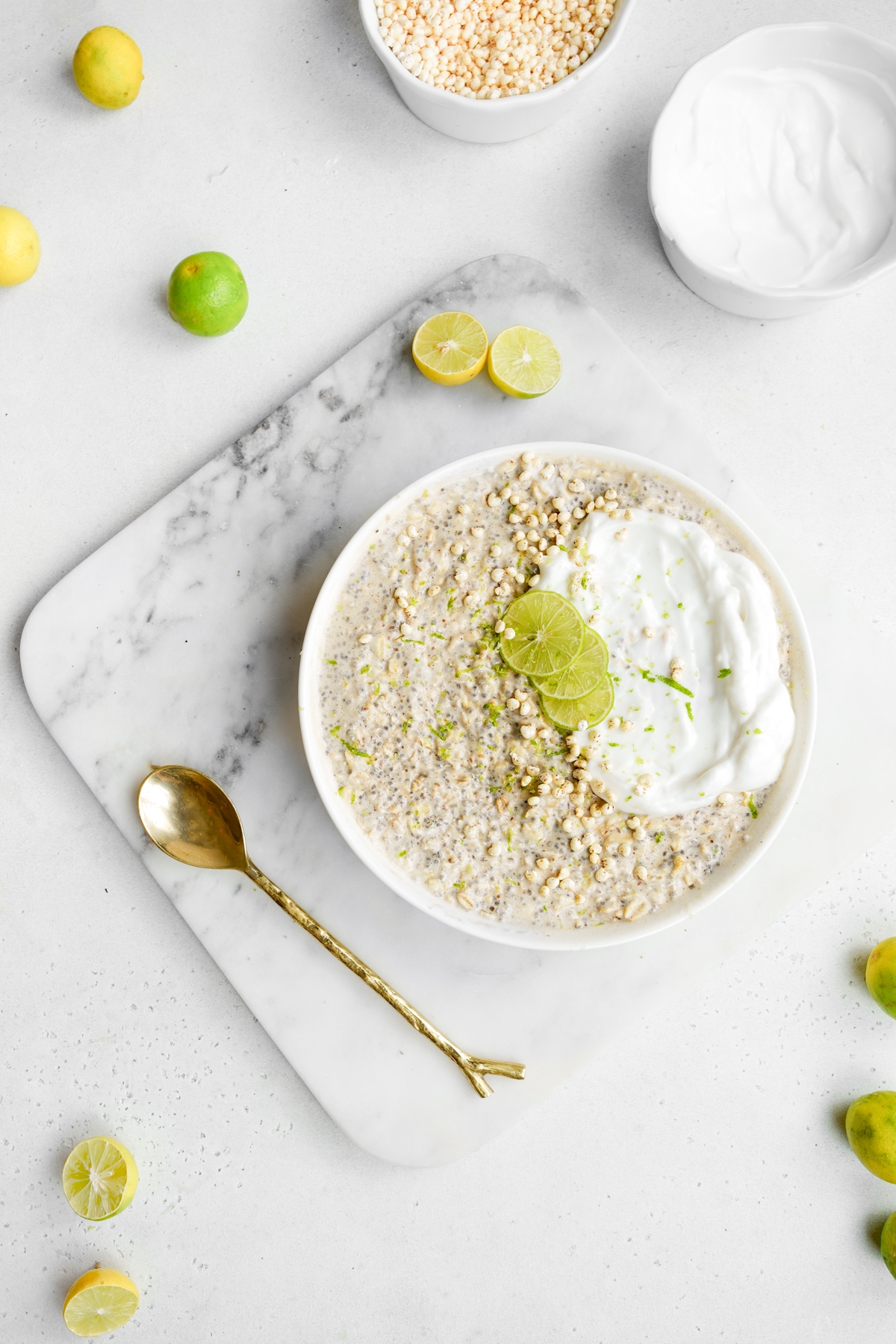 Is Vegan Yogurt Whole Foods Plant Based?
Fun fact: before going vegan greek yogurt was my favorite food. When I first went vegan I completely shifted my diet. Instead of looking for plant based alternatives, I found new foods and new recipes (totally recommend doing this if you're wanting to go vegan, I think it's the best way). Therefore vegan yogurt was not something I ate for the first couple years being vegan.
However as time went on and I began to create recipes I started trying more vegan foods. To my surprise vegan yogurt is amazing! It's better than I remember dairy based yogurt being! That wasn't even the best surprise. Many vegan yogurts are actually made with whole foods plant based ingredients.
Some of my favorite vegan yogurt brands include: Kite Hill, CocoJune, Sprouts generic coconut yogurt, and GTs. They're creamy and made with quality ingredients!
Can You Prep This Key Lime Pie Overnight Oats Recipe For Multiple Days At Once?
Overnight oats are the perfect quick breakfast. They take 5 minutes to prep and they're ready to go first thing in the morning. But can you prep multiple days at once? Honestly I wouldn't recommend prepping more than two days at once.
If you prep a bunch of overnight oats and let them sit for extended periods of time they can dry out and get super clumpy. There is a hack to prep overnight oats without actually making them all the way. You can combine all the dry ingredients together in air tight containers. Then, whenever you're ready simply add the wet ingredients and let soak overnight!
Related high protein vegan Overnight Oatmeal Recipes:
Key Lime Pie Overnight Oats
These healthy key lime pie overnight oats will take you to a tropical paradise with every bite. They are creamy, rich, and loaded with plant based protein. This overnight oats recipe is: vegan, gluten-free, oil-free, refined sugar-free, and whole foods plant based!
Ingredients
Optional toppings:
puffed cereal

fresh key limes
Instructions
Combine all dry ingredients together.

Add the key lime juice, half of the vegan yogurt, the plant based milk, and mix. Store in fridge overnight and enjoy with the remaining yogurt and toppings the next day!