These healthy Red Velvet Overnight Oats are your new favorite breakfast! Made with simple ingredients, and naturally colored. This oatmeal recipe is vegan, high protein, oil-free, gluten-free, and refined sugar-free!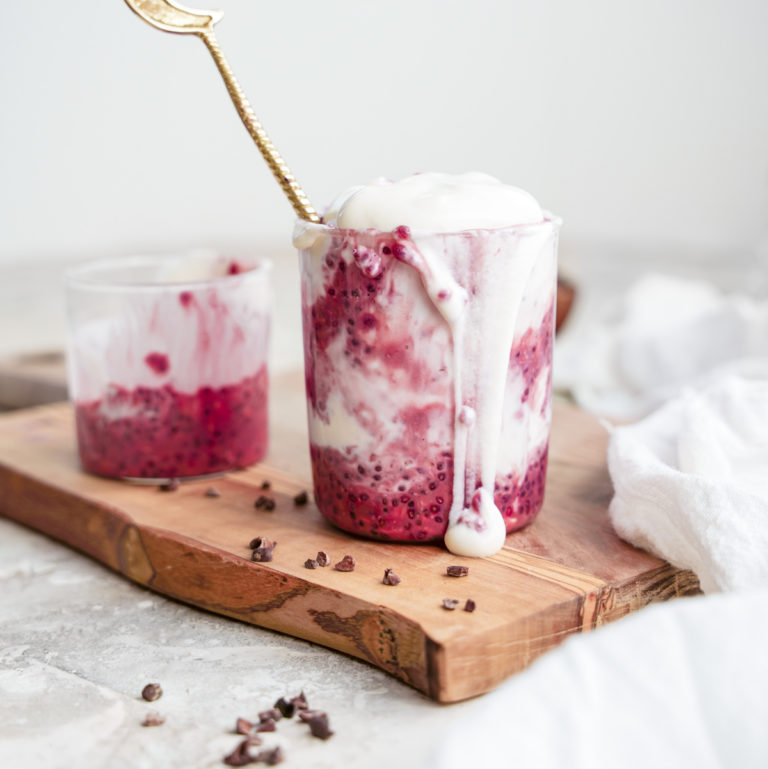 I couldn't be more excited to share today's Red Velvet Overnight Oats recipe with you guys today! These overnight protein oats have very quickly become a favorite of mine, because I love sweet breakfast recipes. Luckily, these red velvet oats are not only sweet and delicious, but they are also super healthy! In my opinion there's nothing better than a delicious health promoting breakfast!
I was inspired to create these Red Velvet Overnight Oats after seeing great success with my Red Velvet Baked Oats. As much as I absolutely adore that baked oats recipe, I think that these overnight oats have just replaced it as my all-time favorite oatmeal recipe. Yes, you read that right! I can't get enough of this recipe! That's coming from someone who eats oatmeal everyday, so I am a pretty credible source. If you're interested in more healthy vegan oatmeal recipes, be sure to check out some of the other recipes on my blog!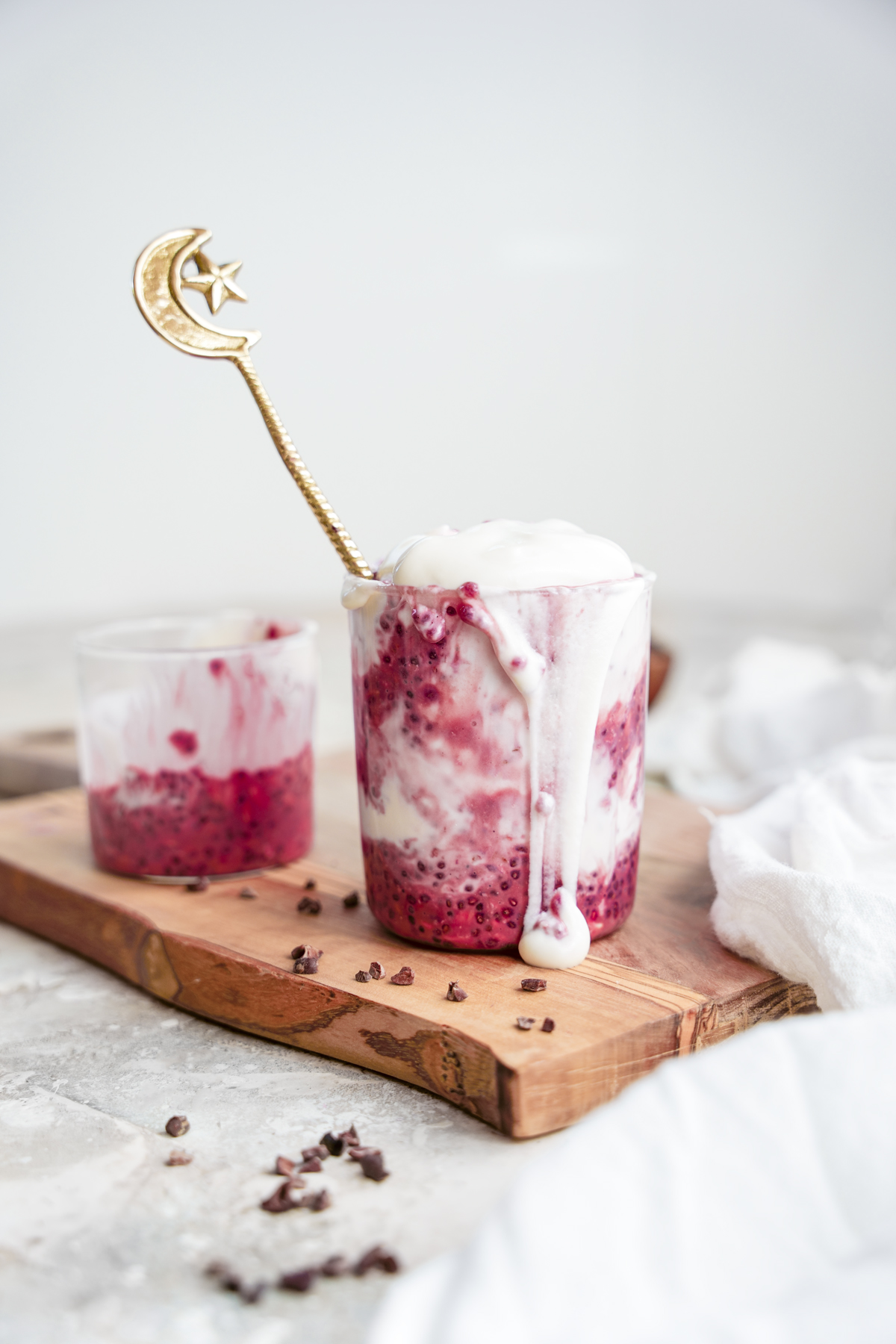 Best Red Velvet plant based protein for vegan oatmeal:
All of these vegan oatmeal recipes have one thing in common: PlantFusion! If you're a regular here, then this should come as no surprise. I am obsessed with PlantFusion products. I start every single day with PlantFusion, and I can honestly tell a difference after using it for over a year. This Red Velvet Overnight Oatmeal recipe would not be complete without it.
PlantFusion protein powder is amazing for so many reasons. For me my top priorities when looking for a product are: 1. Ingredients, 2. flavor, and 3. consistency. PlantFusion gets a 10/10 for all of these.
Ingredients In Protein Powder:
First and foremost the ingredients used in all their plant based protein powders and supplements are super clean and pure! There are so many protein companies out there that load their products up with junk and hope that you don't look closely enough to the label the see what it's really made of.
PlantFusion is different, because they are clear about what goes into their products. Their Purity Promise states: certified Vegan, Non-GMO, and Gluten Free, and committed to being free of dairy, soy, rice, eggs, nuts, fish, tree nuts, shellfish, artificial flavors and colors. I love this, because I can trust that even the fun flavors like Red Velvet Cake are made with simple and clean ingredients!
Taste Of Protein Powder:
If I am obsessed with a product(s), you can pretty much guarantee that it taste delicious. I am all about health promoting foods and ingredients, but at the end of the day if the flavor is not there, then I am not going to eat it.
These Red Velvet Overnight Oats would not be nearly as delicious if it weren't for PlantFusion, since that is where most of the flavor comes from. However as much as I love the Red Velvet Flavor, and go through it like crazy, I have plenty of other favorite PlantFusion flavors.
These Include: Chocolate Caramel Complete Meal ( I can not recommend this flavor enough!!), Complete Plant Collagen Builder, Complete Protein Cookies and Cream, and the list goes on!
Consistency Of Protein Powder:
I never used to eat protein powder until recently, because the texture/consistency was always gross to me. There are thousands of protein powders out there, and I find that most of them are very chalky and gritty. Nobody wants that.
However I promise you PlantFusion is so silky smooth it will blow your mind! I honestly sometimes just mix it together with a little plant based milk and have some "protein fluff". I have found it to be the most perfect protein for oatmeal recipes like these red velvet baked oats, because it adds a sweetness and creaminess to the oatmeal.
As always my PlantFusion discount code: "NATURALVEGAN" gets you 25% off your entire purchase at PlantFusion.com
What makes these Red Velvet Overnight Oats healthy:
Not only are these Red Velvet Overnight Oats loaded with protein and all the wonderful ingredients in PlantFusion Complete protein, but they also contain superfoods! How else do you think I got this vibrant color? Definitely not with artificial food coloring.
I used beetroot powder ("NATURALVEGAN15") to achieve this vibrant pink/red. However the beetroot powder is not only used to achieve the proper color for red velvet, but it also adds sweetness and flavor! You may be thinking that beetroot powder would add a strong earthy flavor, but it totally doesn't! If anything the beetroot powder adds more sweetness!
This red velvet oatmeal also contains chia seeds and cacao nibs, both of which are superfoods! If I am making an overnight oats recipe I pretty much always add chia seeds, because they help firm up the texture, and they add healthy protein, fiber, and omegas!
If you're a volume eater (like me) I totally recommend including chia seeds into your diet. Chia seeds when soaked expand 10x their original size. Therefore when you make a recipe like these red velvet overnight oats and you add chia seeds, you can add more water/.plant milk and essentially be eating more food for the same amount of calories!
Cacao nibs are also a great food to include in your diet, because they are extremely high in antioxidants (higher than blueberries!). My favorite way to eat cacao nibs is actually in overnight oats. When you soak cacao nibs they become softer and sweeter. It's nature's chocolate chip!
How to eat healthy when you don't have time to cook:
Eating healthy can be hard, especially if you have a busy lifestyle. As someone who has multiple jobs, grabbing pre-made food can be very tempting. This can lead to all kinds of bad stuff and unhealthy lifestyle. At the end of the day the healthiest food is the food you make yourself (at least for the most part). These 5 minute overnight oats are the perfect healthy on the go breakfast that you can meal prep!
Whenever I am feeling very busy and stressed, I like to just take a moment and prepare food ahead of time. Even if I only have 15 minutes. You'd be surprised what you can prep in 15 minutes! This red velvet baked oats recipe is just one example of how easy it can be to meal prep recipes!
What is red velvet Overnight Oats:
Time to burst some bubbles. A lot of people believe that red velvet cake is just chocolate cake with red food coloring and cream cheese. While red velvet is very similar to chocolate cake and is dyed red, that is not what gives it it's flavor. Red velvet achieves the red velvet flavor from buttermilk reacting with cocoa powder and turning red (granted this red is very mild to the red we associate with red velvet today). Therefore the flavor is very different and very unique.
How do you make oatmeal taste like red velvet cake then? That's why PlantFusion is important for this recipe. It's pretty hard to achieve the right flavor without it. The vegan yogurt helps, but I strongly recommend investing in the Red Velvet protein powder!
Ingredients for Red Velvet Overnight Oats:
DRY INGREDIENTS:
WET INGREDIENTS:
Vanilla extract
Soy milk, or any plant based milk of choice
Vegan yogurt - My go-to is Kite Hill
How To Make This Red Velvet Overnight Oatmeal:
To make this Red Velvet oatmeal simply combine dry ingredients together in a medium sized bowl. Mix to ensure the beetroot powder isn't clumped up anywhere. Add the soy milk and vanilla extract and mix until smooth.
Place in fridge to set overnight. The next day make your layers by scooping half the mixture into a cup and topping with vegan yogurt. Repeat and top with cacao nibs!
Additional High Protein Vegan Oatmeal Recipes: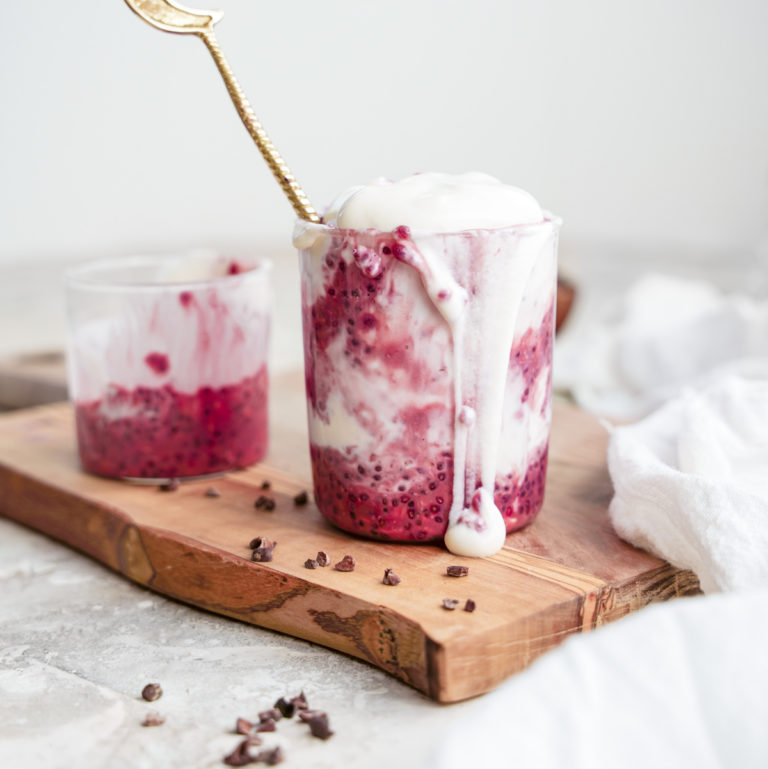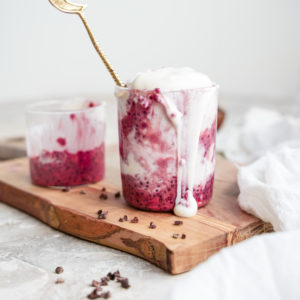 Red Velvet Overnight Oats
These healthy Red Velvet Overnight Oats are your new favorite breakfast! Made with simple ingredients, and naturally colored. This oatmeal recipe is vegan, high protein, oil-free, gluten-free, and refined sugar-free!
Instructions
Begin by combining your oats, chia seeds, PlantFusion protein, and beetroot powder together. Add the plant based milk and vanilla extract and mix until smooth. (Optional) add the cacao nibs and let soak in the oats overnight!

The next day layer your oats with vegan yogurt and serve!