These lemon poppy seed baked oats are full of flavor and sweetness, and free of refined ingredients. This simple baked oatmeal recipe is the perfect Spring dessert for breakfast! This recipe is vegan, oil-free, gluten-free, and refined sugar-free!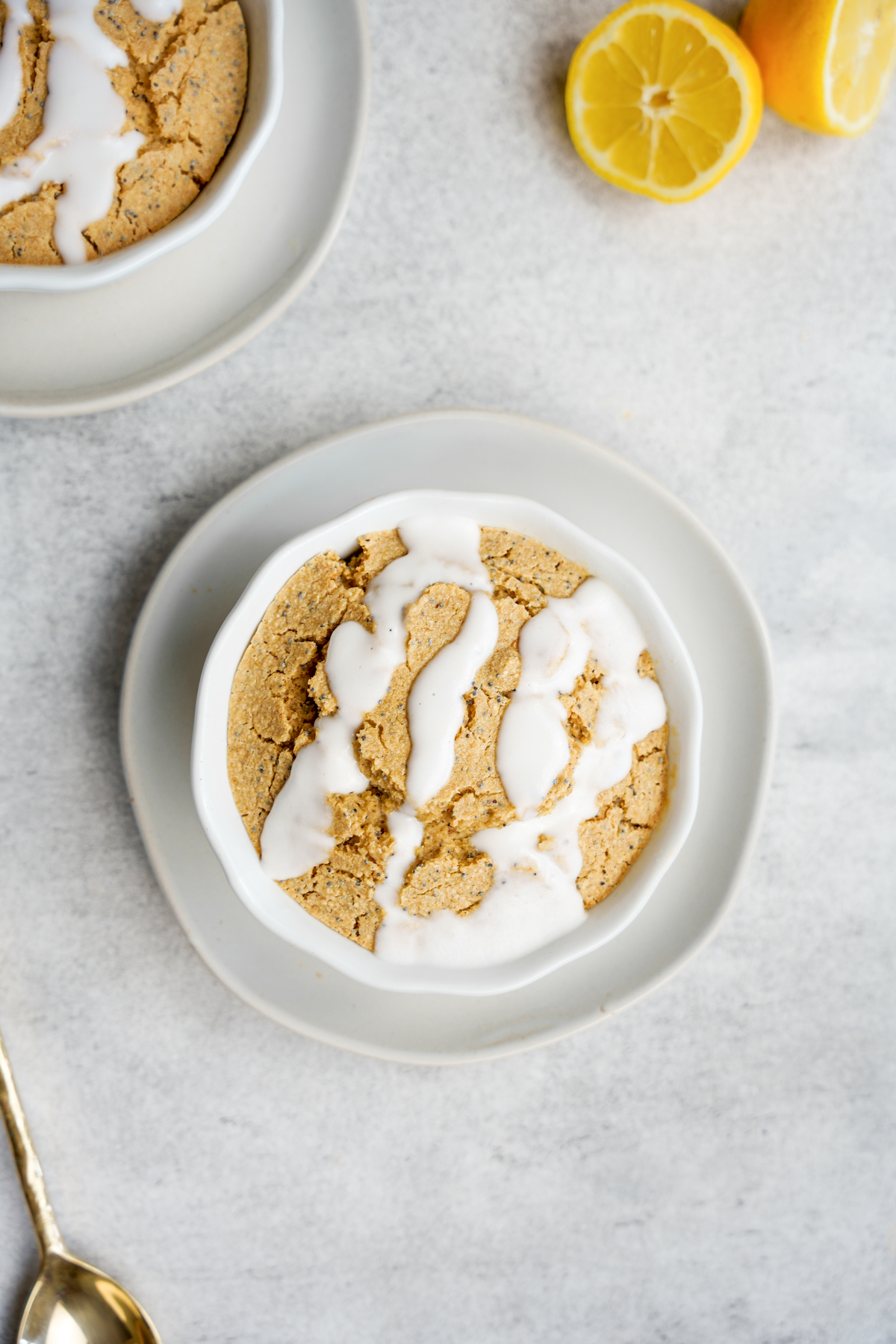 Baked oats are all the rage these days and these lemon poppy seed baked oats are no exception. They're light and fluffy, and incredibly easy to make. The perfect vegan dessert for breakfast recipe! It honestly amazes me just how many baked oatmeal flavors can be made. I mean, the options are really endless!
How to make Ninja Foodi Oatmeal (Air-fryer Oatmeal):
Something I was not blessed with was being a morning person. In the mornings I need peace and quite and quick breakfast so I can sit down and slowly wake up. Therefore I have not always been a fan of baked oatmeal, because I don't have the patience to wait for breakfast.
However I recently discovered how to make the quickest baked oatmeal ever: with my air-fryer! I am obsessed with my Ninja Foodi. I talk about it all the time, but that's just because I use it like everyday! Making Ninja Foodi Oatmeal has been an absolute game changer, it's quick, easy, and creates the perfect crisp on top.
You can make these lemon poppy seed baked oats in any air-fryer, or Ninja Foodi, and cut the baking time in half! In order to make baked oats in the air-fryer all you have to do is prepare them as you would and bake for about 18-20 minutes. It's as simple as that!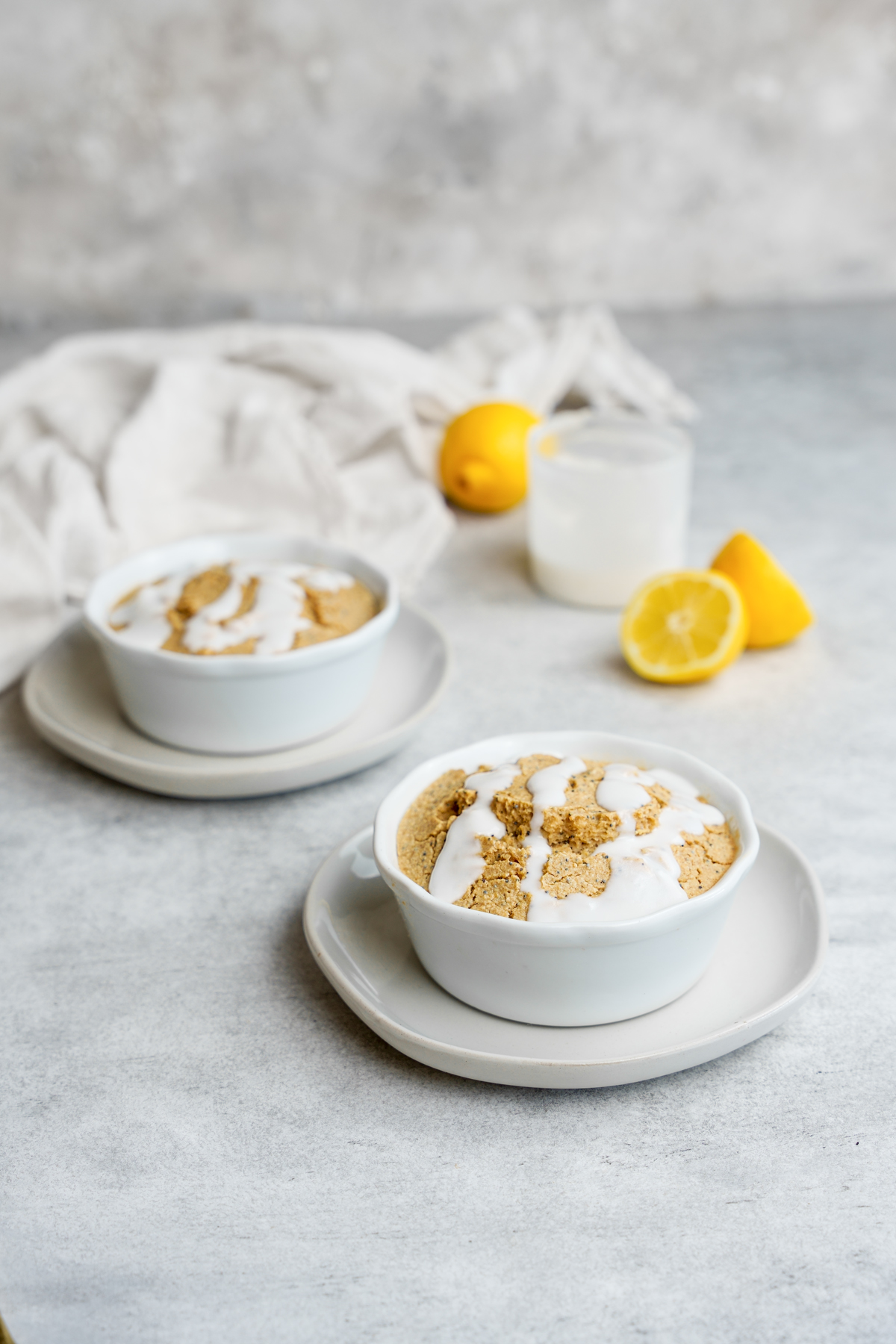 Why Make This Lemon Poppy Seed Oatmeal:
Aside from the fact that lemon poppy seed is one of the best flavors ever (I may be a little biased lol), there are plenty of additional reasons to make this oatmeal recipe! I already shared that this recipe can be made in an air-fryer/Ninja Foodi, and that they are loaded with whole foods plant based ingredients.
Why else should you make them? Meal prep baby! I find that vegan breakfast recipes can be some of the hardest meals to find healthy meal prep for. You may be thinking that overnight oats are the meal prep champion. However I honestly believe that baked oats work better for meal prep than overnight oats.
I say this because overnight oats dry up quickly and soak up so much liquid that you have to continue to add more each day. However recipes like this Lemon Poppy Seed Baked Oatmeal can be meal prepped and kept fresh for days. Since baked oatmeal is essentially like a cake in a bowl it stays moist extra long. You can even make it like a milk cake and pour milk over them as the days go on to ensure the freshness.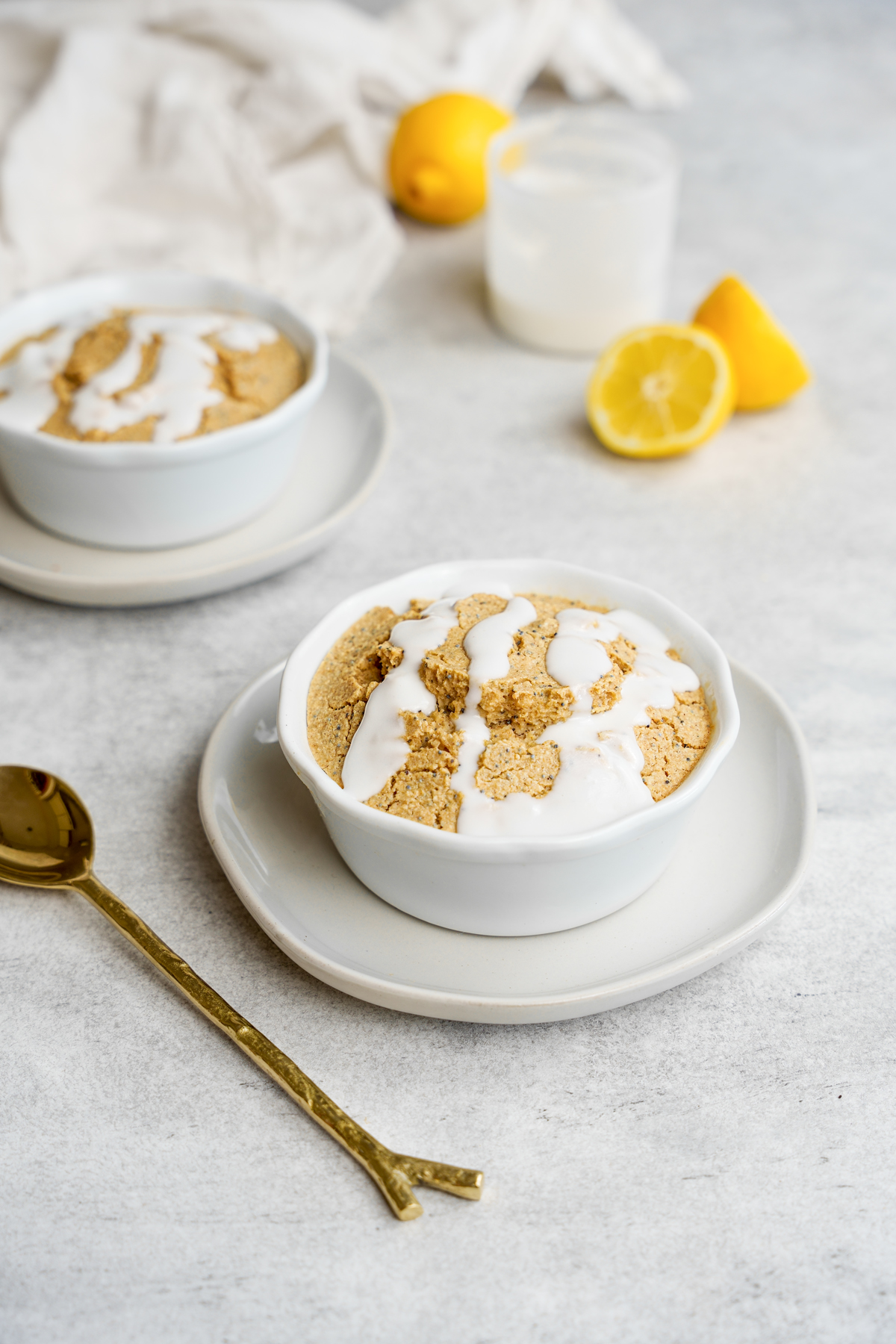 Is Date Sugar Healthy?
Here at The All Natural Vegan I am strongly committed to using only natural sweeteners. I love mixing up my recipes with different plant based sweeteners, because they're all so unique and have their own health benefits.
Many people may be turned off by date sugar simply because the word "sugar". There are sugars such as coconut sugar that are unrefined but I like to avoid and instead opt for Date sugar, or Maple Crystals. Why? It all comes down to the fiber content.
Whenever I am looking for a natural sweetener I am always trying to find one that has a fiber content. I do this because when a sweetener has a fiber content it means that it won't spike your blood sugar as much. You may be thinking well why can't I just eat regular sugar and a spoonful of psyllium husk?
Unfortunately it doesn't work like that. The fiber has to be in the sugar for it to be a low glycemic sweetener. The good new is it is not difficult to find natural sweeteners with fiber. Since all plants contain fiber you just have to look for plant based sweeteners in their most natural forms.
This is why I love date sugar. All it is is ground up dehydrated dates! Therefore it keeps the fiber content of dates and works just like sugar. I love date sugar for baking recipes such as this lemon oatmeal, because it adds the perfect sweetness without ruining the texture.
Ingredients for these lemon poppy seed baked oats:
FOR THE BAKED OATS:
Lemons
Vanilla extract
Poppy seed
Oats
Baking powder
Plant based milk
FOR THE GLAZE:
Water
Sweetener of choice (optional)
Vanilla extract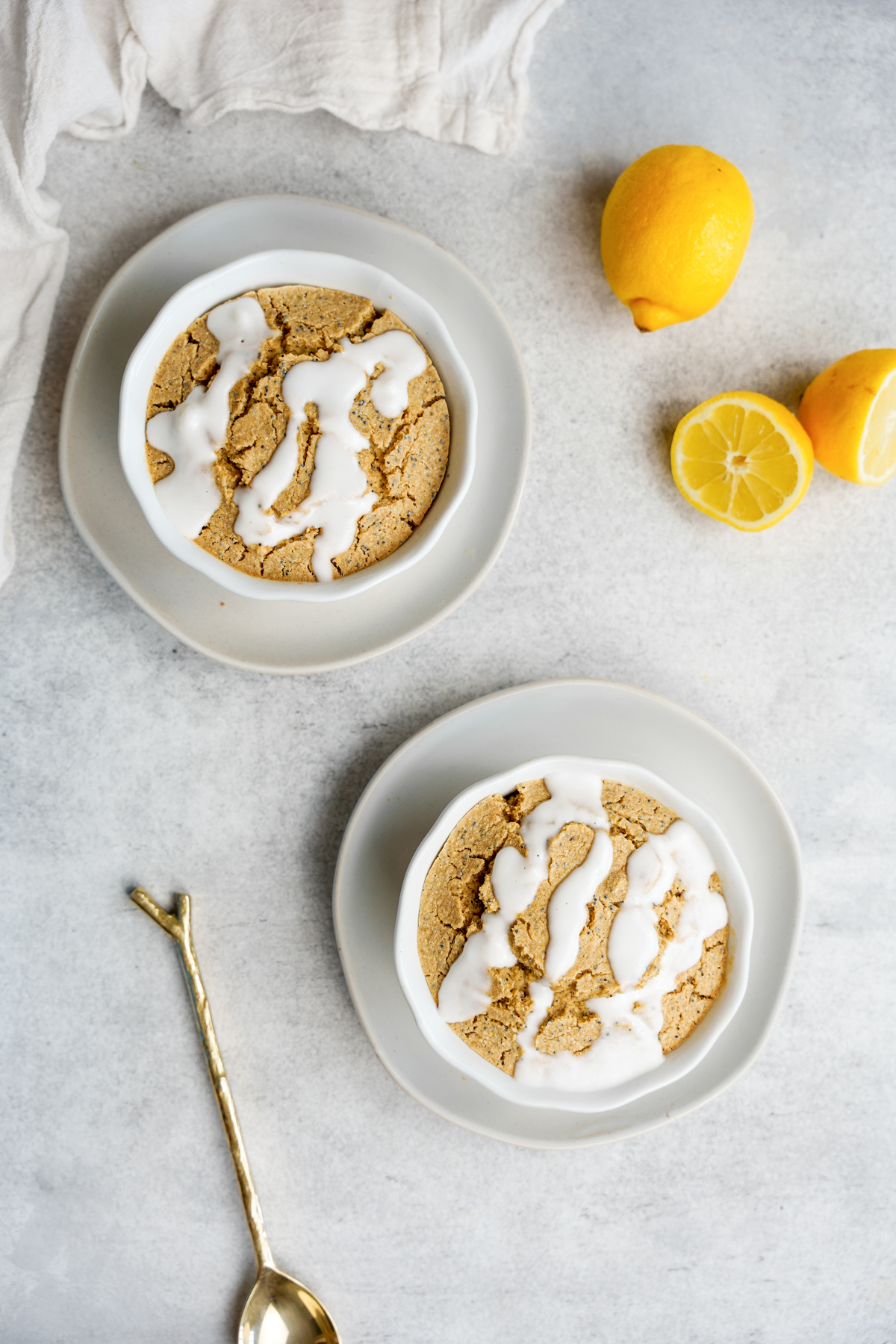 How To Make These Lemon Poppy Seed Baked Oats:
Making these Lemon Poppy Seed Baked Oats is super easy (like probably one of the easiest breakfast recipes on my website). All you need to make these baked oats is a bowl and spoon. Simply add all the ingredients together, mix, and bake!
However there are some tips that can level up this lemon oatmeal. First, make sure to sift the ingredients (don't be like me in the video). If you don't sift your ingredients you'll end up with chunks and you may not get the perfect rise.
Second, add lemon zest. I am obsessed with adding lemon zest to any lemon recipe I make, because it really enhances the lemon flavor. Make sure to wash your lemons before zesting though!
Last, but not least: opt for Mexican Vanilla. My parents recently went to Mexico and they brought me back the one I just linked, and let me just say: game changer. I can not believe the flavor that it has, it has completely transformed my baking. I add it to everything, because it complements everything! It's a little pricy, but I promise it is so worth it!
Related Recipes: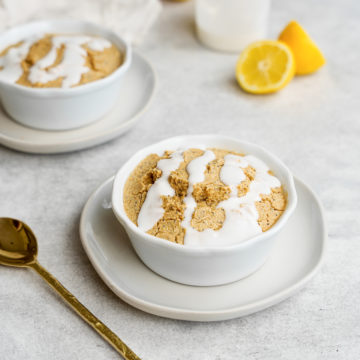 Lemon Poppy Seed Baked Oats
These lemon poppy seed baked oats are full of flavor and sweetness, and free of refined ingredients. This simple baked oatmeal recipe is the perfect Spring dessert for breakfast! This recipe is vegan, oil-free, gluten-free, and refined sugar-free!
Ingredients
For the baked oats:
1

cup

oats flour

¼

cup

date sugar

2

tablespoon

lemon juice

I recommend using juice from a fresh lemon

½

teaspoon

lemon zest

1

tablespoon

poppy seeds

1

teaspoon

baking powder

½

tsp

vanilla

1

cup

Plant based milk of choice
For the glaze:
3

tablespoon

coconut butter

2

tablespoon

water

You may need more or less depending on temperature of the coconut butter
Instructions
Preheat oven to 350. If using an air-fryer ignore this step.

Make sure your oats are blended up, and add with remaining ingredients to an oven safe bowl. Mix until smooth (it helps to sift ingredients).

Bake for 18-20 minutes in an air-fryer, or 25-27 in an oven.

Make the glaze simply by combining ingredients and whisking together.

Remove from oven and cover with glaze, enjoy!