This Falafel gyro recipe has all the traditional flavors of a Middle Eastern gyro without the meat, dairy, or oil! This recipe is super easy to make, perfect for healthy meal prepping, and can be made in the air-fryer! These falafel gyros are vegan, oil-free, refined sugar-free, and gluten-free!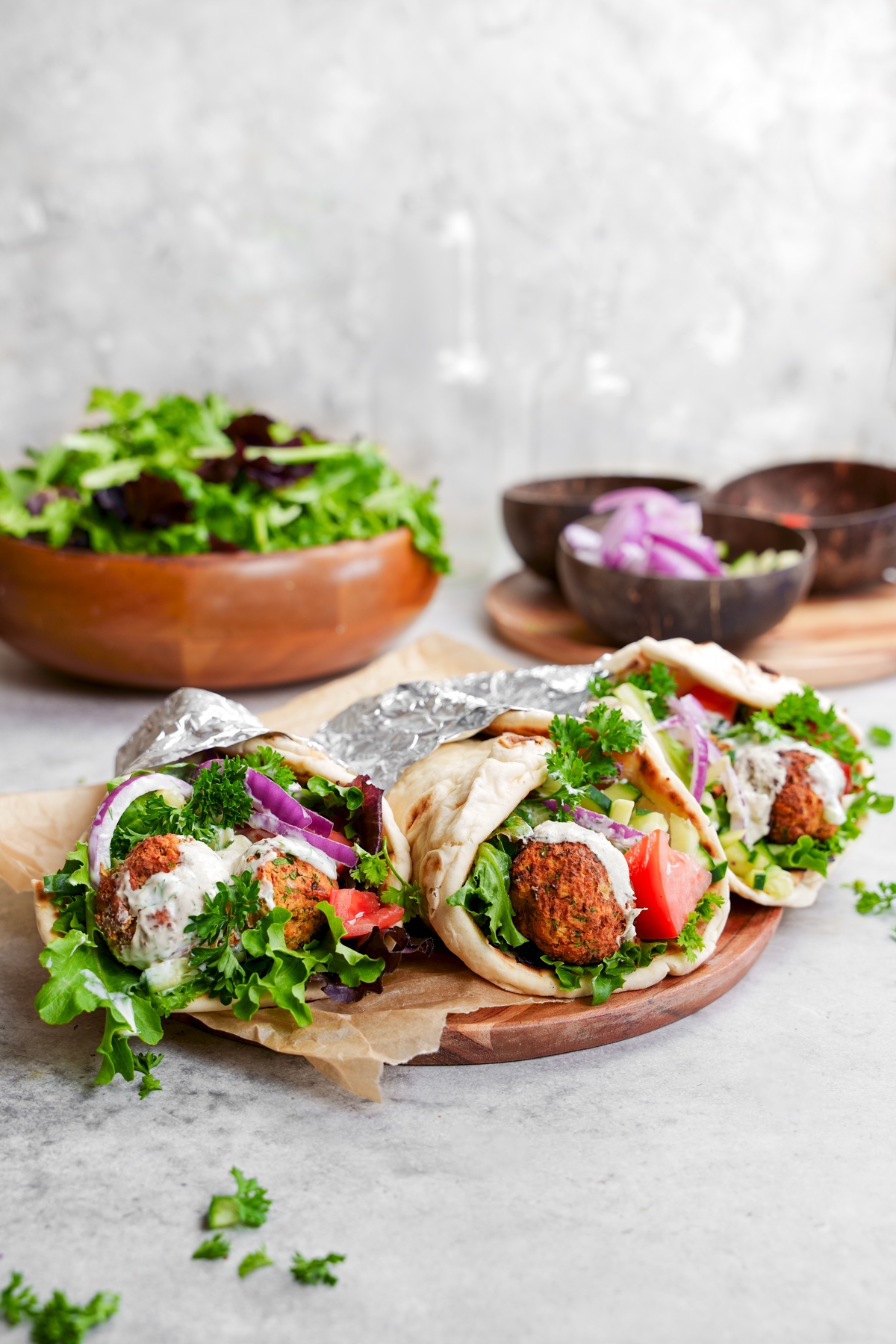 I am super excited about today's falafel gyro recipe! Falafel has been a favorite food of mine since my early vegan days. I love anything with tahini and chickpeas, and that just so happens to be two of the main ingredients in these falafel gyros. This recipe if super easy to make, packed full of flavorful spices and herbs, and of course - healthy!
What Is Falafel?
You may be reading the word falafel and wondering why anyone would name a food that sounds "awful". I ask myself the same thing over time I make it. I can assure you that nothing about falafel is awful! What is it?
Falafel is traditionally a deep-fried chickpea or fava beanball from the Middle East. It's a very popular street food but has gained tons of popularity globally among vegans and vegetarians because it's a great plant-based protein source.
Traditional falafel is usually made up of chickpeas, tahini, herbs, and spices. Once the dough ball is formed, it is deep fried until crispy on the outside, and soft and fluffy on the inside. If you've ever had the chance to have authentic falafel, then you know how much of a treat it is.
However, due to it being deep fried, traditional falafel is not super healthy. Luckily it's very easy to make oil-free falafel (like the ones used in this falafel gyro recipe). If made without oil, it can be a great whole-food plant-based option!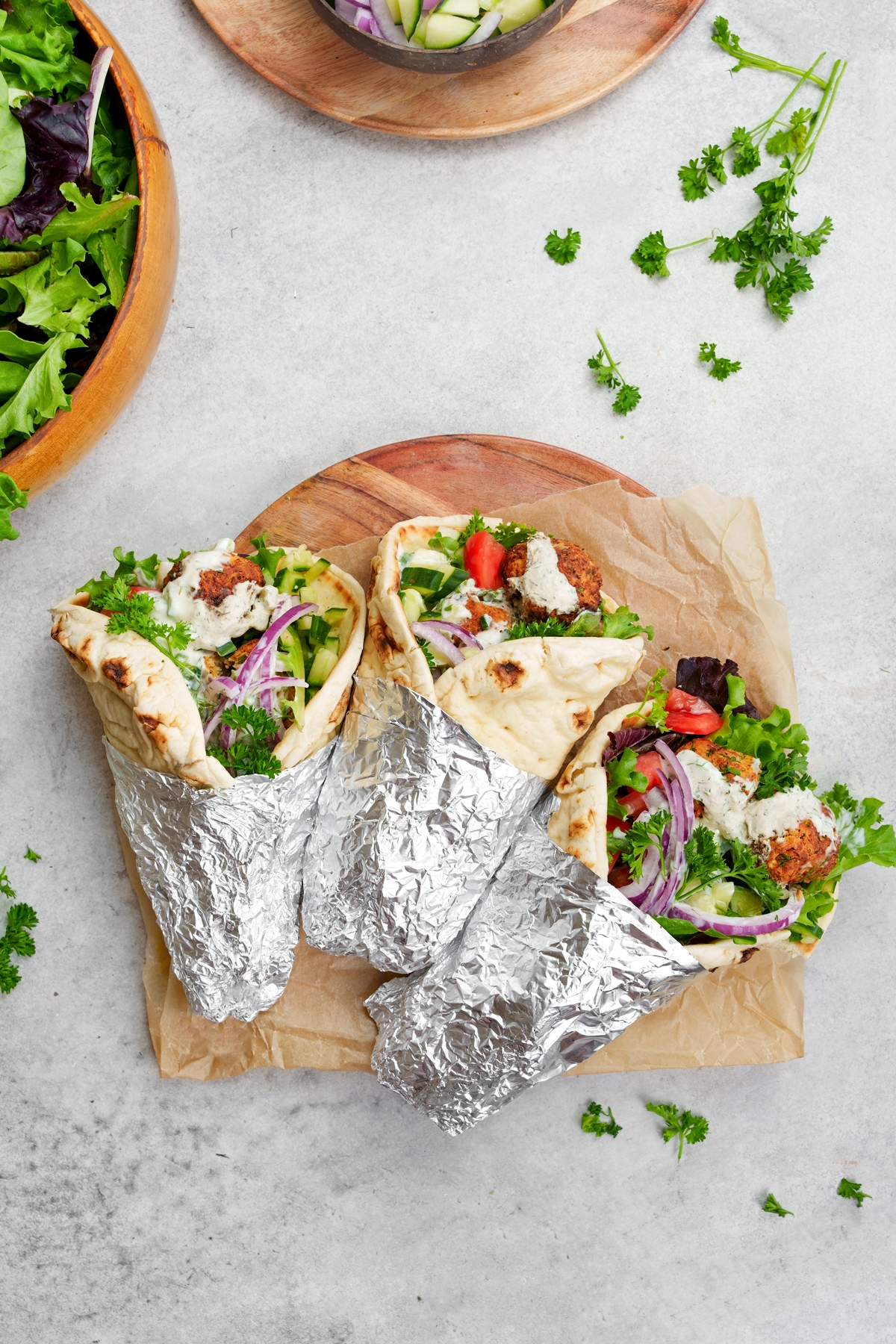 Are falafel gyros healthy?
Traditional gyros may be considered an unhealthy dish. They are usually loaded with meat and dairy-based sauces and deep-fried ingredients. However, this falafel gyro recipe is packed full of vegetables, whole foods plant-based protein, and a dairy-free vegan tzatziki sauce. These all come together to make the ultimate healthy filling dinner recipe.
Not only is this falafel gyro recipe already healthy, but there are simple ways to boost the nutrition even more! In order to make this recipe healthier, you can add greens such as spinach, or kale to the falafel. I love doing this because it's incredibly easy and it doesn't affect the flavor at all!
My last tip for making these falafel gyros healthy is to add all the spice! Okay, maybe not all, but a lot! Spices and herbs are such an easy way to add extra nutrients and health benefits. This recipe features cumin, paprika, and parsley to name a few. These herbs and spices are super nutritious, and add tons of health benefits to this recipe, but don't be afraid to add more!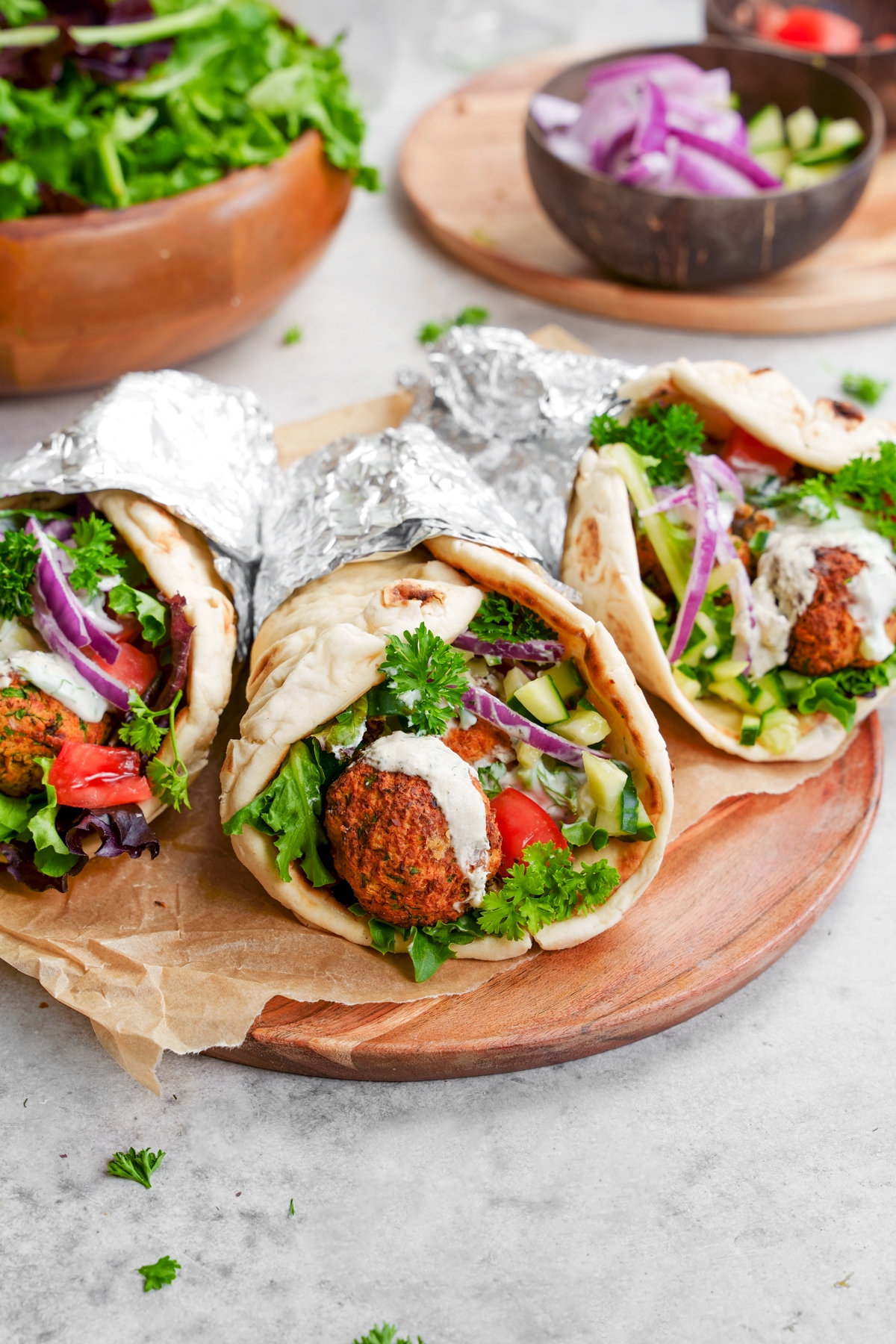 Ingredients for this Falafel Gyro Recipe:
For The Falafel:
Chickpeas
Chickpea Flour - You can use any flour, but I personally love using chickpea flour, because it's gluten-free, and doesn't change the flavor too much.
Parsley - Any herb will work, Traditional falafel uses parsley, however, you can also use: cilantro, mint, basil, you name it!
Tahini - One of the most important ingredients in falafel. Tahini is a great ingredient for anyone eating an oil-free diet because it contains healthy fats and fiber. There are so many tahinis out there, but I always recommend using a proper runny tahini.
Garlic - Adds flavor and a kick!
Red onion - You can use any onion variety, but I personally always go for red onions, because they contain more antioxidants.
Cumin - Aside from the chickpeas, this is probably one of the most important ingredients. Cumin is what gives falafel its signature taste. Not only is cumin super flavorful, but it's super healthy. Cumin can help to promote weight loss, healthy digestion, improve blood cholesterol, and prevent diabetes.
Smoked Paprika - Paprika is another key flavor for these falafel gyros. Paprika adds a smoky and sweet flavor. Paprika contains a variety of vitamins, minerals, and antioxidants.
Lemon - Helps to blend all the ingredients together, as well as add sweet and tart flavors.
For The Dairy-Free Tzatziki:
Vegan yogurt - There are plenty of great plant-based vegan yogurts out there that will work great for this tzatziki sauce. My go-to whenever creating savory recipes is Kite Hill Almond Milk Yogurt. It's made with simple, clean ingredients, and doesn't have a strong flavor like coconut yogurt.
Dill - The key ingredient to tzatziki sauce. It is what gives it its signature taste!
Cucumber - You can use any cucumber variety, but personally, I think English cucumber works the best. It's not bitter, and the skin is much less rough.
Lemon - Helps to increase the tartness of the sauce, as well as make it a bit more saucy.
For The Gyros:
Tomato - You can use any tomato variety. I went with sliced tomatoes, but Roma tomatoes work great too!
Spring Mix - Any leafy green lettuce works. My personal favorite is spring mix, but you can also use romaine, green leaf lettuce, or spinach!
Cucumber - As I said before, English cucumbers are my favorite variety.
Red Onion - You can use the other half of the red onion that you used in the falafel.
Gluten-Free Naan - If not gluten-free, you can use any naan, or even make your own. I love making this homemade Naan Recipe. They are delicious, healthy, vegan, and super easy to make.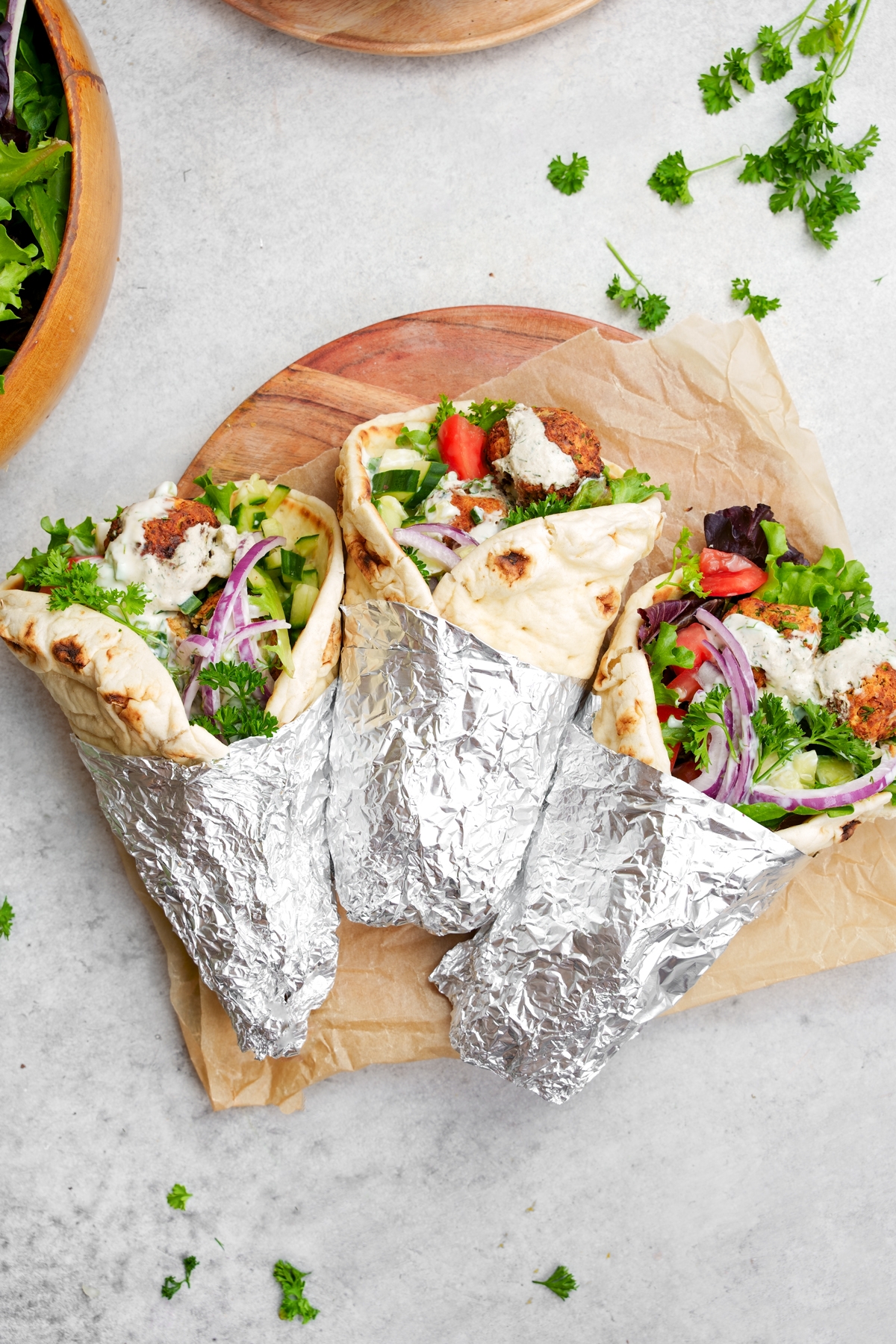 How to make dairy-free tzatziki sauce:
Raise your hand if you've gotten sucked into the "silken tofu tastes like cream" trap before *raises both hands*. Let's be real for a second: Is silken tofu amazing? Yes. Does it make for a good tzatziki base? No.
For a period of time, I lost hope that I would be able to successfully make non-dairy tzatziki. However, once I discovered vegan yogurt the game changed. Specifically the Kite Hill Almond milk yogurt. This stuff seriously tastes like Greek yogurt.
To make the sauce all you have to do is finely chop the dill and cucumber (the smaller the beet), and add to a bowl with the vegan yogurt and lemon juice. Mix and let rest for about 15 minutes. this helps the flavors mesh together.
How To Make The Falafel:
Making the falafel requires a bit more steps than the tzatziki, but I promise it's super easy. First things first, either cook the chickpeas or strain canned chickpeas. Whenever I make this falafel gyro recipe I always like to cook dried chickpeas, so I can properly measure out the amount I need. It also helps that it's more affordable that way!
Once you have the chickpeas measured out add them to a blender, or food processor (a food processor works best). Next, roughly chop the onion, parsley, and garlic. This helps prevent clumps of onion, parsley, or garlic in the falafel. Add to the food processor.
Add remaining ingredients and process until clumps begin to form. Ensure that you do not over-blend the mixture. If you do you will end up with more of a hummus than a falafel.
Scoop out spoonfuls of the falafel and mold into balls. Place on a silicone baking mat, or on aluminum foil (if using an air-fryer), and bake. If baking in the oven, bake at 375 for 30 minutes, if using an air fryer, bake on high for 18 minutes (or until crispy and browned).
How to assemble a falafel gyro:
To make the falafel gyro, begin by warming the naan bread. Warming the bread is crucial to prevent the bread from breaking apart when wrapped. Next, add the greens, thinly sliced cucumbers, diced tomatoes, and thinly sliced red onion. Top with the falafel and tzatziki sauce, and enjoy immediately!
Frequently Asked Questions:
Can I Meal Prep This Falafel Recipe?
It's no secret I love creating meal prep-friendly vegan recipes here. I was a big meal prep girl in college. Therefore I love creating recipes that can be meal prepped. This falafel gyros recipe makes a great healthy vegan meal prep!
You can meal prep both the falafel and the wrap. Prepping the falafel is super easy and can be used for a variety of meals. You can make bowls, wraps, kabobs, etc. They are such a great meal prep option because they reheat so well.
If you want to meal prep the whole falafel gyro, you can do this by prepping the ingredients and storing them separately. This way you can assemble a fresh warm gyro each day, and none of the ingredients will get soggy.
Can I Make This Falafel Gyro In The Air-Fryer?
This recipe is one of those recipes that I prefer to make in the air-fryer. Since the falafel in this recipe is baked instead of deep fried, it takes longer to cook. Therefore an air fryer is a great solution because it speeds up the cooking process without any oil.
I've owned a couple of different air-fryers, and I have noticed that every one of them cooks differently. Some air fryers can cook things in minutes, and others takes
Related Recipes:
Falafel Gyros
This Falafel gyro recipe has all the traditional flavors of a Middle Eastern gyro without the meat, dairy, or oil! This recipe is super easy to make, perfect for healthy meal prepping, and can be made in the air-fryer! These falafel gyros are vegan, oil-free, refined sugar-free, and gluten-free!
Ingredients
For the Falafel:
3

cups

chickpeas

3

tablespoon

chickpea flour

⅓

cup

fresh parsley

3

tablespoon

tahini

4

cloves

garlic

½

red onion

1

tablespoon

cumin

2

teaspoon

smoked paprike

1

lemon

juiced
For the Tzatziki Sauce:
1

cup

vegan yogurt

⅓

cup

fresh dill

½

cup

minced cucumber

2

lemon

juiced
For the Gyro:
6

gluten-free pitas

1

tomato

½

red onion

2

cups

spring mix
Instructions
Begin by preheating your oven to 375. Ignore this step if using an air-fryer.

Begin by making the falafel. Roughly chop the onion, parsley, and garlic. Add all falafel ingredients together in food processor and blend. You will probably need to scrape the edges down as you go. You want to ensure you don't over blend. It needs to be smooth, but not smooth enough to resemble hummus.

Once blended scoop out and form balls or patties, both work great. Place on the baking sheet for 3o minutes in the oven. You can also air fry them for a quicker option (about 18 minutes). You want them to be hard on the outside and slightly browned.

To make the tzatziki sauce: finely chop and add all ingredients together and stir to combine.

Assemble the gyros by placing the spring mix on the naan and topping with chopped veggies, falafel, and finish with tzatziki and enjoy!