This Buffalo Pulled Jackfruit Burger recipe is incredibly simple, healthy, and delicious! Perfect for vegan friendly summer cookouts, or a healthy weeknight dinner, either way this burger is sure to be a crown pleaser! This recipe is: oil-free, vegan, gluten-free, refined sugar-free, and whole foods plant based!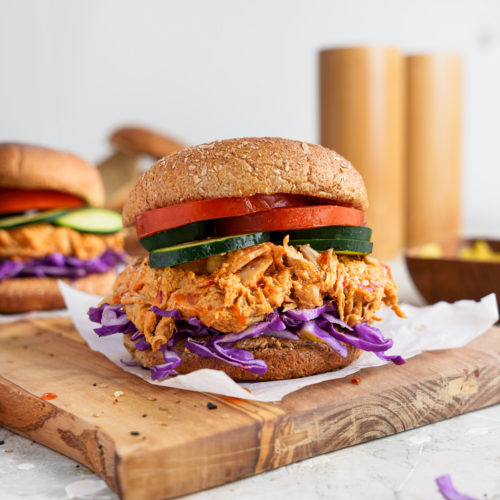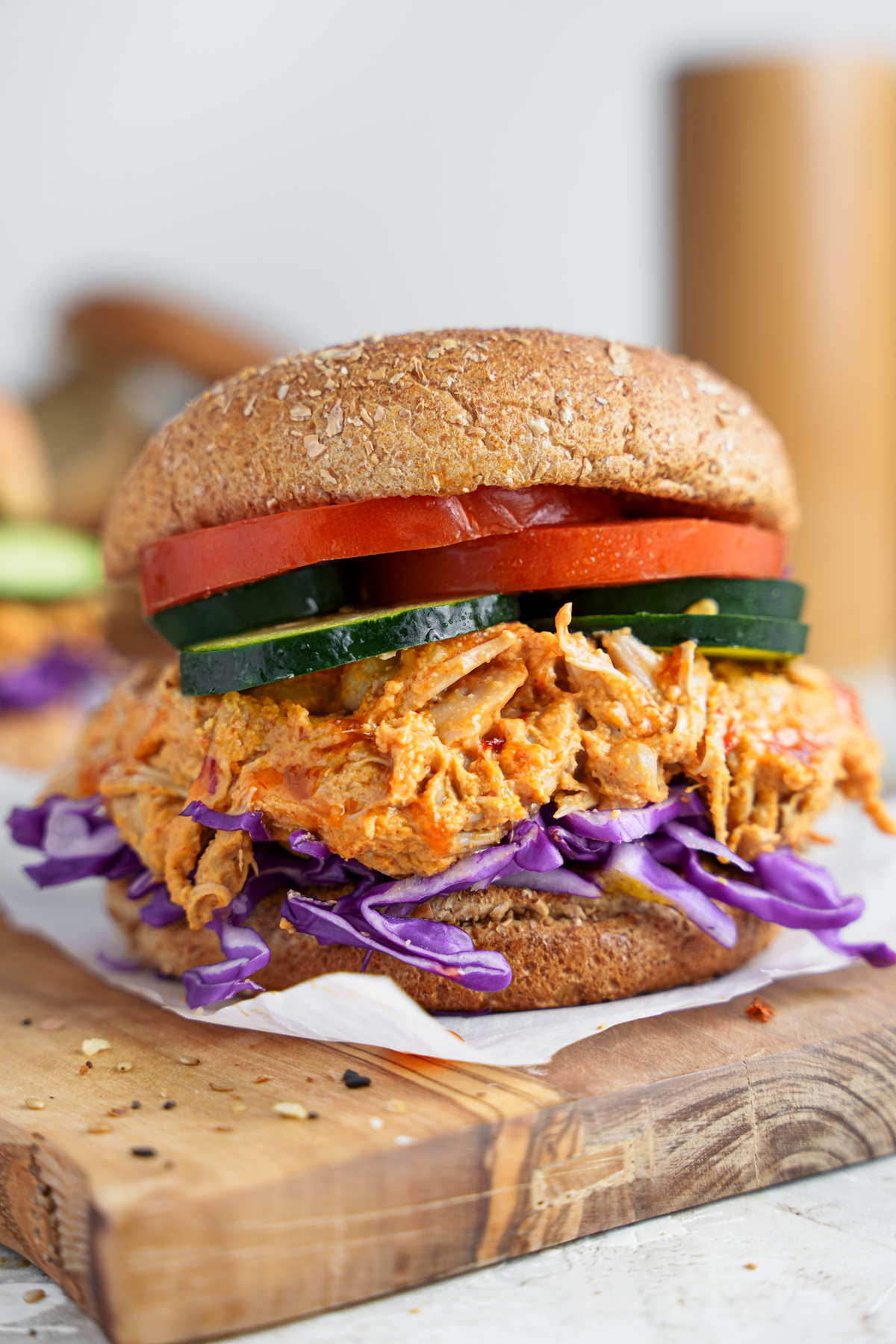 I am so excited about today's pulled jackfruit burger recipe! It's no secret that I love anything and everything buffalo flavored. The other day I was at a vegan restaurant and I order a buffalo jackfruit burger, and it was incredible. Me being the food blogger that I am knew I needed to recreate this vegan buffalo burger recipe with whole foods plant based ingredients. To my surprise it was incredibly easy and turned out even better than I could have imagined!
What is jackfruit:
If you're a new vegan, or are simply looking for more meatless dinner recipes, you may not know what jackfruit is. Honestly, until about 2 years ago neither did I. However me being the weird fruit lover that I am, I have had a lot of jackfruit over the past 2 years. If your looking for some in depth information about jackfruit, be sure to check out my #weirdfruitwednesday video about it on my Instagram! However I'll keep it nice and short here since you're here for the pulled jackfruit burger recipe!
There's two main different ways to eat jackfruit, and they are dramatically different. There's ripe jackfruit and young jackfruit. Ripe jackfruit is when a jackfruit is fully ripe (obviously) and can be purchase fresh. It's the type of jackfruit you see in videos where it's a giant pointy weird shaped fruit - not to be confused with the durian which is even more spiky! Ripe jackfruit is sweet and soft, reminds me of a fruit punch flavored mango!
Young jackfruit on the other hand has a mild flavor and a meaty texture. Unlike fresh, young jackfruit is only available in cans, and is used is savory dishes. It works well in this buffalo jackfruit burger, because it has the perfect meaty texture, and absorbs the flavor of whatever you're cooking it in! I use it so much that I like to buy it in bulk (much more affordable) online, however you'd be surprised at how many stores carry it in the canned fruit section!
Jackfruit Burger Calories:
My absolute favorite thing about jackfruit (aside from the flavor), is the calorie density. I've shared this many times before, but I am a huge volume eater. I used to always try to restrict myself and change this about myself. However once I learned about calorie density, and began to eat high volume foods, magic happened! Suddenly I could eat all my favorite foods again and make recipes like this pulled jackfruit burger and never have to stress about foods again. Of course I still eat calorie dense foods from time to time, but my core diet now revolves around eating high volume, low calorie foods. Jackfruit happens to be an amazing low calorie food! ½ Cup of young jackfruit contains only 50 calories and 3 grams of fiber and 2 grams of protein. This makes it the ultimate low calorie filling food!
Since jackfruit is such a low calorie food, I knew that I could make this plant based buffalo sauce a little more calorie dense and still keep the overall recipe in check. I'm really not a fan of counting calories, but it can be super helpful just to know a general ball park of the calories in food to make sure you're not under-eating, or over-eating! At the end of the day everyone is different, and everyone needs different amounts of food, but if you're a volume eater, I could not recommend this jackfruit burger recipe enough!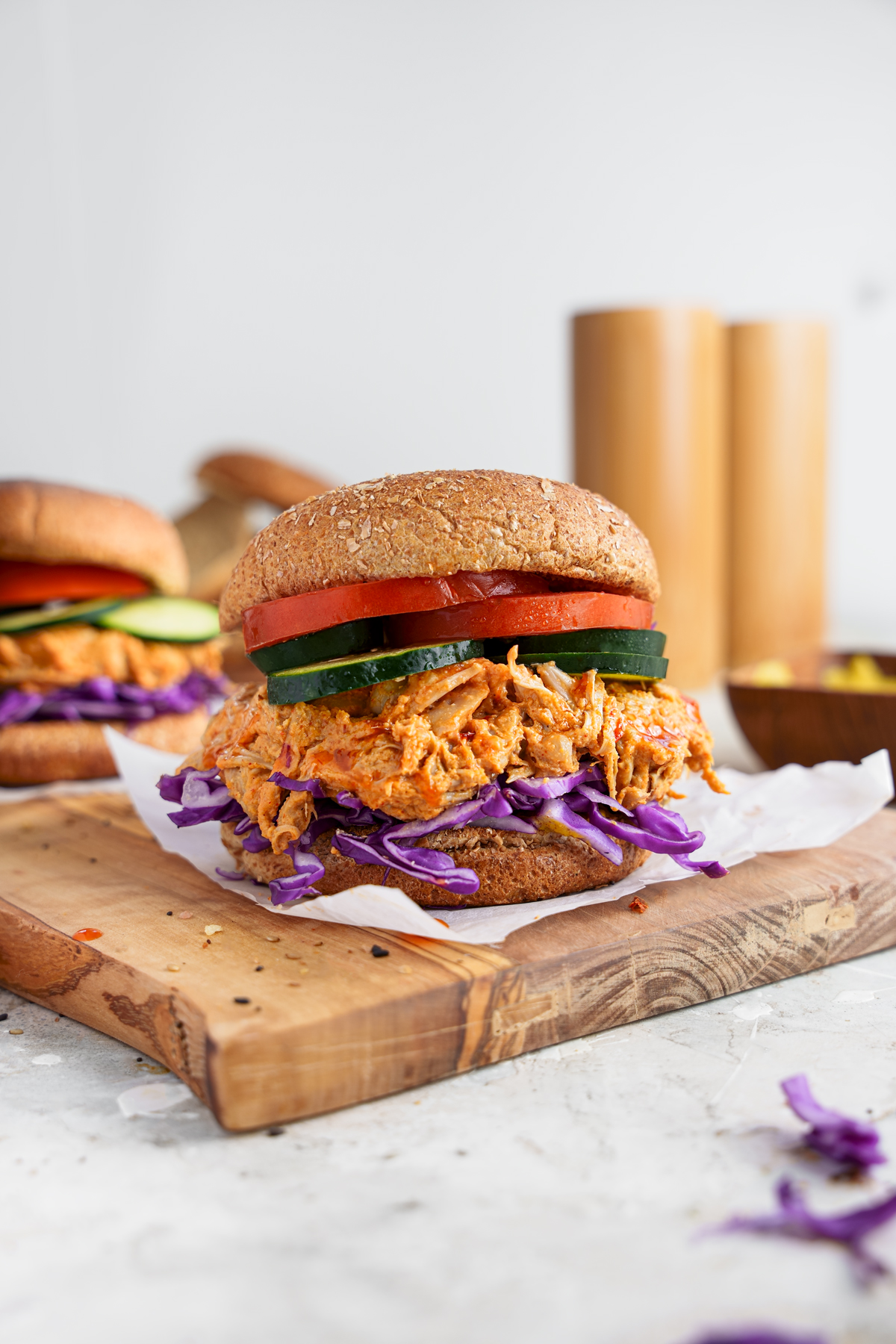 Best vegan jackfruit recipes:
How to make this pulled jackfruit burger high protein:
Jackfruit is almost the perfect meat substitute. However unfortunately jackfruit does not have a super high protein content. This is perfectly fine for almost everyone, because this sandwich contains an adequate amount of protein. It is not high protein, but it can be made high protein with a few simple adjustments!
If you are not gluten-free, make sure to use whole wheat buns. Whole wheat is an amazing source of plant based protein and fiber. It's probably the easiest way to bump up the protein of this pulled jackfruit burger. The second way is to break up some tofu and add it to the jackfruit mix. It will blend right in. If you do this make sure you cook it on the stovetop so that some of the water cooks out! The last way to increase the protein of this jackfruit burger is to add some cooked lentils. This option will change the texture of the burger the most, but it will still be totally delicious! I love adding lentils to all kinds of recipes, because they are crazy healthy, and super easy!
Ingredients For The Buffalo Pulled Jackfruit Burger:
BURGER INGREDIENTS:
Young jackfruit
Purple cabbage
Cucumbers
Whole wheat/gluten-free burger buns of choice
Tomatoes
OIL-FREE VEGAN BUFFALO SAUCE:
Raw cashew butter - "VEGAN10" for $10 off!
Hot sauce of choice
Garlic powder
Miso paste
Onion powder
Almond milk
How To Make Healthy Vegan Buffalo Sauce:
Making healthy vegan buffalo sauce for this pulled jackfruit burger may just be one of the easiest sauces ever. No chopping, or cooking is involved. Simply throw everything in a blender and blend until smooth. It's that simple!
There are a couple ingredients in this sauce that you should be particular when choosing. First, it is important to choose a hot sauce that is healthy, and vegan. Many hot sauces are filled with preservatives, and are super high in sodium. However they're not all bad! My go-to hot sauce brand is Siete, because all their stuff is super clean and healthy.
Next, make sure that you choose raw cashew butter. There are plenty of cashew butters out there, however many of them are roasted. Roasted cashew butter has a significantly different flavor than raw cashew butter, and therefore has a much different taste. I always get my raw cashew butter from Wilderness Poets, because it is affordable, and high quality! I have a Wilderness Poets discount code: "VEGAN10" that gets you $10 off your whole purchase!
Even if you do not plan to make a homemade vegan buffalo sauce, make sure you check the label, because a majority of store bought buffalo sauces are not vegan. That's why I like to make my own, because it's healthy and easy!
How To Make A Jackfruit Burger:
Making this pulled jackfruit burger is super simple, and that's one of the reasons I am so obsessed with it! To make pulled jackfruit all you have to do is strain the young jackfruit from the can and squeeze the chunks through your clean hands. If you don't like getting messy when you cook you can use a potato masher and press it. I personally like the hands method, simply because it is quicker and requires less dishes.
Something that does make a huge difference is thoroughly rinsing your jackfruit. Canned young jackfruit can have a very high sodium content, so I strongly encourage you to give your jackfruit a good rinse before using. I talk about how to "de-salt" jackfruit on some of my other jackfruit recipe posts, be sure to check them out!
More Vegan Buffalo Recipes To Explore:
Making vegan buffalo recipes is surprisingly easy. Over my 4+ years of being vegan I have made a ton of buffalo recipes, and it turns out that they are some of the easiest recipes on my website. Not only is vegan buffalo sauce easy to make, but it can be made super healthy! When you find a vegan buffalo recipe at a restaurant, you can pretty much assume that it will be super delicious, but it is most likely not super healthy. Traditional buffalo sauce is loaded with butter and therefore vegan buffalo recipes are made with vegan butter. Luckily all of my buffalo recipes are made without butter! Be sure to check out the other recipes on my website!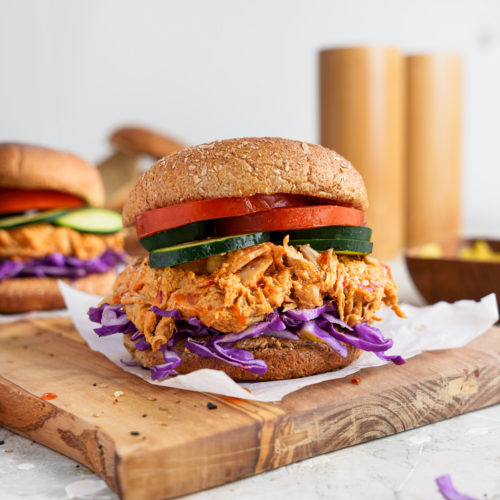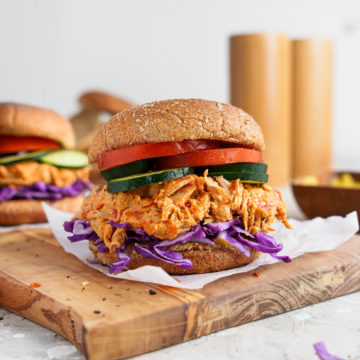 Buffalo Pulled Jackfruit Burger
This Buffalo Pulled Jackfruit Burger recipe is incredibly simple, healthy, and delicious! Perfect for vegan friendly summer cookouts, or a healthy weeknight dinner, either way this burger is sure to be a crown pleaser! This recipe is: oil-free, vegan, gluten-free, refined sugar-free, and whole foods plant based!
Ingredients
For the buffalo sauce
¼

cup

cashew butter

1

teaspoon

miso paste

1

6oz

plant based hot sauce

You can adjust this based on desired flavor (use more for more spice, but at least use 6oz)

1

teaspoon

garlic powder

½

teaspoon

onion powder

½

teaspoon

smoked paprika
Instructions
To make the sauce:
Combine all sauce ingredients to a blender and blend until smooth! If you do not have a blender, use a whisk, and whisk until smooth.
To make the burger:
Strain and rinse the jackfruit. Press with hands to separate chunks. Add to a pan and cook with the buffalo sauce until warm.

Assemble the sandwich with sliced cucumber, cabbage, and tomatoes. Serve and enjoy!