This iced gingerbread latte recipe is the ultimate naturally sweetened coffee flavor made with whole foods plant based ingredients. Made with a fluffy refined sugar-free dalgona topping this coffee is sure to be an instant favorite! This recipe is: vegan, oil-free, gluten-free, and refined sugar-free!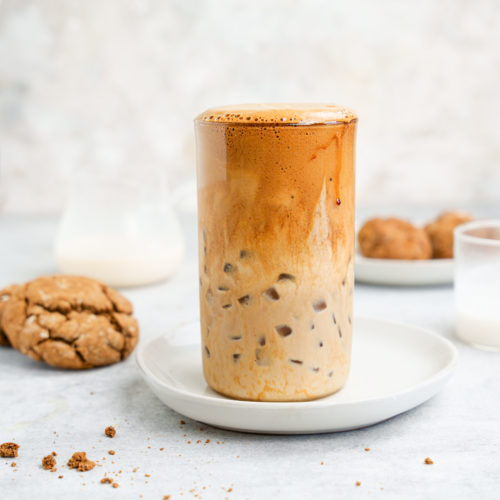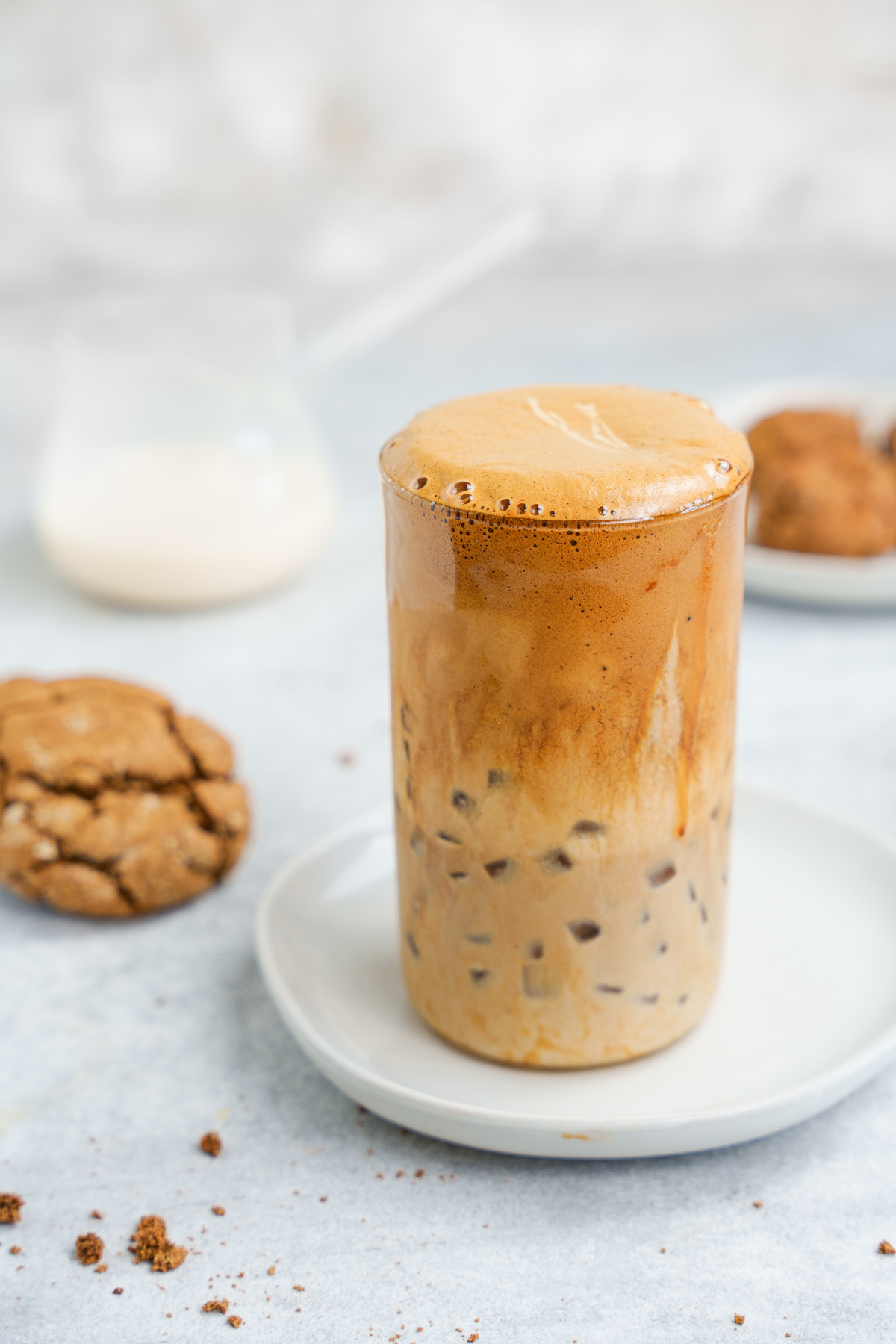 I've been on a major iced coffee/latte kick recently, and this Iced Gingerbread Latte recipe has been my go-to. It's super simple to make and tastes like Christmas in a cup! I love this vegan latte because it's so easy to make and so healthy! It is healthy because it is not only free of all the unhealthy ingredients typically found in Starbucks coffees, but it is loaded with nutrient dense ingredients making it the perfect healthy coffee recipe to start your day!
Is This Gingerbread Latte Recipe Healthy?
Chances are if you found this post it's because you love the Starbucks gingerbread latte (or Dunkin'), and you're looking for a way to make it homemade. Typically homemade recipes are much healthier, and this Vegan Gingerbread Latte is no exception.
One of the reasons I love this latte recipe so much is because it is completely whole foods plant based. This means that the recipe is made using simple clean ingredients in their almost perfect form. When you eat foods that are less processed, you are avoiding any unhealthy ingredients that are added during processing, while still retaining the vitamins and minerals.
There are a couple things I want to make note of in order to ensure that you are making this homemade gingerbread latte as healthy as possible.
First, make sure that you are using blackstrap molasses. To be completely honest it wasn't until last Christmas that I truly understood what molasses was. I could write a long story about it, but let me just summarize in a few short sentences.
Clean ingredients:
Blackstrap molasses is essentially all the vitamins and minerals that are stripped away from cane sugar when processing. Therefore not only blackstrap molasses tasty, but it is a nutrition powerhouse! It's important to look for blackstrap, because regular molasses is processed again, whereas blackstrap is not and therefore the more nutrient dense of the two.
Second, when choosing a plant based milk make sure that you are looking for one that is not oil based. Unfortunately many of the oat milks out there today are basically oil with a touch of oats. However you can still get the oat milk taste you know and love without all the highly processed oils. My favorite brands for oil-free oat milk are: Elmherst and MALK. You also use soy, or coconut, but I think oat gives it the perfect cookies taste.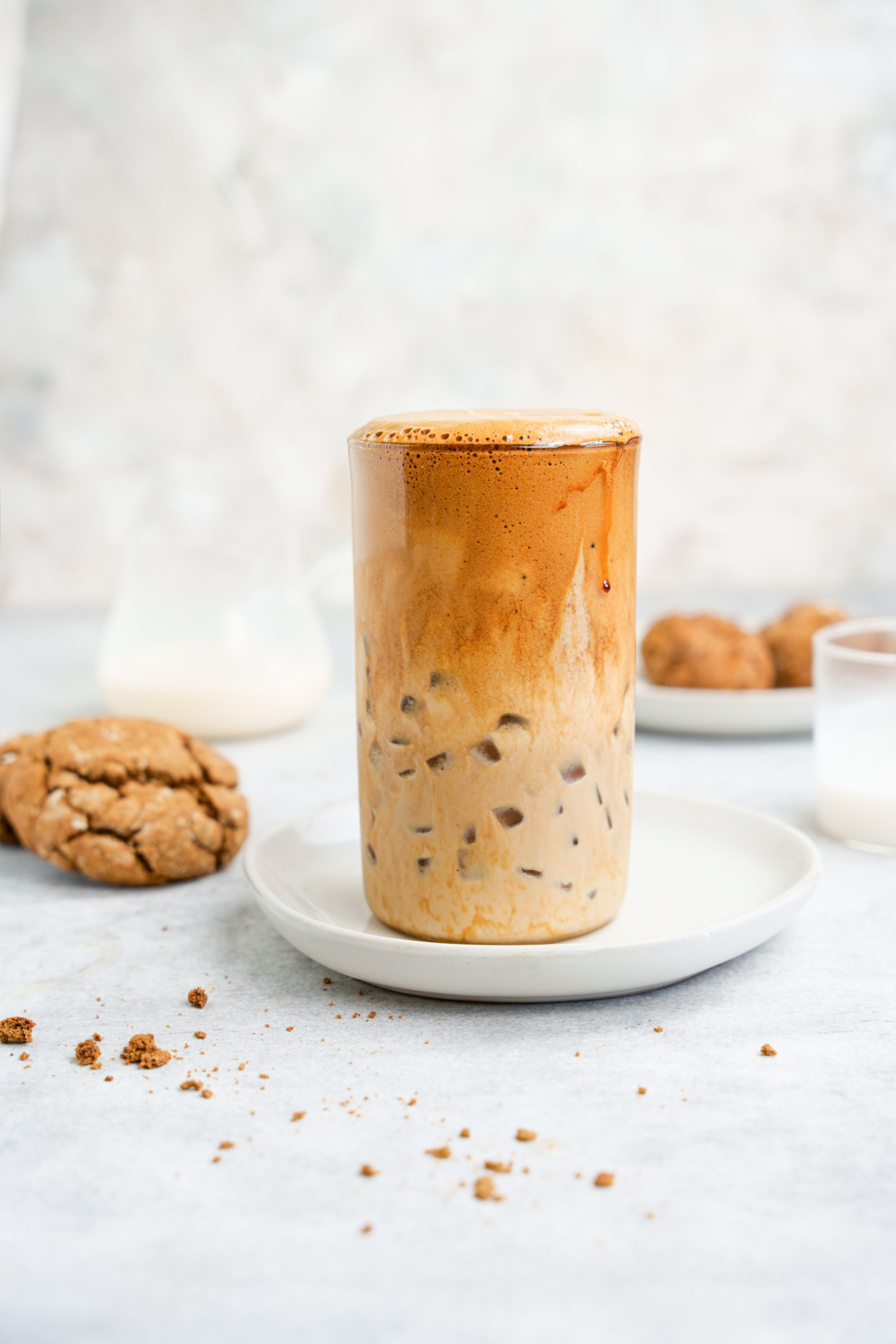 What You Need To Make This Gingerbread Latte At Home:
This gingerbread latte is a little different than other gingerbread latte recipes out there, and that's because it is dalgona coffee AKA whipped coffee. Maybe you've hoped on the tiktok trend of making whipped coffee, or maybe this is your first time hearing about it. Regardless I can promise that you'll be hooked after making this iced gingerbread dalgona coffee.
In order to make dalgona coffee there's a couple things you need. First is instant coffee/espresso. It's important you choose a high quality instant coffee, because this can dramatically change the flavor. My recommendation is Cafe Bustelo (you can find this at Walmart and most other local grocery stores).
Next you will need some sort of sweetener. I always opt for date syrup in my coffee, because it mixes great, and compliments the flavor of the coffee nicely. You can also leave out the date syrup in this recipe and only use molasses, but I like the balance of the two.
Next you'll need a hand held milk frother. You will need this to make the dalgona coffee. You can also use an electric whisk, or a traditional whisk, but I find that the hand held milk frother works the best for making homemade dalgona coffee.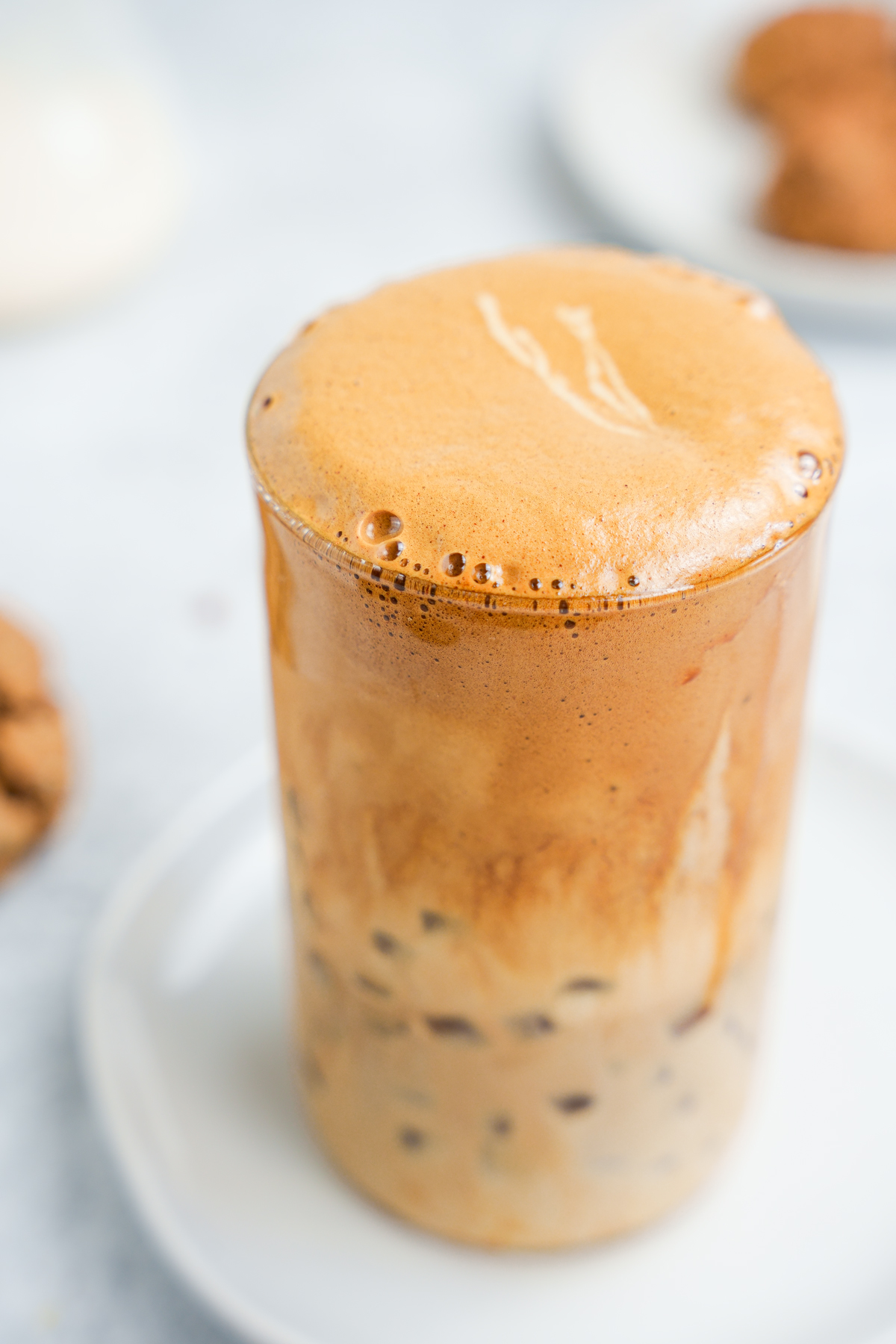 What Is Dalgona Coffee (AKA Whipped Coffee)?
What is dalgona coffee? Dalgona coffee is actually a pretty new phenomenon. It was popularized on tiktok in 2020, however it's been around in Korea for the past 20 years. It gets its name from dalgona candy which is traditional Korean candy. You may be familiar with it since it was a part of the TV show Squid Game.
Dalgona coffee is made by mixing equal parts powdered coffee, sugar, and water, and whipping. I avoided dalgona coffee for the longest time, because I believed that the only way to make it was with refined sugar. However to my surprise it is super easy to make refined sugar-free dalgona coffee just as I did in this gingerbread latte recipe.
What Makes This Dalgona Coffee Refined Sugar-Free (Naturally Sweetened):
Like I just touched on making naturally sweetened dalgona coffee can be done, and there's actually several natural sweeteners that work. I stuck with date syrup for this homemade gingerbread iced latte recipe, because I think it compliments the flavor nicely.
You can also use Maple Crystals ("VEGAN10" for $10 off), or maple syrup as your natural sweetener. These work great, and add a bit of a maple flavor to the coffee, which is great for some recipes, but I'm not completely sold for this gingerbread latte recipe.
Last, but not least you can always use natural zero calorie sweeteners like stevia and monk fruit. Personally I try to avoid these, but if you're a fan of them my vote is go for it!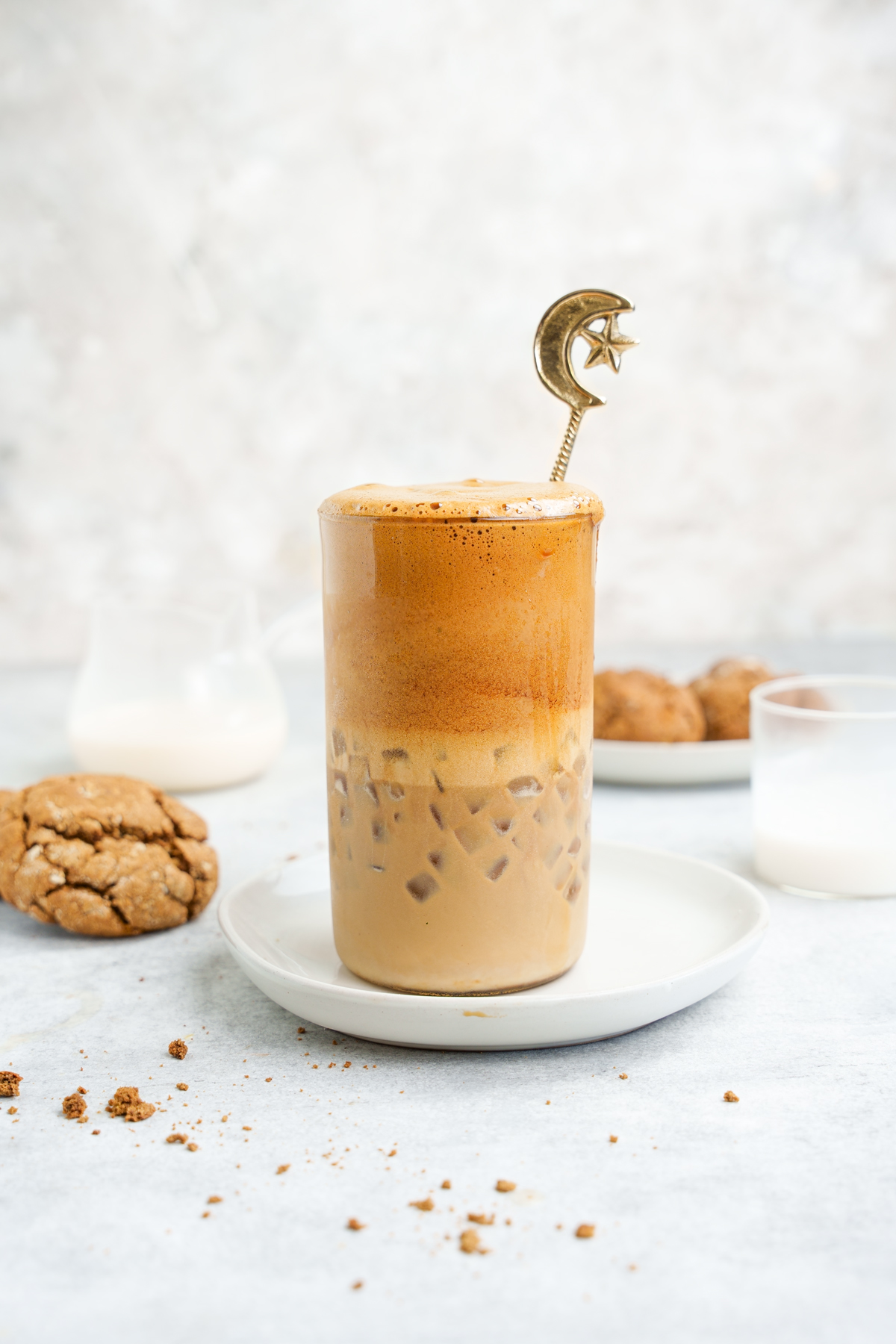 Ingredients For This Iced Gingerbread Latte Recipe:
Instant Espresso
Date Syrup
Blackstrap Molasses
Ginger powder
Pure vanilla extract
Cinnamon
Nutmeg
Water
Ice
How To Make This Gingerbread Coffee Recipe:
To make this gingerbread latte recipe begin by gathering all your ingredients. Measure them out so you will be ready to go (you'll need to move a little quickly).
Add the instant coffee, date syrup, and blackstrap molasses together with 2 tablespoon of water and mix with your hand held frother. Continue to froth for about 1-2 minutes. You'll want to see the coffee begin to hold its shape. Add the spices and froth again.
In a small cup combine the oat milk and the vanilla extract and mix. Pour ice (here's a link to my tiny ice cube mold!) into the dalgona coffee and pour the milk mixture over. Stir and enjoy!
Related Recipes: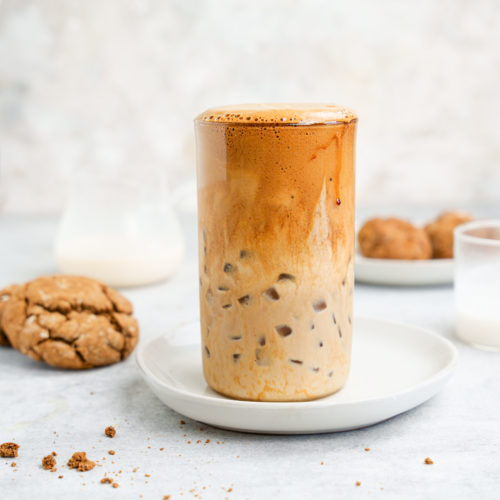 Iced Gingerbread Latte
This iced gingerbread latte recipe is the ultimate naturally sweetened coffee flavor made with whole foods plant based ingredients. Made with a fluffy refined sugar-free dalgona topping this coffee is sure to be an instant favorite! This recipe is: vegan, oil-free, gluten-free, and refined sugar-free!
Instructions
Begin by making the dalgona. Add the espresso, date syrup, blackstrap molasses, and water to cup. Froth with a hand held frother for 1-2 minutes until whipped consistency is reached.

Add the spices and froth again.

In a cup combine the oat milk and vanilla extract and stir.

Pour the ice into the dalgona coffee, and then add the milk mixture. Stir and enjoy!