This creamy and spicy jackfruit buffalo dip is the perfect vegan appetizer for any event! It's super easy to make, and uses only whole foods plant based ingredients. This recipe is vegan, oil-free, gluten-free, and refined sugar-free!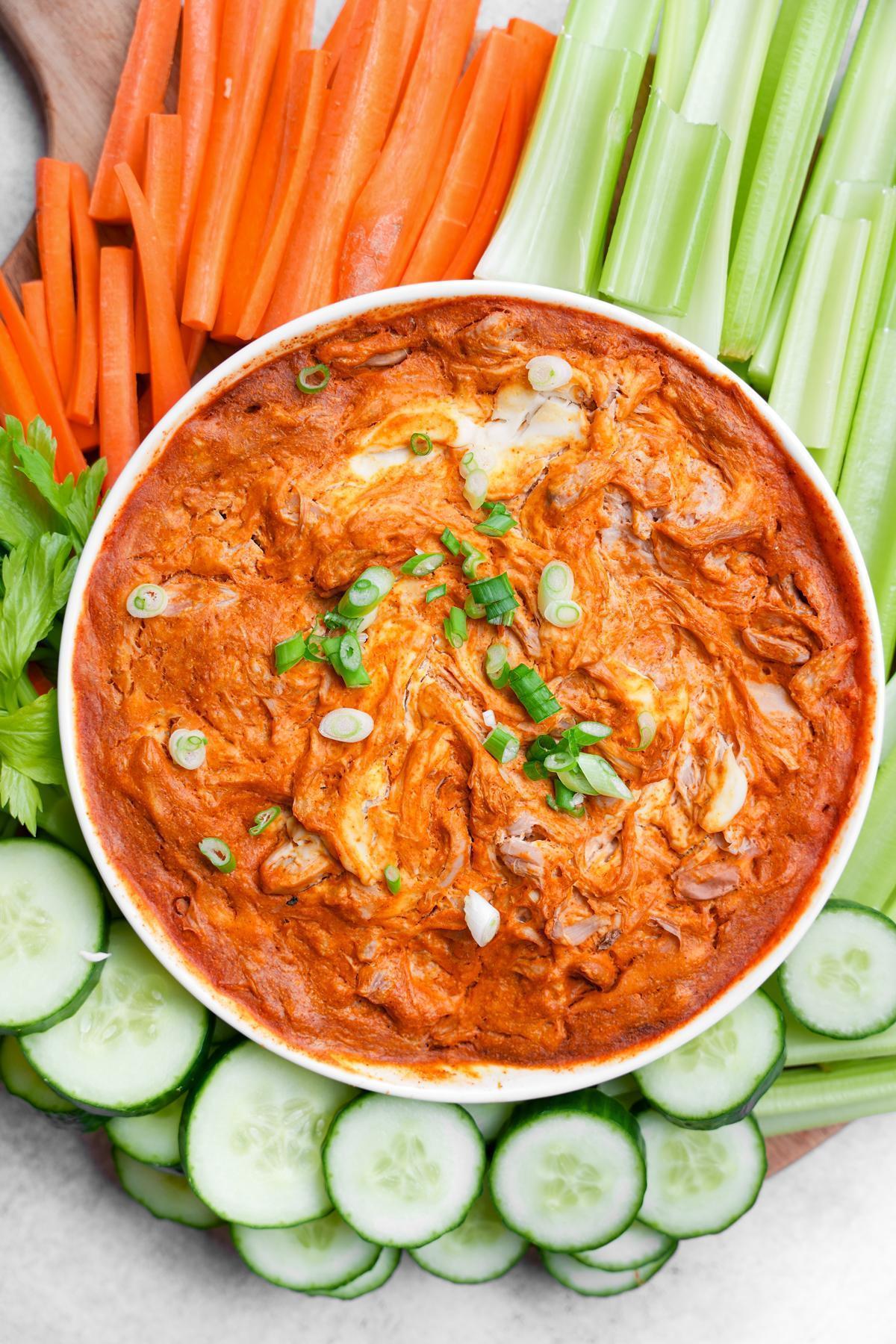 I am so excited to share today's Jackfruit Buffalo Dip with you guys! This recipe is perfect for summer cookouts, or an easy vegan appetizer. It's no secret around here that I love all things Buffalo and jackfruit, but this plant based dip truly exceeded my expectations!
What Is Jackfruit Buffalo Dip?
If you've stumbled upon this recipe, you may be a bit confused. What is jackfruit? Why would you make buffalo dip with it? Is this recipe whole foods plant based? You've got questions, and I've got answers!
Jackfruit is the worlds largest fruit. It produces giant bumping fruits that has a bunch of super sweet yellow pouches inside when ripe. Jackfruit is one of my all-time favorite fruits. However ripe jackfruit is not the jackfruit that is used to make this dip.
This Jackfruit Buffalo Dip is made using young jackfruit. Young jackfruit is essentially just under ripe jackfruit. Why on earth would you use under ripe jackfruit? Because it tastes like chicken! Okay, it doesn't tastes like chicken (it doesn't really taste like anything), but it has the same texture as chicken. This makes it the perfect meat substitute for a vegan buffalo chicken dip!
One reason that jackfruit has and will always be my favorite plant based meat substitute is because it is just one ingredient that is completely natural. This allows you to make so many of your favorite recipes whole foods plant based!
What Makes This Buffalo Jackfruit Dip Healthy:
This Jackfruit Buffalo Dip recipe is incredibly delicious. However it is also super nutritious - a dream come true! What makes this dip so healthy?
High Fiber - The base of this recipe is young jackfruit. Young jackfruit is an incredibly high fiber fruit that makes for the perfect vegan chicken substitute. Since this is a plant based recipe, every ingredient contains some fiber. When you bring them all together you end up with a high fiber buffalo dip!
Whole Foods Plant Based - This recipe is made clean ingredients and is free of all the unhealthy ingredients typically found in buffalo chicken dip.
Vegan/Vegetarian - Jackfruit is my go-to plant based meat substitute. It has the texture of shredded chicken, it is unprocessed, and it is low calorie!
Oil-free - Unlike most vegan buffalo chicken dip recipes, this dip is completely oil-free. As amazing as vegan cheese is, it is full of saturated fats and highly processed oils. I avoid using it in my recipes simply because I believe that you can still enjoy all your favorite foods without these processed ingredients!
Gluten-free - This recipe is free of all grains and starches.
Paleo - Since this recipe is dairy-free and grain-free, it is also paleo!
Refined Sugar-free - Make sure to choose a whole foods plant based hot sauce that doesn't have any added sugar to it.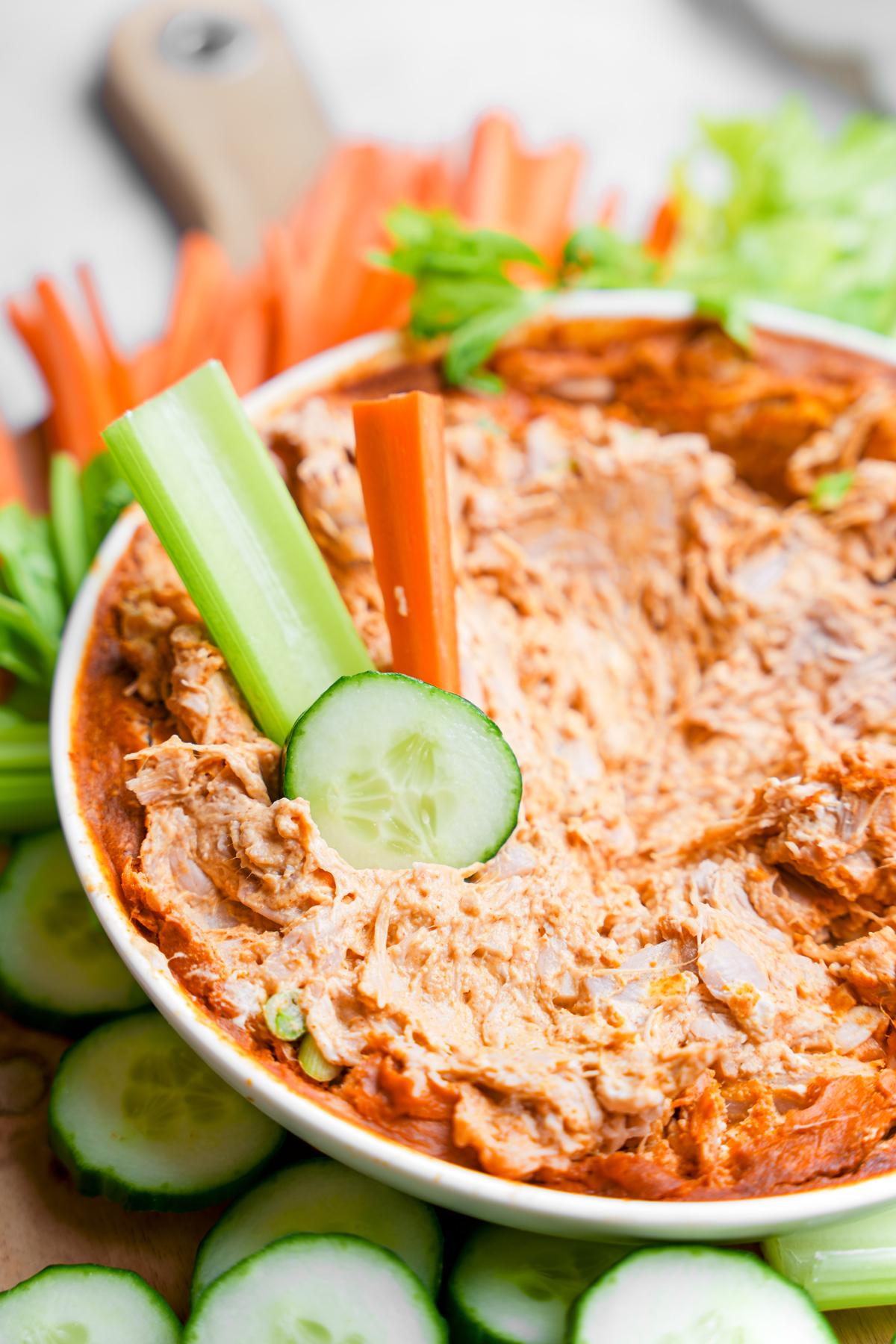 Ingredients For This Jackfruit Buffalo Dip:
For The Shredded Jackfruit And Dip:
Young Jackfruit - Young jackfruit has the perfect shredded chicken like texture. You can find young jackfruit in the canned fruit, or Asian section of most grocery stores. If you're looking for a budget friendly way to buy jackfruit, make sure to checkout the FAQ section of this blog post!
Plant Based Cream Cheese - This adds the creamy and cheesy flavor to this Jackfruit Buffalo Dip.
For The Oil-Free Buffalo Sauce:
Raw Cashew Butter - This is what replaces the butter that is used in most buffalo sauce recipes. Make sure you use raw cashew butter and not roasted, because the flavor is very different. You can use my code: "VEGAN10" for $10 off this cashew butter!
Miso Paste - Works with the cashew butter to give this dip a nice buttery taste.
Hot Sauce - Feel free to play around with the hot sauce here. I personally like to use a simple hot sauce, but you can use any fun flavors! I always opt for a low-sodium hot sauce that is free of preservatives.
Smoked Paprika - Make sure to use smoked paprika and not regular paprika. Smoked has much more flavor, and helps give this dip a more meaty flavor.
Garlic Powder - You can also use fresh garlic, but I find it much easier to just use garlic powder.
Onion Powder - Same thing with fresh onions, you can use fresh for added texture, but I think onion powder works best.
Cayenne Pepper (Optional) - If you want to make this dip extra spicy, add extra cayenne pepper!
How To Make This Jackfruit Buffalo Dip:
This Jackfruit Buffalo Dip is almost too easy to make. If you don't like to cook, this recipe is for you. It doesn't require any chopping, blending, or stovetop cooking.
Begin by straining and rinsing the jackfruit. The jackfruit will be in giant clumps in the can. You will have to pull the jackfruit apart to create the shredded texture. To do this, I use my clean hands and press the jackfruit through my hands. Think of it like you are playing with wet sand and pressing it through your hands.
Once the jackfruit is shredded, set aside. Preheat oven to 400. In an oven safe bowl, add the hot sauce, cashew butter, miso paste, smoked paprika, garlic powder, and cayenne pepper together. Mix with a fork, or small whisk until smooth.
Add the shredded jackfruit to the bowl of oil-free buffalo sauce. Mix until all the jackfruit is completely covered. Add in scoops of the vegan cream cheese around the bowl. Mix lightly and place in the oven. Bake for 25-30 minutes, or until the top is browned slightly.
If you want to speed the cooking time up for this recipe, you can also cook it in an air-fryer for about 15 minutes. You will just have to make sure you have a small enough oven safe bowl to cook it in. I made mine in the oven using these bowls.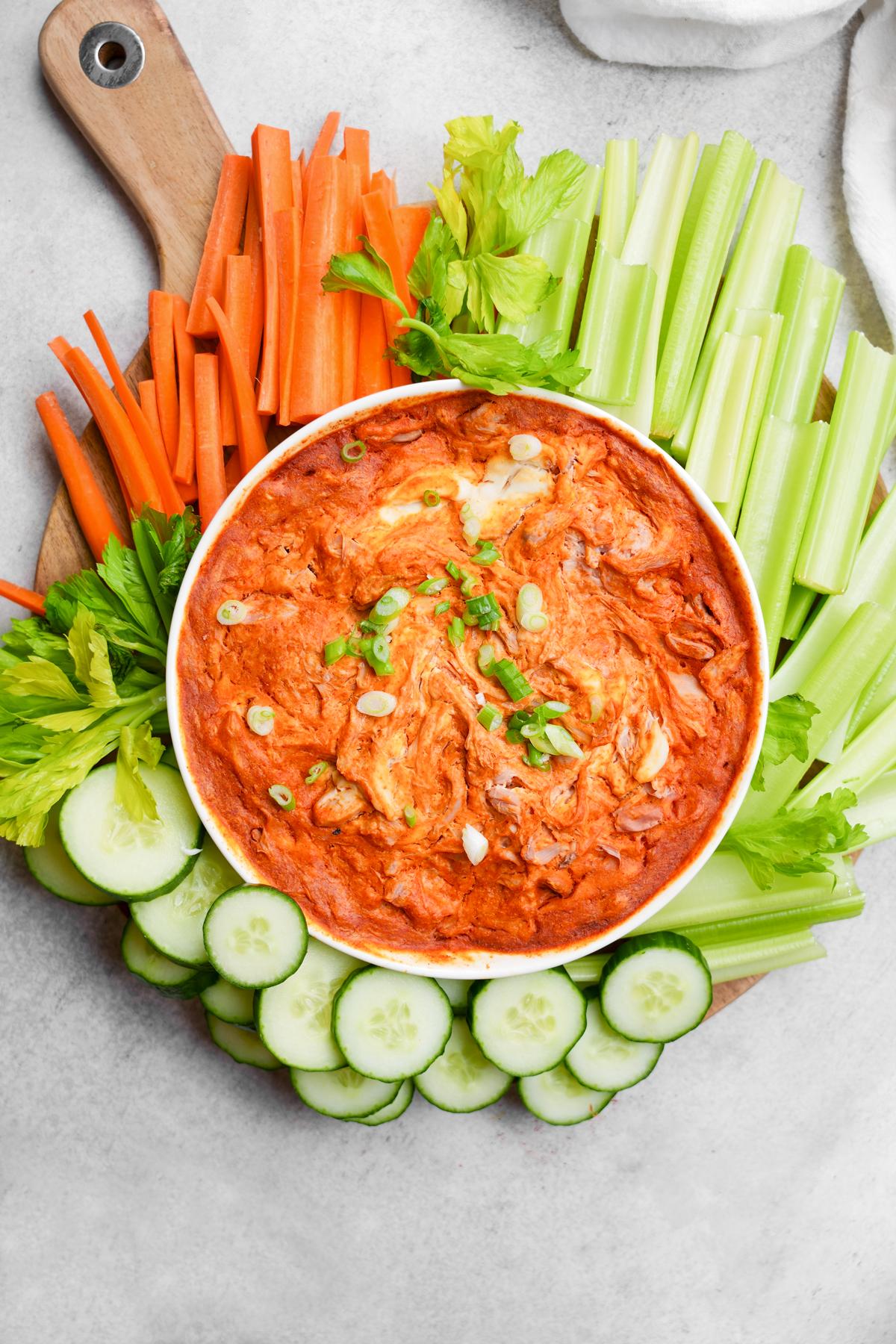 Frequently Asked Questions:
Is Buffalo Sauce Vegan?
If you don't like cooking, but want to make buffalo recipes at home, I wouldn't advise purchasing pre-made buffalo sauce. The majority of buffalo sauces out there are made with butter, highly processed oils, and artificial flavorings.
Therefore these sauces are not only made with animal products, but also super processed ingredients. For these reasons I try and avoid them and make my own homemade natural vegan buffalo sauce.
Is Vegan Cream Cheese Whole Foods Plant Based?
One of the most important things to look for when making this Jackfruit Buffalo Dip is a whole foods plant based cream cheese. There are plenty of unhealthy vegan cream cheeses out there, but there are also plenty of healthy ones too!
My go-to vegan cream cheese is from the brand Kite Hill. This product is truly amazing, it is creamy, slightly tangy, oil-free, and made with simple and real ingredients. You can find it at most grocery stores. I haven't made this dip using any other brands of vegan cream cheese, so I can not guarantee that all will turn out perfectly. Thankfully this is a forgiving recipe, so it should turn out delicious regardless of the brand you choose.
I would avoid using the Miyokos brand, because I find that it is way too tangy and grainy.
Is Jackfruit Budget-Friendly?
If you're looking for budget friendly vegan recipes, jackfruit may not immediately come to mind. Typically young jackfruit can be quite pricy. If you are looking for it in stores it's about $4-5 per 14oz can.
Recently I accidentally discovered the most affordable way to buy young jackfruit. I ordered a 6.1lb can of organic young jackfruit for $8! I feel like I don't even need to explain the math, but that comes out to $0.01 per ounce, whereas regular sized cans are $0.36 per ounce.
It is an insane amount of jackfruit, so if you don't eat jackfruit often this may not be right for you. However you can easily freeze any leftover jackfruit that you have in an air tight container. Whenever you're ready to use it, simply defrost and you're good to go!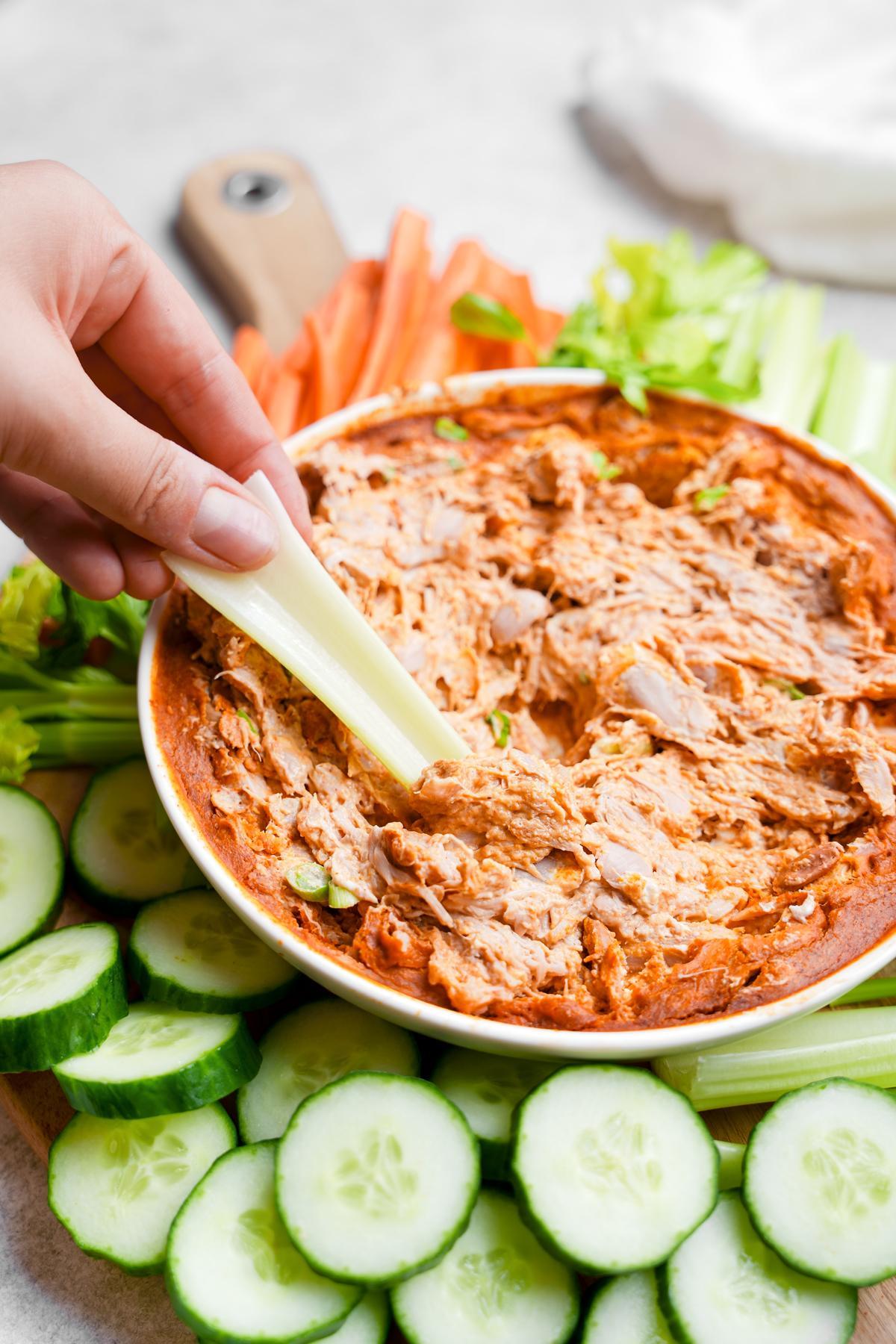 Related Natural Vegan Buffalo Recipes:
Jackfruit Buffalo Dip
This creamy and spicy jackfruit buffalo dip is the perfect vegan appetizer for any event! It's super easy to make, and uses only whole foods plant based ingredients. This recipe is vegan, oil-free, gluten-free, and refined sugar-free!
Ingredients
For The Jackfruit Buffalo Dip:
2 ½

cups

young jackfruit

2 cans will work perfectly

8

oz

vegan cream cheese

Kite Hill is the best WFPB option!
For The Oil-Free Buffalo Sauce:
Toppings/Extras:
1

green onion

2

cucumbers

1

stalk

celery

5

carrots
Instructions
Begin by preheating your oven to 425.

While the oven is preheating, strain and rinse the jackfruit. Next, pull it apart with your hands until it resembles shredded chicken.

In the oven safe bowl combine the cashew butter, hot sauce, miso paste, garlic powder, onion powder, and smoked paprika together. Mix until smooth.

Add the jackfruit to the bowl and mix until covered evenly. Add dollops of the cream cheese randomly around the bowl and mix in. I like to leave a couple chunks of cream cheese around the bowl.

Place in the oven and bake for 30 minutes.

While the dip is cooking, prepare your vegetables for dipping.

After 30 minutes, remove the dip from the oven, allow to cool slightly, and top with green onions. Serve and enjoy!