This creamy and spicy jackfruit buffalo dip is the perfect vegan appetizer for any event! It's super easy to make, and uses only whole foods plant based ingredients. This recipe is vegan, oil-free, gluten-free, and refined sugar-free!
This Jackfruit Buffalo Dip is the perfect vegan buffalo dip for a summer cookout, game day, or whatever your next party may be. This vegan appetizer is great for your non-vegan friends because it tastes and feels just like chicken buffalo dip, and yet it's 100% vegan!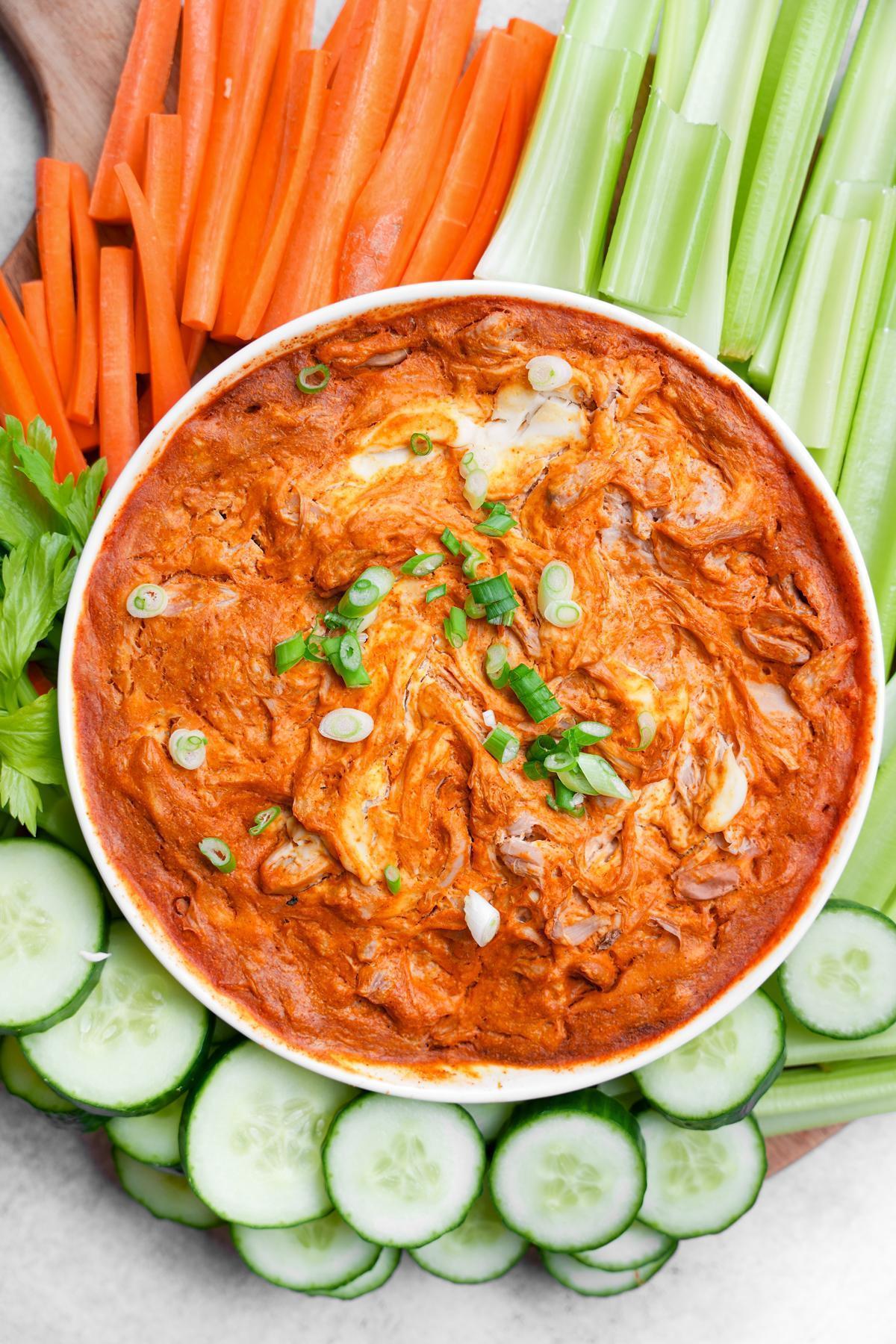 After making my Buffalo Pulled Jackfruit Burger and quickly realizing how delicious buffalo jackfruit is, I knew it was time to recreate this classic using healthy and simple ingredients.
As an Amazon Associate, I earn from qualifying purchases.
This recipe features several affiliate links, meaning I will earn a small commission if you purchase through these links.
Jump to:
What Makes This Buffalo Jackfruit Dip Healthy:
This vegan buffalo jackfruit dip recipe is incredibly delicious. However, it is also super nutritious - a dream come true! This dip is:
High Fiber - The base of this recipe is young jackfruit. Young jackfruit is an incredibly high-fiber fruit that makes for the perfect chicken substitute since it has the texture of chicken. Since this is a plant-based recipe, every ingredient contains some fiber. When you bring them all together you end up with a high-fiber buffalo dip!
Whole Foods Plant Based - This creamy dip is made with clean ingredients and is free of all the unhealthy ingredients typically found in buffalo chicken dip. It's important to make sure you use vegan cream cheese that's made with real food ingredients.
Vegan/Vegetarian - Shredded jackfruit is my go-to plant-based meat substitute. It has the texture of shredded chicken, it is unprocessed, and it is low calorie!
Oil-free - Unlike most vegan buffalo chicken dip recipes, this dip is completely oil-free.
Gluten-free - This recipe is free of all grains and gluten.
Paleo - Since this recipe is dairy-free and grain-free, it is also paleo!
Refined Sugar-free - Make sure to choose a whole foods plant-based hot sauce that doesn't have any added sugar to it. It is super easy to achieve the classic buffalo flavor without the added sugar.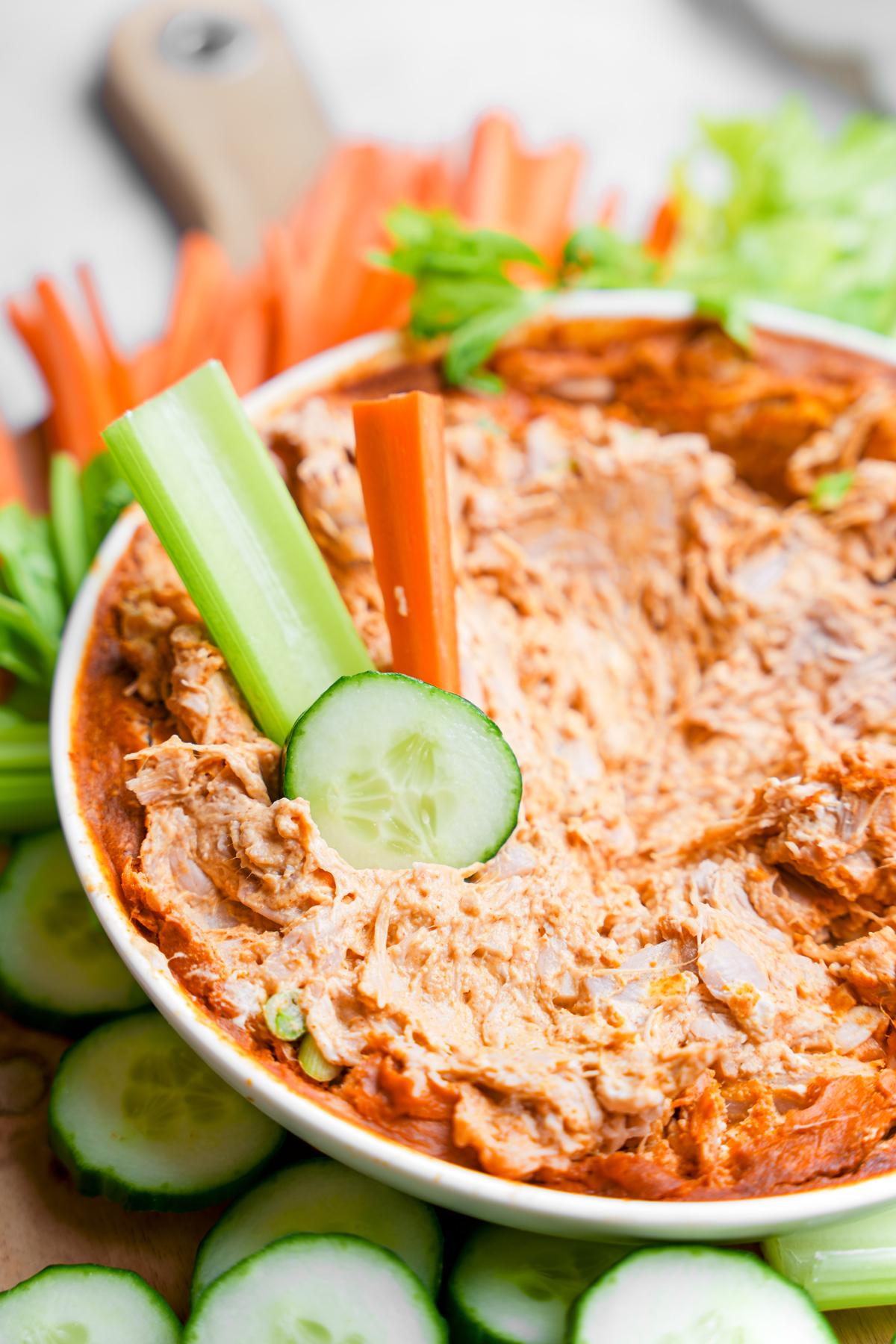 Ingredients For This Jackfruit Buffalo Dip:
For The Shredded Jackfruit And Dip:
Young Green Jackfruit - Young shredded jackfruit has the perfect shredded chicken-like texture. You can find young jackfruit in the canned fruit, or Asian section of your local grocery store (I know Trader Joe's always carries it), or at your local Asian supermarket. It can be pricy, therefore if you make jackfruit recipes often I recommend buying it in bulk (I've linked what I buy).
Vegan Cream Cheese - This is important to achieve the creamy base of this dip as well as add cheesy flavor. Make sure to use a clean ingredient vegan cream cheese. I recommend the Kite Hill brand.
For The Vegan Buffalo Sauce:
Raw Cashew Butter - This is what replaces the vegan butter that is used in most vegan buffalo sauce recipes. Make sure to use raw cashew butter and not roasted because the flavor is very different. I always buy mine in bulk, and you can use my code: "NATURALVEGAN" for $10 off this cashew butter!
Miso Paste - Works with raw cashew butter to give this vegan jackfruit buffalo dip a nice buttery taste.
Hot Sauce - Feel free to play around with the hot sauce here. I personally like to use a simple cayenne pepper-based hot sauce, but you can use any fun flavors! I always opt for a low-sodium hot sauce that is free of preservatives.
Smoked Paprika - Make sure to use smoked paprika and not regular paprika. Smoked has much more flavor and helps give this dip a more savory flavor.
Garlic Powder - You can also use fresh garlic, but I find it much easier to just use garlic powder.
Onion Powder - Same thing with fresh onions, you can use fresh for added texture, but I think onion powder works best.
Nutritional Yeast - This is my favorite way to add cheesy flavor without actually using vegan cheese. It's low calorie, full of vitamins and minerals, and is high in protein!
Cayenne Pepper (Optional) - If you want to make this dip extra spicy, add extra cayenne pepper!
Toppings And What To Serve With:
Green Onions - Add the perfect flavor and added texture on top.
Celery - One of my all-time favorite vegetables for dipping.
Carrots - Another great low calorie vegetable for dipping.
Pretzels - You can use regular, or gluten-free pretzels. I recommend looking at the labels and finding the least processed pretzels.
See the recipe card for quantities.
How To Make This Jackfruit Buffalo Dip:
This Jackfruit Buffalo Dip is almost too easy to make. If you don't like to cook, this recipe is for you. It doesn't require any chopping, blending, or stovetop cooking.
Begin by straining and rinsing the can of jackfruit. The jackfruit will be in giant clumps in the can. You will have to pull the jackfruit apart to create the shredded chicken texture.
To do this, I use my clean hands and press the jackfruit through my hands. Think of it like you are playing with wet sand and pressing it through your hands.
Once the jackfruit is shredded, set aside.
Preheat oven to 400. In an oven-safe large bowl, add the rest of the ingredients together. Mix with a fork, or small whisk until smooth. 
Add the shredded jackfruit to the bowl of vegan buffalo sauce. Mix until all the shredded jackfruit is completely covered. Add scoops of the vegan cream cheese around the bowl. Mix lightly so that some chunks still remain and place in the oven. Bake for 25-30 minutes, or until the top is browned slightly.
Serve with fresh vegetables, pretzels, or tortilla chips.
Hint: You can also air-fry this dip if your bowl is small enough. I recommend air frying for 15-20 minutes at 390.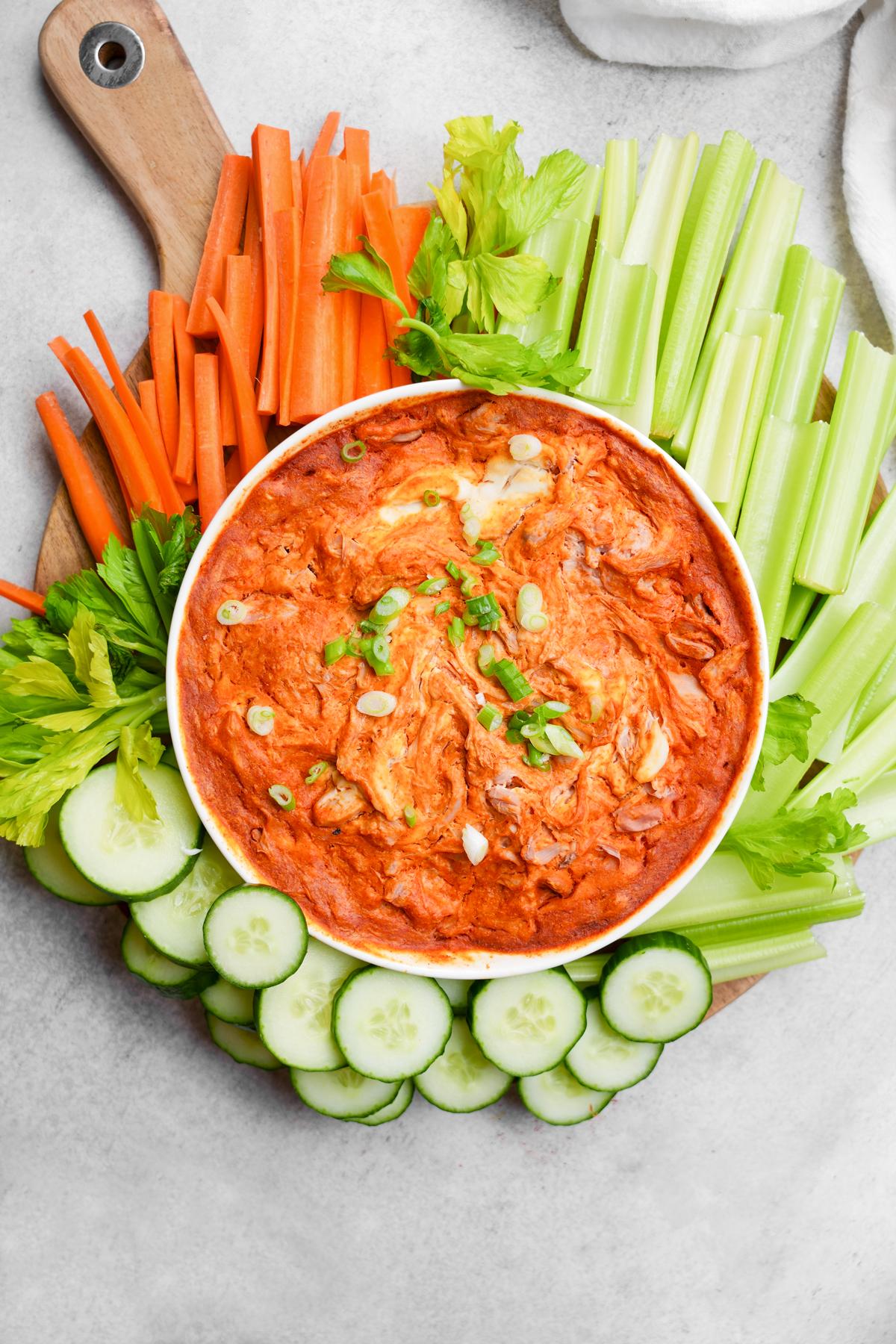 Substitutions:
There are a handful of easy substitutions that can be made to this Buffalo Jackfruit Dip.
Nut-Free - if you need to make this recipe nut-free, you can use Sunbutter as a 1:1 substitute for raw cashew butter. You will also need to look for a soy-based vegan cream cheese.
Jackfruit - Although jackfruit is the featured ingredient in this vegan buffalo dip recipe, it can be substituted with mashed chickpeas. Simply use two cans that have been strained and rinsed.
Jackfruit Buffalo Dip Variations:
Cheesy - Add a handful of your favorite vegan cheddar cheese to this dip for the ultimate flavor combination.
Spicy - Kick the spice up by using an extra hot sauce and red pepper flakes.
How To Store This Jackfruit Buffalo Dip:
This Jackfruit Buffalo Dip is great because it's so easy to prep and store.
If you are planning on making this the day before serving, I recommend storing it in the dish you plan on baking it in and covering it with foil.
If you are saving the leftovers, I recommend storing them in an airtight container. When stored properly it can last for a full week in the fridge.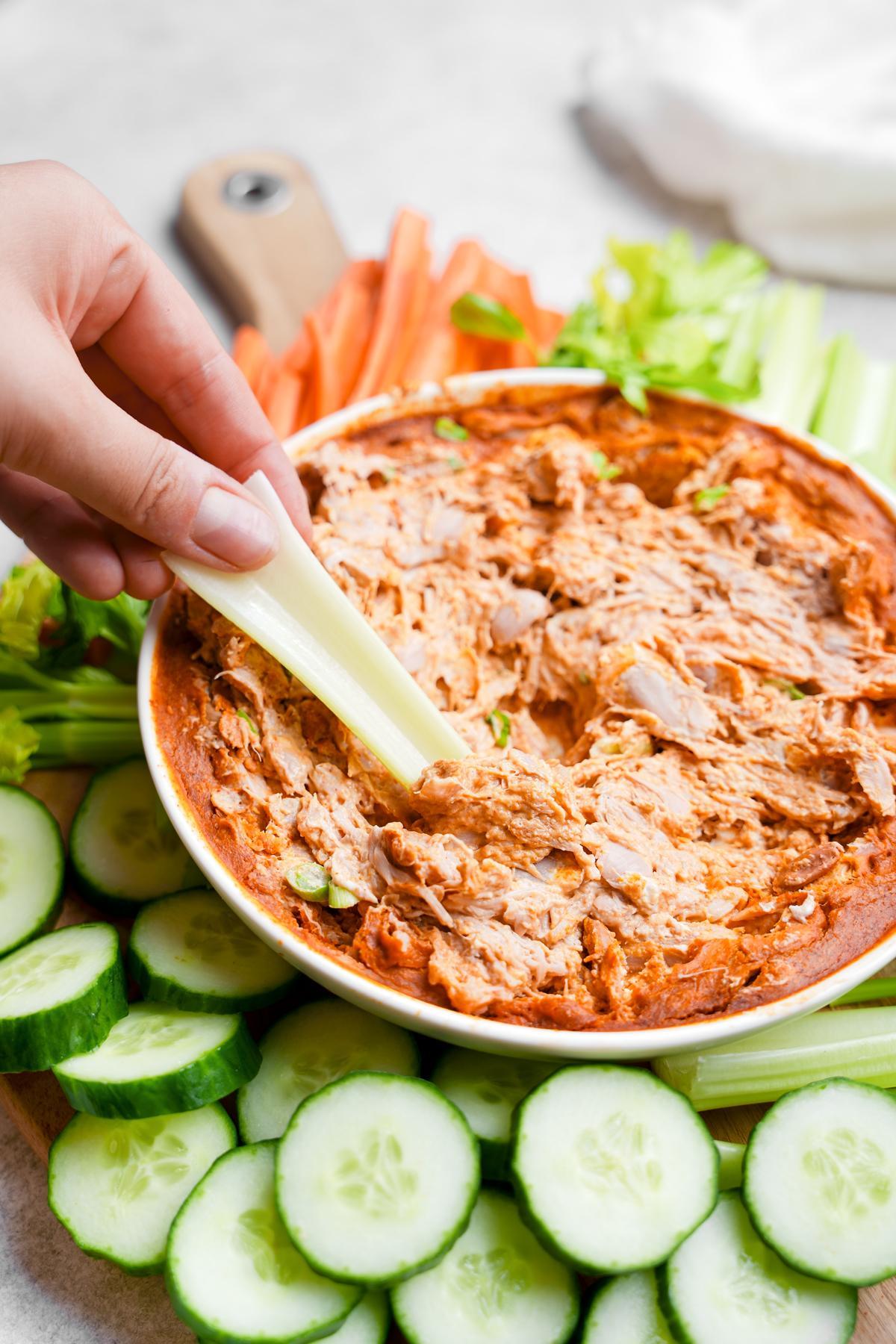 Frequently Asked Questions:
What Is Jackfruit?
Jackfruit is the world's largest fruit. It produces giant bumpy fruits that have a bunch of super sweet yellow pouches inside when ripe. Jackfruit is one of my all-time favorite fruits. However ripe jackfruit is not the jackfruit that is used as a meat replacement. Young Jackfruit is the version of jackfruit that is used as a meat replacement. It is essentially just under-ripe jackfruit.
Young jackfruit has the texture of meat and it has a pretty neutral taste, which makes it a great replacement for shredded chicken.
Is Buffalo Sauce Vegan?
If you don't like cooking but want to make buffalo recipes at home, I wouldn't advise purchasing pre-made buffalo sauce. The majority of buffalo sauces out there are made with butter, highly processed oils, and artificial flavorings.
Therefore these sauces are not only made with animal products but also super processed ingredients. For these reasons, I try and avoid them and make my own homemade natural vegan buffalo sauce.
Related Vegan Buffalo Recipes:
Looking for other vegan recipes like this Jackfruit Buffalo Dip? Try these:
Jackfruit Buffalo Dip
This creamy and spicy jackfruit buffalo dip is the perfect vegan appetizer for any event! It's super easy to make, and uses only whole foods plant based ingredients. This recipe is vegan, oil-free, gluten-free, and refined sugar-free!
Ingredients
For The Jackfruit Buffalo Dip:
2 ½

cups

young jackfruit

2 cans will work perfectly

8

oz

vegan cream cheese

Kite Hill is the best WFPB option!
For The Oil-Free Buffalo Sauce:
Toppings/Extras:
1

green onion

2

cucumbers

1

stalk

celery

5

carrots
Instructions
Begin by preheating your oven to 425.

While the oven is preheating, strain and rinse the jackfruit. Next, pull it apart with your hands until it resembles shredded chicken.

In the oven safe bowl combine the cashew butter, hot sauce, miso paste, garlic powder, onion powder, and smoked paprika together. Mix until smooth.

Add the jackfruit to the bowl and mix until covered evenly. Add dollops of the cream cheese randomly around the bowl and mix in. I like to leave a couple chunks of cream cheese around the bowl.

Place in the oven and bake for 30 minutes.

While the dip is cooking, prepare your vegetables for dipping.

After 30 minutes, remove the dip from the oven, allow to cool slightly, and top with green onions. Serve and enjoy!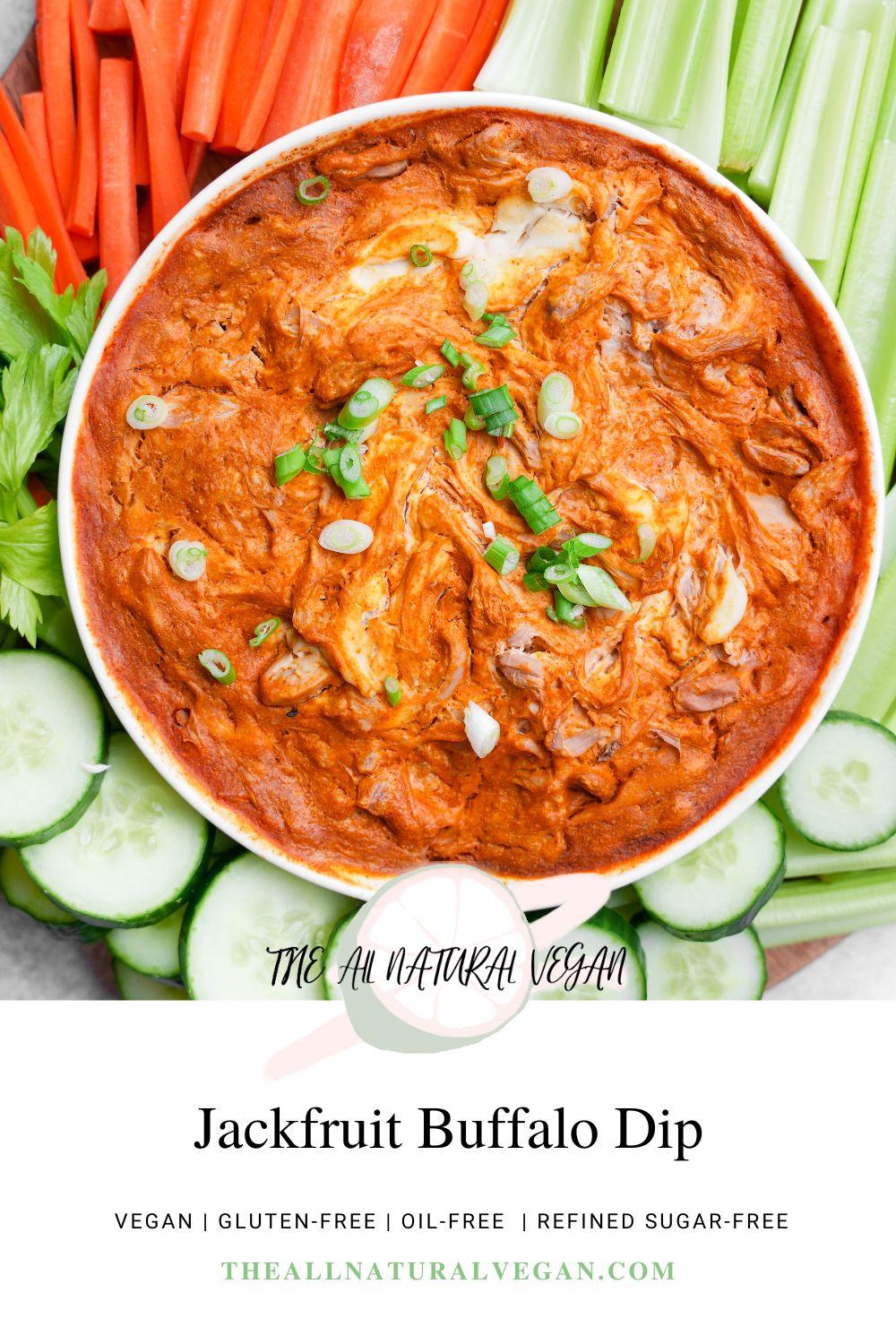 More Vegan Recipes:
Looking for more vegan recipes and plant-based cooking? Try some of my favorite recipes: