This natural sunflower seed milk recipe is my go-to homemade plant based milk. It's creamy, delicious, and super affordable! It's the perfect seed milk for coffee, baking, smoothies, you name it! This recipe is: vegan, oil-free, gluten-free, and refined sugar-free!

I am so excited to share today's Sunflower Seed Milk recipe with you guys! I've been attempting This simple homemade plant based milk recipe is my everyday go-to. It's creamy, smooth, and super affordable to make!
How Does Nutr Make Homemade Plant Milk?
This recipe uses the Nutr Machine to make homemade plant based milk using minimal ingredients. How does it do that? It blends the nuts/seeds/grains into a fine pulp that you can either strain out, or enjoy the extra nutrients.
You may be wondering if the Nutr just blends the ingredients, why not use a blender? There are a couple reasons I prefer the Nutr over a blender (and I have a Vitamix). First, there are different temperature settings you can use with the Nutr. This makes it super easy to make fresh warm frothed plant based milk all at once.
The second reason I like the Nutr is because it is single serve. Now, this may not be for everyone. If you have a large family that you're making homemade plant based milk for, the Nutr probably isn't for you. However if you're like me and you live alone, or it's just you and one other person, I would definetly recommend it.
Homemade nut and seed milks like this Sunflower Seed Milk do not store super well for long periods of time (they will keep, but the flavor and texture definitely changes). That's why I love how easy it is to make fresh milk everyday. This leads me to my next point.
Last, but not least, it's easy to clean! I hate doing the dishes, so if I say it's easy to clean, you know it's easy to clean. I just rinse out the machine immediately after pouring, then throw the top and strainer in the dishwasher and I am good to go!
Overall I have been a huge fan of the Nutr machine over the past few months. I have completely stopped buying plant based milks from the store (which has saved me about $10 every week). Therefore I have stopped consuming all the gross fillers and additives they add to processed plant based milks, and it feels amazing.
What I Don't Like:
I want to be completely honest and genuine with you guys about this machine. I do love it for so many reasons, however nothing is perfect. My biggest issue with the Nutr machine is how loud it is. Any machine like a blender, juicer, food processor, etc. is going to be loud. However the Nutr has a high pitch noise that is not the most pleasant sound in the morning. This could be a serious problem if you have children sleeping, or are on a different sleep schedule than others, etc.
The second thing I don't like is the strainer that comes with the machine. Personally I don't think it works well at all. However this is an easy fix. Any mesh strainer works great, there is no need for nut milk bags.
Aside from that I love the machine. These are honestly very minor annoyances. I definitely think it's worth putting up with them for all the benefits the machine provides, and the money it saves.
I want to be fully transparent, and let you guys know that I did receive the Nutr from the company, and do have an affiliate discount code: "TANV10″ for $10 off. However I absolutely do use it everyday, and 100% believe it is worth it if you are just making it for yourself, or maybe you and one other person.
ingredients for this sunflower seed milk:
Raw Sunflower Seeds – It's crucial that you buy organic, raw sunflower seeds, and not roasted/salted. Raw sunflower seeds are full of nutrients and are not inflammatory like sunflower oil is. I like to buy my sunflower seeds in bulk online, because it is so much more affordable!
Medjool Date(s) – This is completely optional. If you prefer your milk on the sweeter side this will provide the perfect natural sweetness. Any date variety will work, but I personally love the taste medjool dates give this homemade plant based milk. I also encourage you to buy dates in bulk, because they are very affordable when bought in bulk.
Vanilla Extract or Vanilla Beans – Another completely optional ingredient. This recipe does have a strong sunflower seed taste, so if you're not a huge fan of the taste of sunflower seeds, I would recommend adding some vanilla. If you want this recipe to be completely raw vegan, then I would recommend using vanilla bean powder (fresh vanilla beans). I always get mine from Wilderness Poets! ("VEGAN10" for $10 off!).
Himalayan Pink Salt – You can also use sea salt, or even table salt. This really elevates the flavor and helps the sunflower seed milk to be smoother.
Filtered Water – Ensure that you are using filtered water and not tap water. Water from the tap is filled with all kinds of contaminates, so it's important to avoid those when making healthy plant based milks like this one.
How To Make this sunflower seed milk:
This Sunflower Seed Milk is extremely easy to make thanks to my Nutr machine. The Nutr makes it so easy, because all you have to do is add all the ingredients (make sure to remove the pit from the date), and set to room temperature blending.
Once the timer is up and it has finished, pour the milk through a strainer and enjoy. I personally find that the strainer that comes with the machine isn't the best, but any mesh strainer works great.
Don't throw away the pulp! There are so many things you can do with it. You can bake with it, add it to oatmeal, smoothies, etc. I like to store mine in the freezer and build it up everyday so that I can make full batches of healthy low waste treats with it.
Frequently Asked Questions:
is sunflower milk good for you?
It is amazing that so many people have made the switch from dairy to non-dairy milks. That is already a giant step in the right direction. However as you begin to dive deeper into nutrition, you will see that store bought plant based milks are far from perfect. An improvement from dairy? Yes. Whole foods plant based? No.
Many milks contain sunflower oil which is highly processed and very unhealthy. ̛Is Sunflower Milk healthy if sunflower oil is not? Yes it is!
Sunflower Seed Milk is super healthy! It is full of vitamin E, magnesium, and selenium. These nutrients are essential for a healthy metabolism and fighting inflammation. Sunflower seed milk is also relatively low in calories. An ounce of raw sunflower seeds has about 90 calories, therefore after being blended with water and strained, it has even less. About 40 calories per serving.
Is A Nutr Machine Worth It?
The Nutr machine is definitely an investment item. However it quickly pays for itself, especially if your making budget friendly plant milks like this Sunflower Seed Milk. If you choose to invest in a Nutr, it's important to buy your nuts, seeds, and grains in bulk. It is also important to buy organic so that you can ensure that you are getting the maximum health benefits from making homemade plant based milk.
Can You Make This Recipe Without A Nutr?
If you do not have a Nutr, and do not currently have the money to spend on a Nutr machine, you can still make this recipe. I can't promise that it will come out as perfectly, but it will work. One major difference is that you will have to make a larger bath, and therefore will not be able as fresh and frothy.
To make this Sunflower Seed Milk without a Nutr machine, you will need to triple the recipe. Once you have the ingredients measured, soak the sunflower seeds and dates together in 1 cup of water overnight.
The next day add them to a high speed blender with the remaining ingredients and and an additional 2 cups of water. Blend on high for a minute and then run through a mesh strainer. Enjoy!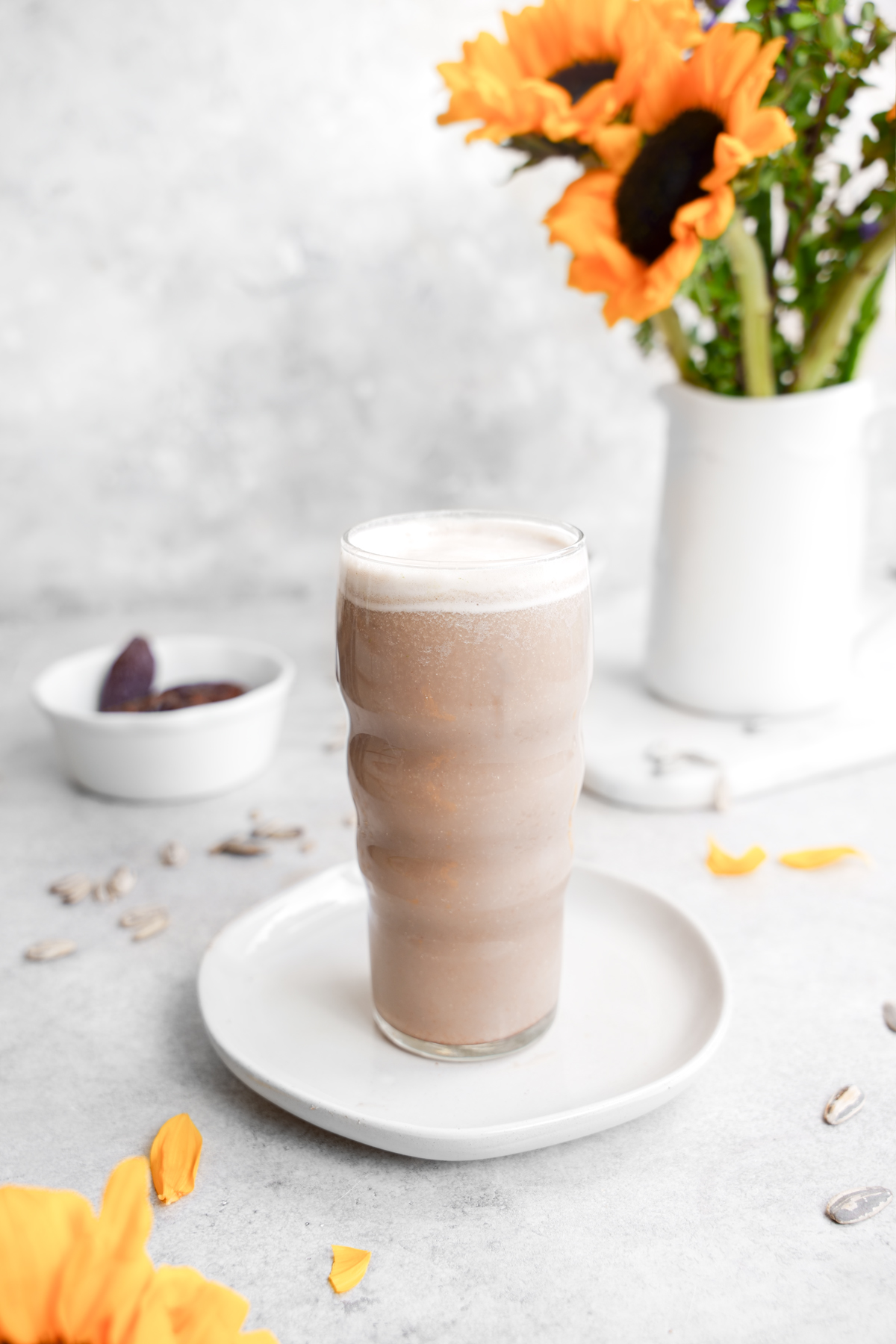 Related Recipes: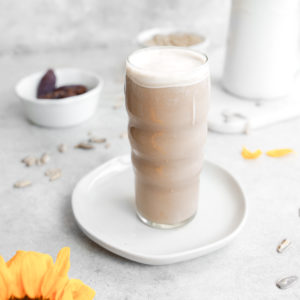 Sunflower Seed Milk
This natural sunflower seed milk recipe is my go-to homemade plant based milk. It's creamy, delicious, and super affordable! It's the perfect seed milk for coffee, baking, smoothies, you name it! This recipe is: vegan, oil-free, gluten-free, and refined sugar-free!
Instructions
Pit the date and add to the Nutr machine along with remaining ingredients. Press the room temp button and let the machine work it's magic.

Once finished, strain sunflower seed milk through a mesh strainer. Enjoy immediately!