This creamy mango overnight oats recipe is the perfect healthy breakfast for summer. This oatmeal is full of healthy ingredients and even contains a secret beauty and flavor boosting ingredient. This recipe is: vegan, gluten-free, refined sugar-free, WFPB, and oil-free.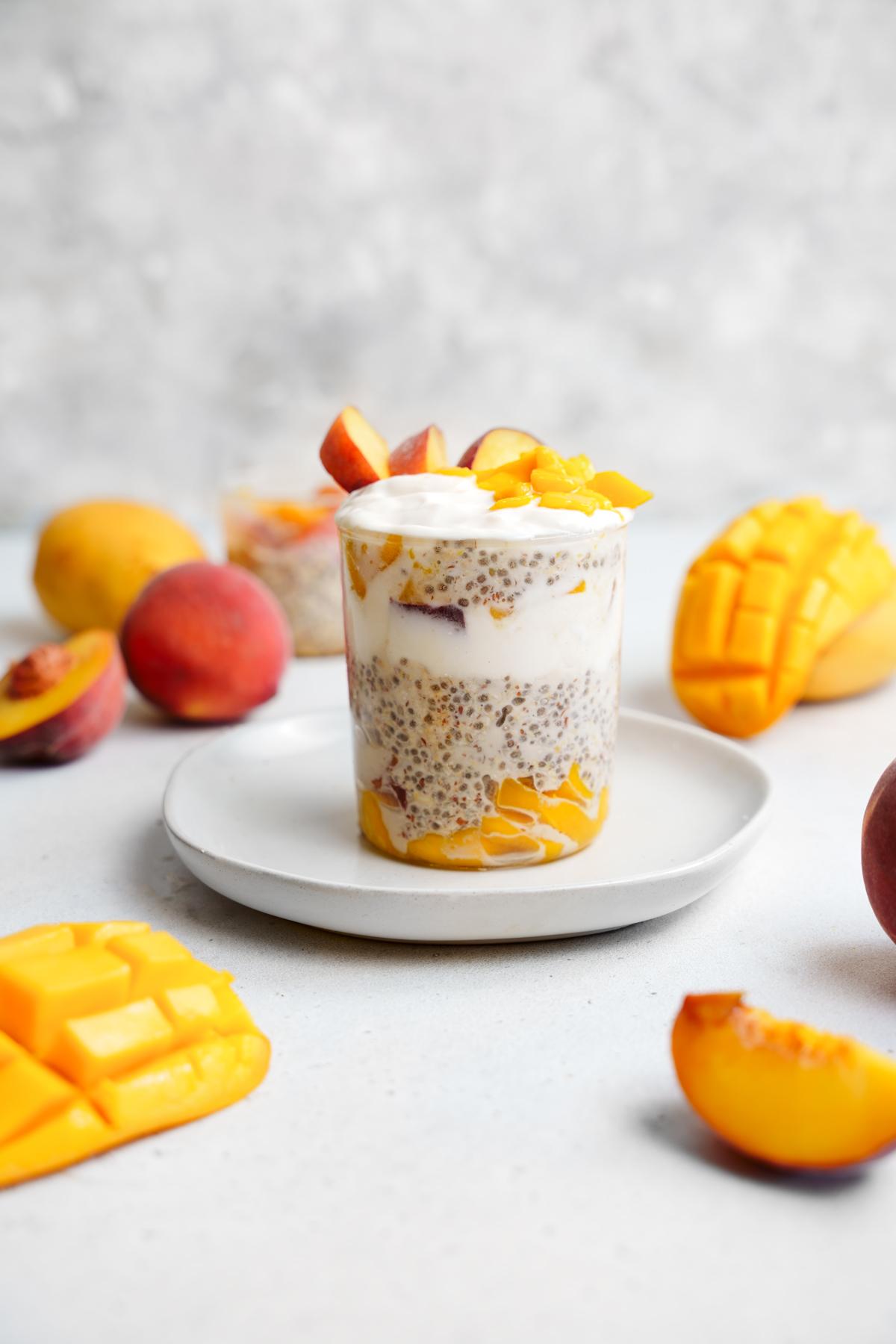 I am so excited to share today's Peach Mango Overnight Oats. This healthy Mango Oatmeal has been my new go-to easy breakfast. It's simple to make, full of flavor, high fiber, and even has a beauty boosting ingredient!
Health Benefits Of This Mango Oatmeal:
This Mango Oatmeal is the perfect healthy breakfast for summer. It is full of health and beauty promoting ingredients. If you're looking for a recipe to make you glow inside and out, this is for you! Some of the health benefits of this oatmeal recipe include:
Boost Immune System: Mangos contain about a fourth of your daily recommended intake of Vitamin A. This is an essential nutrient for a properly functioning immune system. Peaches also contain similar immune boosting vitamins and antioxidants.
Improves Skin and Hair Health: This Peach Mango Overnight Oats recipe may be the most beauty boosting recipe I have ever created. I'll dive more into why later on in this post, but for now I'll do my best to summarize. Mangos and Peaches are full of Vitamin A and C which work to promote tissue and help the body to produce more collagen. This recipe also features the PlantFusion Collagen Beauty product which is full of collagen building ingredients.
High Fiber: This recipe contains a whopping 25+ grams of fiber. Every ingredient in this recipe contains fiber. Fiber helps to promote healthy digestion, and keep you full for longer.
Improves Eye Health: Mangos contain special antioxidants that been shown to increase visual range, lessen discomfort from glare, enhance visual contrast, and reduce the time it takes the eyes to recover from the stress of bright lights.
May Protect Skin: Studies show that peaches may have the ability to improve the skins ability to retain moisture, prevent UV damage, and delay the development of skin tumors
This Peach mango Overnight oats recipe is also free of all the bad stuff! This recipe is:
Vegan
Whole Foods Plant Based
Oil-free
Refined Sugar-Free
Gluten-Free
Dairy-Free
Why I Add Plant Based Collagen To My Overnight Oats
This Mango Overnight Oats recipe is packed full of beauty boosting ingredients. Peaches, Mangos, and Chia Seeds are all already great foods to incorporate into your diet if you are looking to eat for beauty. However if you want to step up your beauty foods even more, consider adding PlantFusion Plant Based Collagen to your routine.
First things first, let me address the elephant in the room. Animal based collagen vs. Plant based collagen, what's the difference? In my opinion it simply just doesn't make sense to me to look for an ingredient to make you look younger in dead animals.
Animal based collagen is the collagen taken from animals and hydrolyzed. Most collagen you see in stores is animal based. Plant based collagen is actually not collagen, since collagen is not present in plants. You may be wondering why anyone would buy this.
The fact that collagen is not actually present in plant based collagen is actually why I recommend buying plant based collagen. Instead of trying to consume collagen which your body has a hard time processing, plant based collagen supports your body to produce more collagen naturally.
My Favorite Plant Based Collagen:
If I have sparked your interest in plant based collagen, allow me to introduce my vegan collagen oof choice: PlantFusion Collagen Beauty. PlantFusion's vegan collagen has clinically tested ingredients that increase skin smoothness, elasticity, and hydration.
PlantFusion states this supplement:
Builds Collagen Protein – protein peptides from plants, plus Saberry® amla fruit extract which stimulates the collagen and elastin building cells in the skin and joints.
Hydrate Skin & Joints – with plant-based oils called "ceramides". Ceramides make up the oils that keep the natural collagen in your skin looking fresh and vibrant.
Protect Natural Collagen – plant-based extracts of white tea and hyaluronic acid protect natural collagen in your skin from toxins and harmful rays from the sun.
Clean Certified Collagen – zero sugar, gluten free, plant-based collagen supplement. Both vegan and Non-GMO certified collagen. Completely clean and free from major allergens, artificial flavors and colors.
Not only is this supplement loaded with wholesome clean ingredients, but it's also delicious! I used the peach mango for this Mango Overnight Oats recipes. However they also have a strawberry lemonade and a watermelon flavor.
If you're interested in trying PlantFusion collagen, you can use my code: "NATURALVEGAN" for 25% off!

Ingredients For This Peach Mango Overnight Oatmeal:
Dry Ingredients:
Gluten-free Oats - You can use rolled oats, or quick oats. I personally prefer to use rolled outs for my overnight oatmeal recipes.
Chia Seeds - Chia seeds had fiber and bulk to this recipe. I like adding extra water to my oats whenever I use chia seeds. This helps me end up with a higher volume food with the same amount of calories.
Ground Flaxseeds - Flaxseeds work a lot like chia seeds for this mango oatmeal recipe. If you don't like chia seeds, you can double the flaxseeds to fill their place.
PlantFusion Peach Mango Collagen Beauty - Use code: "NATURALVEGAN" for 25% off!
Wet Ingredients:
Plant Based Milk - You can use any plant based milk for this recipe, I went with coconut milk. I find that coconut complements mango the best of any of the milks.
Vanilla Extract - I always opt for Mexican vanilla when possible. It's more expensive, but the flavor is so worth it.
Peaches - If you don't like the skin, you can peal them. However if you want the healthiest oatmeal, I recommend leaving it on.
Mango - You can use any variety of mango. I recommend using the honey mangos (golden mangos), they have a much sweeter taste.
Coconut Yogurt - You can use any plant based yogurt, but I think coconut yogurt works the best for this recipe!
How To Make These Peach Mango Overnight Oats:
Making these Peach Mango overnight Oats is super easy. Begin by combining the dry ingredients together in a bowl. Add in the coconut milk and vanilla extract and stir until combined. Place in the fridge to soak overnight.
The next day assemble the oatmeal by layering the mango oatmeal, then fresh diced mango and peaches, then coconut yogurt. Repeat and top with more fresh mangos and peaches. Serve and enjoy!
Frequently Asked Questions:
Is Overnight Oats And Fruit Healthy?
Adding fruit to your oatmeal is actually one of the best things you can do to increase the nutrition of the oatmeal. The vitamin C in the fruit (in this case the mangos and peaches) helps your body too absorb the iron in the oatmeal.
Therefore you should not only not be afraid of the sugar in the fruit, but you should be adding it to your oatmeal to get the most out of it!
How Long Should Overnight Oats Sit?
Even though "overnight" is in the title for overnight oats, they don't actually have to sit overnight. For example these Peach Mango Overnight Oats have actually been one of my favorite things to eat for dessert throughout the week. Overnight oats really only have to sit for about 2 hours before they're ready to go.
However you can definitely have oats sit for too long. I wouldn't recommend prepping more than 2 days worth of oats at a time. If left in the fridge for too long they can become hard and tough. However if this does happen to you, do not throw them away. You can bring them back to life with a little bit of plant milk. Simply add it to the oats and mix. You'll want to let them sit for about 30 minutes, before enjoying!
I also wouldn't recommend soaking the mango in oatmeal. I suggest topping the oats with fresh mangos the next day/morning. This will keep the oats from becoming mushy and soggy.
What Variety Of Mango Is Best For Mango Oatmeal?
If you don't regularly consume mangos, or put mango in oatmeal you may not know which mango tastes the best. Most grocery stores carry two types of mangos: classic mangos, and honey mangos (or yellow/golden mangos). In my opinion the honey mangos have a significantly better taste. They're super sweet and don't have the slightly pine taste that classic mangos have. It's important that you eat them when they're super ripe (golden in color and slightly soft to touch).
I also doo not recommend using frozen mango, or frozen peaches for this Peach Mango Overnight Oatmeal. Frozen peaches and mangos do not have nearly as sweet of a texture as their fresh counterparts. The texture also causes the oatmeal to taste mushy, and nobody wants that!
Related Oatmeal Recipes:
Peach Mango Overnight Oats
This creamy mango overnight oats recipe is the perfect healthy breakfast for summer. This oatmeal is full of healthy ingredients and even contains a secret beauty and flavor boosting ingredient. This recipe is: vegan, gluten-free, refined sugar-free, WFPB, and oil-free.
Ingredients
Wet Ingredients:
½

teaspoon

vanilla extract

1

cup

plant based milk

I used coconut

½

cup

coconut yogurt

1

mango

1

peach
Instructions
Begin by combining all your dry ingredients together in a small bowl and mix. Add the plant based milk and vanilla extract and mix until smooth.

Place in the fridge for at least 2 hours, or overnight.

The next day, dice the mango and peach. Begin layering the oatmeal. Start with fresh fruit, then oatmeal, then coconut yogurt, and repeat. Enjoy!