This edamame crunch salad recipe is the perfect healthy raw vegan salad! Loaded with healthy green vegetables and an oil-free sweet peanut dressing! This Asian crunch salad recipe is: raw vegan, oil-free, refined sugar-free, and gluten-free!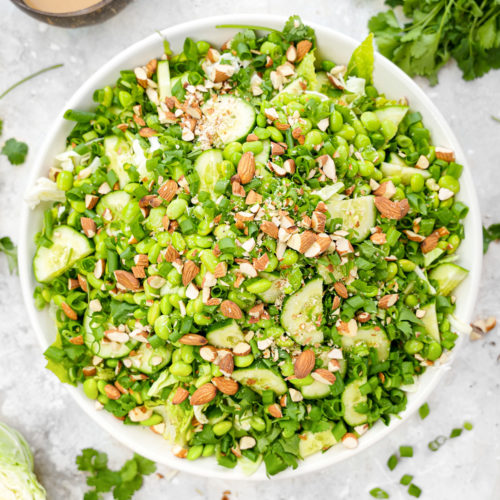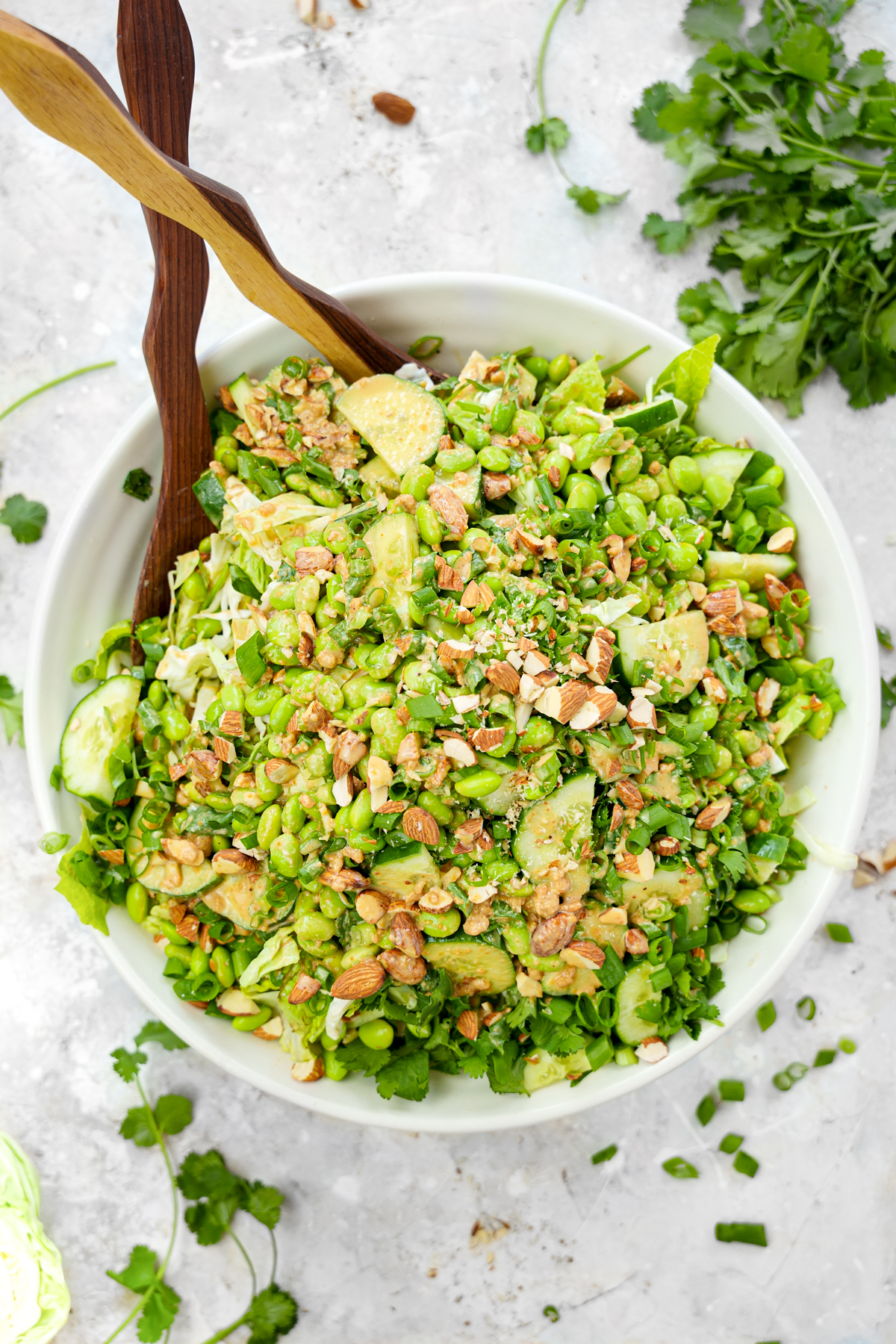 I am so excited to bring you all today's Edamame Crunch Salad recipe! This raw vegan salad is one of my all-time favorite go-to salads.
It's the perfect healthy vegan salad to get you back on track without feeling like you're eating glass clippings. This green salad is packed full of superfoods and plant based protein for the ultimate complete meal!
How To Make The Best Raw Vegan Salad Recipes:
Recently I have been super focused on creating more raw vegan salad recipes such as this edamame crunch salad. There's a variety of reasons I have been focused on this, which I'll discuss later in this blog post.
I have been vegan for almost four years, and I think I can confidently say that I know how to make whole foods plant based vegan recipes (you would hope haha!). However raw vegan recipes is a bit different. I personally know that I will never be a fully raw vegan, because I don't think it's necessary, and I love cooked food too much.
However I do believe that everyone should try to include more raw vegan meals into their diets. You may already include raw vegan recipes into your lifestyle and not even realize it. If you're interested in learning more about raw veganism, checkout Fully Raw Kristina (she is GOALS).
Today I just one focus on one aspect of fully raw veganism; and that is how to make the best raw vegan salads! Like I said I am pretty new to developing raw vegan recipes, however this edamame crunch salad is a salad recipe that I have been making for years! Therefore this recipe has been perfected many times, and I truly believe it is one of the best healthy vegan salad recipes out there!
How do you make this salad taste good? That's the real question. There's a couple things I always like to keep in mind when developing a vegan salad recipe.
Those are: crunch factor, plant based protein, herbs, and dressing of course! This salad features all of these factors to create the most delicious Asian crunch salad recipe!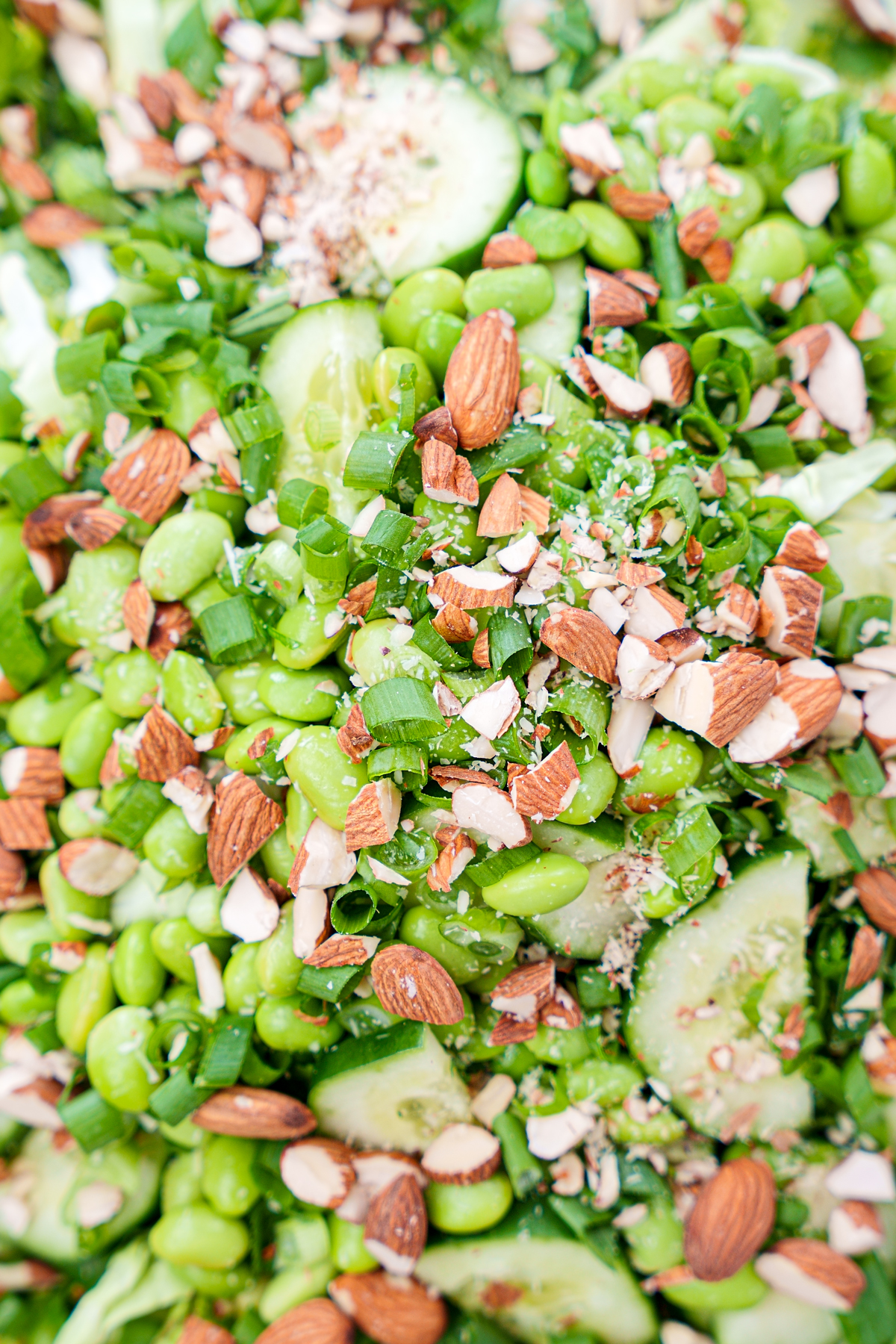 Tips For Making This Edamame Crunch Salad:
Like I previously touched on, I've made this edamame crunch salad A LOT. Over the years I've picked up on a few tips to perfect this raw vegan salad. How do you make the best Asian crunch salad recipe? Again, there's a couple factors that go into it.
First, and foremost, buy Organic. I am thinking of doing a whole post about why choosing organic is so important, but honestly that's probably a few years down the line, because I simply don't have time for that right now. I bring this up, because I have not always been an organic produce type of girl. It wasn't until this last year that I made a conscious effort.
However I can honestly say that my skin, digestion, and the overall flavor of the food has improved dramatically. I know that not everyone can afford to buy organic (heck, I can't even always), however a little is better than nothing. The goods new is that many of the vegetables in this edamame crunch salad are super affordable to purchase organic!
Second, make sure that you are finely chopping the vegetables. When I say finely, I mean FINELY! It really helps the overall enjoyment of this Asian Crunch salad recipe when the ingredients are chopped finer.
If you're not a fan of chopping, or you're in a rush to make this edamame crunch salad, you can actually purchase a majority of the ingredients pre-chopped! This is super helpful when making raw vegan salads, because it saves so much time!
Why I love making raw vegan salad recipes:
It is time to expand on why I have been focused on creating more raw vegan recipes recently. Don't worry The All Natural Vegan is not turning fully raw.
However personally I have been trying to slim down, and eat more raw produce for my overall health. Since I eat everything on this blog, you'll start to see more raw vegan recipes like this edamame crunch salad.
I also love creating raw vegan recipes, because it aligns with my mission. I want to provide an abundance of healthy recipes so that you never have to worry about food again. In this abundance of recipes, I want to be sure that there's plenty of recipes just as delicious as this Asian crunch salad for all my raw vegans out there!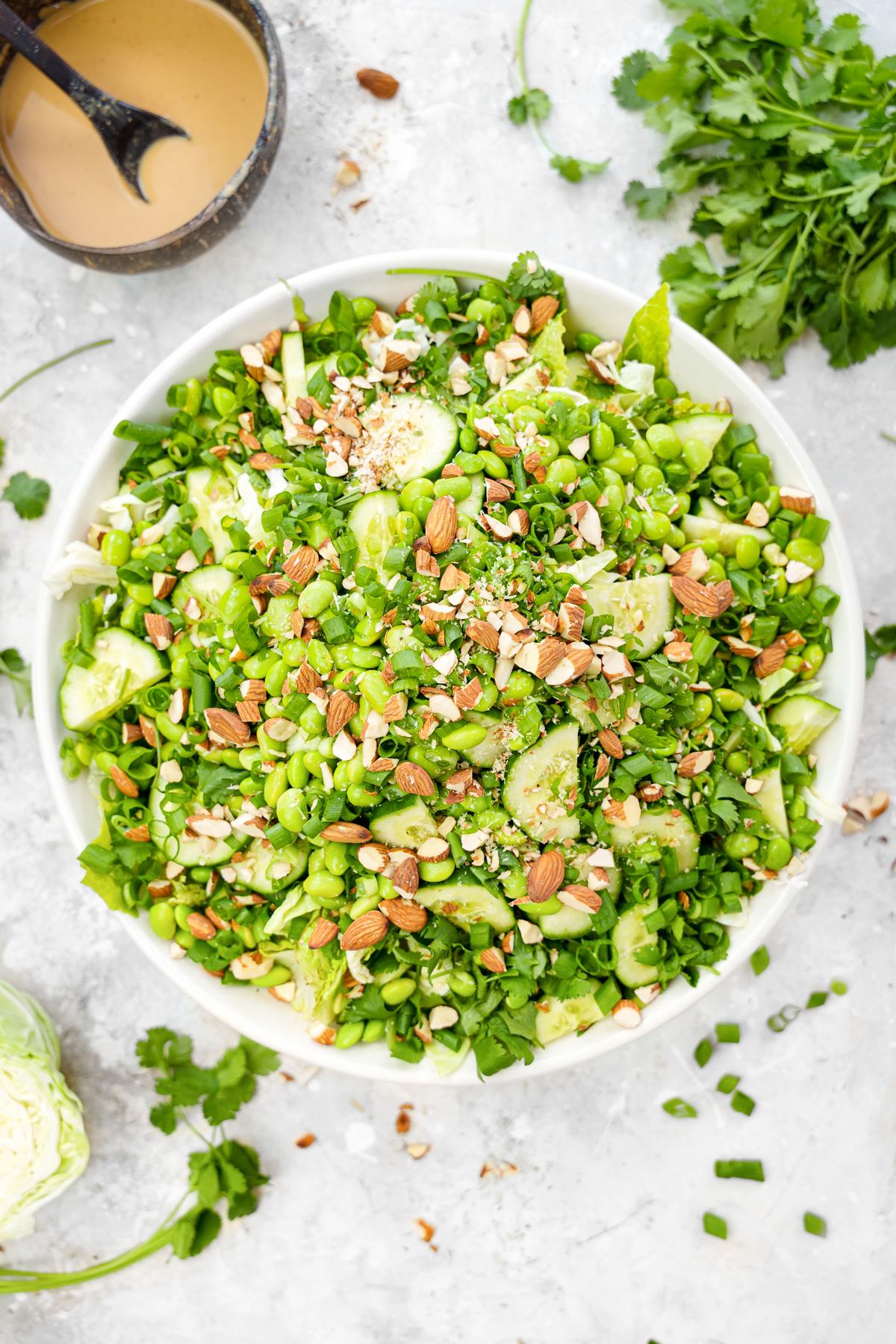 Is this Edamame Crunch Salad a good salad for weight loss?
It's Spring time as I am writing this post, and I am working to lose my "holiday weight". I am taking this very slow and steady so that I am losing weight in a healthy and sustainable way. However at the end of the day you need to be in a calorie deficit to lose weight.
I have always struggled with this, because I am a volume eater. It doesn't matter how satiating the recipe is, I will eat until it is all gone. Instead of trying to change this and force myself to be someone I am not, I decided to embrace it. How did I do that?
I started acknowledging that I need volume. Foods that are low in calorie density are the answer for me. If you're a fellow volume eater, make sure to subscribe, because lot's of my recipes are great for volume eaters.
This Asian Edamame Crunch Salad is the perfect salad recipe if you're a volume eater, because it's raw vegan. Raw vegan salads are typically lower in calories, because nothing is cooked. It's a lot easier to eat 2 cups of cooked broccoli than it is to eat 2 cups of raw broccoli.
That's why this salad is one of my go-to healthy salad recipes, because it is loaded with high volume ingredients. Don't worry you won't be starving yourself, because this raw vegan salad is loaded with protein and fiber from the edamame, almonds, and peanut dressing!
Ingredients For This Edamame Crunch Salad:
Asian Edamame Crunch Salad:
Green cabbage
Romaine
Cucumber
Cilantro
Green onions
Edamame
Almonds
Peanut Butter Dressing:
Peanut butter
Miso paste
Date syrup
Vinegar
How To Make This Asian Crunch Salad:
Making this Asian Edamame Crunch Salad recipe is very simple. First, begin by taking your edamame out to defrost if using frozen.
Next finely chop the romaine, cilantro, and cabbage. Cut the cucumbers into half moons, and slice the green onions. Add to a large bowl with the romaine, cilantro, and cabbage. Roughly chop the almonds and add to the bowl. Mix in the edamame.
Make peanut dressing by whisking all ingredients together. Pour over the salad and serve!
Related Healthy Raw Vegan Salad Recipes: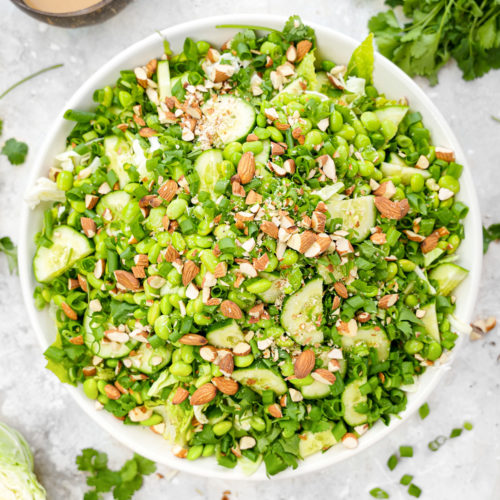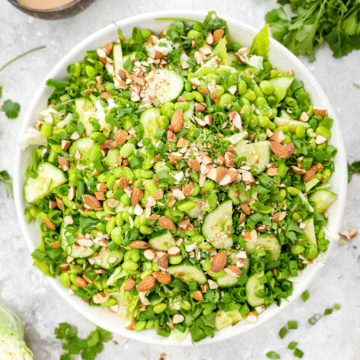 Edamame Crunch Salad
This edamame crunch salad recipe is the perfect healthy raw vegan salad! Loaded with healthy green vegetables and an oil-free sweet peanut dressing! This Asian crunch salad recipe is: raw vegan, oil-free, refined sugar-free, and gluten-free!
Ingredients
½

head

cabbage

2

heads

romaine

1-2

cucumbers

2

cups

edamame

1

bunch

cilantro

3

green onions

½

cup

almonds
Instructions
Begin by washing your produce.

Roughly chop the romaine and thinly slice the cabbage. Add to a large bowl. Chop the cucumber into half moons and roughly chop the cilantro, add to bowl. Slice the green onions and crush the almonds, add to the bowl.

To make the peanut dressing simply combine all ingredients with about ⅓ cup of water and whisk together. Slowly add the water and mix to reach desired consistency. Depending on the peanut butter you use the required amount of water could be different so you kind of need to eye ball this.

Toss in the dressing and enjoy!