This raw vegan cauliflower tabbouleh recipe is made with simple whole foods plant based ingredients! The perfect spring salad, this tabbouleh is sure to be a crowd pleaser. This Cauliflower Tabbouleh Salad is: oil-free, gluten-free, raw vegan, refined sugar-free, and paleo!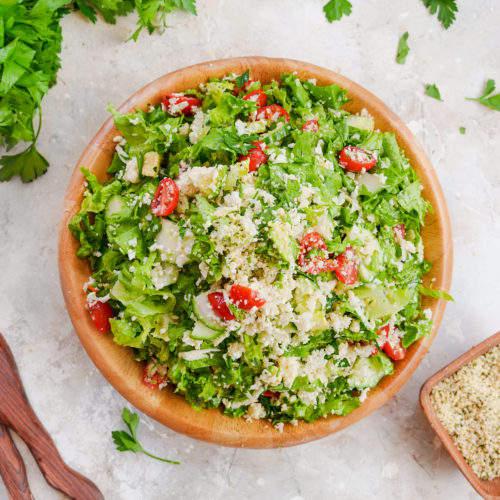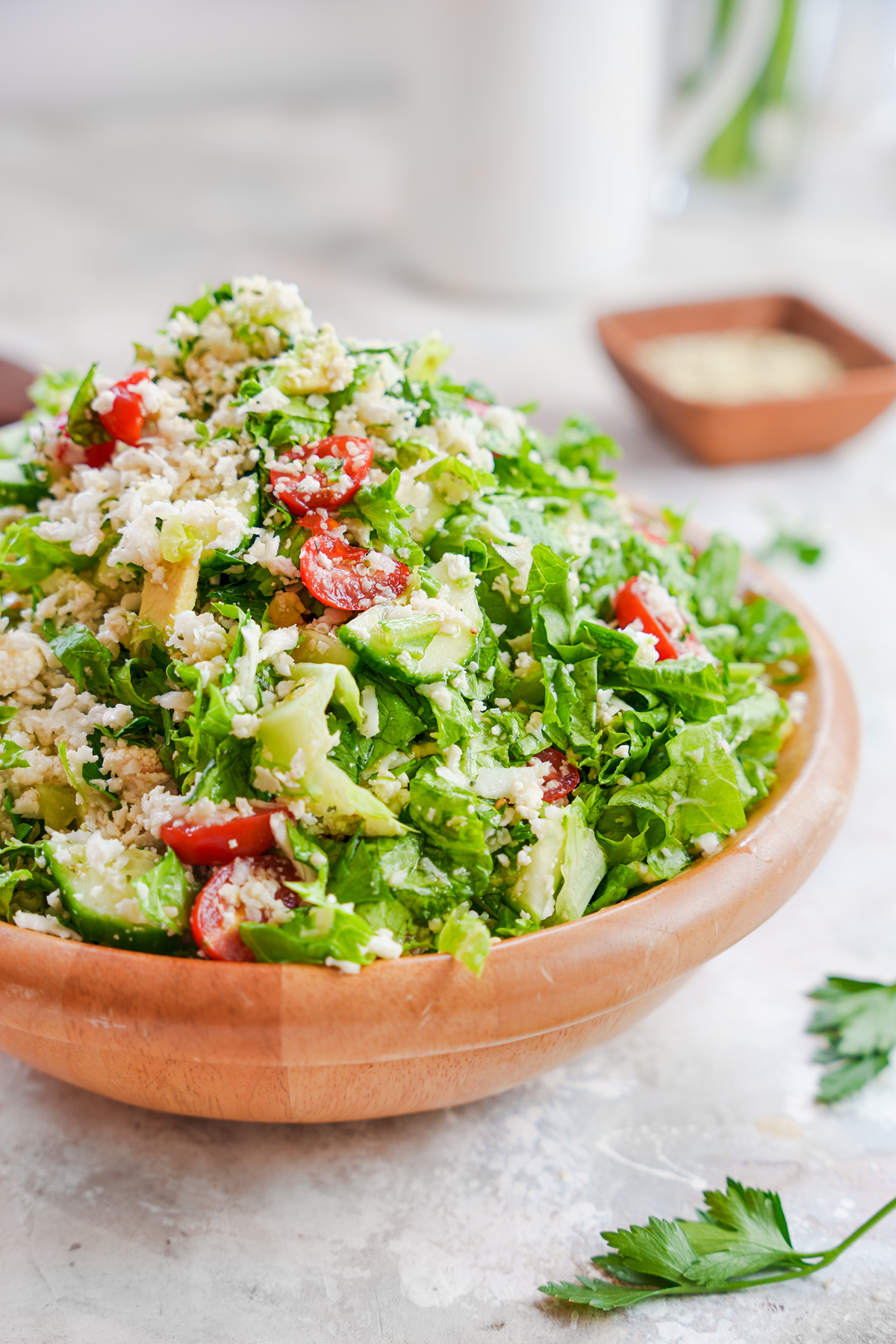 I am so excited to bring you guys today's Cauliflower Tabbouleh Salad recipe! I created this recipe a few weeks ago, and I have become so addicted to it that I make it every week (not even exaggerating!). This cauliflower tabbouleh recipe is incredibly simple, and raw vegan.
I've shared over on my Instagram how I've been trying to eat more raw vegan meals recently. I am doing this for a couple reasons. Probably the biggest is weight loss, but I also want to eat more fresh produce.
I am a volume eater. It doesn't matter how rich or satiating the food is, I will eat until it's all gone. I've tried for years to change this about myself, but nothing I do works. However a couple years into my whole foods plant based vegan journey, I learned all about calorie density.
After learning how calorie density works, I started creating recipes like this raw vegan cauliflower tabbouleh and things like weight loss came easy to me for the first time in my life! Raw produce is where you can find the highest volume of food with the lowest calories, therefore raw vegan meals are a perfect solution if you are a volume eater like me!
My favorite raw vegan recipes: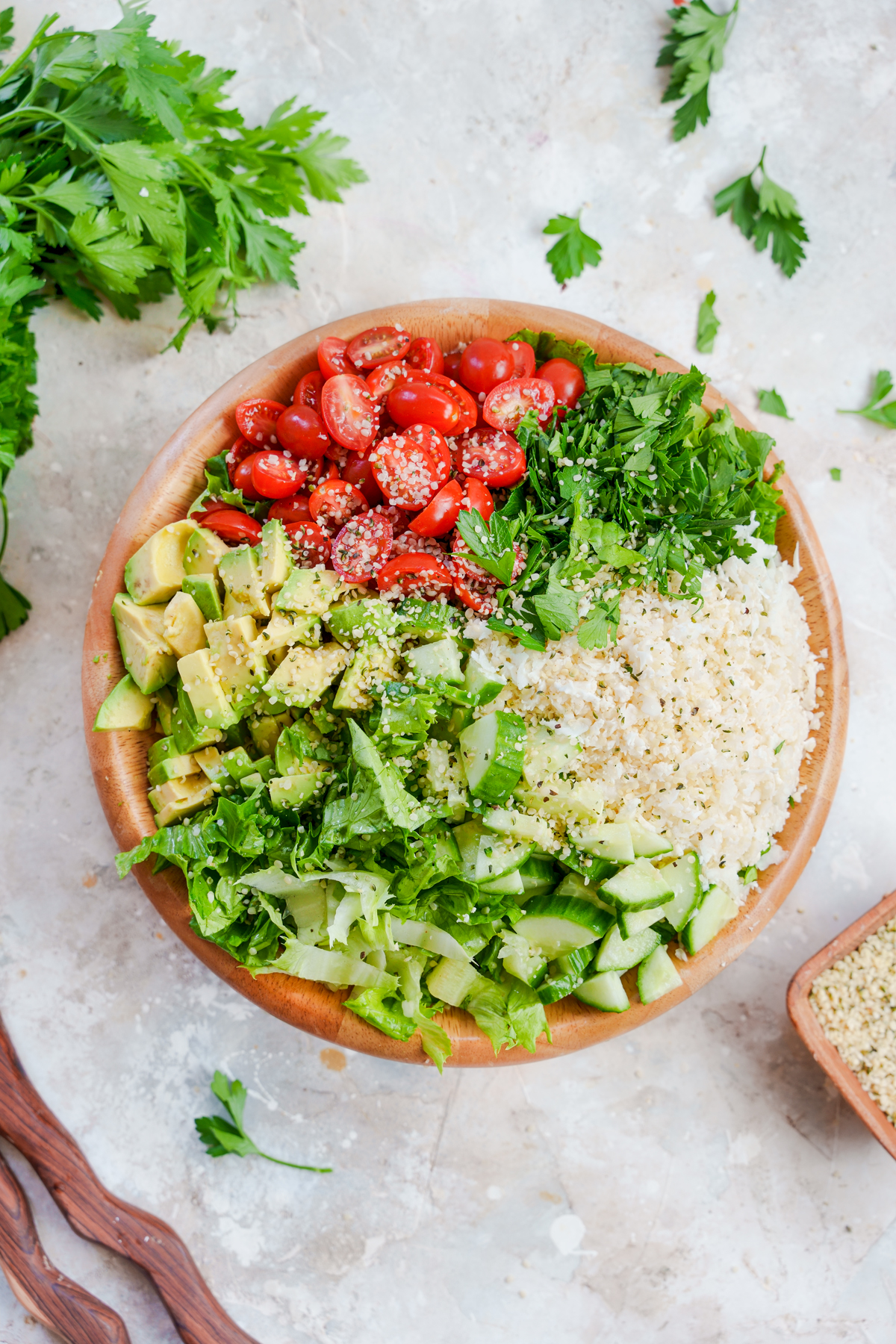 How to make the best raw vegan salads:
Over the past couple years I have made a lot of salads, like A LOT. Personally I love salads, and they're probably my favorite thing to eat for lunch (aside from smoothie bowls of course). However there's a big difference between a good salad and a bad salad.
Thankfully this cauliflower tabbouleh salad definitely makes the cut as a good salad (the best honestly!). Like I said in the introduction I've been making this salad every week and I just can't get enough of it! What makes a raw vegan salad this good?
First things first, it is important that you still check all your boxes when making raw vegan salads such as this raw vegan tabbouleh. Just because it is a raw recipe does not mean you don't need to incorporate the macronutrients.
For this recipe the avocado and hemp seeds are essential, because they add healthy fats and protein. This is not a high protein meal, but I'll touch on how to increase the protein of this salad later on.
It's also important when making a raw vegan salad recipe that you avoid using oil. I know that cold pressed oils can be used in raw vegan cooking, but my general rule of thumb is to just avoid oil as much as possible, especially in raw vegan food, because there are so many better whole foods plant based options available to us. By making recipes oil-free you are avoiding unnecessary calories and fat, and therefore allowing yourself to eat more!
How to speed up this cauliflower tabbouleh recipe:
In order to eat healthy, you actually have to make the healthy food. I totally understand that cooking elaborate meals is not for everyone, and plenty of people don't have time to cook. However cooking at home is one of the most beneficial things you can do to improve your health.
Therefore it's important if you are not a fan of cooking, or find yourself eating out a lot that you find simple healthy recipes you can make throughout the week to improve your diet. Recipes like this cauliflower tabbouleh salad are the perfect solution. Even if you make this recipe with 100% fresh ingredients it is still easy and simple. However there are a couple ways to make this recipe even faster!
First, you can use cauliflower rice instead of fresh cauliflower. This will change the texture of the salad a little, but it will significantly reduce not only the preparation time, but also the mess! You can purchase cauliflower rice that is shelf stable, or you can use frozen and just thaw it out before.
Second, meal prep! This cauliflower tabbouleh salad is actually a great meal prep option! In order to successfully meal prep this raw vegan salad, just prepare as you would, and then add the vinegar fresh each day. The avocado may brown some (which is still perfectly fine to eat), but add a little but of lemon juice and you should be good to go!

How to customize the cauliflower tabbouleh salad recipe:
Although I am truly obsessed with this cauliflower tabbouleh recipe as is, there are some ways I would recommend customizing it to your taste. Parsley is a strong flavor in tabbouleh, and personally I love the taste. However I understand that parsley is not everyone's cup of tea.
Luckily you can still enjoy this raw vegan tabbouleh with other herbs! I like to do this when I make this vegan tabbouleh, because it switches up the flavor. You can use any herb: cilantro, basil, mint, even dill!
Another way you can customize this raw vegan cauliflower tabbouleh is by using broccoli instead of cauliflower. This is a perfect solution for anyone who is not a cauliflower fan, but wants to eat more raw vegan meals. I always like to say when it comes to vegetables, the more the merrier! Feel free to incorporate any vegetables you like into this vegan tabbouleh salad recipe for a nutrition boost!
Tips to making oil-free salad recipes:
Like I stated earlier, I try to avoid oils as much as possible. I never cook/bake with oil, because it adds unnecessary fats and calories. The minimal amount of remaining nutrients also get destroyed when heated.
In the past some of my recipes did contain cold pressed oils, but I am trying to move away from this and go completely oil-free. I personally believe that there are so many natural oil-free substitutes that work just as well that oil is no longer needed. How do you offset acidity in salad recipes?
The best way to offset acidity is fat, and that is why oil is used in so many salad recipes. However oil is just derived from high fat foods. Therefore it makes sense to eat these high fat (healthy fat) foods in their purest form.
For example why use sesame oil when you can use tahini? why use avocado oil when you can use avocados? In this cauliflower tabbouleh salad recipe I used avocados to offset the vinegar. It worked so well you don't even have to blend them. Simply dice and toss the salad, and the avocado will mix with the vinegar. You'll be good to go and enjoy this delicious raw vegan salad recipe!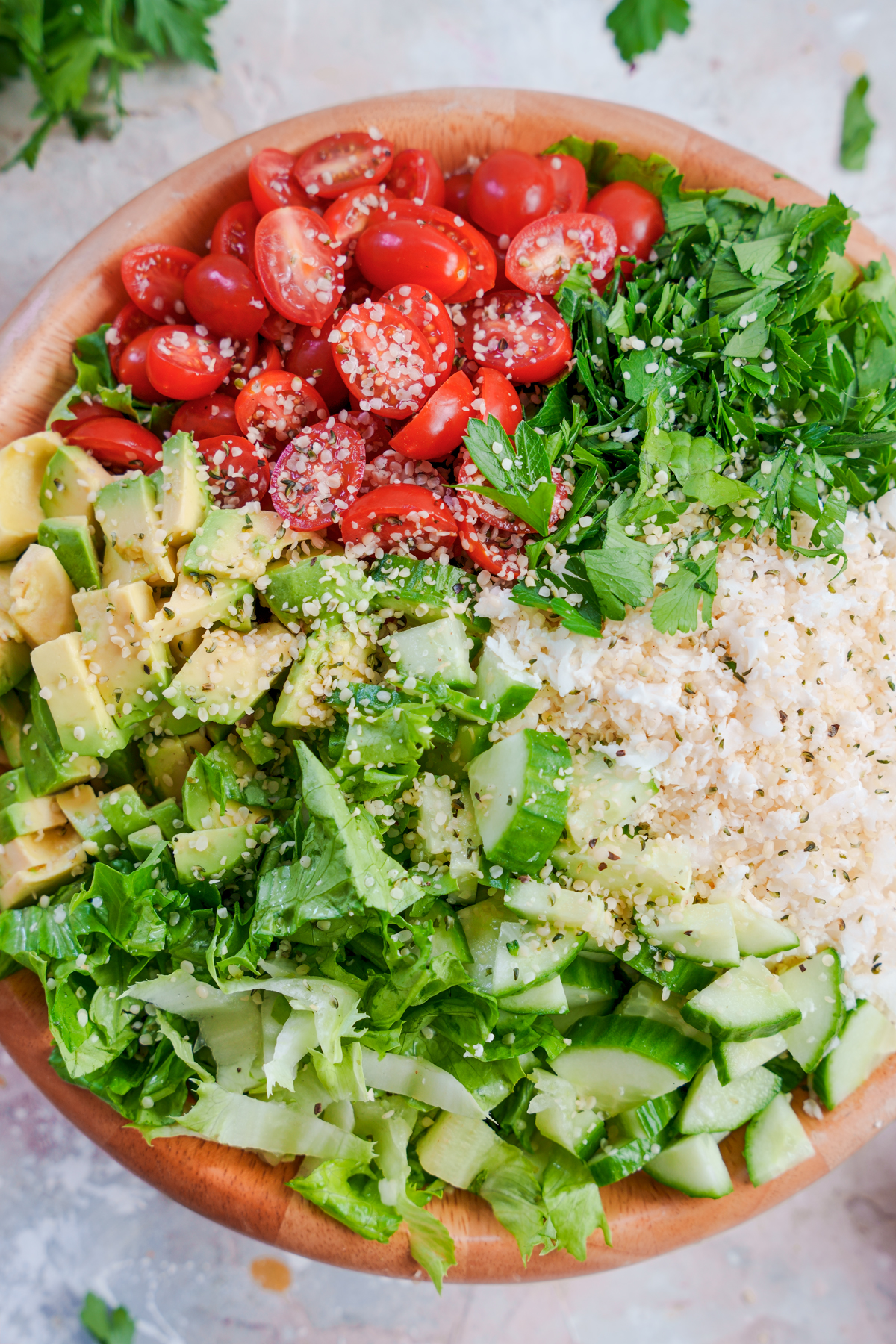 How to make this raw vegan tabbouleh high protein:
Although this cauliflower salad does contain a decent amount of protein, there are ways to increase the protein more while still remaining raw vegan. You can always sprinkle more hemp seeds on top to increase the protein and omegas.
However if you like variety I would suggest adding edamame to this cauliflower tabbouleh recipe. Edamame is soy in its original form. Soy is one of the best plant based protein sources out there (contrary to popular belief), because it is high protein, high fiber, and does contain some healthy fats. It is also loaded with vitamins and minerals.
If you are not a fan of edamame, or are avoiding soy for any reason, you can always sprinkle any nuts or seeds on top, or use peas! I love using peas when I am looking for a budget friendly option for raw vegan protein. At the end of the day this cauliflower tabbouleh salad was made for you, so whatever customizations you need to make to make it how you like is up to you!
Ingredients for this raw vegan cauliflower tabbouleh salad recipe:
Cauliflower
Avocado
Parsley
Cucumber
Green Leaf Lettuce
Hemp Seeds
White Wine Vinegar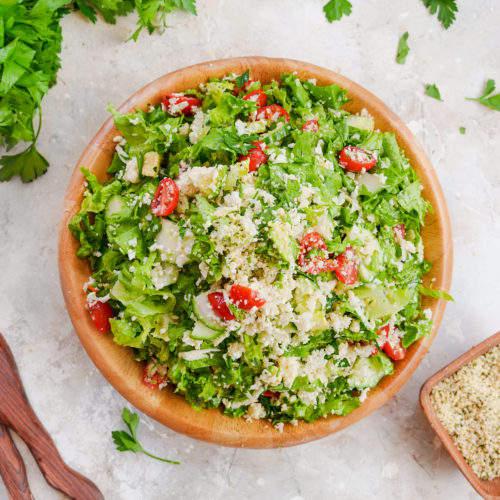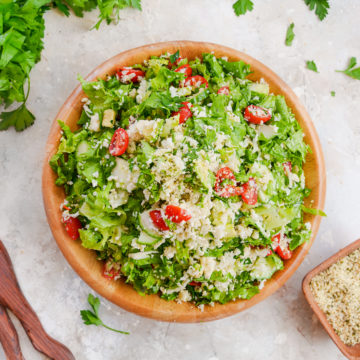 Cauliflower Tabbouleh Salad
This raw vegan cauliflower tabbouleh recipe is made with simple whole foods plant based ingredients! The perfect spring salad, this tabbouleh is sure to be a crowd pleaser. This Cauliflower Tabbouleh Salad is: oil-free, gluten-free, raw vegan, refined sugar-free, and paleo!
Ingredients
1

head

green leaf lettuce

1

head

cauliflower

1

large

avocado

1

english cucumber

1

cup

cherry tomatoes

¼

cup

chopped parsley

or herb of choice

¼

cup

white wine vinegar

2

tablespoon

hemp seeds
Instructions
Begin by ricing the cauliflower. You can use cauliflower rice if you are in a hurry.

Chop the lettuce, cucumbers, tomatoes and avocado and throw in a large bowl. Add the cauliflower and parsley and toss with the white wine vinegar.

Top with hemp seeds, serve and enjoy!