This jicama strawberry salad is the perfect refreshing summer salad. This jicama salad uses simple ingredients and a whole foods plant based dressing. This recipe is raw vegan, oil-free, gluten-free, and refined sugar-free.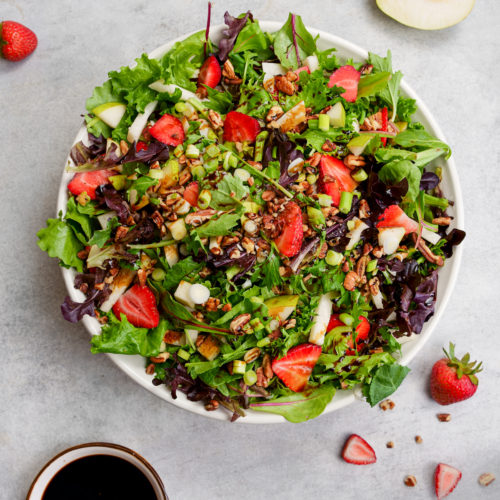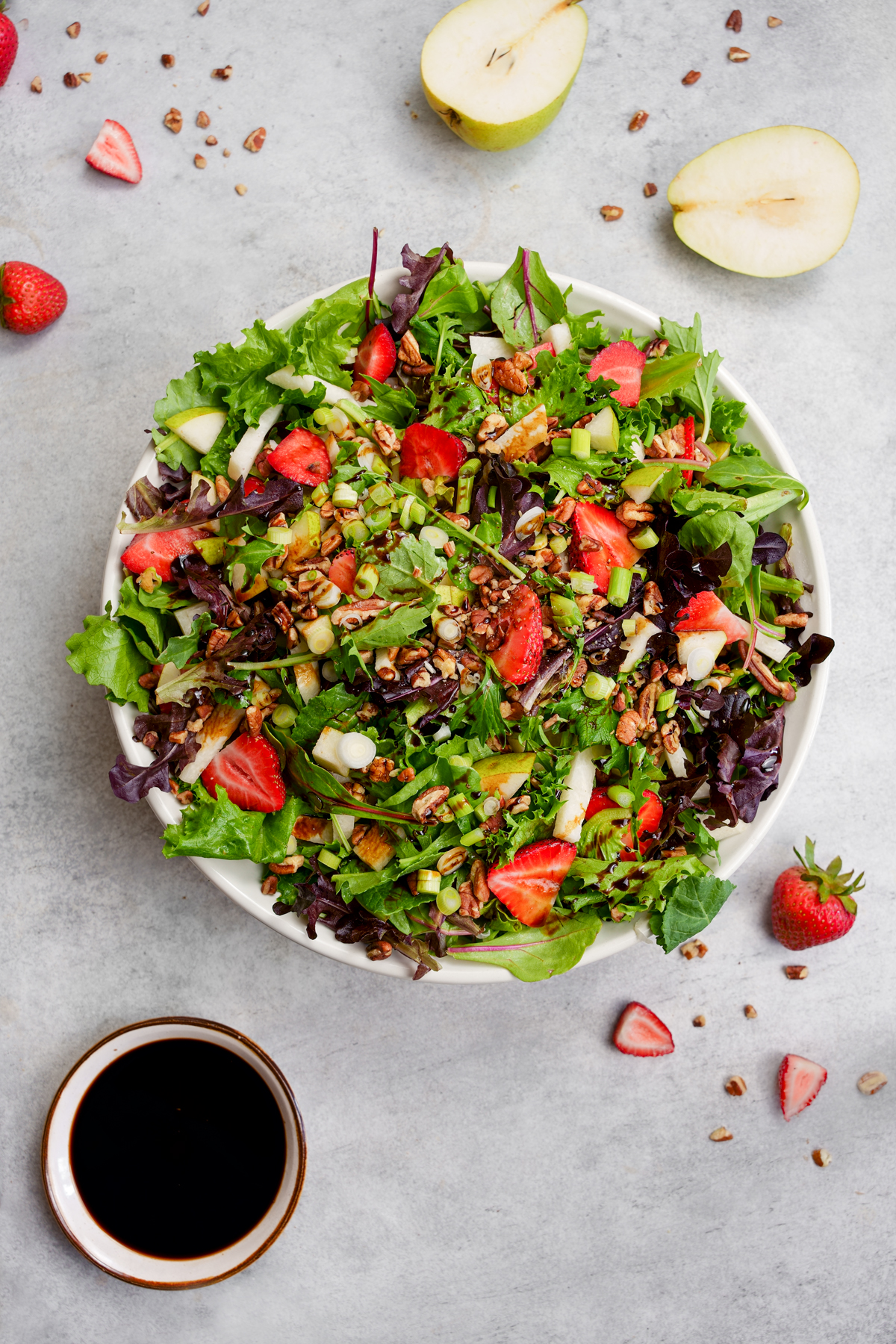 I am so excited to share today's Strawberry Jicama Salad with you guys today! I'm normally not a fruit in salads type of girl, but I can't stop making this salad. This jicama salad recipe is super easy to make and only requires a couple ingredients!
What Is Jicama:
Jicama is not one of the most popular foods in the world. However in my opinion it's very under rated.
Jicama may resemble a root vegetable, but it's actually in the bean/pea family. If you eat fresh sugar snap peas you'll probably taste a slight resemblance. Although it is not technically a root vegetable, it still is a root. This crunchy root grows in Mexico, and is commonly referred to as the Mexican Turnip.
Jicama has a slightly sweet taste and a crunchy texture. It doesn't have a strong flavor either, but this is nice because it pairs well with all kinds of salad dressings. This is why jicama salads are so popular, because it compliments so many flavors.
Although jicama is a Mexican vegetable, it has many uses beyond Mexican cuisine.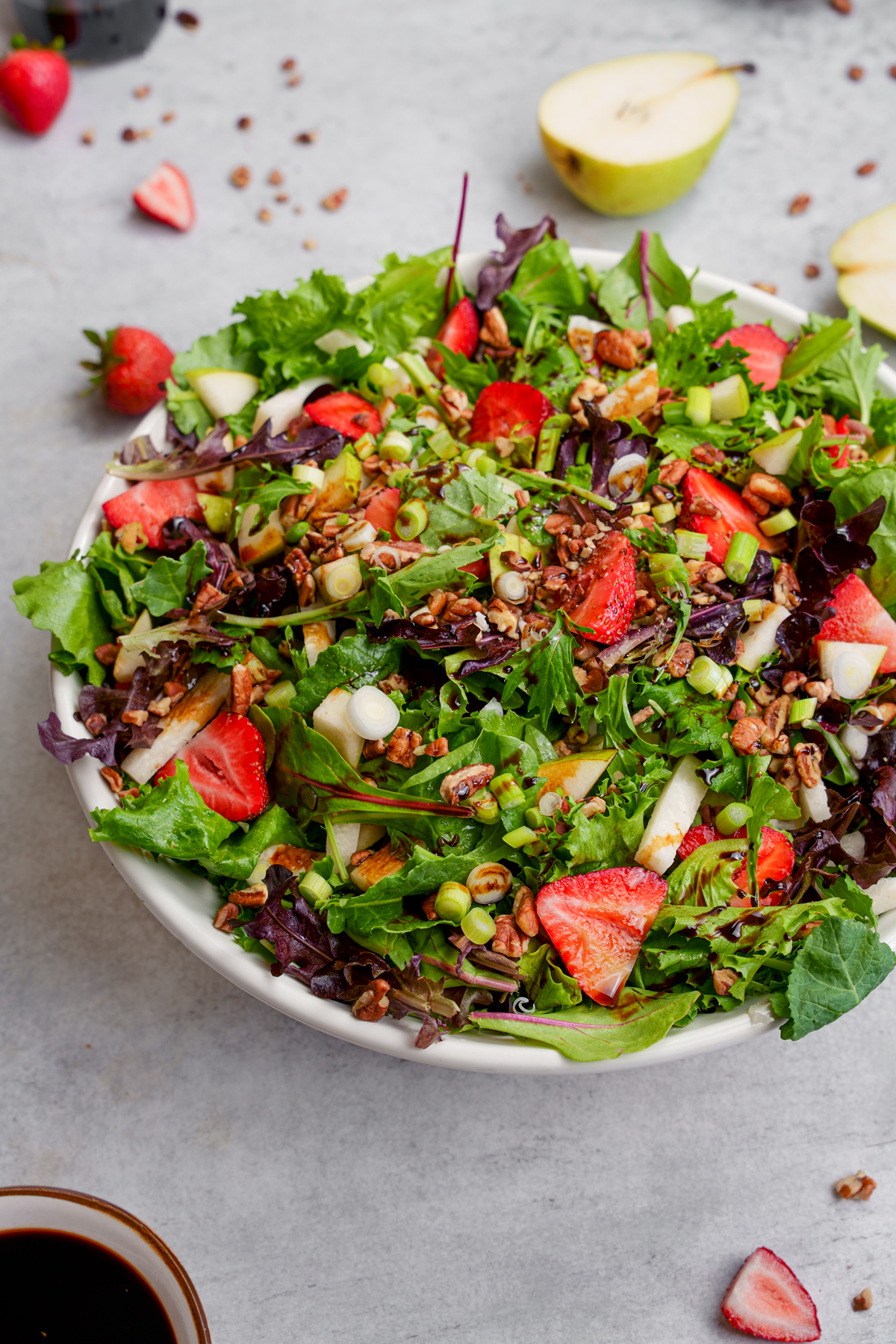 What Pairs Well With Jicama:
Since jicama does not have a bold flavor, it pairs well with many flavors. Jicama salad recipes are often made up of sweet ingredients. Many recipes incorporate mango, or other tropical flavors. I wanted to incorporate familiar salad flavors into this Strawberry Jicama Salad.
Since jicama has a mild flavor, it really comes down to the other ingredients you use is a jicama salad recipe. I find the jicama has more of a sweet taste, so I like to pair it with other fruits, or naturally sweet ingredients.
Jicama also has a crunchy texture. Therefore I find that it is important to pair it with textures that are slightly different. When making this Jicama salad recipe I knew that I wanted to incorporate other textures, because too often I see jicama salads that are completely crunchy ingredients.
While I love the crunchy texture of jicama, I knew this Strawberry Jicama Salad needed some softer textures. For that reason I added the strawberries and the spring mix base.
What Makes This Jicama Salad Recipe Healthy?
This jicama salad recipe is one of my favorites, because it is so healthy. This Strawberry Jicama Salad is:
VEGAN
GLUTEN-FREE
PALEO
OIL-FREE
REFINED SUGAR-FREE
WHOLE FOODS PLANT BASED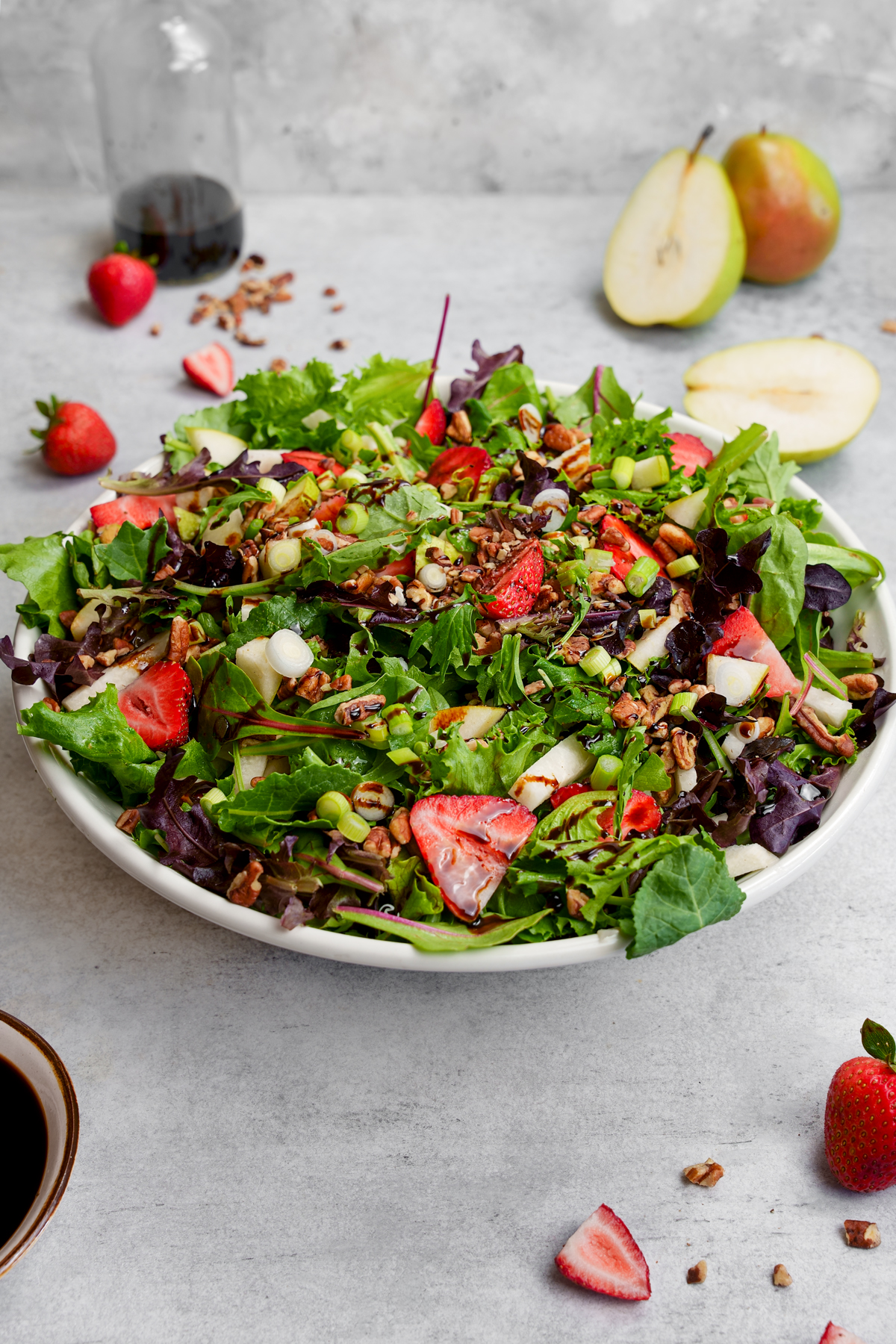 How To Meal Prep This Jicama Salad Recipe:
Salads can be very difficult to meal prep. Often they end up soggy and go bad in just a couple days. However if you have a busy schedule, it can be quite difficult to make healthy salad recipes fresh every day, especially raw vegan salad recipes.
Although I would not recommend meal prepping this jicama salad recipe, there are ways to prep parts of it. By this I mean you can prepare the jicama, pears, green onions and strawberries and store them together.
If you prepare the ingredients and store them ready to go, you can assemble the salad with fresh leafy greens and top with salad dressing when you're ready to eat. I love doing this throughout the week to help me consistency eat healthy throughout the week.
Ingredients For This Strawberry Jicama Salad:
How To Make This Jicama Salad Recipe:
Making this jicama salad recipe is incredibly simple.
Begin by peeling your jicama. Jicama can be quite a hassle to peel, so be sure to use a quality peeler, or cut the skin off with a knife. Once peeled, julienne (cut into long strips).
Next dice the pears. Cut the strawberries into slices and finely dice the green onion.
Assemble the salad by filling a large bowl with spring mix. Add the jicama, pear, strawberries, and green onions. Top with chopped pecans. Add the cold pressed flaxseed oil and toss. Top with the fig balsamic glaze and serve.
Optionally you can serve this recipe with vegan feta, or tofu for a protein boost.
Frequently Asked Questions:
Do You Have To Cook Jicama?
If you are unfamiliar with jicama, you may not know how to prepare it. Although jicama looks like a potato, you actually don't have to cook it. This is great, because you can make raw vegan salads like this one!
In order to eat jicama raw there's a couple steps to preparing it. First, make sure that you peel it. Unlike potato skin, jicama skin is not edible. It's pretty hard to peel, so I prefer to just chop it off with a knife.
Second, try not cut the jicama into too large of pieces. Jicama has a very crisp texture, so it's important to keep it in bite size pieces.
What Fruit Tastes Good In Salads?
Like I said at the beginning of this post, I'm not normally a huge fan of fruit in my salads. However if you choose just the right combo, you'll create a delicious salad recipe with fruit.
For this jicama salad I knew that I wanted to add strawberries. First, because they are in season right now, and I'm honestly looking for any excuse to make a recipe using strawberries. Second, because strawberry complements the mild flavor of jicama very nicely.
The second fruit I wanted to incorporate is pears. Pears are probably my favorite fruit to add to salads, because the slightly crisp texture and sweet flavor. Pear and jicama together create a power combo!
Is This Jicama Salad Paleo?
This jicama salad is both paleo and keto. Jicama is perfect for anyone following a low carb diet, because it has many familiar textures and tastes, but with hardly any carbs. It is also high fiber. Jicama has about 6 grams of fiber per 1 cup.
The high fiber content of the jicama along with the nutrient dense ingredients in this jicama salad recipe make it the perfect simple healthy recipe.
Related Recipes: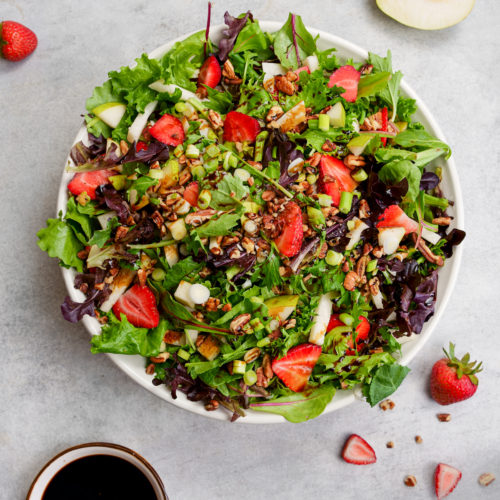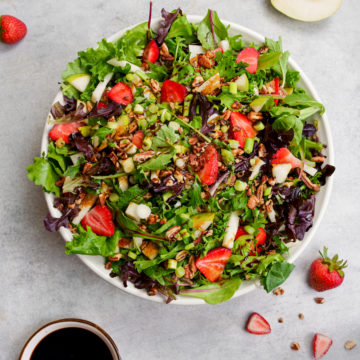 Strawberry Jicama Salad
This jicama strawberry salad is the perfect refreshing summer salad. This jicama salad uses simple ingredients and a whole foods plant based dressing. This recipe is raw vegan, oil-free, gluten-free, and refined sugar-free.
Instructions
Begin by peeling your jicama. It works best to cut the skin with a knife. Once peeled, julienne the jicama and set aside.

Dice the pear, and slice the strawberries and green onions.

Add the spring mix to a large bowl. Add the jicama, green onions, strawberries, and pear. Top with the chopped pecans. Add the flaxseed oil and fig balsamic glaze and toss. Serve and enjoy!