This healthy whole foods plant based cowboy caviar recipe is quick and easy and totally delicious. This quinoa caviar makes the perfect healthy vegan appetizer and stores amazing in the refrigerator! This quinoa cowboy caviar is: vegan, oil-free, gluten-free, and refined sugar-free!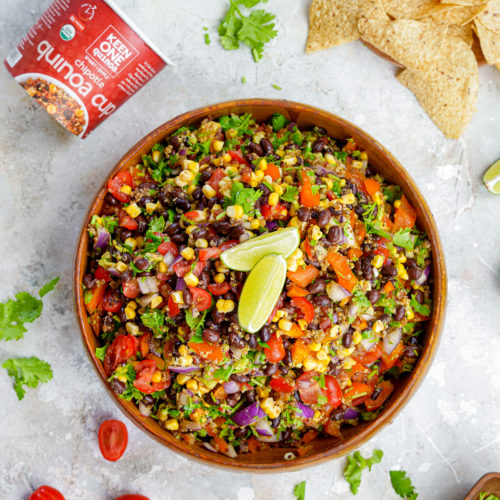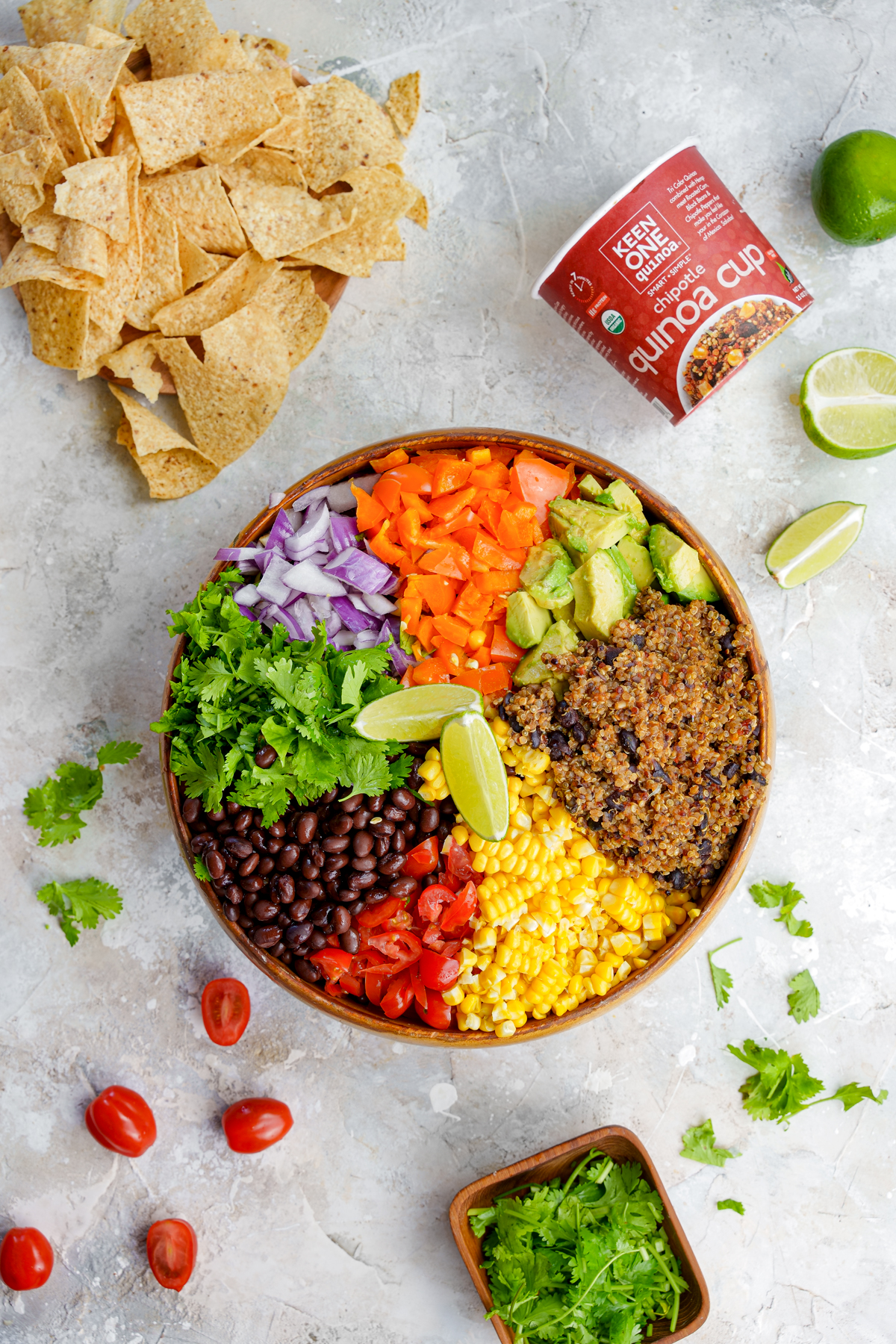 I am so excited to share today's quinoa cowboy caviar recipe with you all! I have been a huge fan of cowboy caviar for my whole life, let's just say I have tried a lot of recipes. With that said I think this quinoa caviar recipe may be my new favorite! These best part? It's super healthy and super easy! It only takes a couple steps to make, and stores amazingly in the fridge!
Is Cowboy Caviar Vegan?
Like I previously touched on, cowboy caviar has to be one of my all-time favorite vegan dips. I fell in love with this dish long before I was vegan. Therefore naturally one of the first questions I had when I went vegan was: is cowboy caviar vegan? Well friends, 99% of the time it is! I have seen some recipes on Tiktok that include cheese, or chicken. However no need to worry this is a 100% vegan cowboy caviar recipe!
A common misconception is that if you choose to not use those ingredients, you will end up with a low protein, and unsatisfactory meal. However that couldn't be further from the truth. This vegan quinoa cowboy caviar recipe is loaded with all the macro and micro nutrients you need for a complete meal. There's also plenty of healthy fiber which is something animal products do not have.
What Makes This Oil-Free Cowboy Caviar So Great?
It should go without saying that if this recipe is up on my blog, then you can guarantee that it is absolutely delicious. However there is way more to love about this quinoa cowboy caviar recipe than just the flavor! This quinoa caviar recipe is not just healthy, but super healthy! Why do I say super?
First and foremost, quinoa is a superfood! Quinoa is: high in fiber, rich in calcium and vitamin E, and contains ALL 9 amino acids. Not only is it loaded with nutrients, but it is also super quick to make! Unlike other whole grains like rice, or barley, quinoa traditionally only takes 10-15 minutes to cook on the stovetop. However this cowboy quinoa only takes about 7-10 minutes!
It is not just the quinoa in this vegan cowboy caviar recipe that makes it so healthy, this recipe is packed full of superfoods! The term superfood doesn't really have any backing to it, so as far as I am concerned about 85% of plant based ingredients are superfoods. For example, cilantro is an herb that is loaded with: antioxidants, supports bone health and immune health, and is good for heart health! This is just one example, but this quinoa cowboy caviar recipe is packed full of plant diversity for the ultimate nourishing recipe.
However it is not just what is in it that makes this quinoa caviar recipe so healthy. It is also what it is free of. I am committed to always making recipe that are free of all the unhealthy ingredients and full of the good ones.
This Quinoa Cowboy Caviar Recipe Is:
Oil-free
Gluten-free
High Protein
High Fiber
Dairy-free
Vegan
WFPB
Refined sugar-free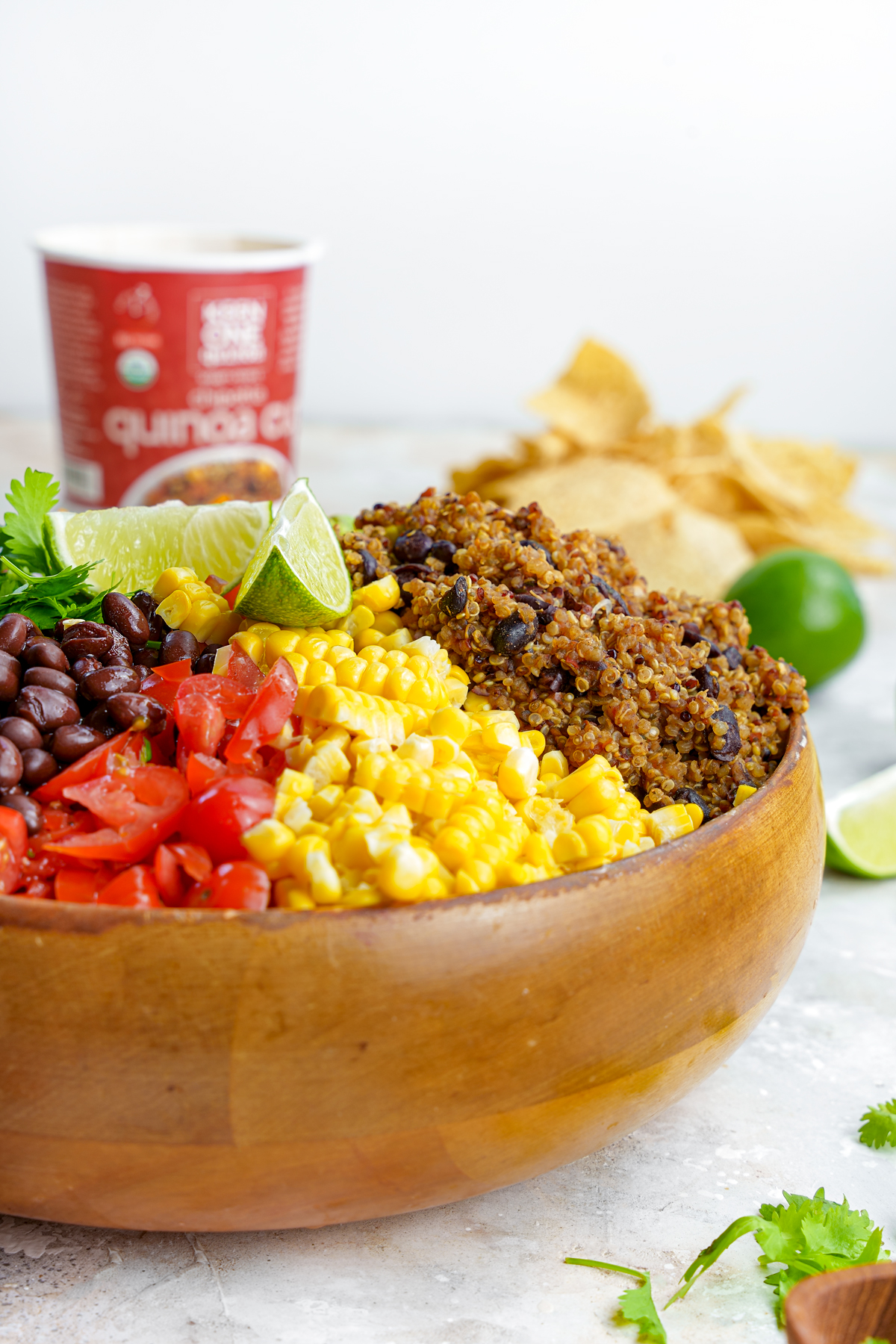 Calling all my simple healthy recipe lovers! This Quinoa Caviar was made for you! This recipe is special, because it is truly so simple to make. I am talking less than 20 minutes for this crowd pleasing recipe! How did I do it? I used Keen One Quinoa cups! I am truly obsessed with these cups! First, and most importantly to me is that they are made with simple, clean, and organic ingredients. There's nothing better than reading a label and getting excited because the ingredients are all natural and plant based - nothing weird!
Second, the flavor is just *chefs kiss*. These cups are perfect for a quick and easy meal by themselves. However you can do what I did in this quinoa cowboy caviar recipe and use the flavor in your recipes. I love this because let's face it, it can get annoying adding 20 different spices to a recipe! If I am looking for a simple recipe, I mean SIMPLE. This cowboy quinoa recipe is as simple as adding boiling water to the cup and chopping some vegetables!
They have plenty of unique and delicious flavors that all bring something new. These cups are perfect for all my meal pepper's or on the go ladies and gentlemen. I am someone who gets sick of eating the same meal prepped leftovers day after day, so these cups are the perfect healthy solution!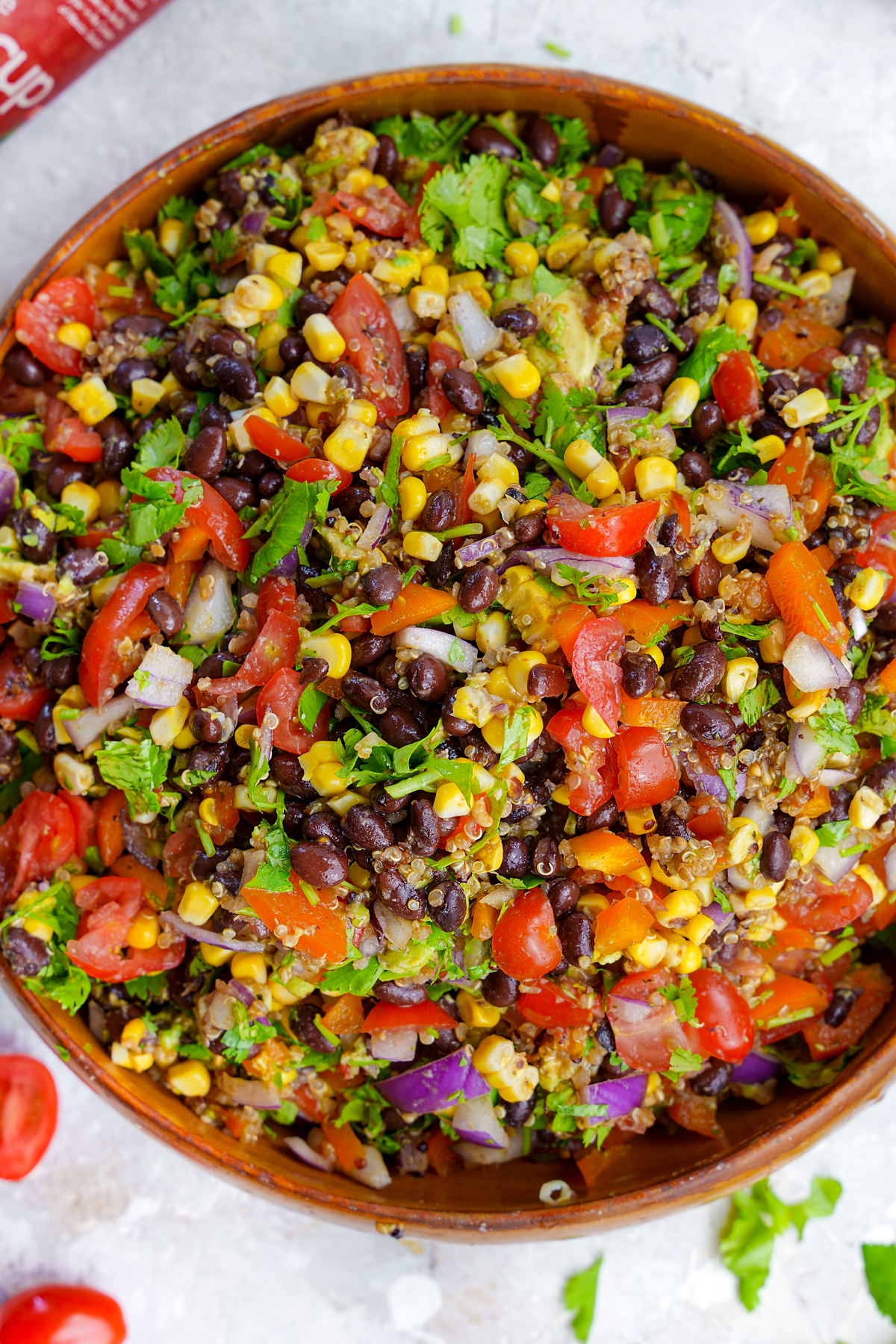 Why Choosing Organic Is Important:
Last, but not least, I love these Keen One quinoa cups, because they are made with organic ingredients. I mentioned already that they are organic, but I wanted to dedicate a whole section to why this is so important.
I have just recently become an organic gal. Up until a couple months ago I did not care about buying organic at all. I knew in the back of my head that it was healthier, but I never really dove deep into why that is. Luckily for you, I am here to give a quick crash course so that you don't have to do all the research!
I think by now we all know that conventional produce is sprayed with pesticides, and is often GMO. We know that choosing organic is important and better for our health, but why is that? Well, fist things first organic produce is free of pesticides. Pesticides essentially kill bugs. Therefore when you eat produce that contains pesticides you are killing the good bugs in your gut!
Gut health has been a huge trend recently and for good reason. Therefore one of the best things you can do to support your gut is to eat organic foods! Organic food also tastes better, because it's grown with real soil and not quick fertilizers. Yes, organic is more expensive, but I truly believe it pays off in the long run!
It can be hard to eat 100% organic, especially when cooking at home with spices. Organic spices can be a huge investment. That's why these Keen One quinoa cups are so great, because they are flavored with 100% organic spices! Therefore when you're making this quinoa cowboy caviar recipe, you don't have to worry about loading up on organic spices, because the cups contain all the flavor you need!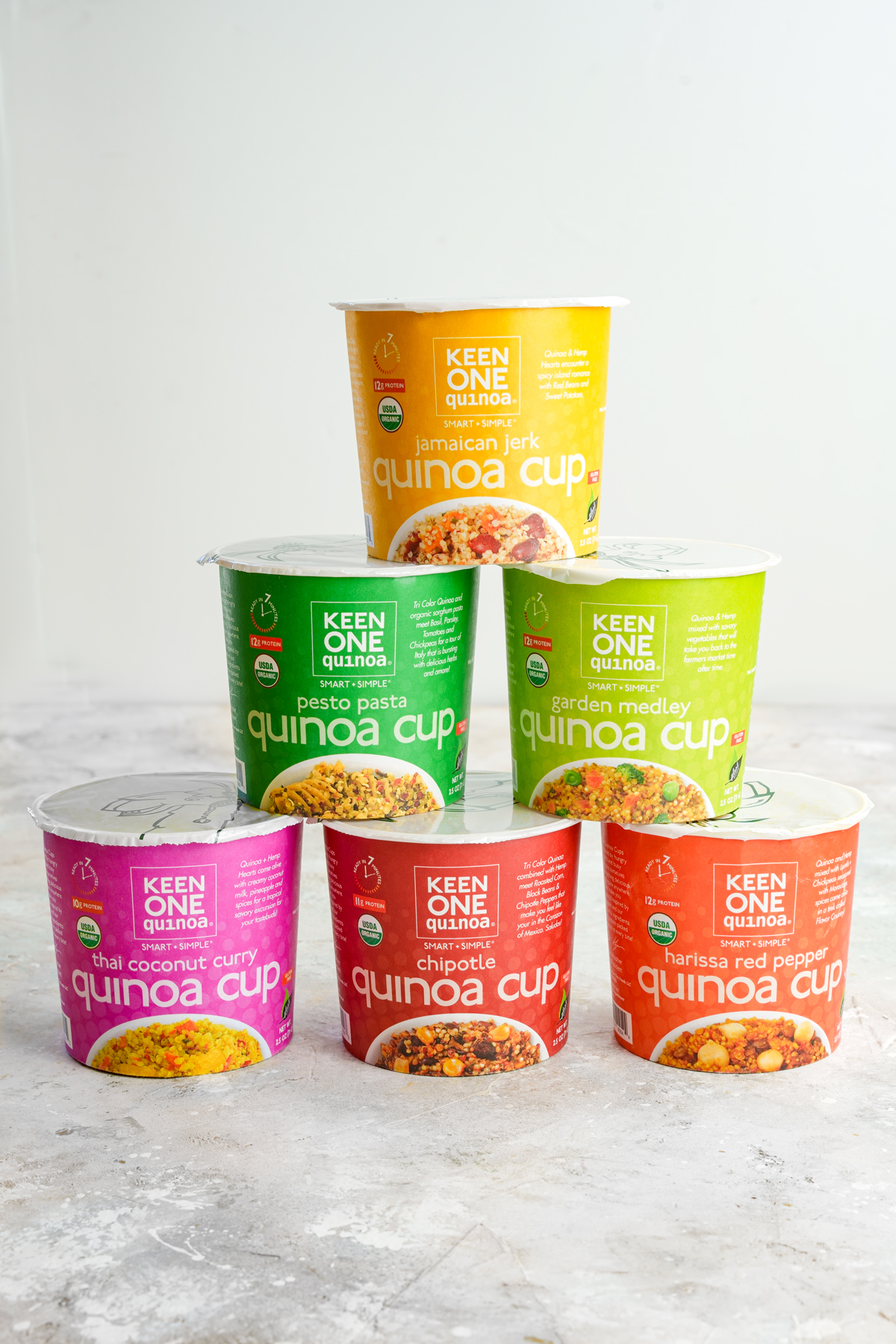 How To Make Simple Meals Healthy:
At the end of the day the healthiest recipes are the ones you will actually make. If you're someone who doesn't love to cook and wants a simple healthy recipes, don't choose a 20 step tiramisu recipe. If you love cooking then go right ahead! I love to cook, but I also love simple recipes. I have a very busy schedule, so when I am not working on developing a new recipe, I want simple healthy recipes just like this quinoa cowboy caviar!
There's a couple things I like to keep in mind when making healthy and simple recipes. First, always keep in mind that the least refined the better. Therefore a pre-made salad kit at the grocery store is better for you than a microwave dinner. A homemade salad is healthier than the pre-made salad etc.
One of my tricks for simple recipes is to buy pre prepared vegetables and make my own homemade dressing, or vice versa. For example this vegan cowboy caviar with quinoa recipe using the Keen One cups to flavor the recipe and I added extra vegetables for a nutritional boost!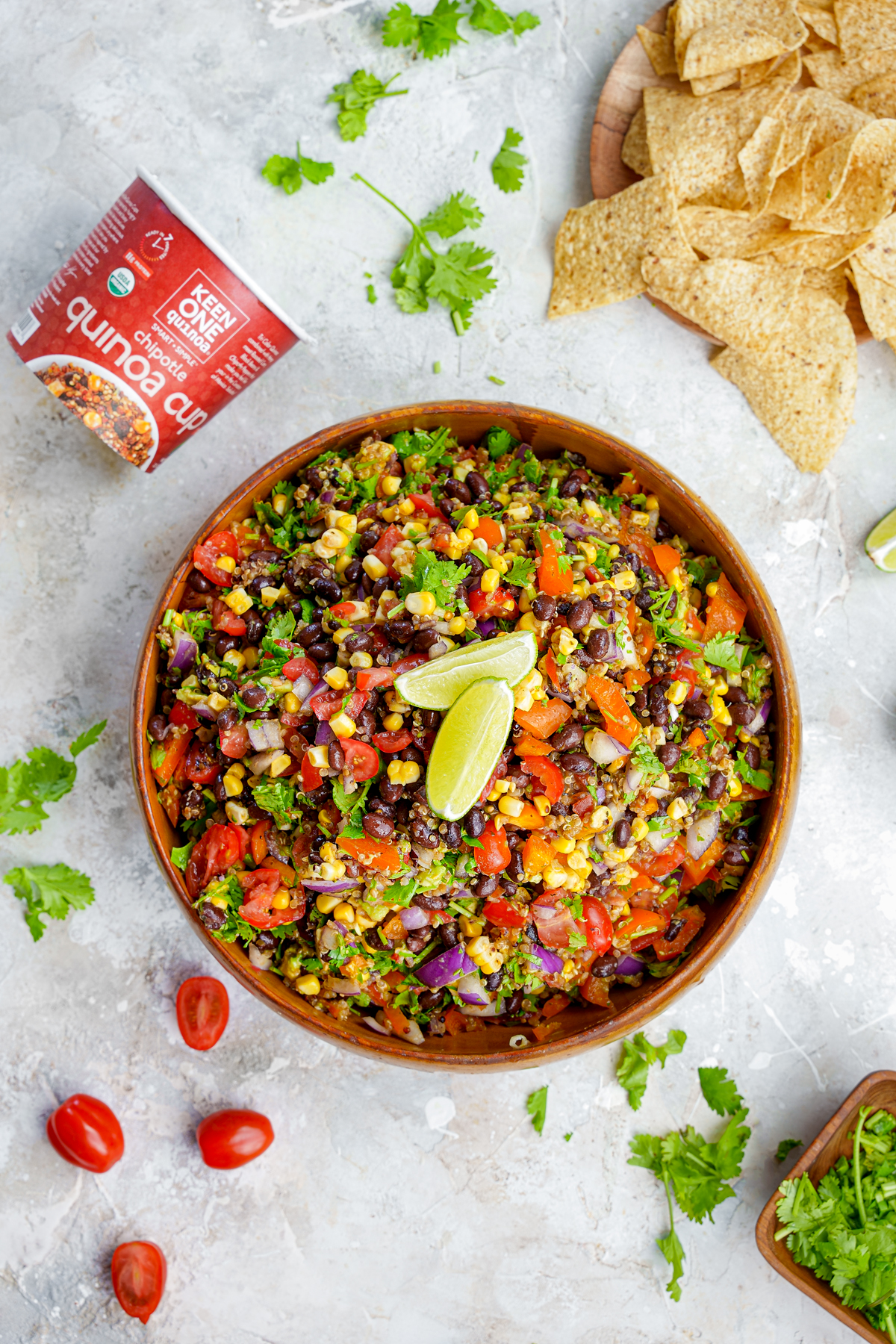 Ingredients For This Quinoa Cowboy Caviar:
Fresh corn
Black Beans
Red onion
Bell pepper
Cherry tomatoes
Cilantro
Avocado
Limes
How To Make This Quinoa Cowboy Caviar:
If you're looking for the perfect quick and easy vegan appetizer, this quinoa cowboy caviar is for you! This recipe takes less than 15 minutes to make and is so incredibly delicious! This cowboy caviar recipe also happens to be budget friendly and great for meal prep!
Making this vegan cowboy caviar recipe is as simple as boiling water and adding it to the Keen One cups and preparing the vegetables. Many of the ingredients in this recipe like the black beans and corn you could also buy in cans to save even more time when making this quinoa cowboy caviar recipe! This recipe is such a great recipe to make quickly and store for days. I think it may even taste better the next day!
Related Recipes: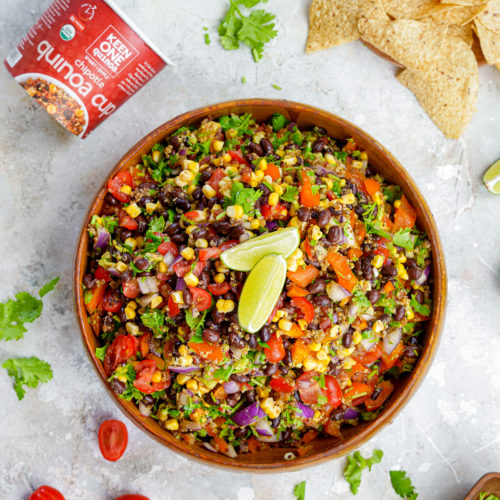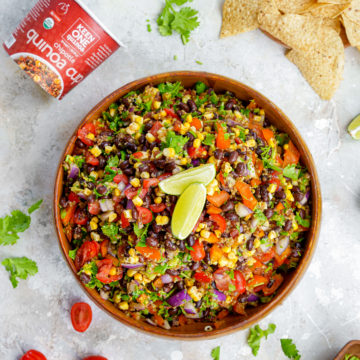 Quinoa Cowboy Caviar
This healthy whole foods plant based cowboy caviar recipe is quick and easy and totally delicious. This quinoa caviar makes the perfect healthy vegan appetizer and stores amazing in the refrigerator! This quinoa cowboy caviar is: vegan, oil-free, gluten-free, and refined sugar-free!
Ingredients
1

cup

Keen One Chipotle

(cup as in pack not 1 cup measured)

2

cobs

fresh corn

Can sub 1 can corn

1

can

black beans

1 ½

cups

cherry tomatoes

1

red onion

1

bell pepper

1

avocado

⅔

cup

cilantro

3

limes
Instructions
Begin by boiling water for the Keen One cup. Boil more water to boil the corn in if using fresh. Cook the corn and pour the boiling water into the keen one cup. Allow the quinoa cup to sit for 7 minutes.

While the corn and quinoa are cooking, prepare the remaining ingredients. Dice the onion, bell pepper, and avocado. Strain and rinse the beans. Roughly chop the cilantro. Chop the cherry tomatoes in halves, or quarters.

Chop the corn and add to a large bowl along with the quinoa and chopped ingredients. Juice 3 limes into the bowl and toss. Serve with chips and enjoy!