This raw vegan sushi is the perfect light and healthy meal. Made with simple ingredients, this jicama sushi has the perfect texture, and tastes just a classic roll. This recipe is: raw vegan, oil-free, gluten-free, and refined sugar-free!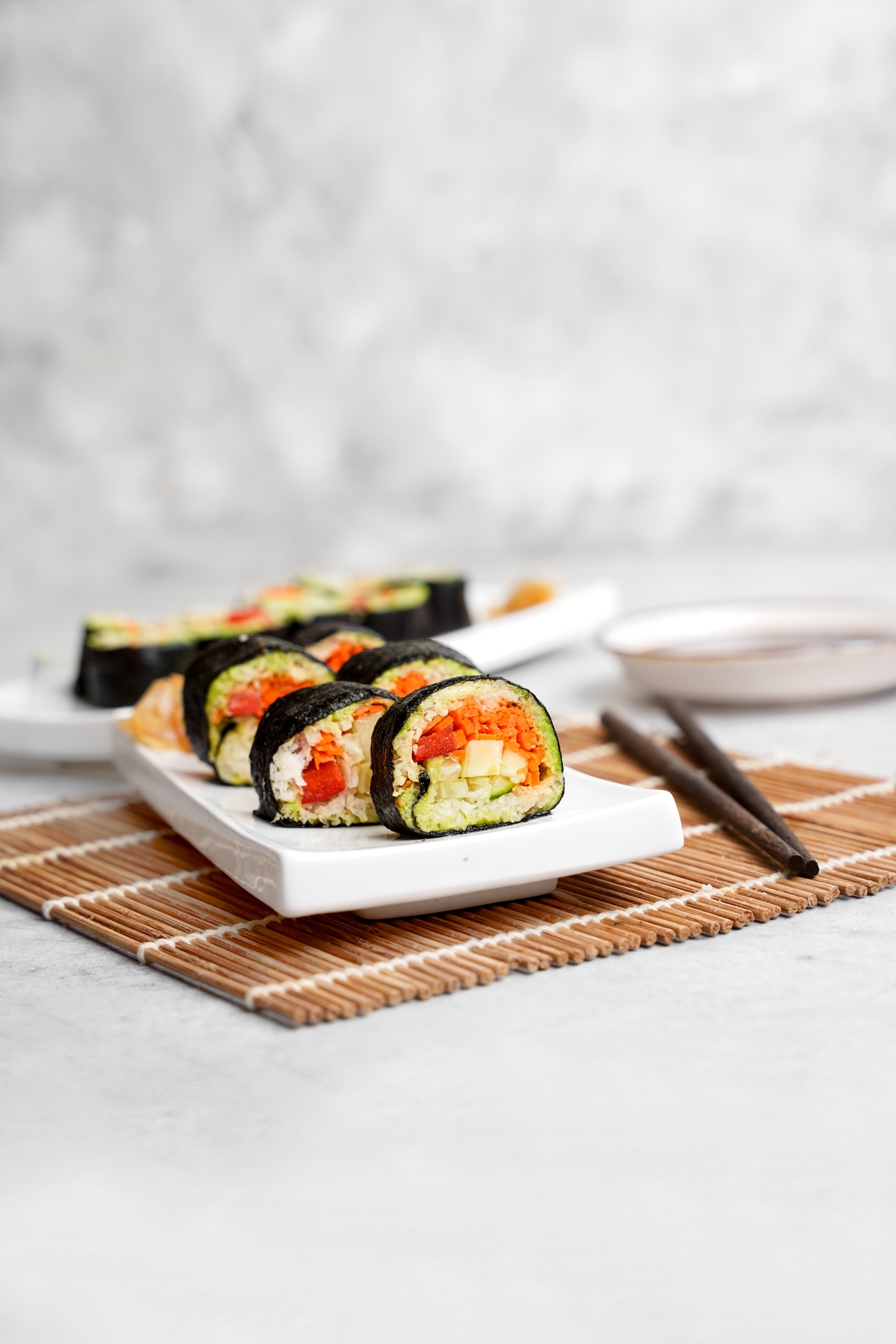 I am so excited to share today's Raw Vegan Sushi recipe with you guys! Vegan sushi has been a staple for me since going vegan, because it's packed full of veggies, nutrients, and it's surprisingly easy to make. Recently I've been working on developing less calorie dense recipes, and this jicama sushi might just be one of my favorites!
What Is A Raw Vegan?
Recently I have been creating a lot of raw vegan recipes. I will never be a fully raw vegan, but I do believe there are tons of health benefits to eating raw vegan recipes like this Raw Vegan Sushi.
What is a raw vegan? A raw vegan refers to someone who doesn't consumed cooked, or heated food - only raw fruits, vegetables, nuts, and seeds. Therefore foods like sushi are not naturally raw vegan, because they contain rice which is a cooked grain.
What are some of the health benefits to eating raw vegan foods? First, and foremost, eating raw vegan foods helps you to incorporate more raw fruits and vegetables into your diet. Since raw vegans do not eat processed foods, you will be replacing these foods with plant based ingredients. Therefore you are eating much more nutritious meals, because they are loaded with a variety of plants.
This leads me to the second benefits of eating raw vegan meals. Eating raw vegan recipes is a great weight loss method. Since raw vegan foods are not cooked, they are much higher volume. Vegetables are the lowest calorically dense food, therefore you will eat high volume, low calorie dense foods when eating raw vegan. This can lead to weight loss, because you will be full when eating less calories.
Lastly, eating raw vegan can be super affordable! I know what you're thinking: there's no way that all that produce can be affordable. It sounds crazy. However when you replace processed foods with produce you'll find that it is actually super affordable to eat a raw vegan diet, because you're not spending money in the center isles of the grocery store.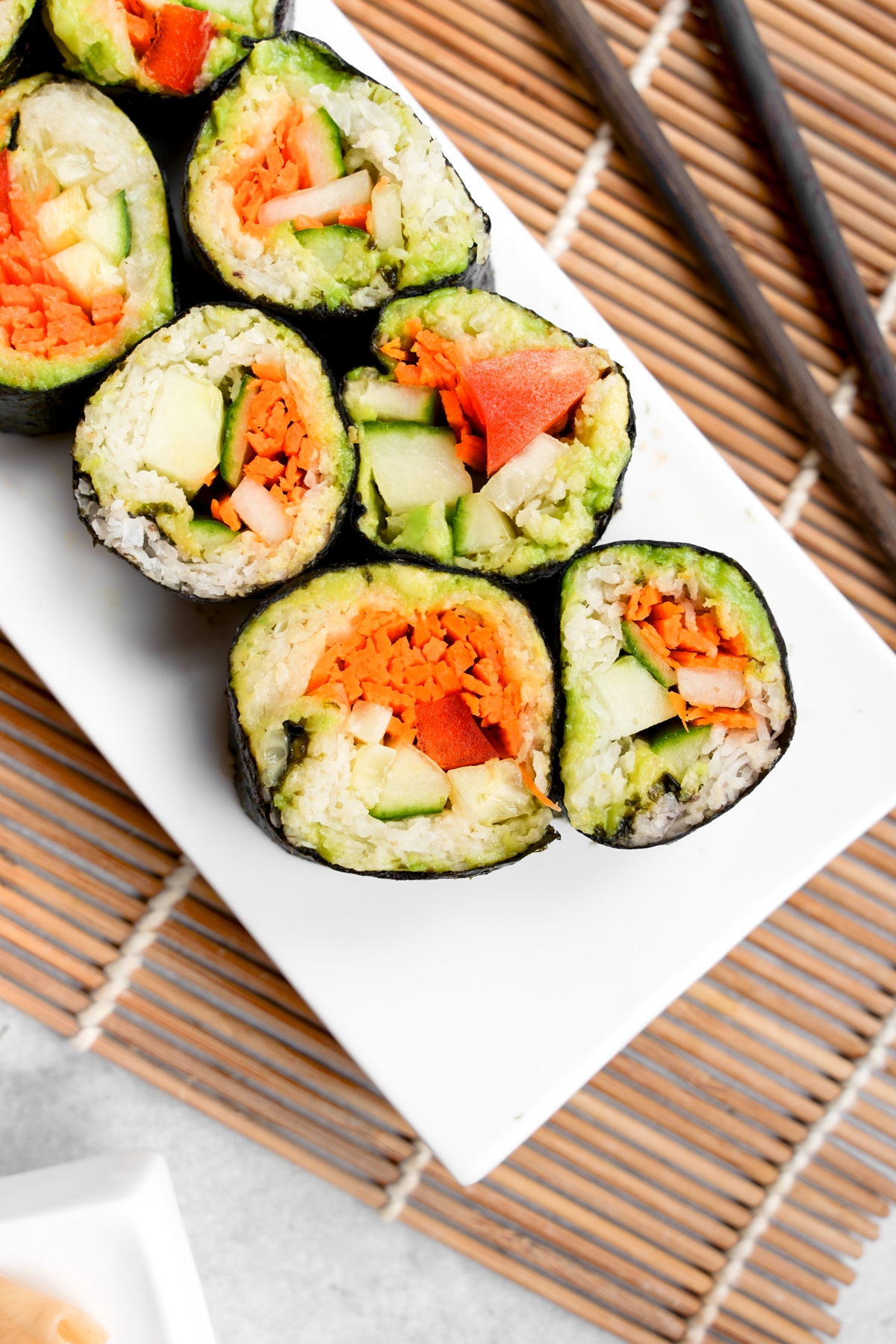 Ingredients For This Raw Vegan Sushi:
Nori Sheets - Make sure to look for raw nori sheets. Sometimes companies roast the nori with olive oil, so if you're looking to make this recipe raw vegan, look out for that.
Jicama - You can find jicama at most grocery stores. It's super important that you squeeze out the liquid from the jicama to create the jicama rice.
Avocado - You can also use guacamole, or pre-mashed avocado for ease.
Carrots - Adds the perfect crunch!
Cucumbers - No sushi is complete without cucumbers in my opinion. I always use english cucumbers, because I find the flavor to be less bitter.
Bell Peppers - Any color bell pepper works great!
Liquid Aminos - You can also use soy sauce, or tamari. I always use liquid aminos, because they have a significantly lower sodium content.
How To Make This Raw Vegan Sushi:
This Raw Vegan Sushi is surprisingly easy to make. It helps if you have a sushi making kit, but you can absolutely get away without using one.
Begin by making the jicama rice. To do this, peal the jicama and shred it using the small holes on a cheese shredder. The next step is the most important to making this recipe successfully. Press out the water from the jicama. You can do this by grabbing a handful of the jicama and squeezing it with your hands, or you can use paper towels and press down on it. You want it to be super dry (there will be a lot of water that gets pressed out).
Next, get a sheet of nori laying flat and scoop out half an avocado onto it. Mash it with a fork and spread it over so that half of the sheet is covered with avocado. Cover with the riced jicama. Next slice the cucumber and carrots finely. Slice the bell pepper into strips. Lay the vegetables in the middle of the covered half.
To roll the sushi, start with the covered side and roll it picking up the mat and wrapping it around itself. If you're not using a sushi mat, you can use a dish towel, or just your hands. It probably won't roll as perfectly, but you should still get a quality roll.
Frequently Asked Questions:
Can Raw Vegans Eat Sushi?
There are plenty of ways to make vegan sushi. However these recipes contain rice which is a no-go for raw vegans. Luckily raw vegans do not have to swear off this delicious dish, because there are a couple ways to make raw vegan sushi.
Since the main ingredient that you need to replace is the rice, there are a couple raw vegetables that you can use to replace it. My personal favorite is jicama (what's used in this recipe). I love using jicama as a rice substitute, because it's not as crunchy as other vegetables, and it holds together well.
You can also use cauliflower, broccoli, or sprouts! These are all super healthy options. I love making a couple different varieties, and then enjoying some of each when I make this recipe.
Replacing vegan protein with raw vegan ingredients can be a bit of a struggle. I personally don't eat a high protein diet so this is not as important to me as it may be to other people. This raw vegan sushi recipe actually contains a fair amount of protein. There's protein in the avocado, nori, and jicama (and of course some small amounts of protein in the other ingredients). To bump up the protein even more, add some sprouts!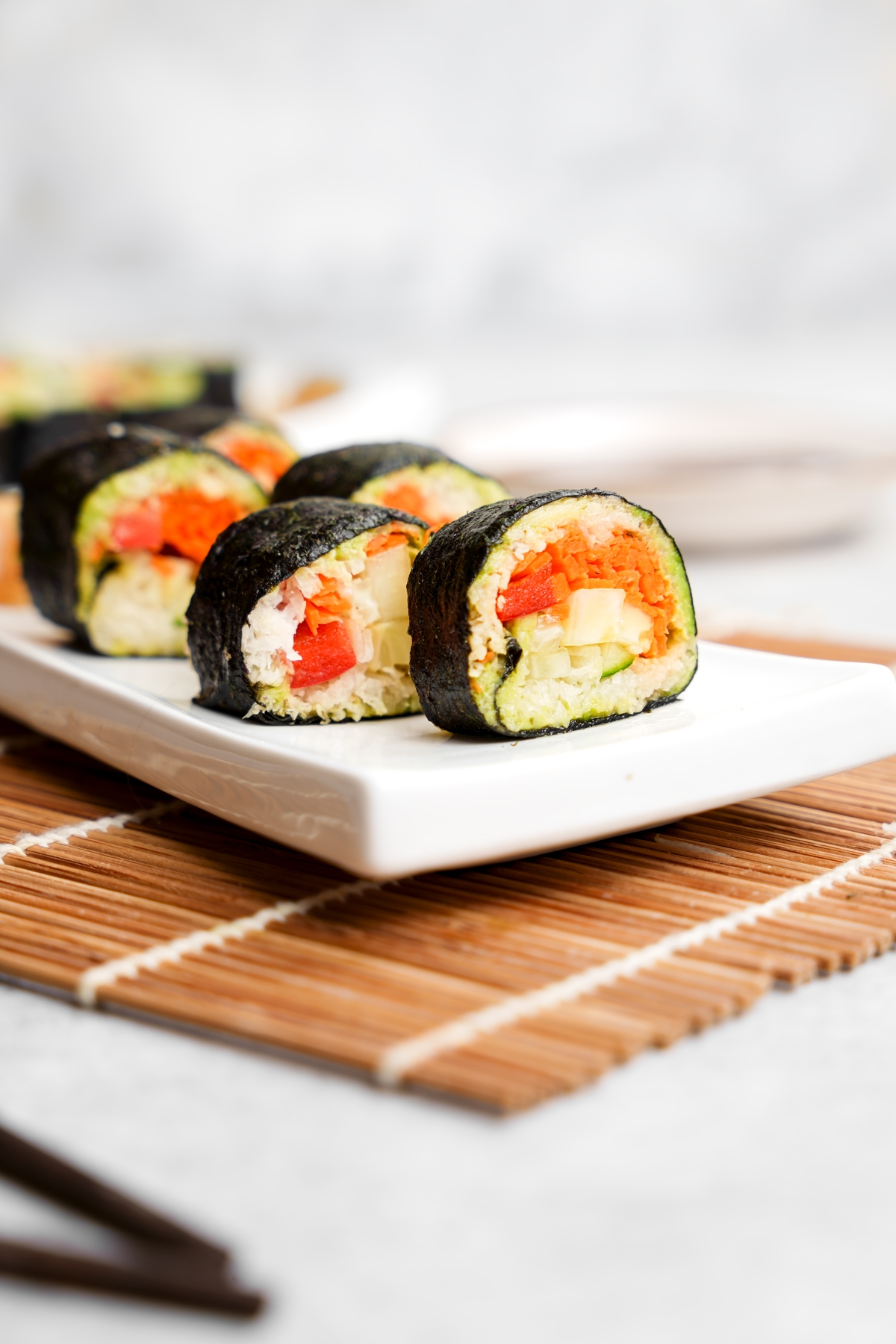 What Vegetables Taste Good In Vegan Sushi?
One of the many reasons I am obsessed with making vegan sushi is because of how customizable it is. You can essentially throw any vegetables into the roll and it'll come out fantastic. Some of my favorite vegetables to add to raw vegan sushi include: carrots, cucumbers, radishes, bell peppers, avocado, and purple cabbage.
Does Vegan Sushi Taste Like Fish?
Personally I never liked the taste of fish. I never really ate sushi before going vegan, because I hated the taste. Therefore I was super skeptical of making vegan sushi, because I thought it would have a super fishy taste because of the seaweed.
Luckily vegan sushi does not taste like fish. It has a slight ocean taste, but it does not taste like fish. I personally love this, because it has a completely unique flavor. I also love dunking my sushi in liquid aminos, so I love whenever the sushi complements that flavor.
If you miss the taste of fish, and want your raw vegan sushi to to taste like seafood, I'd recommend mixing in some seasoning like Old Bay, and some miso paste into the jicama. This will add spice and salty flavors that resembles fish.
Related Recipes:
Raw Vegan Sushi
This raw vegan sushi is the perfect light and healthy meal. Made with simple ingredients, this jicama sushi has the perfect texture, and tastes just a classic roll. This recipe is: raw vegan, oil-free, gluten-free, and refined sugar-free!
Ingredients
10

sheets

nori

2

large

jicama

2-4

avocados

4

medium

carrots

2

English cucumbers

2

bell peppers

¼

cup

liquid aminoos

to serve
Instructions
Begin by pealing then grating the jicama using the small side. Once you have shredded all the jicama, squeeze, or press all of the water out. You'll want it to be super dry.

Place a nori sheet on your sushi mat. Scoop out the avocado and mash and spread it over half of the sheet. Add the jicama on top and spread evenly.

Thinly slice the cucumbers, carrots, and bell pepper. Place in the middle of the jicama side. Roll up starting with the covered side and finishing with the empty side. Place in the fridge for 5-10 minutes.

To cut, begin with the center and work your way out. Ensure that you're using a very sharp knife. Serve with liquid aminos, or soy sauce and enjoy!