This rose latte is the perfect caffeine free and nutritious herbal latte. This flower latte is made with simple and clean ingredients and is perfect drink for a relaxing afternoon. This latte is vegan, refined sugar-free, gluten-free, and oil-free.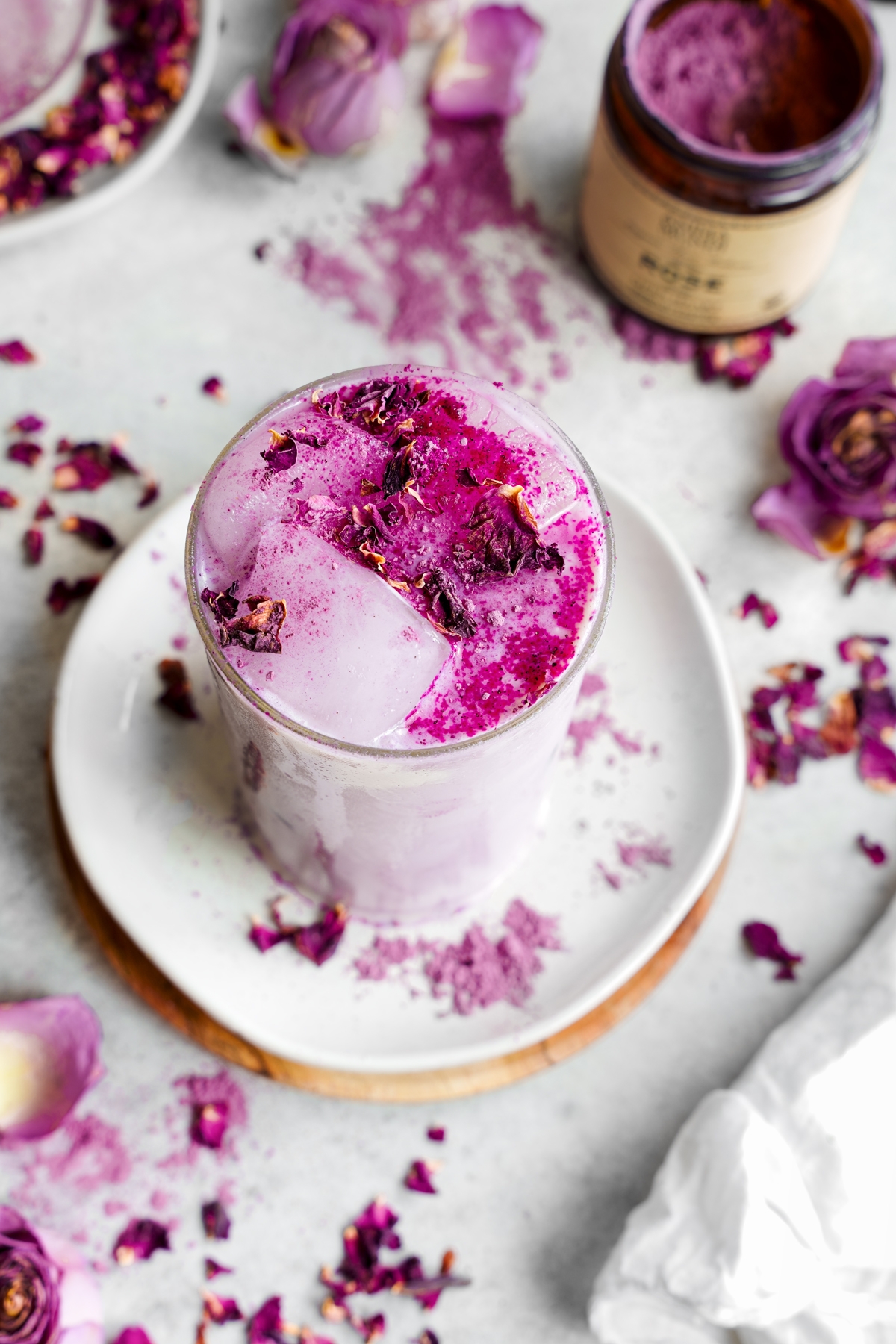 I am so excited to share today's Rose Latte recipe with you guys! This vegan pink drink is the perfect drink to enjoy both hot and cold. It's made with simple and clean ingredients, and helps to relieve anxiety!
Are Rose Latte's Healthy?
If you're like me and easily get bored of drinking water and are always looking for fun drinks to switch it up, this Rose Latte is for you! It's flavorful, delicious, and super nutritious. Rose has become a pretty common syrup flavor at many coffee shops. It adds an aromatic and floral flavor that is surprisingly delicious. However I can assure you that the rose flavor that is commonly added to rose latte's is not healthy at all.
Rose syrup is typically artificially flavored, and loaded with refined sugars. This is unfortunate, because rose is actually a highly nutritious ingredient when consumed in it's whole foods plant based form. This pink drink is packed full of nutrients and has mood enhancing benefits.
Health Benefits Of Eating Rose:
Roses are known for being a beautiful flower, so most of you are probably a little confused when you hear about eating roses. However, I am here to convince you to start adding rose to your diet, for all the health benefits. Here are some of the health benefits to eating rose:
Full Of Vitamins And Minerals: Rose is loaded with Vitamins C, E, and B complex vitamins, and calcium, magnesium, and potassium.
Contains Polyphenols and Antioxidants: Rose contains powerful polyphenols and antioxidants that work to protect your body from cell damage.
May Support Blood Purification: Terpenes, glycosides, flavonoids, and anthocyanins may support blood purification and a healthy cardiovascular system.
Promotes Restful Sleep: Rose has been proven to assist in supporting restful and peaceful sleep.
Helps To Balance Mood: Rose may help to alleviate anxiety, depression, and may uplift the mood.
May Slow Down The Aging Process: Rose may reduce wrinkles, and slow down the aging process.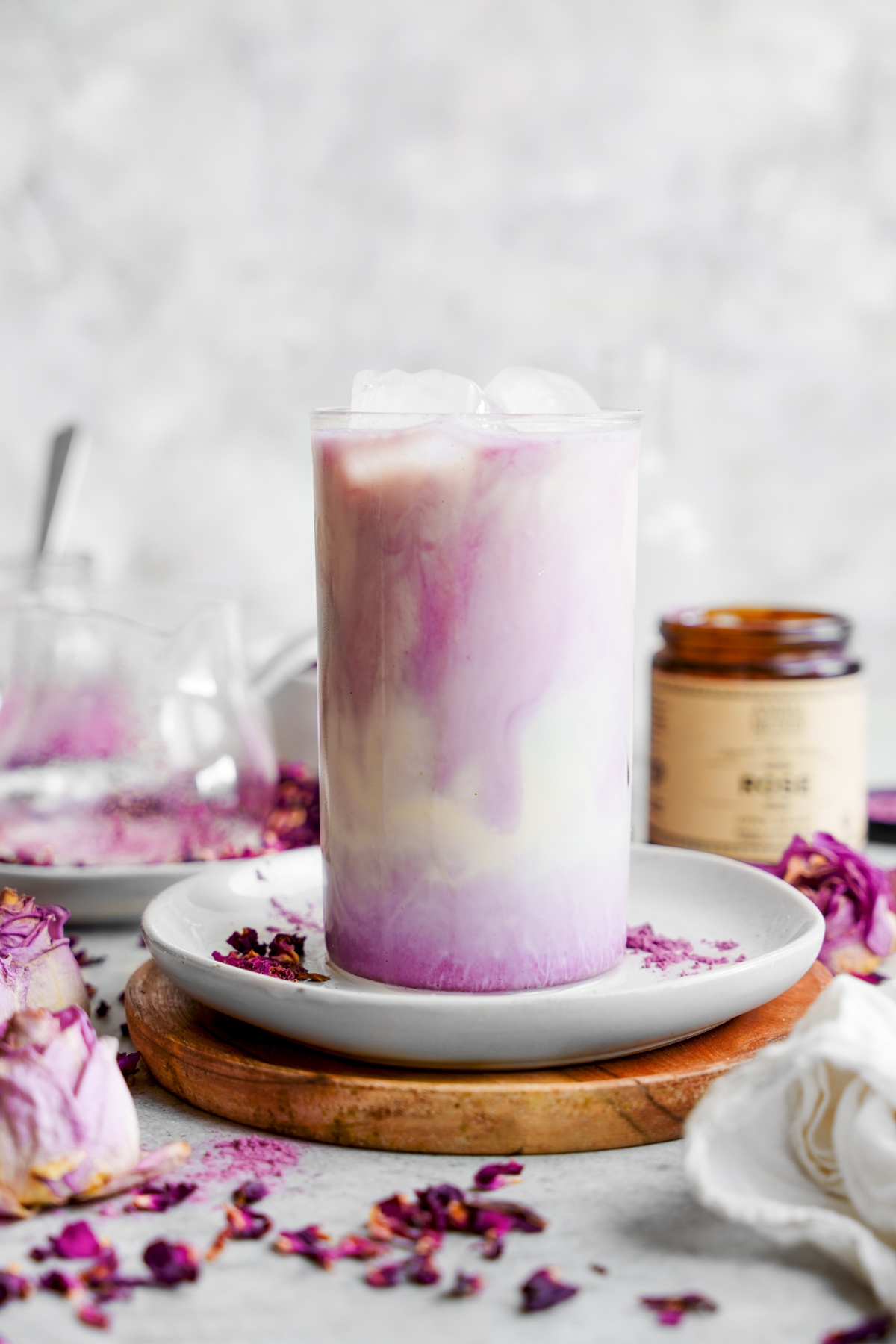 Why I Love Shopping From Anima Mundi:
It's no secret that I'm an absolute health nut around here. I love incorporating nutrient dense foods into my diet. Nutrient dense foods can be anything from a piece of cauliflower, to something like rose powder. I am a firm believer that if you are looking to eat healthier, you need to start with the simple stuff. Consuming more produce from your local grocery store is going to do a lot more for your health than some superfood powder you found online.
With that said, if you're like me and you already eat a very plant forward, or completely plant based diet, superfoods are a fantastic addition to your diet. One of my favorite places to get superfoods and herbal supplements from is Anima Mundi.
Anima Mundi is an online apothecary that specializes in high potency elixirs, medicinal mushrooms & collagen boosters. I have discovered so many products and ingredients since discovering them. If you're a total geek about the power of plants, I highly recommend checking their website out!
Their products are almost all either organic, or wild harvested. Not only are their products high quality and delicious. Too often with superfoods and herbal supplements they taste really bad. However Anima Mundi is quite the opposite. This is actually what got me hooked on their products. They taste absolutely incredible! There's nothing better than when food that's good for you actually tastes good too!
Ingredients For This Rose Latte:
Anima Mundi Rose Powder - I strongly recommend purchasing your rose powder from Anima Mundi. It's organic, high quality, and tastes incredible. Whenever I am trying out a new ingredient, I always want to get it from a trusted source, and Anima Mundi is the ultimate source for herbal ingredients.
Plant Based Milk - Any plant based milk will work great for this latte. I love soy and oat milk for lattes, but even homemade milks like my Sunflower Seed Milk work great as well!
Maple Syrup or Maple Crystals - You can also use date syrup, yacon syrup, or any other plant based sweetener. I used maple, because it does not effect the color of the latte too much.
Pink Pitaya Powder (optional) - You can also use beetroot powder too. Rose powder will not change the color of the latte to pink, it will cause it to be more of a lavender purple. Therefore I recommend adding one of these pretty colors to your latte to achieve the perfect vegan pink drink!
Vanilla Extract - Helps to compliment the rose powder, and adds a warming and comforting flavor.
How To Make This Rose Latte:
This Rose Latte is exceptionally easy to make. Begin by combining the pitaya powder, rose powder, room temperature, or warm water, and maple syrup together in a cup. Mix with a hand held frother until smooth.
Combine the vanilla extract and plant based milk together (if making this as a hot latte, froth with warm water, or with a heated milk frother). (Add ice to a cup if making this latte iced) Pour milk mixture over the pink mixture, and mix with a long spoon. Enjoy immediately!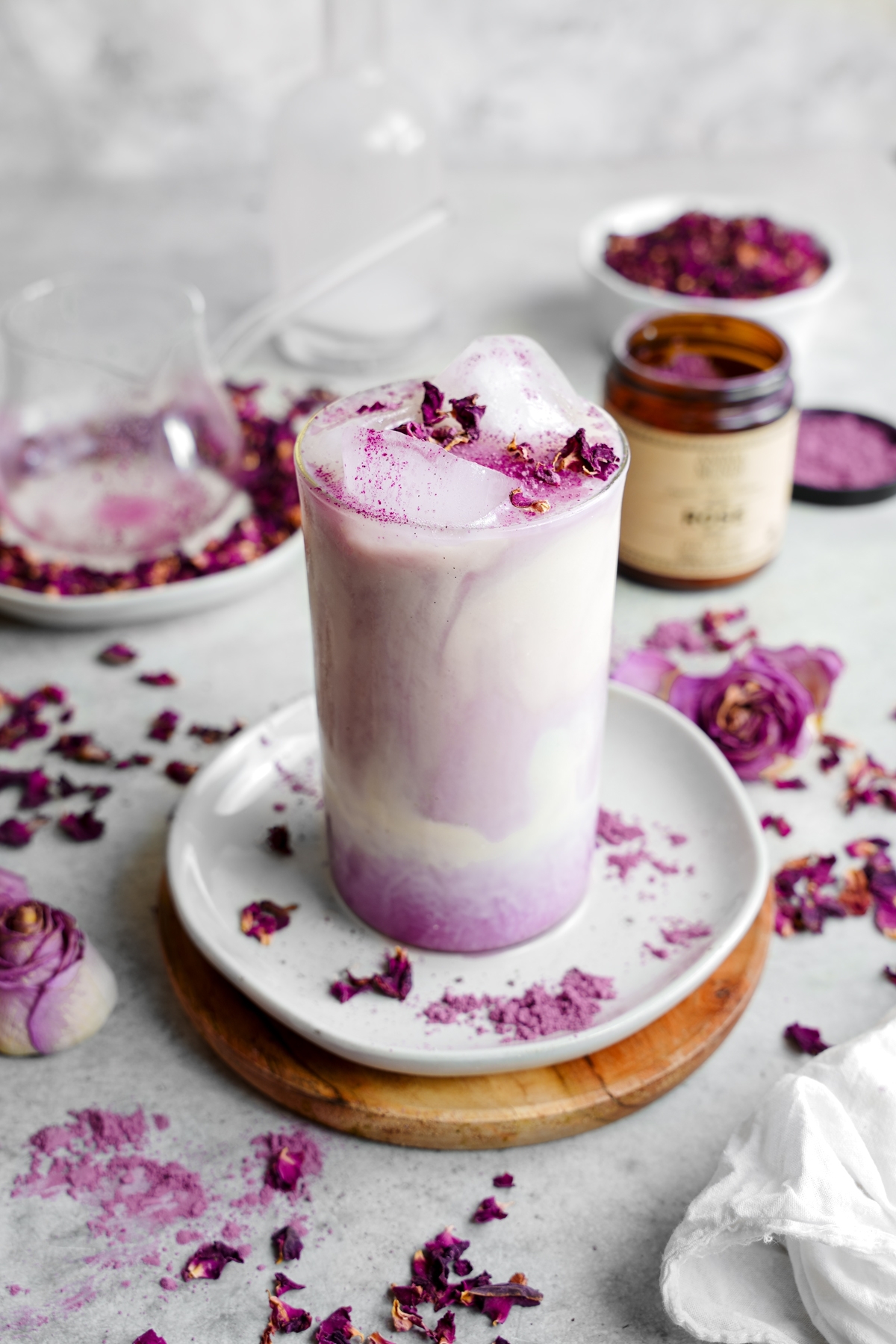 Frequently Asked Questions:
What Does A Rose Latte Taste Like?
I am going to be completely honest with you guys, and let you know that rose is definitely not a flavor for everyone. It's very fragrant, and tastes just like you would expect a rose to taste. Therefore if you don't like floral flavors like lavender, rose may not be for you.
I would not recommend making a latte with just rose powder, because the flavor can be bitter by itself. The good news is this latte only uses a little rose powder, so the flavor is not too overwhelming. You can also add more or less depending on your preferences.
Does A Rose Latte Have Caffeine In It?
If you're looking for caffeine free vegan lattes, this rose latte is for you! Rose powder does not contain any caffeine, and actually has some of the opposite effects of caffeine. Rose promotes calmness and relaxation. Therefore if you are looking for a healthy afternoon latte to help you wind down, this drink is perfect!
What Is Rose Powder?
Rose powder is the primary flavor ingredient in this recipe. What is rose powder, and how is it made? Rose powder is made from 100% rose petals. These rose petals are gently dried and ground into a fine powder. This powder is very concentrated, therefore I would recommend starting with small amounts until you acquire a taste for the flavor.
Rose powder can be used for all kinds of things. It can be used on the face and body, for healthy baking, drinks, baths, the list goes on. Rose powder is a great product to always have on hand!
Related Recipes: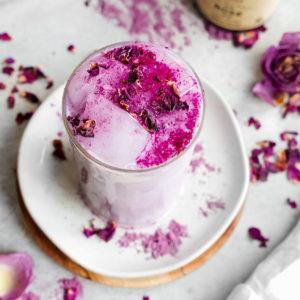 Rose Latte
This rose latte is the perfect caffeine free and nutritious herbal latte. This flower latte is made with simple and clean ingredients and is perfect drink for a relaxing afternoon. This latte is vegan, refined sugar-free, gluten-free, and oil-free.
Instructions
Combine the rose powder, pink pitaya powder, and maple syrup together with 1 tablespoon water. Mix with frother until smooth.

Fill a cup with ice. Pour the plant based milk and vanilla extract over the ice. Add the rose mixture and stir until combined. Enjoy!