This Iced Vanilla Rose Latte is the perfect caffeine-free and nutritious herbal latte. This flower latte is made with simple and clean ingredients and is the perfect drink for a relaxing afternoon. This latte is vegan, refined sugar-free, gluten-free, and oil-free.
This Iced Vanilla Rose Latte recipe is the perfect flavorful caffeine-free latte! It's made with clean and simple ingredients, tastes amazing, and helps to relieve anxiety! This pink latte is the perfect drink to enjoy year around!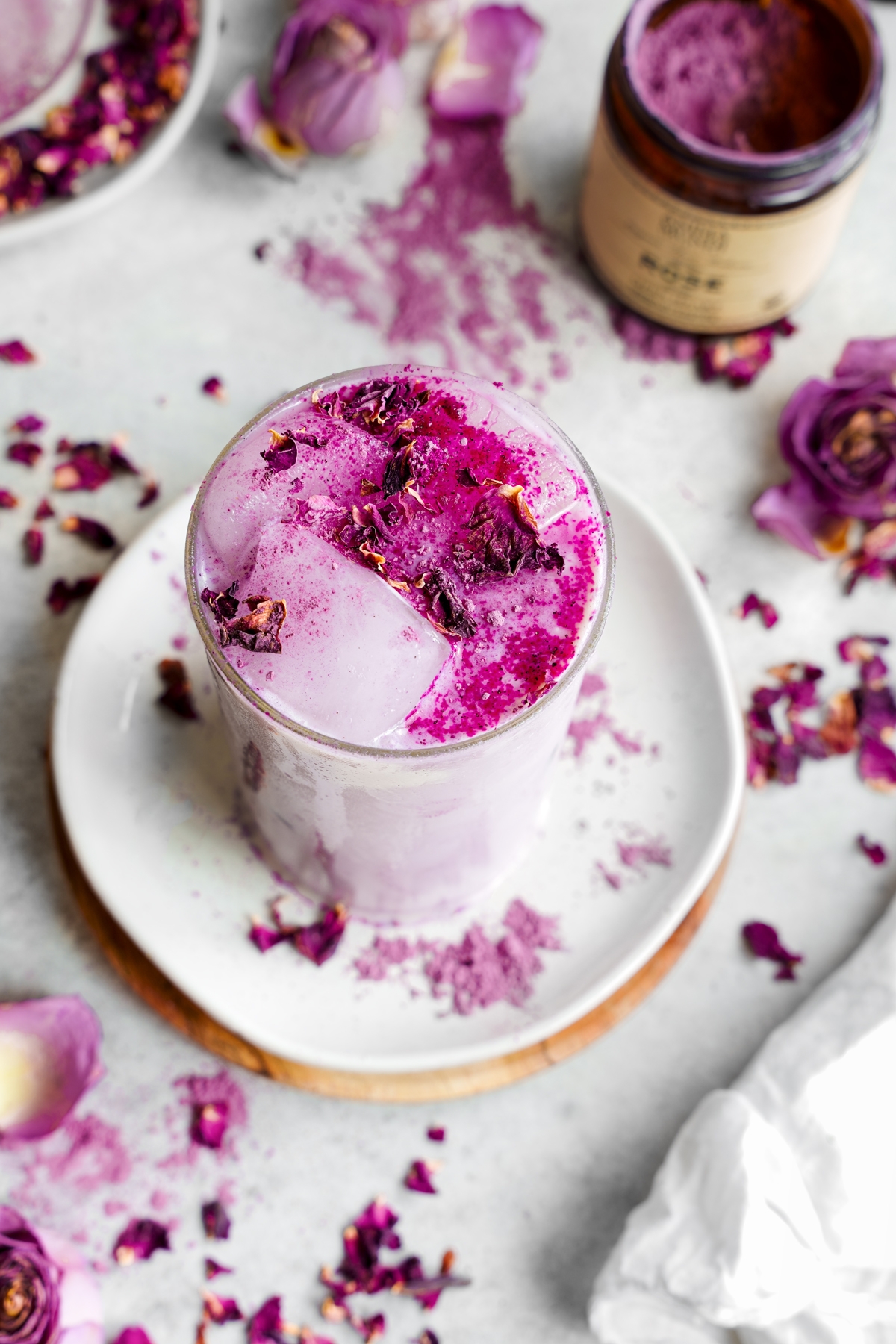 Some of you may know that I spent my college years working as a barista in a coffee shop and I absolutely loved it. One of my favorite parts of the job was getting to play around with drinks and make fun creations. One of my favorites was a rose latte.
However, unlike the rose latte I made back in the day, this delicious rose latte is made with healthy ingredients and is vegan!
As an Amazon Associate, I earn from qualifying purchases.
This recipe features several affiliate links, meaning I will earn a small commission if you purchase through these links.
Jump to:
Health Benefits Of Eating Rose:
Roses are known for being an absolutely beautiful flower, therefore it may be a little confusing when you hear about eating dried rose petals. However, I am here to convince you to start adding roses to your diet to experience the abundance of health benefits present in roses. Here are some of the health benefits of eating rose:
Full Of Vitamins And Minerals: Rose is loaded with Vitamins C, E, and B complex vitamins, and calcium, magnesium, and potassium.
Contains Polyphenols and Antioxidants: Rose contains powerful polyphenols and antioxidants that work to protect your body from cell damage. Roses also contain anti-inflammatory properties.
May Support Blood Purification: Terpenes, glycosides, flavonoids, and anthocyanins may support blood purification and a healthy cardiovascular system.
Promotes Restful Sleep: Rose has been proven to assist in supporting restful and peaceful sleep.
Helps To Balance Mood: Rose may help to alleviate anxiety and depression and may uplift the mood.
May Slow Down The Aging Process: Rose may reduce wrinkles, and slow down the aging process.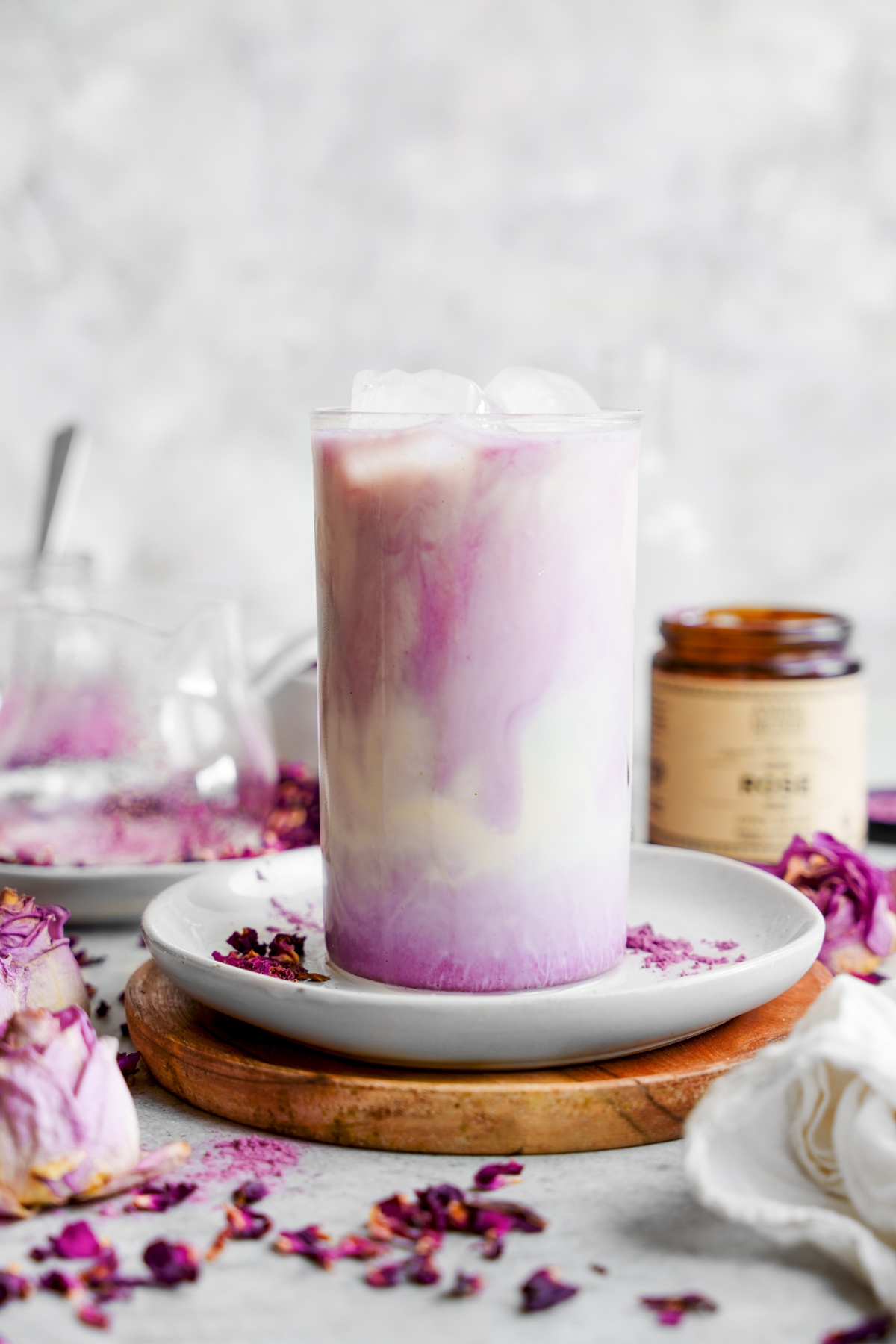 Ingredient List For This Vanilla Rose Latte:
This rose latte is the perfect healthy and delicious drink. It's made with clean ingredients that are easy to find.
Anima Mundi Rose Powder - I strongly recommend purchasing your rose powder from Anima Mundi. It's organic, high quality, and tastes incredible. Whenever I am trying out a new ingredient, I always want to get it from a trusted source, and Anima Mundi is the ultimate source of herbal ingredients and folk medicine. As always, my code: "NATURALVEGAN" gets you 15% off!
Plant-Based Milk - Any plant-based milk of choice will work great for this latte. I love coconut milk, soy milk, and oat milk for lattes, but even homemade plant-based milk recipes like my Sunflower Seed Milk work great as well! Almond milk is a great choice if you want to make this iced latte lower in calories.
Maple Syrup or Maple Crystals - You can also use date syrup, yacon syrup, or any other plant-based sweetener. I used maple because it does not affect the color of the latte, or the rose latte taste and it's full of vitamins, minerals, and antioxidants.
Pink Pitaya Powder (optional) - You can also use beetroot powder too. Rose powder will not change the color of the latte to pink, it will cause it to be more of a lavender purple. Therefore I recommend adding one of these pretty colors to your latte to achieve the perfect vegan pink drink!
Vanilla Extract - Helps to compliment the rose powder, and adds a warming and comforting flavor.
How To Make This Iced Vanilla Rose Latte:
This Rose Latte is exceptionally easy to make and only takes 5 minutes to make.
Begin by combining the pitaya powder (or beet powder), rose powder, maple syrup, and room temperature or warm water, together in a cup. Mix with a hand-held frother until smooth.
Combine the vanilla extract and plant-based milk together (if making this as a hot latte, froth warm milk with a handheld frother, or with a heated milk frother/espresso machine). Add ice cubes to a tall glass and pour the milk mixture over the pink mixture, and mix with a long spoon. Enjoy immediately!
Hint: The rose powder and pink pitaya or beetroot powder will mix better with lukewarm water rather than cold water.
Substitutions:
This homemade latte is great because you can easily substitute any ingredient if necessary.
Sweetener - I touched on this earlier, but you can easily substitute maple syrup for any liquid sweetener of your choice. You can also use coconut sugar or cane sugar. However, you will have to use warm water to dissolve this. If you plan on making this latte warm with hot milk, these will work great.
Milk - if you are not vegan/dairy-free, you can use whole milk as you would in a traditional latte, however, I believe that this rose latte tastes best with oat milk or coconut milk. Your choice of milk will impact the flavor of this latte.
Rose Latte Variations:
This vanilla rose latte is great, because there are so many delicious ways to spice it up!
Coffee - You can add iced coffee or a shot of espresso to the base of this rose latte for a flavored traditional latte.
Chai - You can add some ground cardamom seeds, cinnamon, and cloves to the base of this rose latte for a chai rose latte. you can also use Anima Mundi's Dirty Rose Chai Powder (which I love using for my Dirty Rose Chai Cinnamon Rolls as well).
What You Will Need To Make This Iced Vanilla Rose Latte:
This rose latte recipe is great because it requires very little equipment, and only takes 5 minutes to make.
Tall Glass - Any glass will work, however, this recipe makes a large latte so I recommend using tall glasses.
Milk Frother - A milk frother is not a necessity, but it sure does make the recipe easier.
Ice Cubes - I like to use fun-shaped tiny ice cubes (not pictured) when making lattes.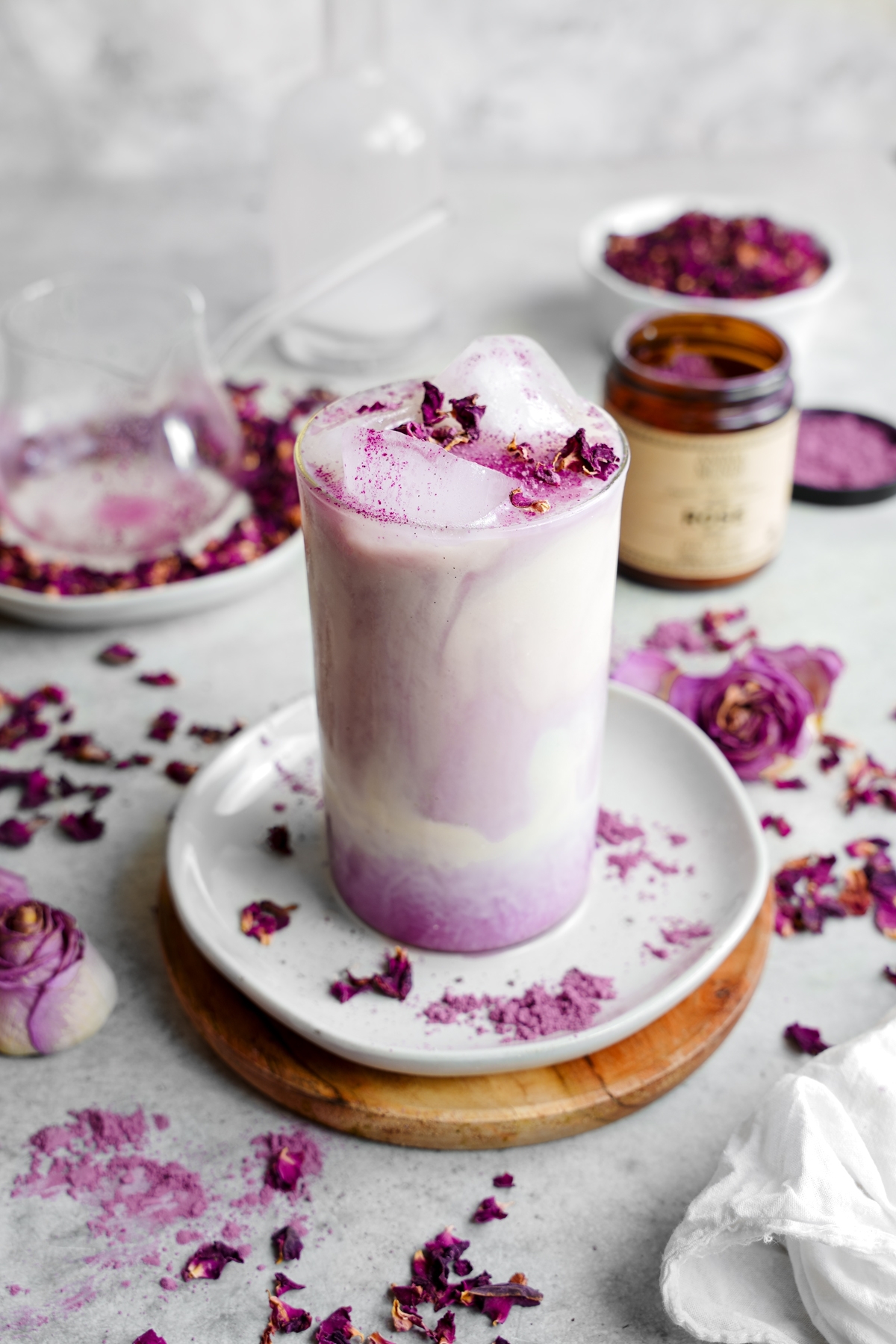 Frequently Asked Questions:
Is A Rose Latte Healthy?
Rose has become a pretty common syrup flavor at many coffee shops. It's a very aromatic and floral flavor that is surprisingly delicious. However, unfortunately, the rose flavor that is commonly added to rose lattes is not healthy at all.
Rose simple syrup is typically artificially flavored, and loaded with refined sugars. This is unfortunate because rose is actually a highly nutritious ingredient when consumed in its whole foods plant-based form like it is in the rose powder used in this recipe. Rose has anti-inflammatory properties, anxiety relief, and vitamins and minerals. Therefore the type of rose latte you're drinking answers whether or not it's healthy or not.
What Does Rose Taste Like?
Rose is not a flavor for everyone. It's very fragrant and tastes just like you would expect a rose to taste. Therefore if you don't like floral flavors like lavender, rose may not be for you.
Rose is best when it's mixed with flavors like vanilla, that balance out the strong floral flavor.
Does A Rose Latte Have Caffeine In It?
If you're looking for a caffeine-free latte, this rose latte is for you! Rose powder does not contain any caffeine and actually has some of the opposite effects of caffeine. Rose promotes calmness and relaxation. Therefore if you are looking for a healthy afternoon latte to help you wind down, this drink is perfect!
Related Anima Mundi Rose Recipes:
Looking for more of Anima Mundi's rose powder recipes? Check these recipes out!
Iced Vanilla Rose Latte
This Iced Vanilla Rose Latte is the perfect caffeine-free and nutritious herbal latte. This flower latte is made with simple and clean ingredients and is the perfect drink for a relaxing afternoon. This latte is vegan, refined sugar-free, gluten-free, and oil-free.
Instructions
Combine the rose powder, pink pitaya powder, and maple syrup together with 1 tablespoon water. Mix with frother until smooth.

Fill a cup with ice. Pour the plant based milk and vanilla extract over the ice. Add the rose mixture and stir until combined. Enjoy!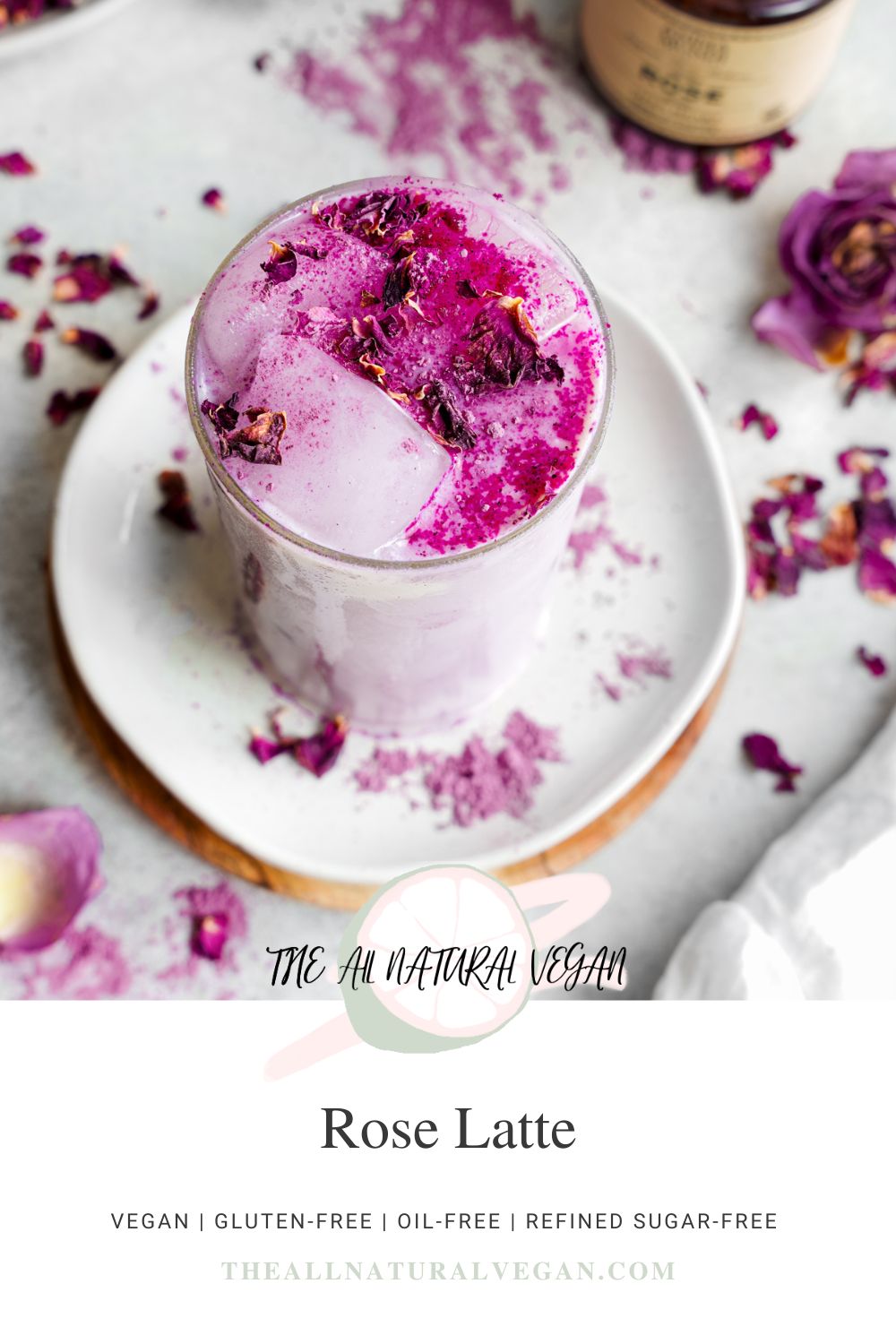 More Healthy Drink Recipes:
Looking for more healthy drinks to make at home? Try these recipes out!