This plant based tempeh banh mi recipe is loaded with flavor and perfect to enjoy for a healthy lunch or dinner. If you are a sandwich lover this is a recipe you have to try! This vegan recipe is plant based, oil-free, dairy-free, high protein, and gluten-free!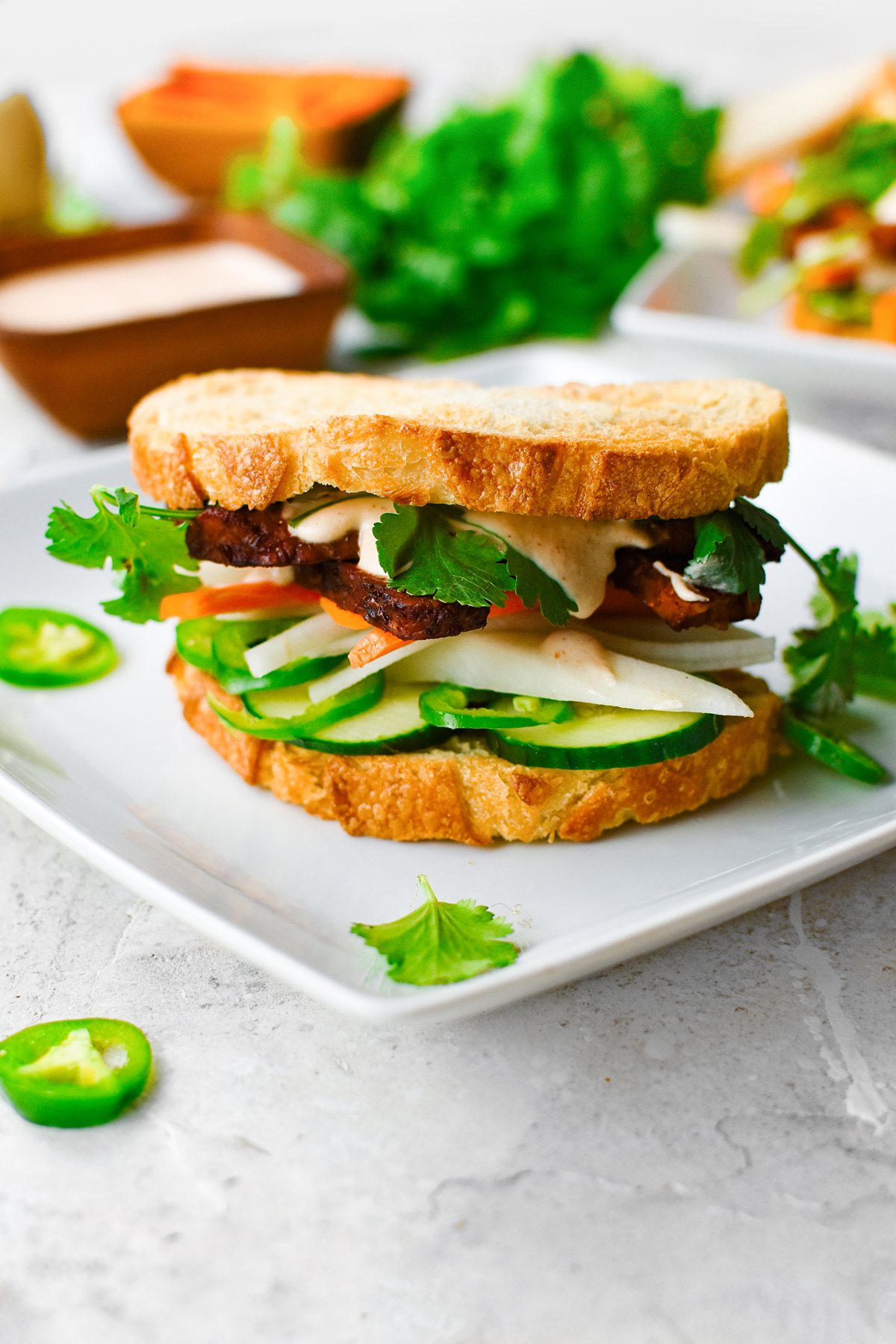 Today's Tempeh Banh Mi is my all-time favorite sandwich recipe. That's coming from the girl who ate sandwiches almost every day for lunch growing up. It's actually funny because I didn't actually discover the Banh Mi sandwich until I went vegan. I was super skeptical to try it initially, because when I first went vegan I ate very plain foods, and I did not really branch out at all.
However, over the course of the last year and a half, I have been branching out and trying things I normally wouldn't (all vegan of course). It never ceases to amaze me how many ways there are to cook foods, and how many foods (as in plants) there are in this world.
What Is A Banh Mi Sandwich:
A banh mi sandwich is a Vietnamese sandwich that features fresh vegetables and flavorful protein with a creamy sauce, served with sourdough bread. The traditional sandwich is not vegan, but luckily this is one of those foods that can easily be veganized.
Not only is this tempeh banh mi vegan but it can easily be made gluten-free too! All you need to do is switch out the bread. I am fairly new to Vietnamese cuisine, but let me tell you I am hooked!
The most important part of making the perfect banh mi is the sauce. The banh mi is already loaded with flavor on its own, but the sauce is really what takes this tempeh banh mi sandwich to the next level. Most of the recipes for banh mis online are made with refined oils and other unhealthy ingredients. This vegan recipe on the other hand is made with super simple and clean ingredients.
Why make this Tempeh Banh mi:
If I haven't convinced you to try out this tempeh banh mi recipe yet, let me make my final pitch. If you're a vegan, then you may know the struggle of serving "vegan food" to non-vegan friends and family. I know this struggle very well.
I always try to plan recipes that I am serving to nonvegans around dishes they are already familiar with. Banh Mi may not be a dish everyone is familiar with, but a sandwich is. When I served this recipe to my non-vegan family they were obsessed! There is no better complement to vegan recipes than when non-vegans want it!
Ingredients for this Tempeh Banh Mi:
Vegan Tempeh Banh Mi:
Daikon radish
Sourdough bread - Substitute gluten-free bread to make this recipe gluten-free
Carrots
English cucumbers
Jalapeño
Cilantro
Smoky Tempeh:
Tempeh
Liquid aminos
Smoked paprika
Creamy Cashew Sauce:
Aquafaba - The liquid from a can of chickpeas
Cashews, or cashew butter - Make sure you use raw cashews/raw cashew butter
Garlic powder
Lemon
Apple cider vinegar
Stone ground mustard
How To Make This Tempeh Banh Mi:
This Tempeh Banh Mi is very simple to make. It is the perfect healthy vegan lunch recipe! To make this recipe begin by soaking the cashews overnight. If you don't have a high speed blender you can substitute ⅓ cup cashew butter.
Blend the sauce ingredients together until smooth and creamy. Next, make the tempeh. Cut the block into strips add to a pan with the liquid aminos and smoked paprika, and begin to cook. The liquid aminos will cook out, but simply add water and continue to cook. You may have to repeat this a few times, but it will help the tempeh absorb the flavor.
Next, chop the vegetables. You will need to slice the cucumber and jalapeño into thin slices. Julienne the carrots and daikon radish.
Assemble the tempeh banh mi by spreading the creamy cashew mayo on the sourdough bread. Add the cucumbers, jalapeños, carrots, daikon radish, tempeh, and fresh cilantro in that order. Serve and enjoy!
Substitutions:
There are a variety of easy substitutions that can be made to this vegan tempeh banh mi. Here are some of the common ones.
Vegan Mayo - You can replace the creamy cashew sauce with vegan mayo and sriracha. I love using my friend Debra's Homemade Vegan Mayo recipe for a quick, easy, and healthy substitution. I recommend using ⅓ cup of mayonnaise and 2 tablespoons sriracha.
Vegetables - You can use any fresh vegetables or pickled vegetables for this sandwich. I love adding pickled onions to mine!
Bread - If you are gluten-free you can use any type of gluten-free bread of choice.
If you have any questions about a particular substitution not listed make sure to leave a comment and I'll get back to you as quickly as possible!
Vegan Banh Mi Variations:
I love this delicious tempeh banh mi recipe because there are so many easy and delicious variations to make. Here are some of my favorite ways to mix it up!
Extra Spicy - Add some red pepper flakes and/or cayenne pepper to the cashew cream for an added kick.
Frequently Asked Questions:
Can I Pack This Sandwich For Work/School?
I think that a sandwich either makes the perfect packed lunch or the worst packed lunch. This comes down to how you pack it. Lucky for you this is one of those recipes that can be easily packed and meal prepped.
To meal prep this tempeh banh mi, you simply need to chop the vegetables and store them separately from the bread. You will also need to make the sauce and keep it separate. Once ready to serve, you just need to toast the sandwich (optional) and serve!
What Is The White Spread In Banh Mi?
If you've ever had a Banh Mi before you've noticed the very unique and delicious flavor had absolutely no idea what it was. At least that was my experience.
Since banh mi's are typically not vegan it's very important that if you order this sandwich at a restaurant you ensure that it is vegan. I say this because banh mi's typically contain pâté (ground-up liver). Needless to say, this recipe is meatless.
Banh mi's also contain a white creamy sauce. This sauce is typically mayonnaise based. However since this is a whole foods plant-based banh mi, I made it completely mayo-free! Instead of using mayonnaise to achieve the flavorful cream sauce, I used a combination of cashews, aquafaba, sriracha, and other ingredients.
Is Banh Mi Healthy?
Since a banh mi is a very broad term it is hard to give a straight answer to this question. If you're ordering a non-vegan banh mi, I can guarantee it will not be healthy. It will be loaded with high-fat meats and dairy. However, if you order a vegan banh mi it has a much better chance of being healthy.
Now, I am not saying every vegan banh mi is healthy. Most recipes are made with vegan mayonnaise, and processed oils. However, if you are looking for a healthy vegan banh mi recipe I am here to tell you that you've come to the right place! This banh mi sandwich is not only free of processed ingredients but full of nutrient-rich ones!
Related Recipes:
Tempeh Banh Mi
This plant based tempeh banh mi recipe is loaded with flavor and perfect to enjoy for a healthy lunch or dinner. If you are a sandwich lover this is a recipe you have to try! This vegan recipe is plant based, oil-free, dairy-free, high protein, and gluten-free!
Ingredients
For the Sandwich:
8

slices

sourdough bread

(or gluten-free bread of choice)

1

daikon radish

3

carrots

1

jalapeño

1

english cucumber

1

block

tempeh

cilantro

1

tablespoon

liquid aminos

1

teaspoon

smoked paprika
For the sauce:
1

can

aquafaba

liquid from 1 can of chickpeas

¾

cup

soaked cashews

1

teaspoon

garlic powder

½

lemon

1

teaspoon

apple cider vinegar

2

tablespoon

sriracha

1

teaspoon

stone ground mustard
Instructions
Begin by preparing the sauce. If you have not soaked the cashews ahead of time you can quick soak them with boiling water. Strain the cashews and add to a high speed blender with the remaining ingredients. Blend on high for about a minute. Set aside and prepare the rest of the sandwich.

Chop or shred the carrots and daikon radish. If chopping, chop julienne. Chop the cucumber and Jalapeño into rounds. Set aside.

To make the tempeh, simply cut into strips and add to a pan with the liquid aminos, and smoked paprika and cook. The liquid aminos will cook to the pan, but simply add water and continue to cook. You may have to repeat this a few times, but it will help the tempeh absorb the flavor.

Toast the bread and assemble the sandwich. Start by layering the cucumber and the jalapeño. Follow with the tempeh and then the carrot and daikon radish. Finish off with cilantro and a generous portion of sauce. Serve immediately, enjoy!